February 24, 2010 6:00 am | Category:
Weather
First I want to apologize for missing some of those snizzle drops that hit the north country over the last few nights. It's not my fault. I also want to apologize for my forecasts. Lately I've felt off my game. Sometimes you just see the weather and it makes sense and you nail a forecast. Sometimes you don't and you feel like you are wading through mud making the forecast. The last two weeks have been like that for me. Sorry. I'll get it back!
And I'm going to try to start with a system(s) coming this week.
2/24/10 Patti's progress
Early morning review of the overnight radar and snowfall reports indicate that the area's that have done the best are the Catskills, southern vt and the eastern slopes of the Adirondacks. These areas have picked about 7-9 inches already with east facing higher elevations picking up 12. Bands of heavier snow are still rolling in and therefore I'd not be surprised for these areas to pick up another 5-7 inches today (at least for the adk and so. vt. – catskills are likely done with any heavy snow). More is possible if a heavy band slows down over an area.
Importantly as we move into the morning, lower level temps will rise bringing with them a chance for rain. Not sure the extent of the rain w/r/t elevation but high res models indicated a freezing level from 600 to 1000ft depending on which model you looked at. This makes sense so we'll go with a blend- 800 feet.
2/23/10 Lunchtime update
Looking at the latest data for Patty (that's the midweek storm which will hit late tonight into thursday am) I'm beginning to think there is going to be more moisture than we previously thought.
By Wed. AM some significant qpf is possible through the Catskills and So. ADK.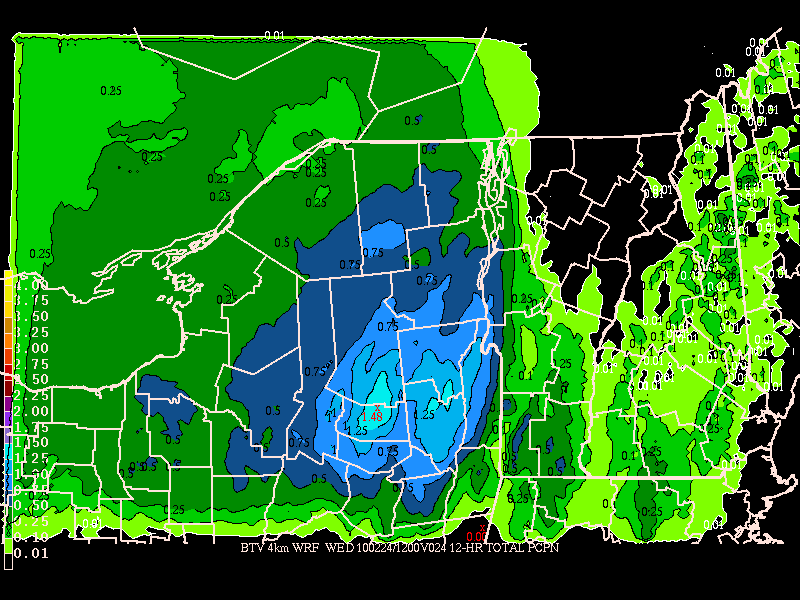 The system then continues to pump atlantic moisture into a trough over the greens and ADK. By thursday AM there are some sweet totals forecasted: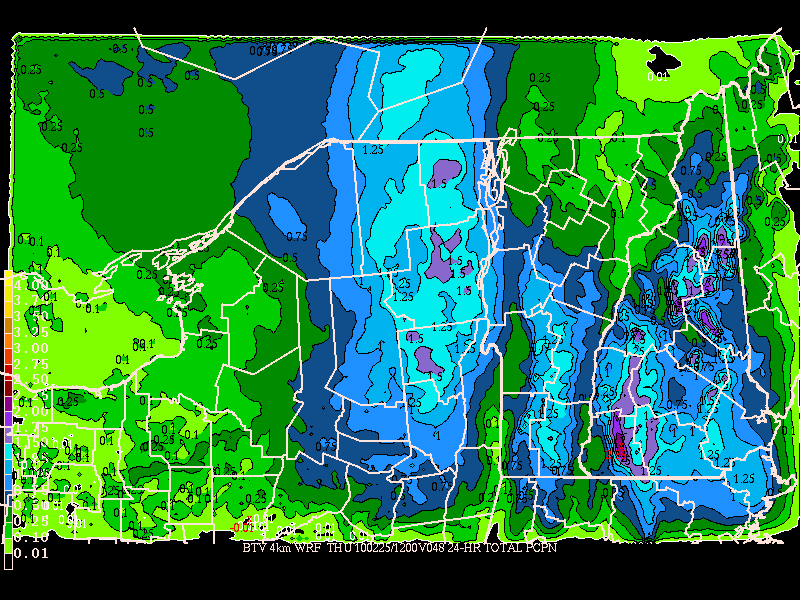 Now, as I've said before temps will be marginal IMO. I think with the warm air in place today the models are overdoing the amt of cool air. Thus I'd still say that below 1500ft rain is very likely. However along the higher terrain this does appear to be mostly slow. Going with a low snow ratio also seems wise. Furthermore, I think the WRF really has a wet bias for these types of systems. Given other model guidance I'd knock 1/3 off the totals here. This still gives us a VERY nice snowfall.
At this time I'd say by Thursday AM the following areas could see a foot of snow:
The Catskills, the 'dacks, southern greens (where greatest chance of lower level rain exists) and central VT. Notably No. VT is just off on this system and could get shut out, ending up with 3-7 inches instead.
Stay tuned!
2/23/10 Update
First we have to name these two storms….Patti and Selma. Done and Done. Why you might ask? First they are sisters that depend on each other. Second they sure aren't pretty. Third, one will put out just like Selma Bouvier-Terwilliger-Hutz-McClure-Stu-Simpson. Thus Patty and Selma.
Complicated forecast that I'm going to try make simple:
1. Patty will deepen offshore over next 36 hours. Trough extends into 'dacks and long green spine. This brings precip into those areas. Lower level temps will be marginal but above 1500/2000ft this should remain all snow. Amts will range from 5-10 inches by wed. night/thursday am. (As pointed out Noaa has more snow for So. VT. Well good. Hopefully I'm wrong. Nothing like busting low!)
This low will rotate west over the week and set up a trough for the second storm to feed on.
2. In its wake a second system develops. Selma is a tricky girl. She's going to be windy and move in some strange ways. Where she hammers is a question I can't answer right now because that will depend on where patty ends up as the two will interact as the second system deepens rapidly.
Sadly, as it deepens it will tap more maritime air and drive this mild air west lower levels of the attm. Thus rain will mix into this system for all area's south and east of Burlington, VT with rain even possible up to about 1500ft for all areas. QPF is very hard to forecast at this time. The winds should howl thursday night. Then as we head into the weekend the snow will become more orographic in nature but from the east.
2/22/10 Update
Monday morning and there appears to be some overall model agreement with regards to these two systems. So lets get right to it.
First we have the period Tuesday into Wednesday night.
As we can see on the NAM, which is presenting a solution on the outter edge of the guidance envelop, there will be a period of steady precipitation over VT and the eastern ADK.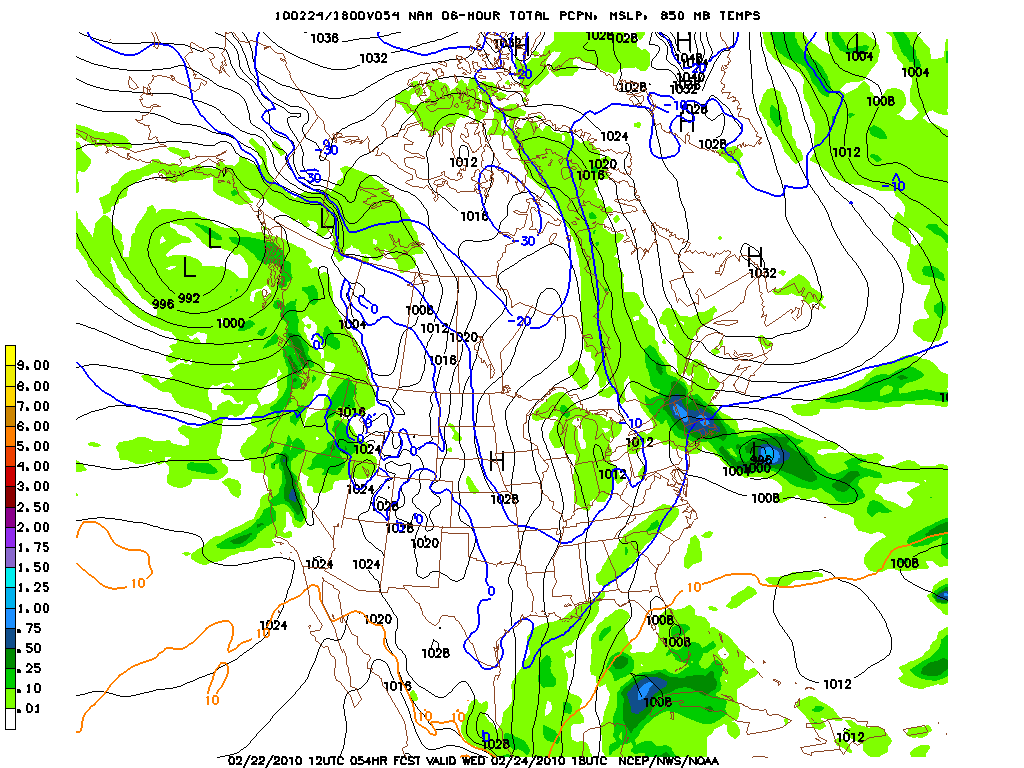 As we move on in the period, all the models agree that this low retrogrades back towards the North Country and continues to bring steady precip to the area.
The Euro and the Canadian model cut this low off and use it to form a digging trough for the next system:
Euro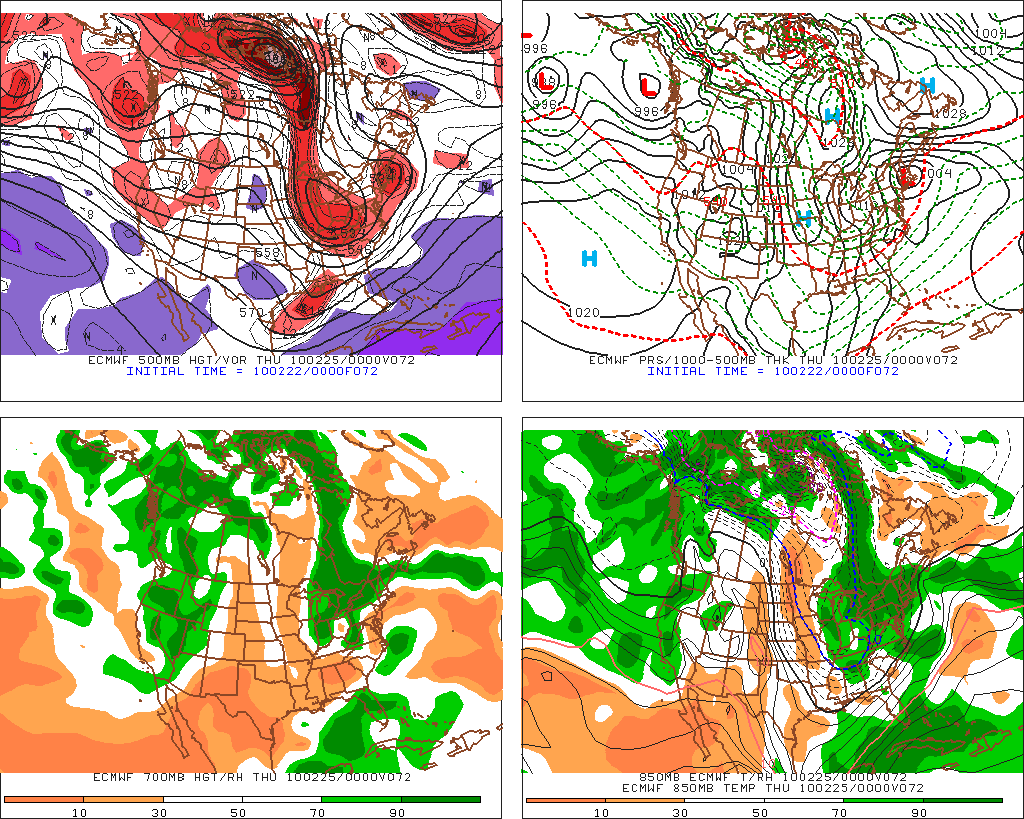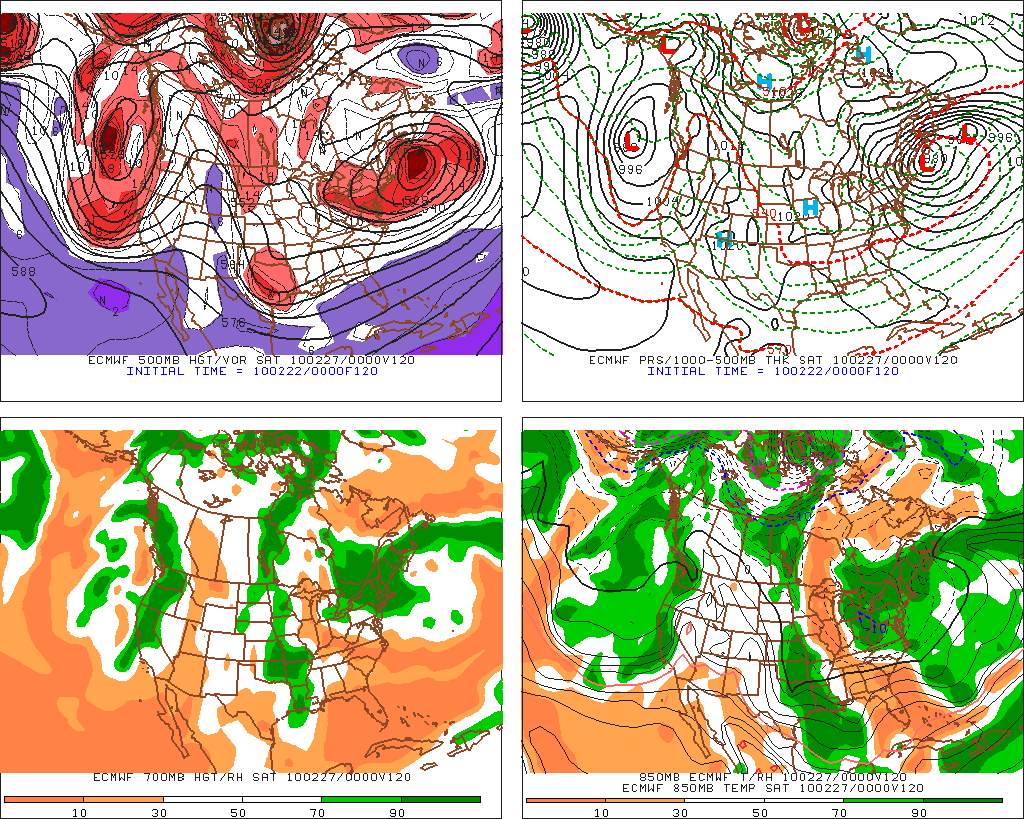 CMC: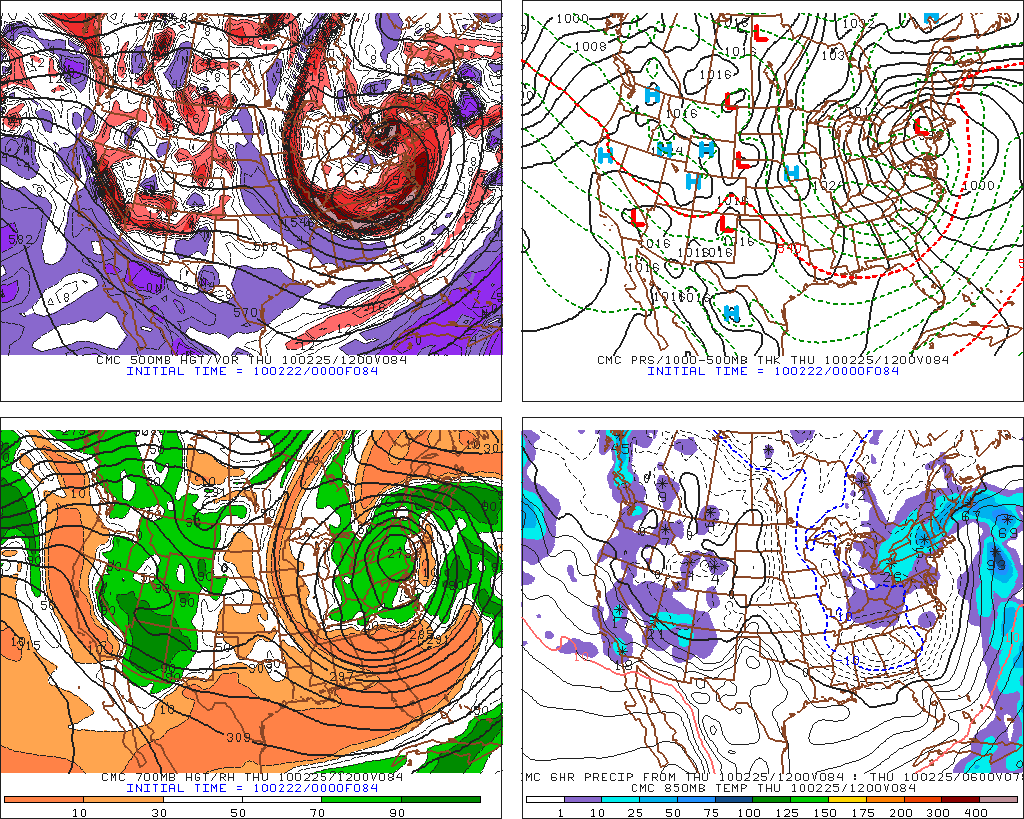 Even the NAM shows a second low replacing the primary low by Friday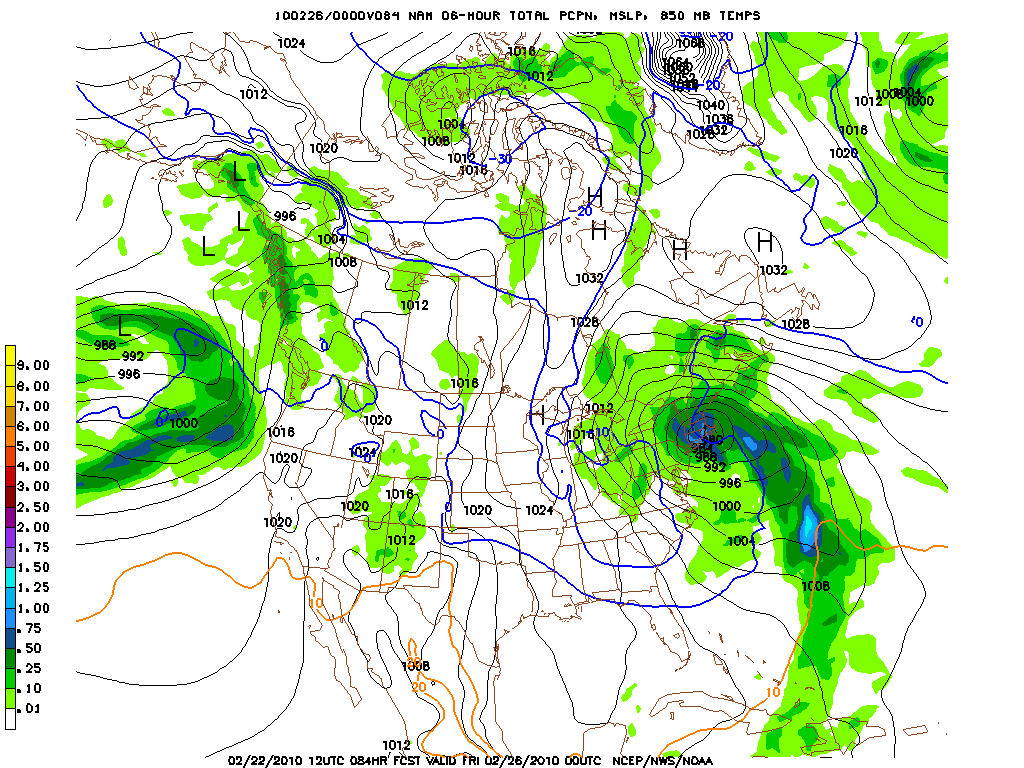 Now the GFS cuts the system off a little less but has been very consistent with regards to the overall pattern.
Here we see that by Wed. night the first low is moving back towards the coast while its brother is forming off of N.C.

A few hours later we see that first low dying and the second one starting to take over.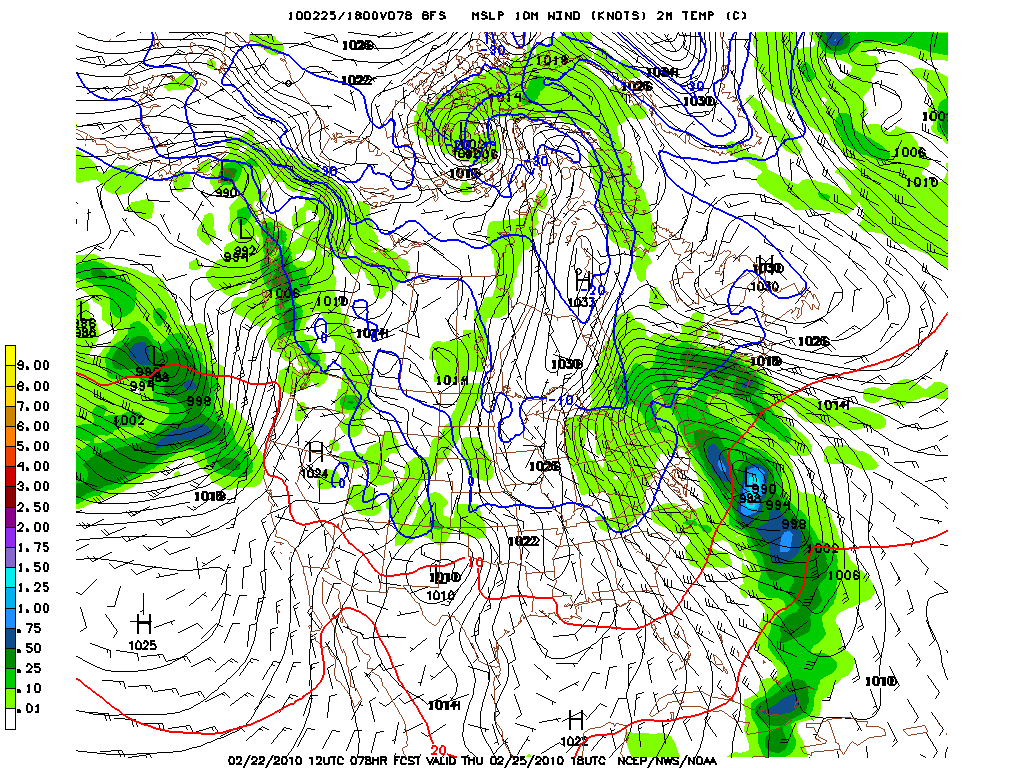 So all in all we really have fantastic model agreement for the over all pattern which is great.
However there are some VERY significant complicating factors.
First lower level temps will be above freezing. At times through out this week I'd expect any locations below 2000ft to experience some rain/sleet. The upper atm should support snow but lower level temps will be marginal. Higher terrain should be fine.
Second weather models have a hard time getting the QPF right for these continual duration storms. They often overdue the precip for certain "down" times and way under forecast the precip for certain "up" times. This makes the forecast tricky because you are always adding and subtracting from the models.
Third the strenght of the friday system is not what we've seen this year. At least that is for the North Country. So we can't compare development to previous storms. We're out on a limb.
Now there are also some real "oh S*#t" numbers out there. Like for example BUFKIT for Jay VT puts the 60 hr precip total ending friday night at over 30 inches. Another example? The soundings for Gore indicate that if we stay mostly snow we're talking 24+ by the end of the week. So yea…there's A LOT of dynmamic potential here.
Of course you are now screaming "GET TO THE POINT!" Well ok.
1. Midweek snow starts light for most of the NE. Snow remains light with periods of moderate snow fall through thursday.
2. Watch out for pockets of rain/ice below 1500 ft. The the further south and east you are the higher the freezing level with So. VT being right on cusp of wet/white
3. Later in the week the 'dacks and No. VT are in the sniper's crosshairs for a substantial snowfall.
4. Week totals could be very significant.
Older Blather
So lets start with what we know (or at least think we know). By Tuesday, a low pressure system, ejected from the four corners region will slide east into the Ohio valley.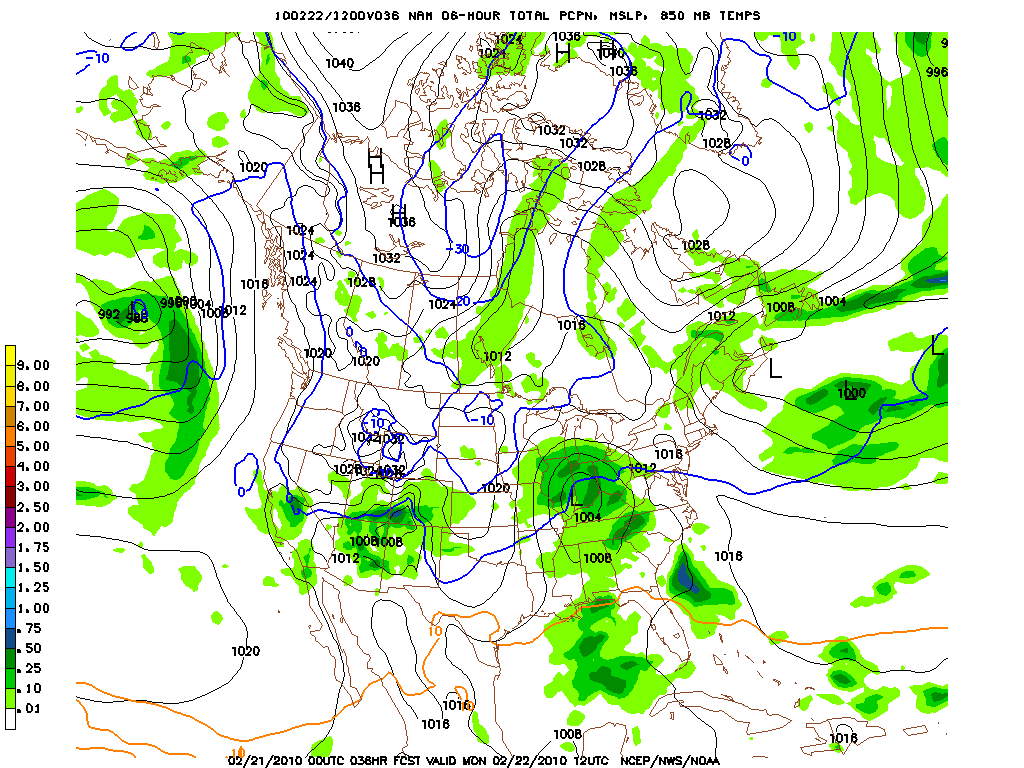 From there, things get…ummmm…divergent.
The GFS:
The GFS has been oddly consistent with some macro details for this system. Foremost it has been consistent in showing the development of two waves of low pressure that deepens off the coast and stalls. Then the system retrogrades back into the NE as a second system begins to form in its wake and the system repeats itself.
We start with the 0z GFS from Sunday which clearly shows this pattern.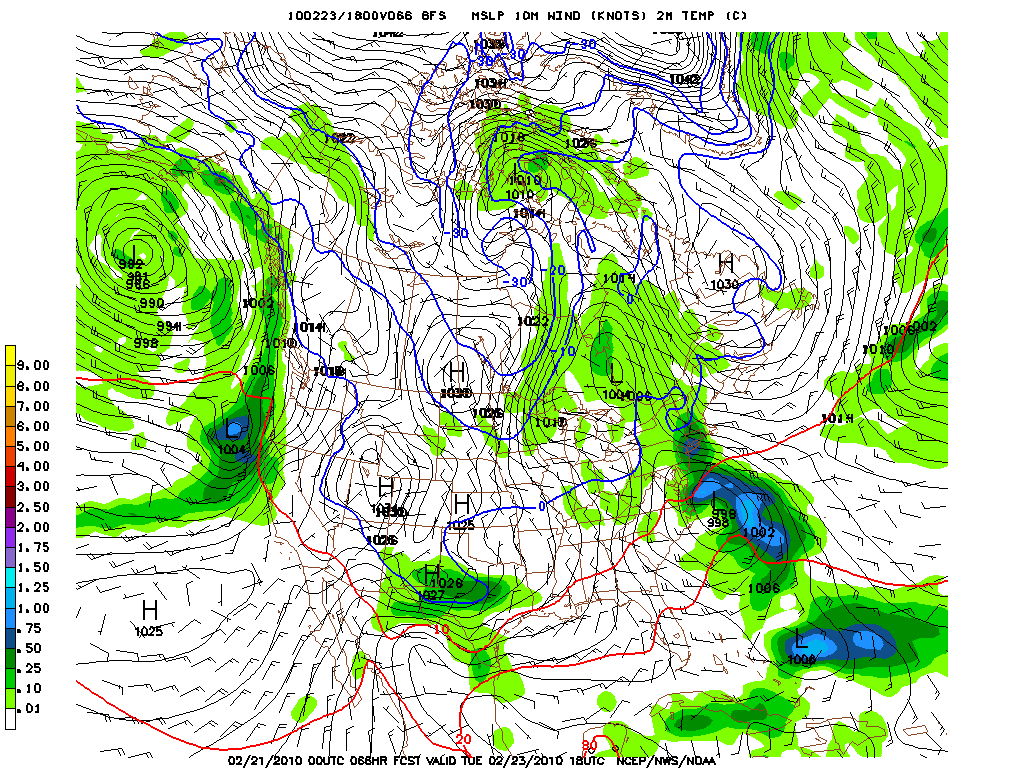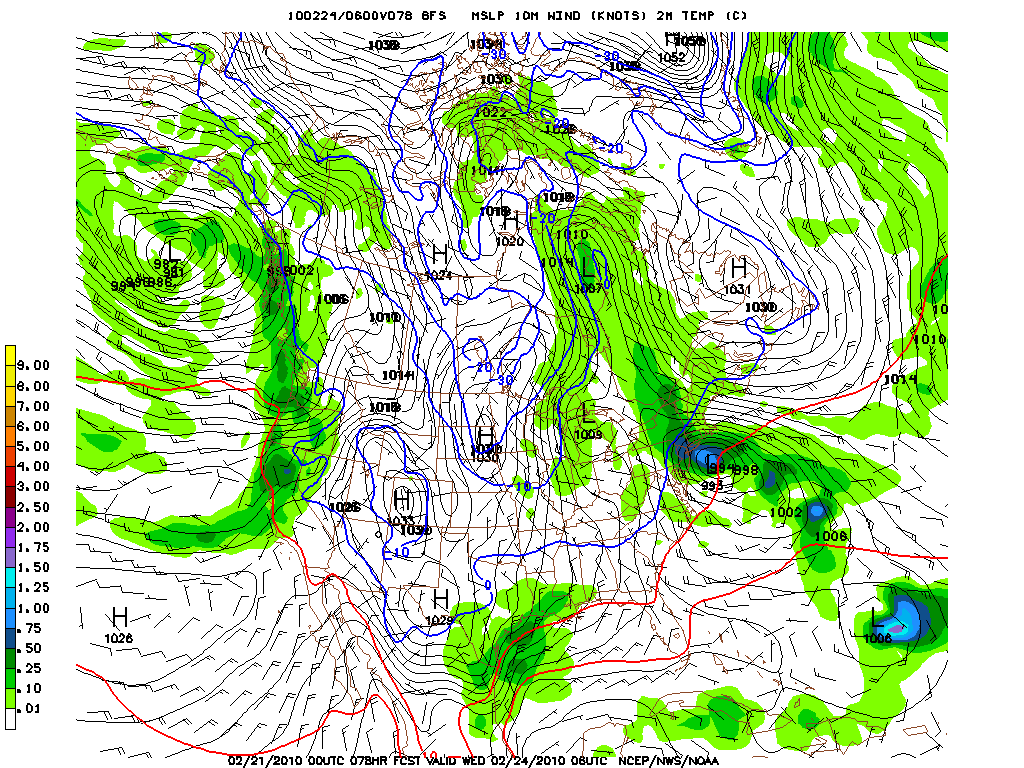 Deepening and retrograding.

This last frame shows a very snowy solution for the north country.
36 hours later the GFS shows another wave developing off the coast and essentially replacing the "midweek" low.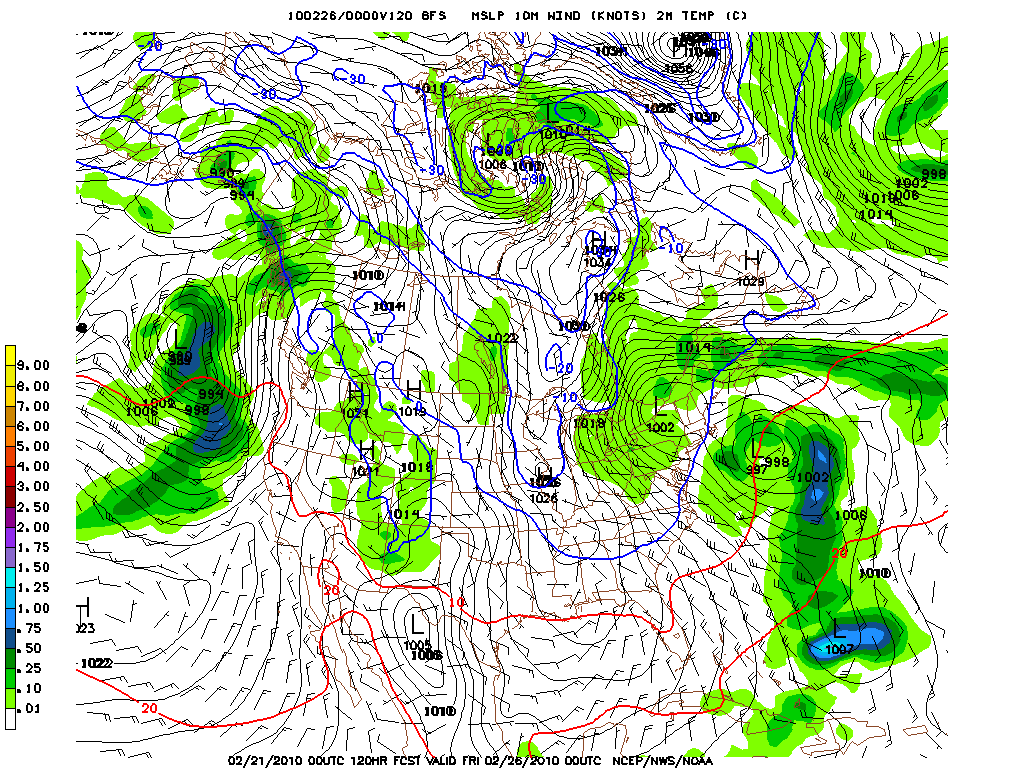 In later runs the GFS began to lose the idea of this "midweek" low stalling and retrograding. Instead it began to really hone in on the second low as being the more important system.
By Wednesday we have steady snow with the coastal off cape cod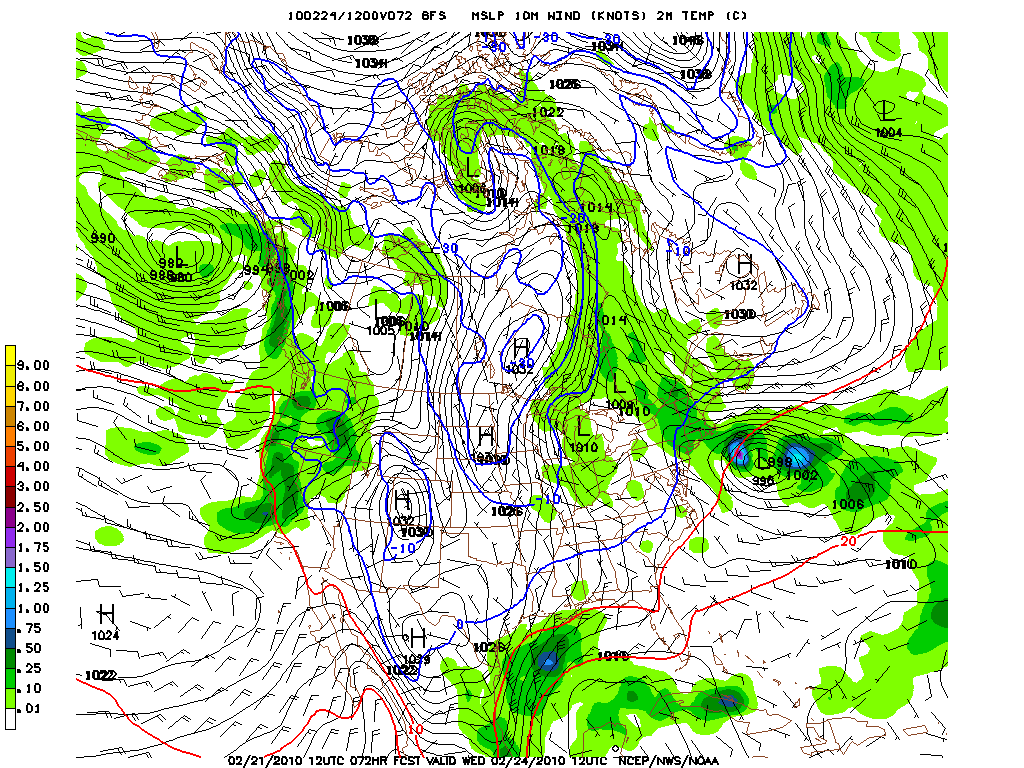 Now we have valley rain and mtn snow with the midweek low still drifting off cape cod.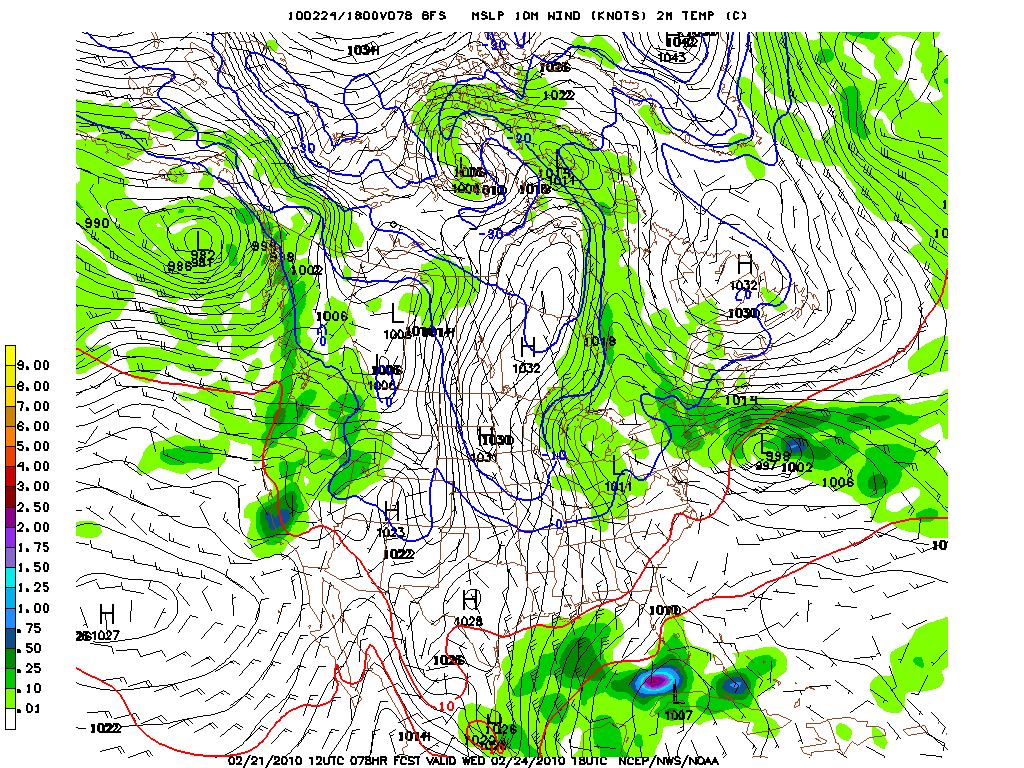 By thursday we see the second wave developing with the "midweek" wave sliding NW towards ME.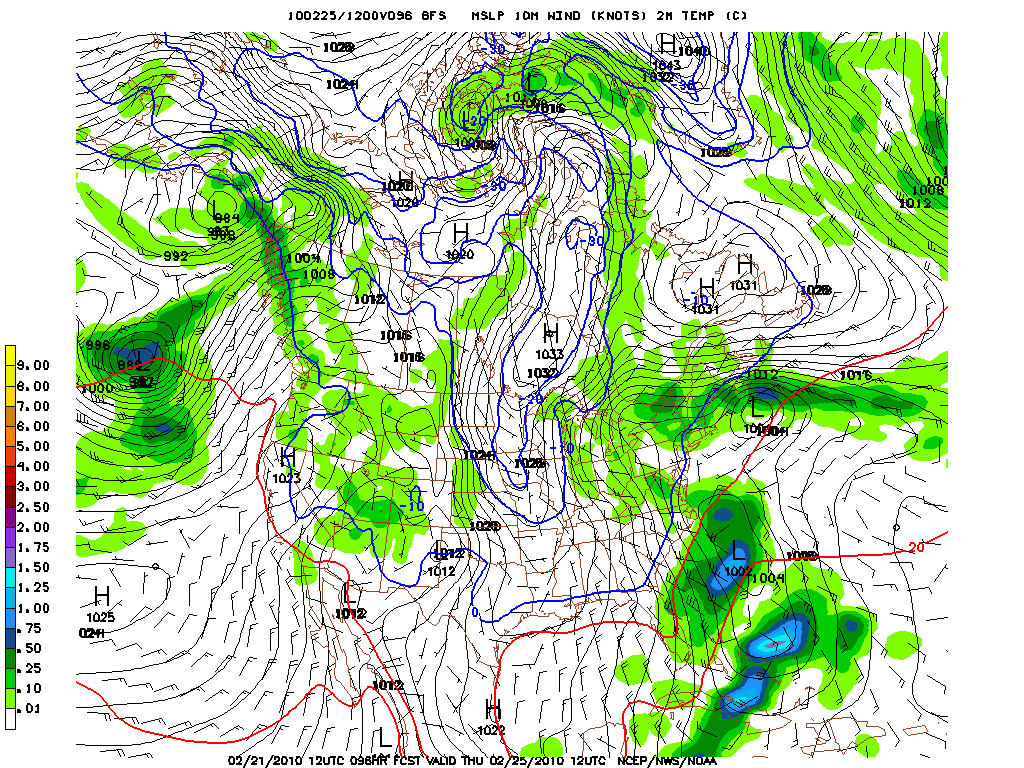 Looking at the upper atmosphere vorticity we see quite a set up with a digging rough and a wave merging off the NJ coast. The results are a good ole Nor'Easter: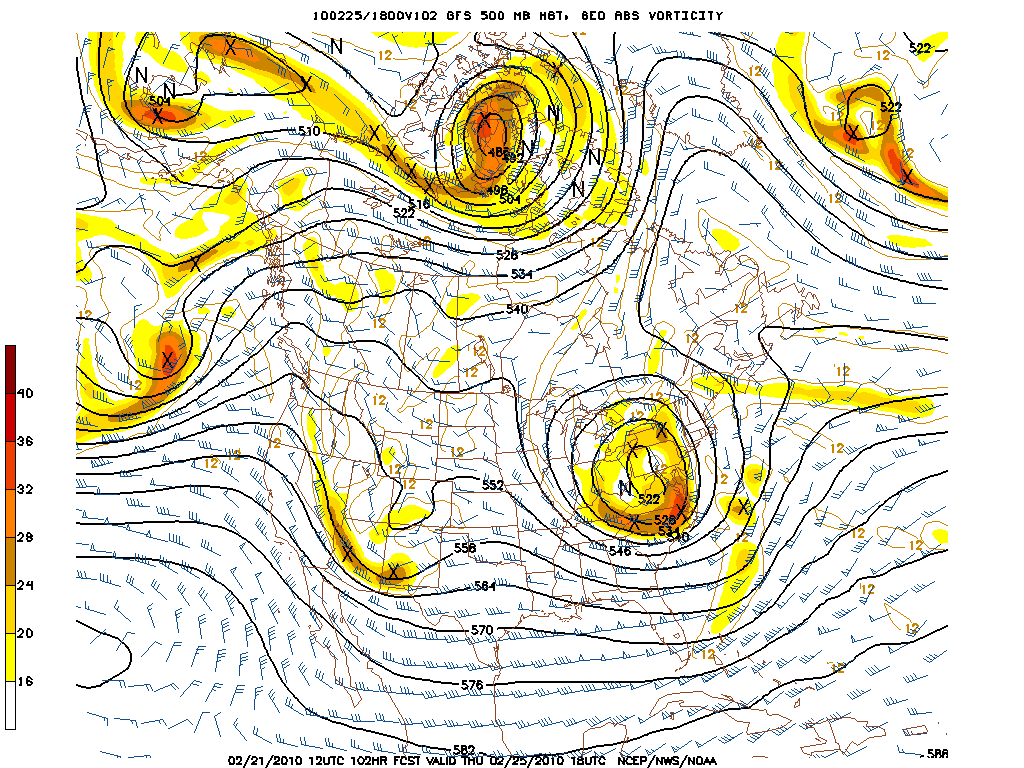 The prev. mentioned Nor'Easter.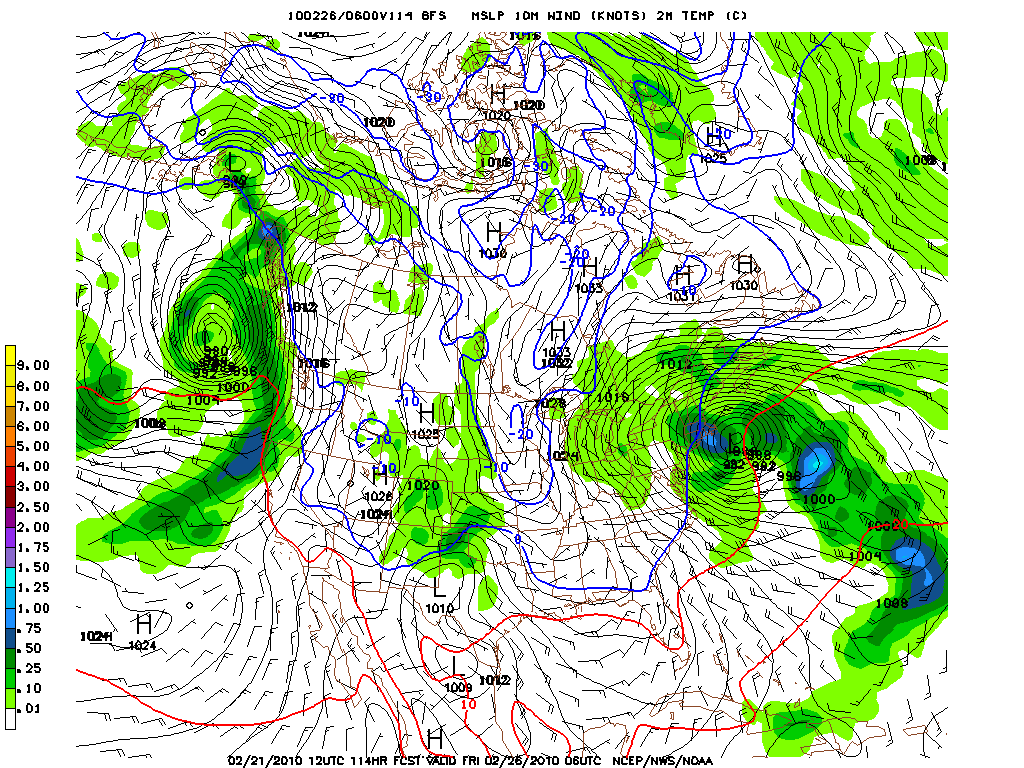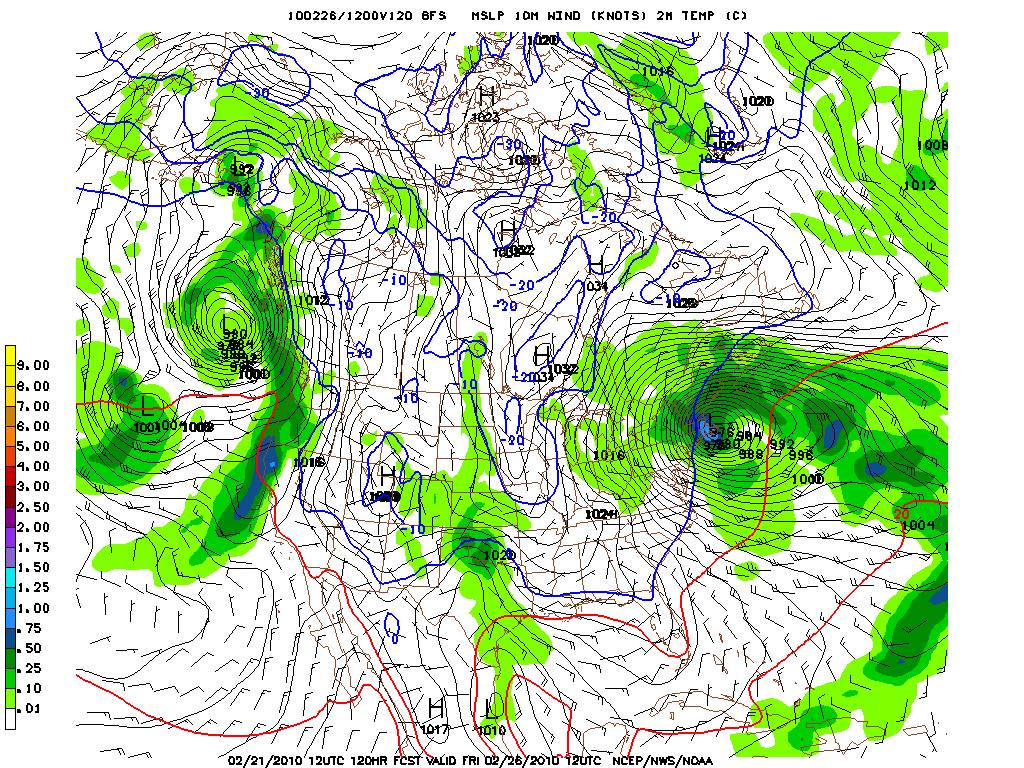 Needless to say this is quite a system but looks a little nutso to me. However there is some support as we'll get to.
The NAM hasn't quite been as aggressive.
First the NAM had the system spawning a secondary low off the coast of NC and basically serving up on big weather air ball. Below is end result with the primary system dying over the great lakes and a secondary wave meandering into the mountain-less Atlantic. Only a few weak snow showers result.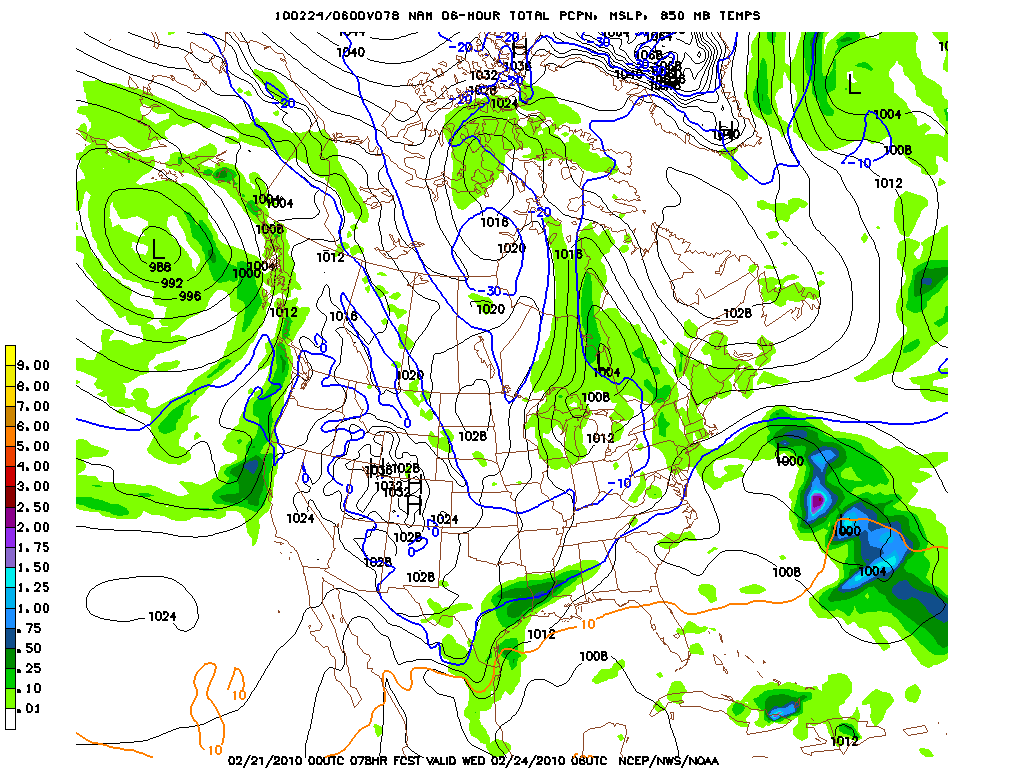 Now, in time the NAM began to come around to the GFS solution. Or at least somewhat. Here you can see the secondary wave being deeper, more closed off and closer to the coast. This in turn creates a wetter impact over the NE.

Now one other thing to note is that both the GFS and the NAM both seem to be converging on a solution whereby the low stalls and retrogrades back towards the NE. An important agreement. Where they differ is the wetness of the period of development prior to the retrogading.
However we can't tell where the NAM stands on the "second" system 'cause it's beyond it's range.
The Euro.
The Euro generally agrees on the overall principal that two lows will affect the North Country. The first should develop around Wednesday and swing into the North Country on Thursday.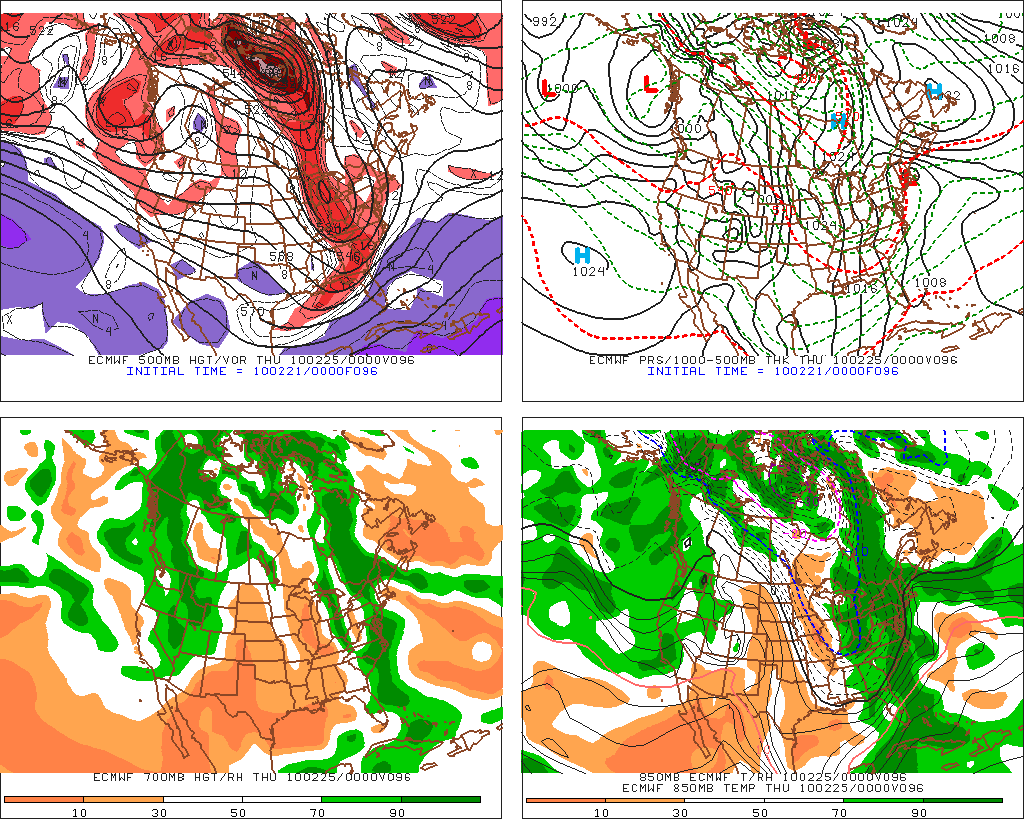 Canadian Model:
Canadian also on board with the general pattern.
First we have a midweek system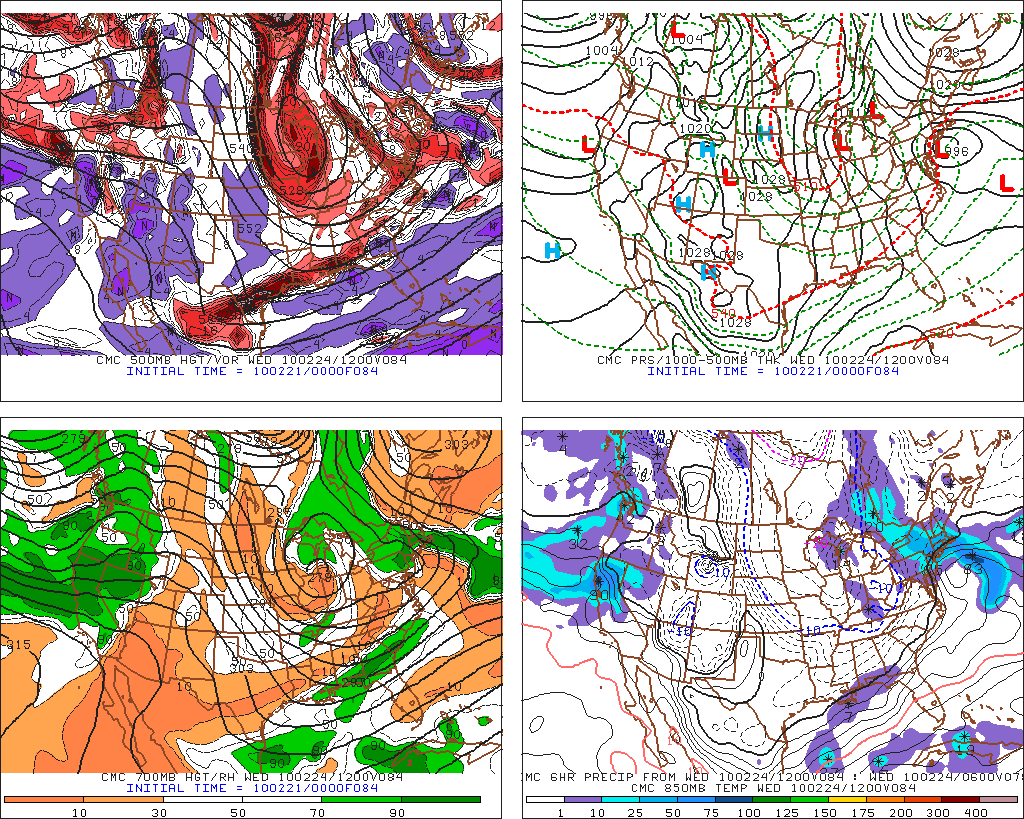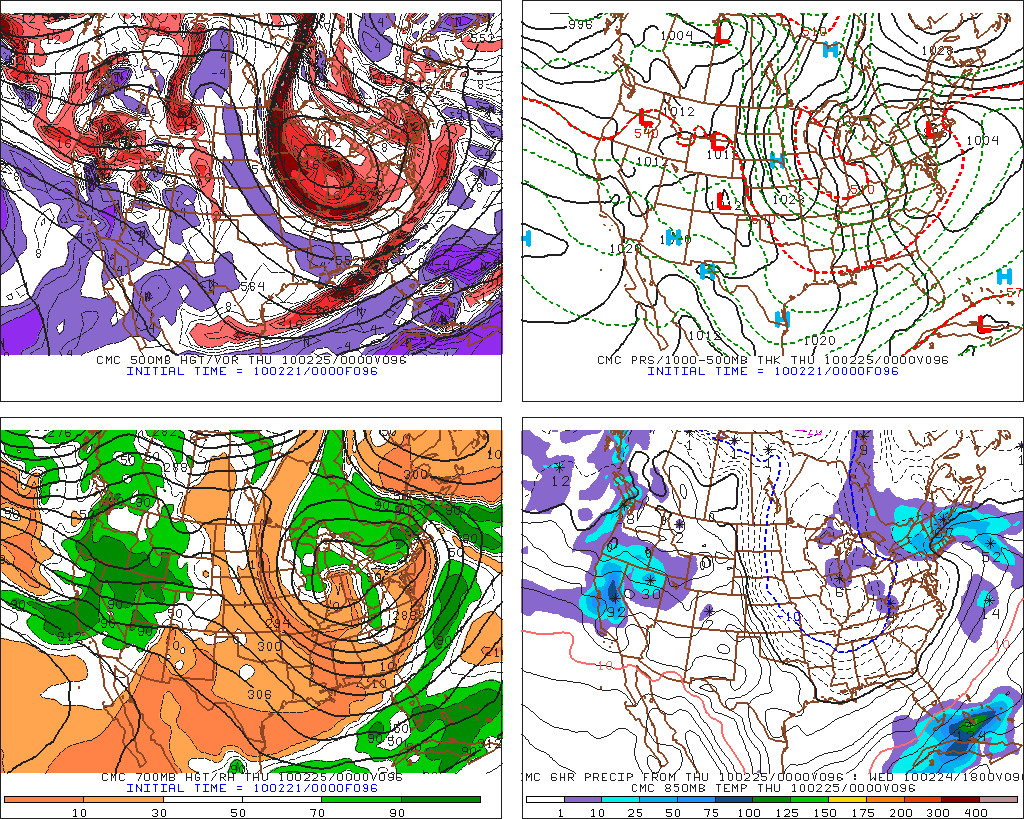 Then we have a late week system that swings NW on a diggin trough.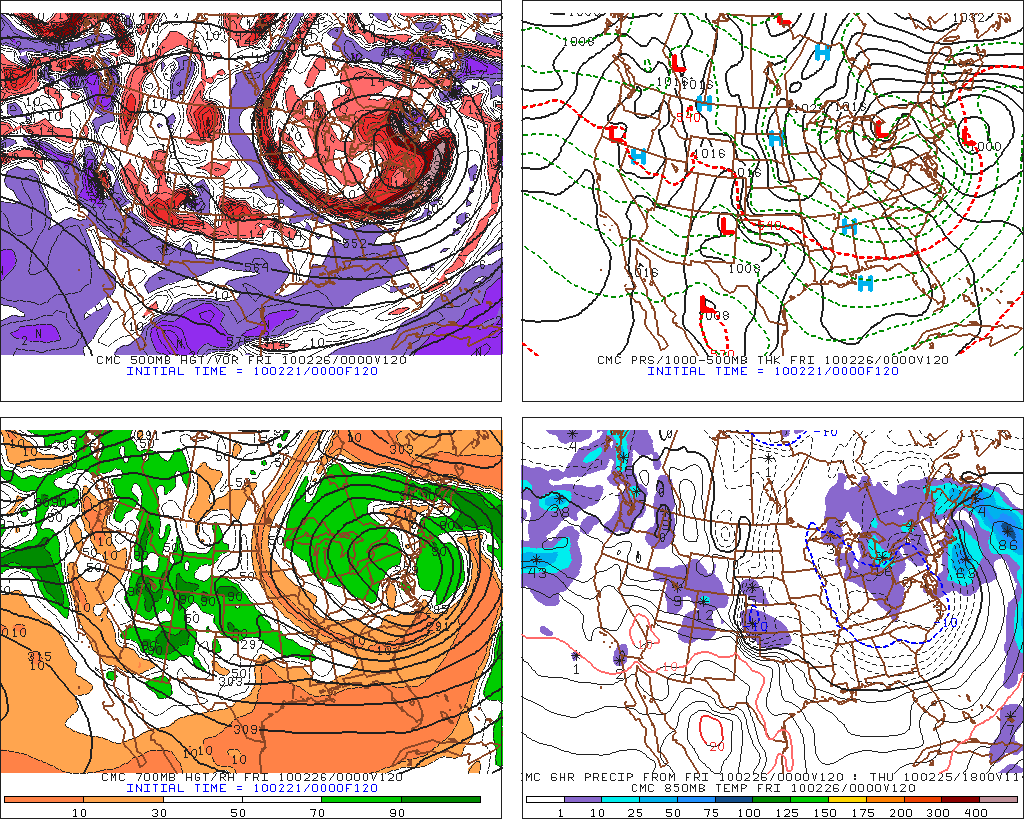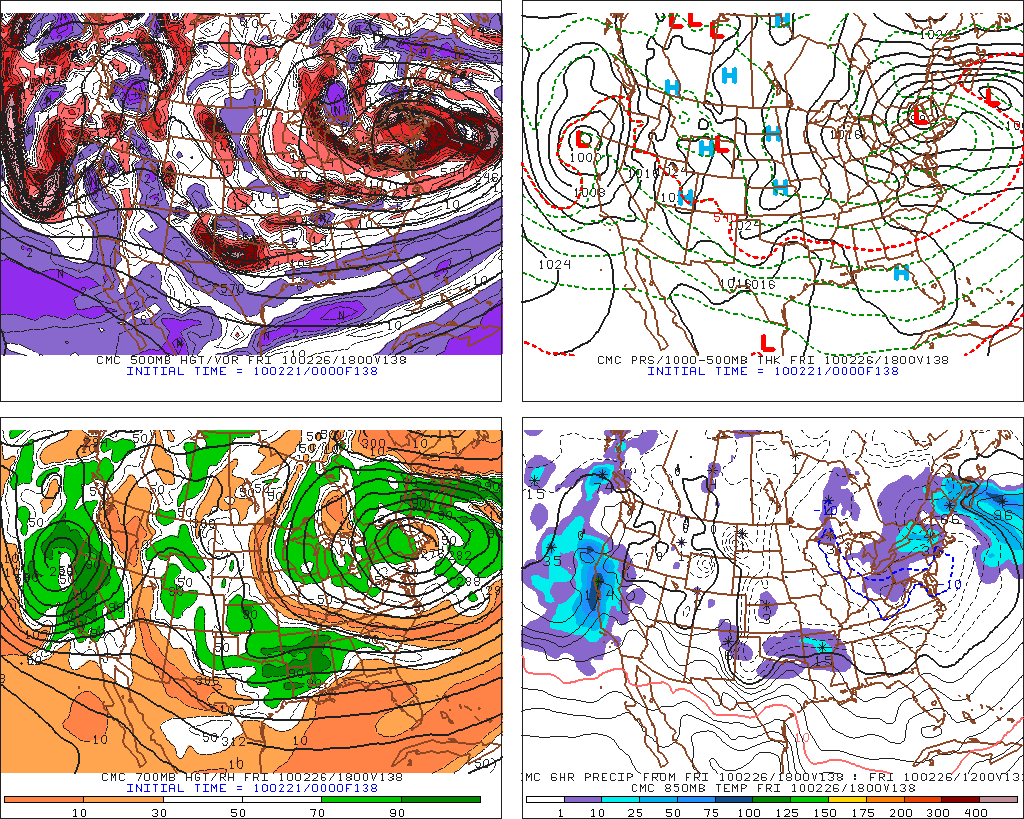 Wrap Up:
Look, I know that's a lot of rambling but I had to get it all out there and I guess I owe you a wrap up with key points.
– Overall pattern will feature a series of lows that affect the north country.
– Lows will retrograde the NW begin a trough.
– Some boundary level temperatures will be marginal and certainly valley/mid elevation rain is possible.
-There exists the chance for substantial totals by week end as periods of light to moderate snow add up. HPC has a VERY wet solution.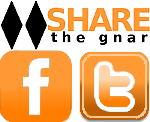 Tags:
Weather
17 Comments
Please consider visiting our sponsors.
Leave a Reply