November 6, 2014 5:38 am | Category:
Weather
As I type this a storm system is dropping out of the great lakes and moving east. The primary center of the low will move into Pennsylvania and then swing through NJ and strengthen upon interaction with the coastal baroclinic zone.
This is a similar to the track low pressure took last weekend.The difference is that as the low pressure center digs southeast it will a) not go into the Carolinas and b) will redevelop along the coast further north and west. The system will then track just offshore of Connecticut, Mass and Maine.
Here, lookie: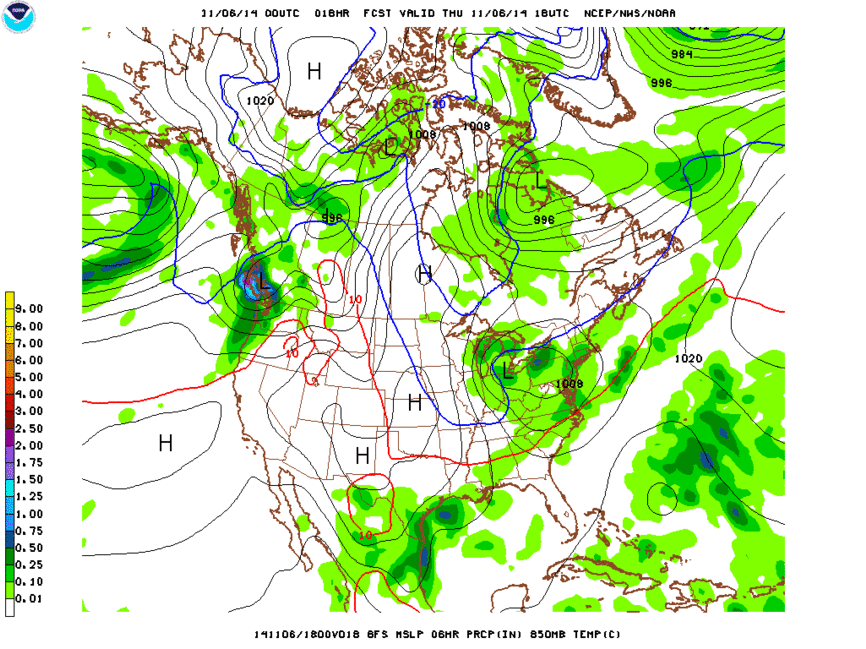 As the system rolls through, it will bring precip to the higher elevations (and maybe even lower elevations briefly). First, tonight warm air advection on south winds will bring a steady rain that will change over to snow above 2500 feet by early nighttime. Winds will be from the south as the system is to our southwest and south. Then as we move towards daybreak on Friday the system will bring precipitation on North and Northwest winds as it moves northeast to our east. Temps will fall Friday as the system pulls out. There will be a period of calm between the departing system and the advection of some cold moist air behind the system later friday. This air could spark some additional upslope accumulations.
Overall the models are fairly moist with this system.
12 hour totals by tomorrow AM: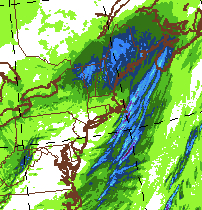 However temps will be marginal and some snow that falls will be consumed by unfrozen wet ground. That said it is highly likely that elevations above 2500 feet will see 3-7″ of dense wet snow from this system with the potential for several more inches up orographic precipitation Friday into Saturday. (Of course this makes perfect sense since I'm out of town Friday into Saturday…… FML)
So there you go. Let's get started.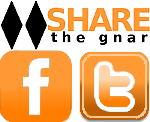 9 Comments
Please consider visiting our sponsors.
Leave a Reply