Starting on Tuesday a storm complex will move into the Northeast. From Tuesday through Thursday night we'll see steady snowfall across all major northeast mountains as the "storm" unfolds in 4 parts. Totals will generally be in the 8-16 range with pockets 20-24(+) range when all is wrapped up Thursday.
Lets take a closer look at the event.
First a GIF: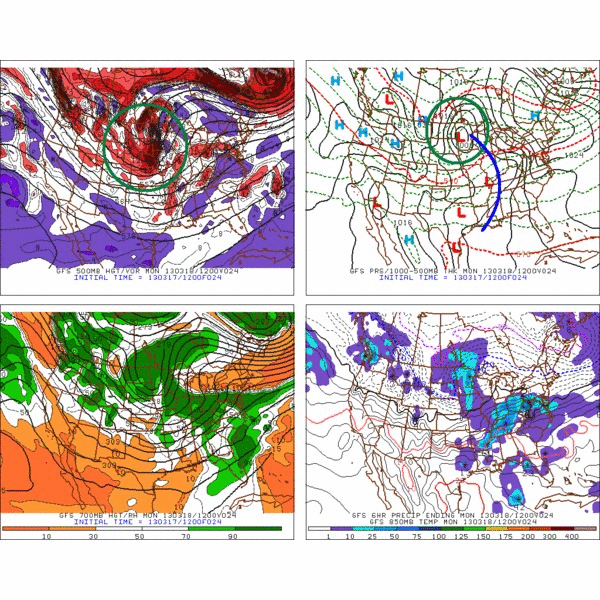 Now the explanation.
On Monday, a large storm will move into western Great Lakes. A warm front will extend east over the great lakes, and cold front will extend down into the Ohio Valley.
The Great Lakes storm – by monday evening- will have become almost vertically stacked (surface, 850, 700 and 500m low centers all on top of each other) under a very large 500mb upper atmospheric trough. The trough will move east through the day monday.
As that trough passes over the surface cold front, it will spark the development of a second low. This is Norwegian-Model cyclonic development 101. The mass divergence of air exiting the the base of the 500mb trough sparks uplift. When this uplift interacts with an area of strong temperature gradients- like a cold front- cylcogenesis is likely.
So by Monday 11:59pm we'll have a large vertically stacked storm to our west/northwest and a newly birthed storm to our southeast. In between the two storms will be a pocket of warmer air that was sucked up and trapped by the big old low to our N/W.
By Tuesday morning, the warm pocket of air will be making zee powz through isentropic lifting over entrenched cold air. (Part 1) We saw a VERY similar process occur in the first part of Nemo. It sucked. HARD.
As tuesday rolls on, the whole complex will move generally east/northeast. The storm to our southeast will strengthen and deepen. It will track generally through Mass and So. NH, then into Maine. This is a great track for mountain pow. (Part 2)
By Tuesday night, the two lows will actually begin to combine, creating one massive and stationary low. That large complex will sit over the N/E Tuesday night into Wednesday. Notably, the winds will turn to the west after having a strange confused s/sw orientation on tuesday. Combined with a fair amount of atmospheric lift, the whole complex looks to keep the snow going thru Wednesday. (Part 3)
Finally, on Thursday, the center of storm complex will have moved off to our Northeast. The cyclonic rotation however will rotate remnants of the old low back into the N/E. With good wind flow forecasted, and plenty of moisture around, the upslope machine looks to turn on overnight Wednesday into Thursday. (Part 4).
So yea, that's the overall picture.
Now some notes.
1) Tuesday is going to have some weird ass strong winds fron the s/sw and s/e. I cant tell you exactly what that is going to do to the snow other than this: It's going to mess with it and pack it into some strange places.
2) That pocket of warm air that gets trapped between these two lows is just another messy, complicating factor. I could see some sleet developing on tuesday at some point as a result. At the very least it will impact the dendritic growth and we'll see some non-fluffy snow falling.
3) Don't be shocked if a dryslot works into this equation as well at some point Wednesday. That could easily happen as the lows spin some drier cold air from the west up our way.
Totals:
With the above notes and complexity of the forecast, I think a widespread "loose" call of 8-16 across all the mtns of the Northeast is warranted. If the parts 3 and 4 of this even play out well, I'm certain favored spots in the ADK, Greens and Whites will be looking at totals in the 20-24+ range by Thursday night.
Ok, back to the Jameson. (sorry for any errors here, I'll clean it up in the am. About an hour ago I realized "Hey, Absinthe is green!")
Kiss me, I'm Irish; Erin Go Braugh; Go Celts!
TUESDAY AM UPDATE
So this storm has begun. As I noted above there are strange winds some dry air pulled in between the two systems.
Currently the surface pressures look like this:

You can clearly see the dual low structure I was talking about. The old low is marked L1. The new low is marked L2. Currently a strong southeast wind is wrapping around L2 and bringing moisture and some weird wind packed snow to the Greens. L1 while really a player in making it snow right now is going to greatly affect the track of L2. L2 will wrap around to the N/NW over the next 24 hours. (Marked in purple).
As it does, the winds will shift and come out of the west, NW. This will kick off some upslope snow later tonight into tomorrow morning.
Currently totals are 5-6 range in the ADK, 4-6 range northern greens, 7-9 down at Stratton and Mt. Snow, with 3-5 in the Whites.
Still feel ok with that overall 8-16 call.
end update
Wednesday Update
Storm totals so far
Jay Peak: 26"
Burke: 15"
Smuggler's Notch: 16"
Stowe: 14"
Bolton Valley: 15"
Mad River Glen: 19"
Sugarbush: 15"
Pico: 16"
Killington: 16"
Okemo: 16"
Bromley: 16"
Magic Mountain: 15"
Stratton: 16"
Mount Snow: 18"
Wildcat: 12″
Cannon: 10-13″
Sugarloaf: 15-18″
MTW: 16.9 (Dig at Andrew "Thief" Bynum")
Whiteface 15″
There is still some upslope snow coming as well. 2-4/3-6 type stuff mostly. Best accums will be along the western slopes of the greens with a bit of a blocked flow and the usual down stream shadowing of the Whites from the Greens.
End Update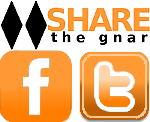 Tags:
Lionel Hutz Weather
,
lionelhutz
,
lionelhutz ski weather
,
ski forecast
,
Ski Weather
,
Upslope snow
,
Vermont
,
Vermont Powder
,
Vermont Powder Skiing
,
Vermont Ski Forecast
,
Vermont Ski Weather
,
Vermont Upslope Snow
10 Comments
Please consider visiting our sponsors.
Leave a Reply