October 14, 2010 5:27 pm | Category:
Weather
I had to start a new post because this is too good to be buried. Seriously. I told you I like the october pattern two weeks ago. Some of you may have listened. Some may have not. I told you we had a storm coming a few days ago. Again some listened and some did not. Well listen now: We have a storm coming and it's bringing snow, potentially deep, to the Northeast.
PM UPDATE 10/15
Well somebody is going to make turns….and if you have not left yet I'd head to the central green mountains. This storm managed to tuck a real pool of cold air into it's SW flank (see below) and this resulted in heavy snow through out the day with more moderate snow on the way. Killington peak is the he big winner so far with at least a foot towards the top. WOOT WOOT. At this time the northern greens are getting a warmer maritime layer mixing in about 6-7k. This altering the precip pattern a little bit. However as the sun's power wanes the and the storm piviots out towards the NE the northern greens should tap into an moist N-NW flow. With the winds underperforming the are falling right in the prime target zone for upslope snowfall. Couple this with high omega values between 9 and 13k and I think overnight – around midnight – a period of rather heavy orographicly enhanced snowfall will result. Total amnts overnight are hard to judge but 3-6 inches more over night is well within reason.
In ADK snow levels have fallen to at least 1900 feet (Lake Placid). Reports have many inches on the ground at lower elevations with clearly more up top. (One spotter indicated feets at the summit of whiteface). Winds may have hammered the toll road but me thinks it will be well worth the trip tomorrow. At the same time as the greens the N-NW moist flow should create some orographic snow. The omega values are lower but the lapse rate is higher. At the same time the atm is overall colder in the ADK so I think what they lack in pure qpf will be made up for in snow ratio. Another 3-5 is easily possible across the higer terrain of the ADK.
AM UPDATE 10/15
Storm 1 (P.S. We are having a naming system contest. Last year we named storms on a whim. This year I want a system. Email your proposed system and possible names….including the name of this storm. Winner gets some stickers, a calender ( or two) and a law school text book of your choosing. SRSLY). Anyway….Storm 1 is WELL underway and it looks like it has ducked a big pocket of cold air under it's s/w flank. Given the TREMENDOUS amount of moisture streaming in with this system it appears that areas like Killington north to Sugarbush could recieve a very large does of snow. Snow levels are reported to be around 2800 to 3000 feet with expectations that they will lower over time. This means that snow should pile up there rather rapidly through out the day and into the night.
This doesn't mean that the more northern Greens get shut out. I still expect the totals to hold up as the air is cooling. Recent observations place the top of manny at roughly 32 degrees F. So it's close there. Cooling through out the day will greatly help that region and moisture streaming in after 2-3 pm today should fall all as snow above 2500 to 3000ft.
I'm also going to up totals at K-Mart….I'd say we easily looking at 8-12 at Kmart's top 1/3 with the potential for as much as 12-16 above 3000ft along eastern facing slopes.
Might have to bump other northern greens areas up too…lets see when it starts to change over.
ORIGINAL TEXT
So….lets start simple: A system is moving up the coast now. By tomorrow morning it will begin to deepen rapidly. In about 24 hours a strong baroclinic zone will exist just along the eastern seaboard. Using this as a guide I believe the storm will deepen to a sub 1000mb central pressure very quickly and reach into the mid 990s. This is rather robust for an early fall system and shows the power of this storm. As the storm deepens it will become negatively tilted with height. This plays into and works with a number of dynamics all of which equal a kick ass weather event.
As the core of the system moves into the Conn. Rhode Island region it will tap even more moisture and advect it along an east flow into VT and NH. Coupled with the dynamic forcing this means a large amount of moisture will be present in the Green Mountains. Less will be present in the ADK than the Greens because the moisture advection will be hampered by the cross-flow green mountains. Regardless, a large amount of moisture will be moving in over the north country.
Now kids, this is where this gets fun. When I said I liked the October pattern what I meant was that I felt a number of these unseasonable cool troughs would hook up with one of these still summer air laden storms and give us some snow. And it has. As the system wraps up it will pull into it's western side some cool air. Now mind you this isn't "Cold arctic" air. It's merely cool enough to result in snow. And that's A.O.K. with me on October 15th. So as the cold air works into the system temperatures should fall below freezing to about 3000ft to start out. While that's pretty high it certainly isn't too high to find some turns when this is all said and done. As the system powers along the snow falling and evaporating will cool the atm and moisten it. This will result in lower snow levels and cooler temps where it already snowed. That's good.
Combined with the cooling effects of parcels of air being lifted up over the greens the snow levels should remain steady through the event and hover betweent 2500 and 3000ft. I think all of this will really begin to take hold in the Greens at around 2-5 tomorrow (Friday) afternoon. We'll lose the sun's power and the atm will really begin to cool. From then on it's going to be game time.
Overnight it really just keeps going. Total qpf progged to fall in the period supportive of snow is roughly .75 to 1.5 inches (with more in micro climates where deep moisture and orographic uplifting could double the total qpf). I'd be even more robust if there were steeper lapse rates. Regardless there is a bunch of lower level upward vertical motion, deep relative humidity, and solid enough temperatures.
Also notable is that as the system pulls out on Saturday winds will remain from the north and the moist atm will rely on orographic lifting to keep sn. showers lingering into the morning hours.
So what does this all add up to…wait…you think I could do all this without an MS paint map? This much text and not one LionelHutz map? PLEASE.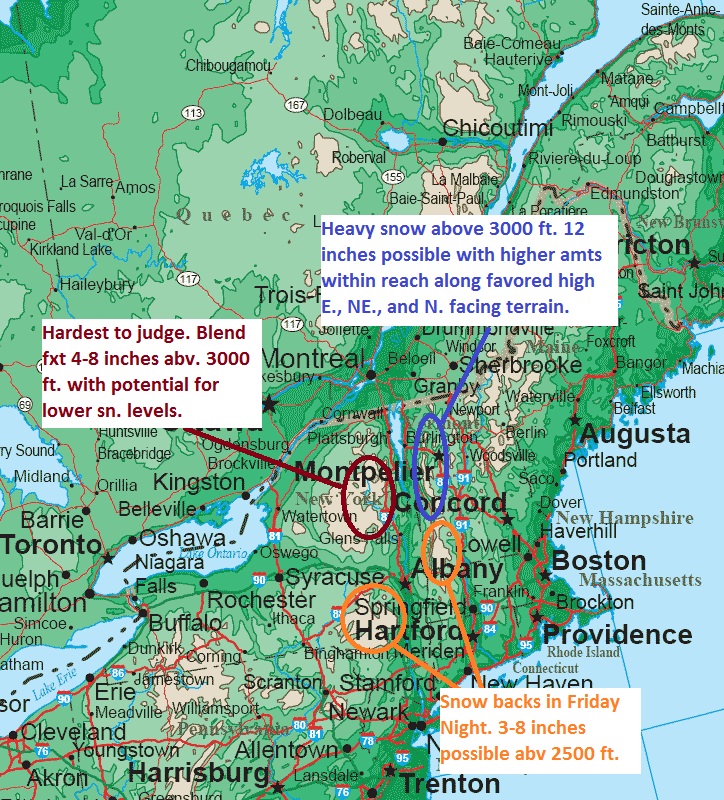 So of course I have to tell you what could go wrong…and respect me for that. Aside from the track (always an issue) the easterly flow could be way too much and keep temps above freezing. Don't see it happening but its possible. Secondly- the rain and above freezing temps before the event could and will eat a lot of snow that falls early on. Amts will be skewed by this loss in snow. A frozen platform could record at least twwice as much as the wet muddy ground will. And that's really the biggest "bust" factor in play. And I'm going to have to watch it.
Wrapping up, if you want to follow the storm in real time from a computer, use our weather page to find all the weather links a skier/rider needs. But if you're outside during this event, I'm going to rely on you guys- my readers- to tweet, text, and email our FISWX account. I need your feedback and so do the other readers. Tell me where you are, what's your elevation and what's going down. All the wx comptures in the world and we still collect visual observations thousands a times a day from all over the world. Nothing beats your eyes! Email your report to FISWeather@gmail.com or TWEET it @FISWX. We'll collect them and retweet them to everyone!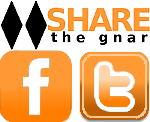 Tags:
Early Season East Coast Snowfall
,
early storm
,
first snow of 2010-2011
,
Lionel Hutz Weather
,
nor'easter
,
October 2010 Noreaster
,
October snow
,
October Snow 2010
,
October Snow New York
,
October Snow Northeast
,
October Snow Vermont
,
Ski Weather
,
Vermont October Snow
,
Vermont Ski Weather
24 Comments
Please consider visiting our sponsors.