Busted
April 14, 2010
April Fools day.  The start of some glorious pranks.  This year, it also happened to be the start of a 90 inch storm cycle in the Wasatch.  Being pent up since our last 90-incher in January, we were rip snorting and raring to go.  Colby and I were up at the crack before dawn.  Meeting at the Einsteins on Wasatch.  And, up Big Cottonwood Canyon, as Little Cottonwood was closed for bombing.
We started driving up BCC and as we rounded the S turns, we found an all out blizzard.  Not the kind you see very often.  2-3inches per hour, 30 mph winds – real serious stuff for the floor of the canyon.  I've been up Argenta many times, but it was snowing so hard, it took us 3 passes in the car to find the trail head.  All the while Colby was hanging his big head out the window, peering through the dark, flake filled night.  Finally, after driving around in this mess of a storm, we found the parking spot.
It had snowed 20 inches over night, and made for grueling trail breaking.  After a few hours of breaking and rooting, we were up to the bottom of the upper bowl.  We decided to turn around here, as we had to get back to the office.
We started skiing, and it was glorious.  Here you can see Colby, barely, through the snow all around us.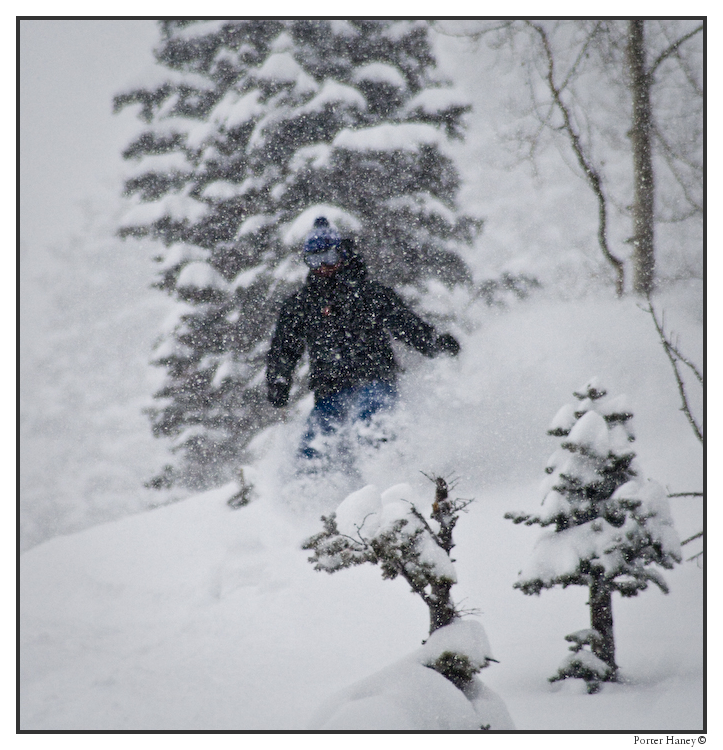 And he got those hands up, not even spilling a sip of his coffee.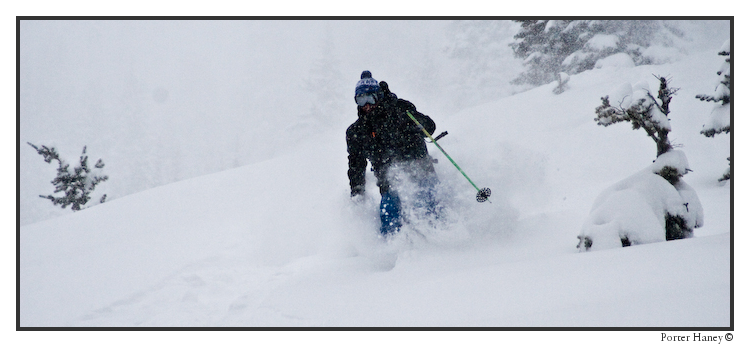 One sequence, little did I know it'd be my last of the season.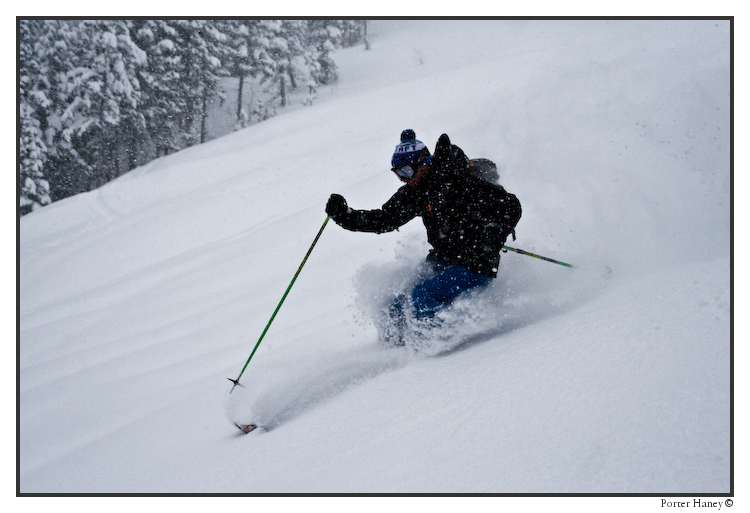 And, the season's final powder frame.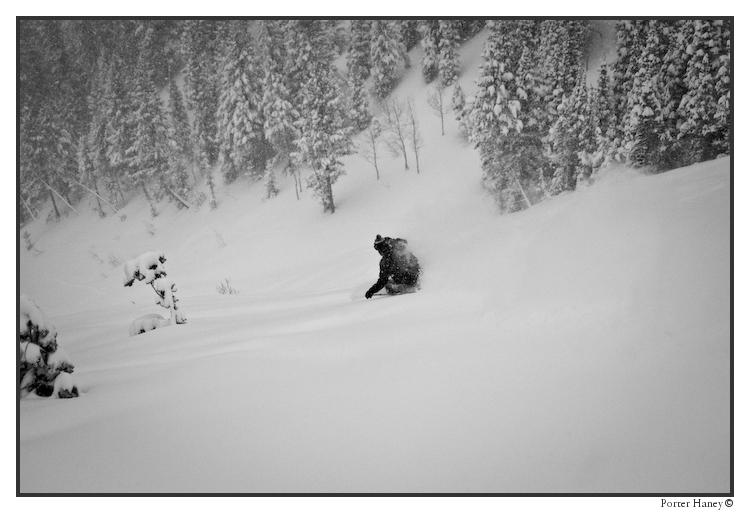 Like all the great powder pillagers, occasionally the mountains can bite you back.
And that is precisely what happened.  I shot these frames of Colby, and as I started skiing myself, I tagged the heck out of a stump in the Argenta slide path.  Not just a love tap, mind you.  A full on, lets get some face shots, and ski this thing deep, kind of tagging.
I hit the stump and front rolled, like a Ninja Turtle.  As my shell came to rest on the snow pack, a point release propagated around me.  20 inches deep, 30 feet wide, and 90 feet long.  I was surface buried and pulled myself out quickly.  However, the Black Diamond Verdit with FT 12s that hit the stump was a different story.  It was gobbled up in the slide.
I knew immediately.  My right leg was not happy.  I looked down and realized that the buckles on my Black Diamond Factors had sheered off with the pressure from the crash.  My dynafit binding had been set around 10ish.  Toes in ski mode.  For what it's worth.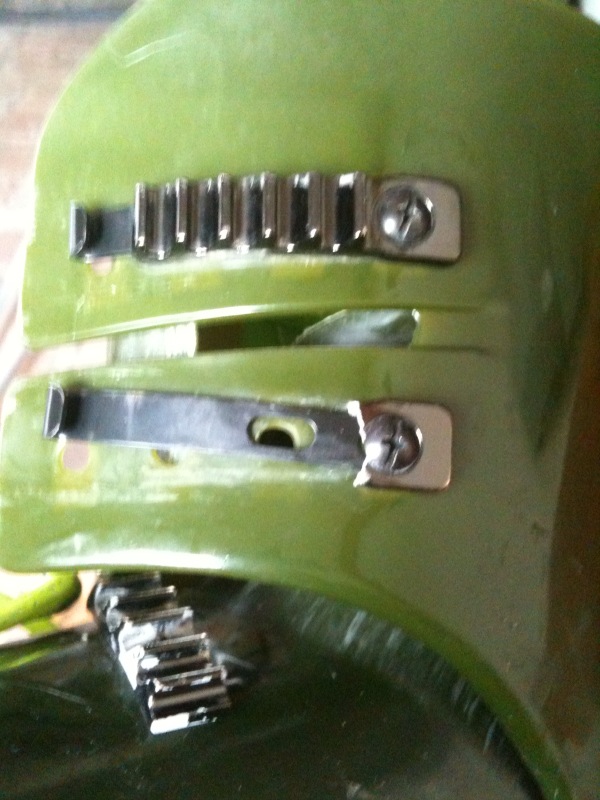 I could feel substantial pain running up from my right ankle, but also knew if I didn't act quickly, more pain would come.  We rooted around for a few minutes for the ski, and gave up the search.  Knowing even if we found it, that my leg was not strong enough to ski down with it.
I started down from the scene of the crime on my left leg, dragging my right leg through the powder as a rudder and a break.  This went on for over a mile, at least 2,000 vertical feet, and maybe 45 minutes.  I was one leg skiing/traversing while I tried to break with my poles and bad leg, inevitably falling in a heap at the end of the traverse.
Below, you can  see the slide path, with the X marking the spot of the accident.  And the escape route.
This isn't my photo.  You can see the original here.
Colby and I made it back to the car without further mishap.  I went to the ankle doctor, and found I had a fractured medial malleolus.  Meaning, I got to have a nice stainless steel plate, affixed with #4 allen wrench bolts, to the bottom of my Tibia.  That was a fun excursion.
___________________
Reflecting back, two weeks later, I was lucky.  I could have hurt something else.  Or I could have more troubles extricating myself.
I'll heal, and be back with more stories of fun filled powder days.
In the meanwhile, Carpe Skiem!
Support Famous Internet Skiers by checking out some of this great gear at Backcountry.com

---
Read about the author:
Porter Haney
---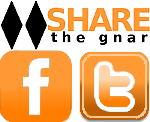 8 Comments
Please consider visiting our sponsors.