So What's this All Add Up to? Damn Right…The LionelHutz Winter Prediction:
Remember, all of this is "broadly speaking." Our finest level of temporal accuracy in discussing weather several months out is perhaps by the "half month;" it is impossible to give specific dates from this range. Anyone who does so is lying.
For the Northeast:
Combining all the data above with all the data I collected on a pile of barely legible post-it notes on my desk, and my gut feeling and a few late night vigin sacrifices (SFW, but you probably don't want to get caught looking at it anyway), brings me to the conclusion that the Northeast will see above average snowfall above 2500 feet.  It will be a messy but active year.  OVERALL I think the prevailing pattern affecting the Northeast will look like the map below .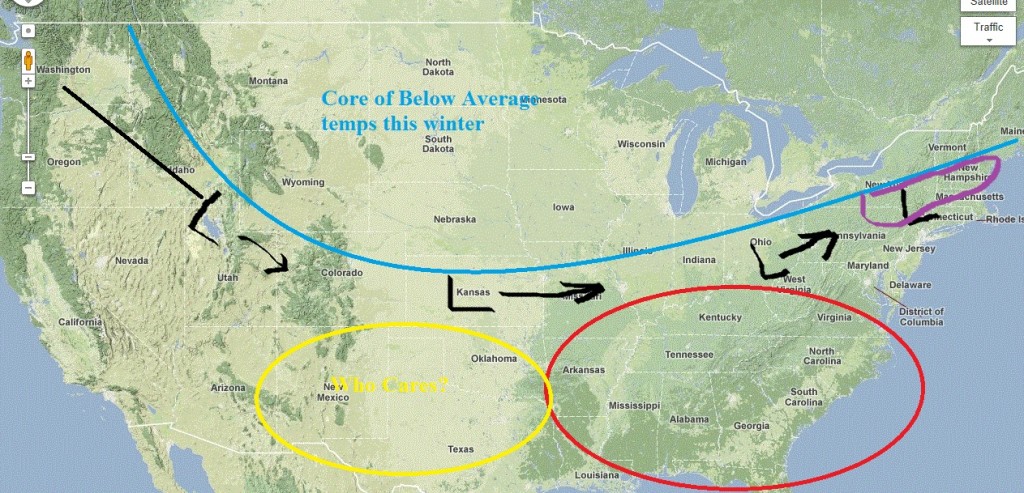 In this pattern we'll get many storms when low pressure areas move along through the heart of country where the core of the coldest anomaly will reside. Across the northern plains and Great Lakes I suspect we'll see a rather cold winter. As the energy moves towards the coast it will either deepen OR spin off energy to a secondary coastal low. (Not pictured). Both of these TEND to be messy systems for the northeast. So yea…get some Gore-Tex. This idea, backed up with data leads me to think during snowy periods for the mountains a strong gradient will exist whereby elevations in the ADK, and VT do very well with a sharp contrast in both snow quantity and precip type to the south and east. This is shown by the messy purple area. In fact, were I able to show this in more detail, I'd get elevation specific. It's highly possible this winter will feature storms with rain at the base and Pow at the top.  Or vice versa.  Substantial above average temps will reside in the southeast…so I guess not a good season to go skiing in Georgia.  Partly because of this contrast, and partly because of the predicted storm track, I'd also be on the lookout for at least one major ice storm.
This isn't to say that all hope is lost for "purple-ville." As we are in a period favoring a negative NAO I think a few systems will certainly deepen in such a way as to provide snowfalls to the southern VT, NH and Maine regions.  I just don't LOVE these areas this winter. I think they will waffle back and forth with precip type much more than they did the preceding two years.  There will certainly be good days, just not as many "fine" days in between.
Going in depth a little more, and relying on 2008-2009 as a recent and decent guide, let me break down how I think the winter will play out by month (or there abouts).
October to mid November will be warm. I don't see much shot at substantial snowfall. Maybe around the 22nd-Halloween period we hook  up a little great lakes low (there is some data supporting that conclusion) but aside from that I think we stay pretty snow-less till mid next month.
From mid-November through Jan. 1 I think we feast. So maybe consider some rockered fatties, I like this period. As illustrated above, prior years similar to this one really favored this period for the MOUNTAINS. I make this point in all caps because I don't think it can be underscored enough. This winter shouldn't feature the same coastal storms and I-95 corridor snow that 2009-2010 and 2010-2011 did.
We'll run into trouble around Jan. 1. I'm not saying all hell will break loose but if I HAD to schedule something that would dampen my pow skiing abilities and had a gun to my head as to when to schedule it, I'd schedule it in January. To the "core" people up here who say that there is always a "January" thaw this comment will seem rather pedantic. Well first it's true there is always a Jan. thaw. Of course there is also always a Dec, Feb, March and April thaw. So what's your point about Jan.? Secondly, what I'm speaking of is less a thaw and more a thaw, freeze, dust on crust, thaw, freeze dust on crust pattern.  The upside of this is that I'm pretty sure there will be a few sneaky GREAT days in January as these T/F/DOC patterns sometimes leave a little extra DOC.  And empty piste schussing on 8+ of blower doesn't suck at all.  Anyway, I think we dink and dunk our way throughout the month with some messy storms, a few high elevation sneaky good days and a fair amount of crying.
I expect a return to winter in mid. February  and stay pretty good through mid to late march. I think the story of this period will be a sustained upper level system(s) that spits out one of those 10-14 day stretches of snow totals like this: 3, 5, 3, 8, 2, 2, 3, 6, 4, 3, 1, 8, 1, 3. Quietly at the end,  we've got several new feet (Yea I totally didn't add those numbers up) of blower in the backcountry, had fresh piste schussing for weeks, and best of all, nobody's talking about it. We LOVE those days at FIS.
Oh and lastly. I really expect to see a major late season storm sometime in the last two weeks of April. My research into past weather says: don't put the summer wax on the powder boards till mother's day. Of course that's good advice anyway. regardless of what my dumb brain says right now.
Utah:
I don't think we'll have an epic year like last year. I mean I thought Utah would have a good year last year, but an 800 inch year (Yea…I kept a tally all winter in a notebook)? A 150 inch base in MAY? Seriously. We almost had to cancel JortSki to actually like …ski. WTF? This year I don't think that happens. I do however expect an nice 600+ inch season. I make this forecast with some reservations as some analog years were actually pretty grim for UT.  But as mentioned above I'm throwing them out though they do stick in my head and I can't ignore them.
Overall I suspect that Utah will start out a little lean in November and turn on around mid to late December. I think through January and early Feb it stays good. Hits a lull somewhere mid Feb to early march and then gets cranking again for the spring. Suspect we'll end up around 600 give or take 25 inches by closing at Alta. And given what we saw above from 2008-2009 about how that snow falls, I'd lean towards bigger dumps with bigger gaps in between…for whatever that's worth.
Now on a related note…I think the snow-pack might be dangerous early on. From what I'm told (and I'M NOT AN AVY FORECASTER) an early season snow left to rot for a while before the winter really turns on is bad leads to some real weak buried layers and weak deep instabilities. I'm concerned about this happening this season as I don't see early December being all that exciting. Just a thought.
For the Pac-NW I'm not in love with the season.  I think it's below average…but hey- when it snows like 99000 feet a year and you ski till June (on pow) anyway, does it really matter if it's below average? This is my lowest confidence forecast as I just don't know a ton about the PacNW climate but I'll put it out there for you anyway. You'll probably have fun.
So yea…that's it. That's the LionelHutz Winter Outlook. To sum it all up as any weather man should, and tell you what to wear and what not to wear, I don't think you'd be comfortable wearing one of these (although I wouldn't mind), but you already knew that. Now lets start taking notes on what else I got wrong.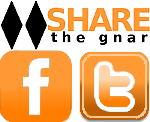 Tags:
2011-2012 winter forecast
,
2011-2012 winter outlook
,
Lionel Hutz winter outlook
,
lionelhutz ski weather
,
Northeast winter outlook
,
ski forecast
,
Ski Weather
,
Vermont Upslope Snow
,
vermont winter outlook
,
winter forecast
,
winter outlook
13 Comments
Please consider visiting our sponsors.
Leave a Reply