February 25, 2011 5:00 am | Category:
Weather
Update on totals:
Jay Peak: 9"
Burke: 12"
Smuggler's Notch: 10"
Stowe: 13"
Bolton Valley: 16"
Mad River Glen: 9"
Sugarbush: 10"
Pico: 14"
Killington: 14"
Magic Mountain: 14"
Stratton: 15"
Mount Snow: 14″
ADK High Peaks 14″
Whiteface: 14″
Plattekill: 12″
Cannon: 11″
Bretton Woods: 8″
Wildcat: 9″
So reviewing those totals, it looks we were right that the heaviest snow would fall in the Central Greens. However I should have noticed the pivoting sooner and upped the ADK totals before yesterday morning.  However I'm pretty happy with the progression of the forecasting.  It snowed less than I thought it would in the whites.  Not sure…maybe some rain/sleet mixed in.   The larger totals at Stowe and Bolton are likely the result of a little tail-end orographic snows late last night (10-11 pm).  So yea…awesome day to ski today. Have fun.
2/25/11 I'm swamped at work but love you all more than my job update
As noted in the early am update, the axis of the storm would pivot as the 500m trough deepened and the surface low began to occlude, sucking towards the NW.
Well look at the differnce in storm orientation below: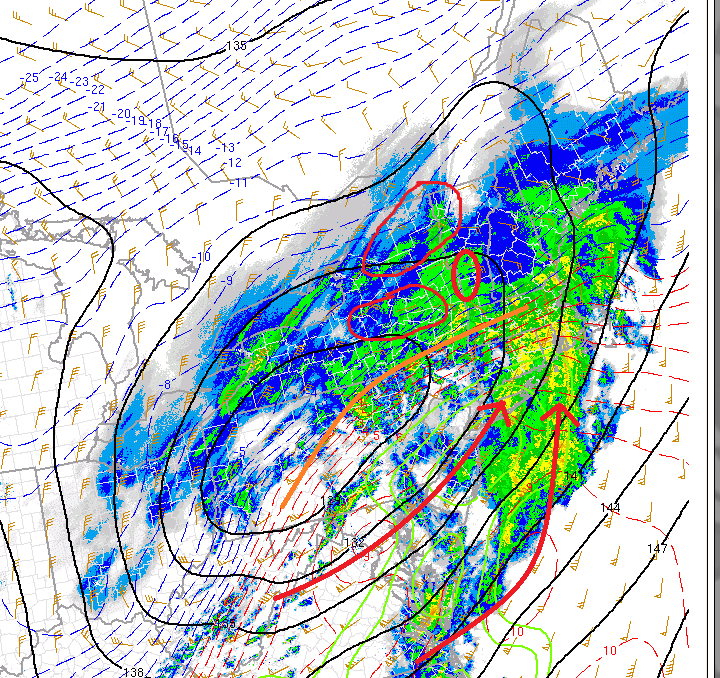 You can clealy see the orientation of the storm by looking at the tilt of the warm front (orange).  Clearly it's more negatively tilted than it was this am.  That indicates a deeper storm.  Strong WAA moving in from the south (red arrows) is driving up over the cold air sparking heavy snowfall rates.
The areas circled in red will be the hardest hit.  Def. 12 inches likely in S0./Cent. VT.  8-10 in the catskills, 5-9 in the ADK and NH will be close.  Any more negative tilt and it might get warm out there.  If we stay steady as the storm progresses west it stays all snow and 8-10 is likely across the high whites.  Lets watch this and see how it goes.
Rember as my buddy says "Nobody knows where this pow will take us."
2/25/11 AM – I haven't had any caffeine  yet update
So here's the storm: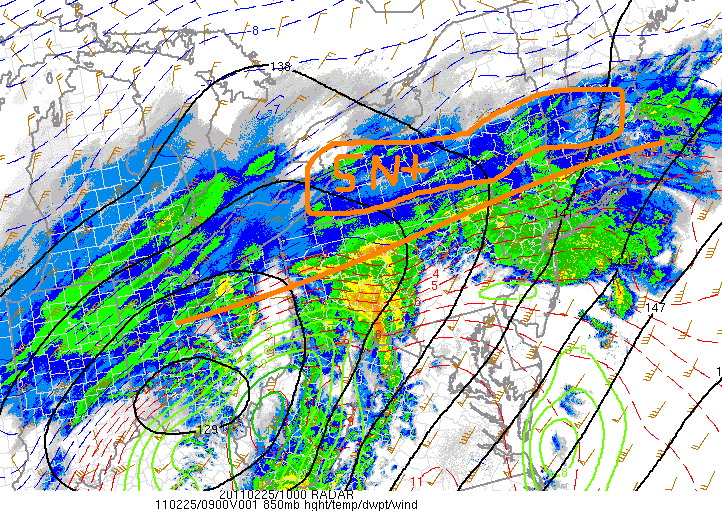 I've drawn the location of the warm front, and circled the area where isentropic lift is creating heavy snows.  Right now, the storm is tracking SOUTH of it's mean predicted path.  I think it will move north and pivot NW as the day goes on, spreading snows into the north country.  The big winner, given the pattern right now is most likely the central/southern greens and then the whites.
2/24/11 Afternoon UPDATE TO DISCUSS WHITE MOUTAINS
Well hope you have your tickets ready because the bus is getting going.  So step over the wino, skip past the puddle of hobo pee, and jump on board..
Looking at the latest model data I feel very confident that the heaviest snows will fall along the central Green spine from MRG south past K-Mart.  In this area anywhere from 10-16 inches of heavy snow are possible. A little sleet might mix in as the mid-levels warm to near -1c early tomorrow.
Northern Greens and the High Peaks region should see 6-12 inches of snow with a few pockes of  8-14 along SW facing ridges.
Down in the southern ADK I think there is a pocket- n/w of albany – maybe speculator/Indian Falls that seems very heavy snow in the neighborhood of 12-16 inches.
Now, turning to the Whites, snow will break out early tomorrow morning and with a very close mixing line remain heavy.  However, with almost 1.5  to 1.75 inches of moisture possible a heavy foot to 14 inches of snow is well possible.  Mt. Washington and the high presi range will obviously see greater amounts -likely in the 14-18 range. Now winds winds winds…First they will hammer out of the SW, then roate briefly to the east and abate and then finally turn north and n/w as saturday rolls around.  Wind transport is tricky as this will be a somewhat wet snow.   Good for bonding- bad for moving.
Original Post
After a quiet spell of weather in the East Coast it might just be time to take the bus to pow town.
Energy moving east later in the week has the potential to amplify and deliver a swatch of 8-10 inches across NY and VT.
On Friday, shortwave energy ejecting out of the west and riding Northern branch energy will amplify as it moves into the Northeast.
Both the Euro and the NAM clearly this this shortwave energy:
Euro: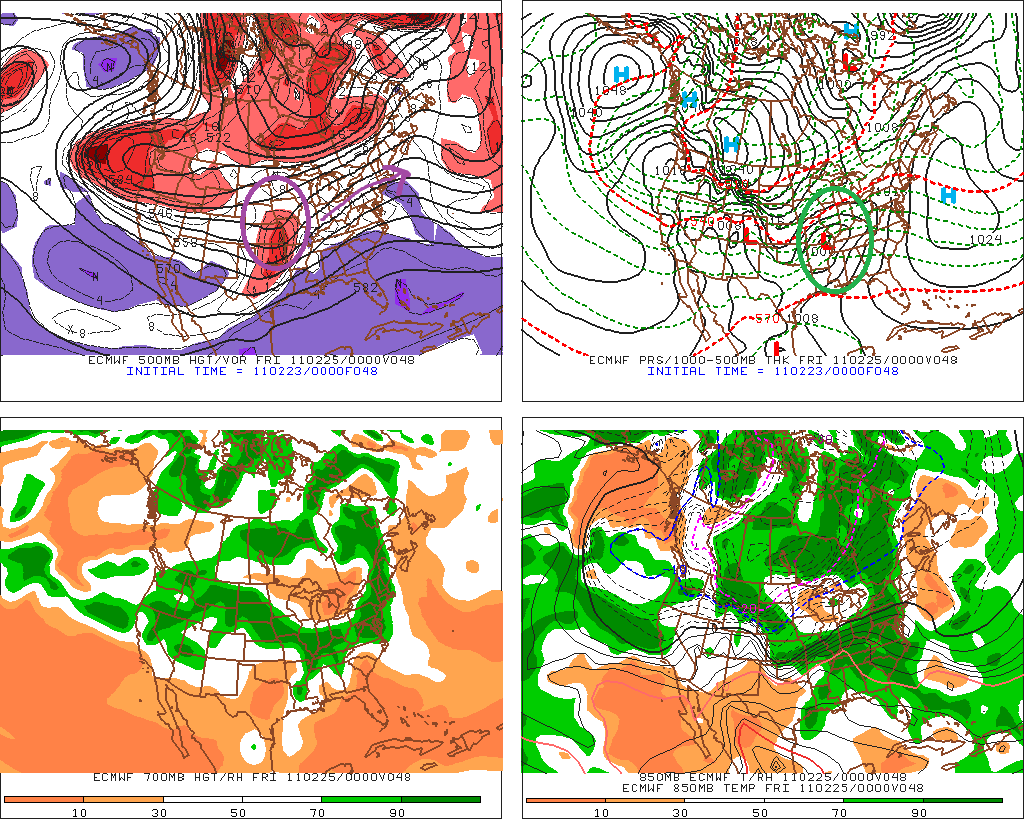 NAM: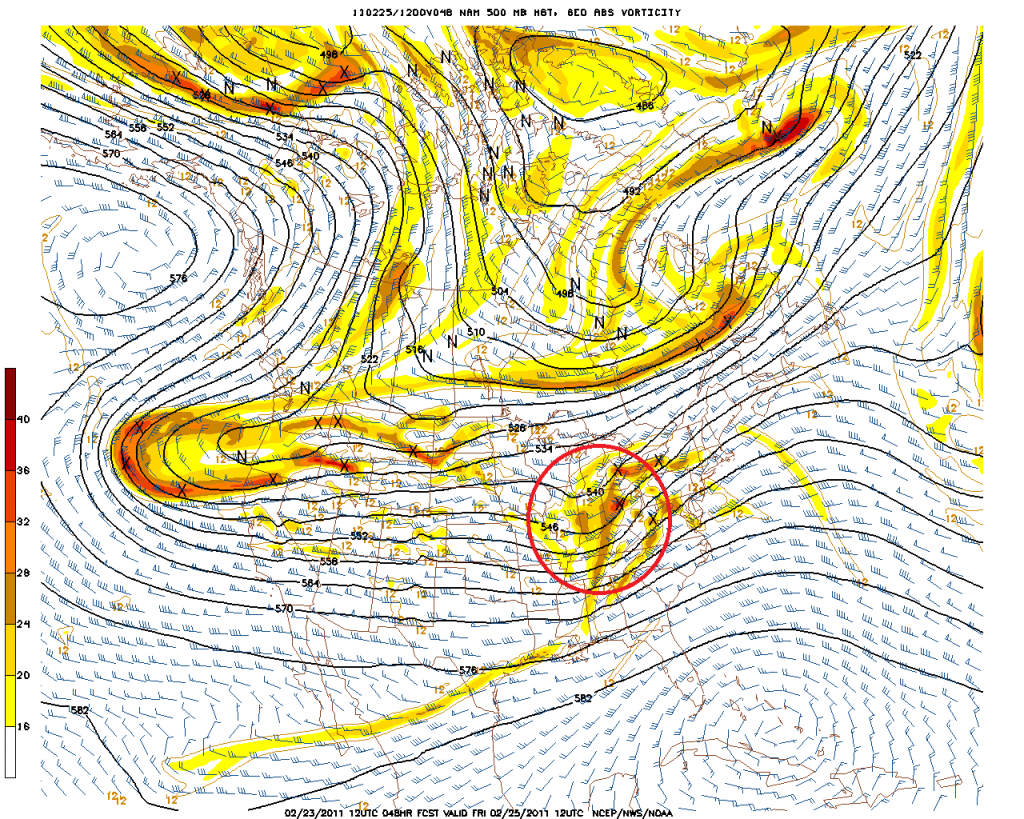 As the energy moves into a frontal zone draped across the country it will spark surface cyclogenesis.
This surface storm will slide east into western PA by friday morning as depicted below:

The solid red line shows the mean predicted surface track. The dotted red line indicates the key element to this storm. The location of the warm front. Now why is that central to this forecast? Well….because this storm is going to primarily be a snow producer because of isentropic lift. That's lift when warm air from the south slides up and over entrenched cold air and spreads out into stratiform clouds and precip. This pattern can produce TREMENDOUS periods of snow just north of the warm front…as the thunder-snow of a few weeks ago can attest to.
So when all is said and done,  here is what I think the storm will bring: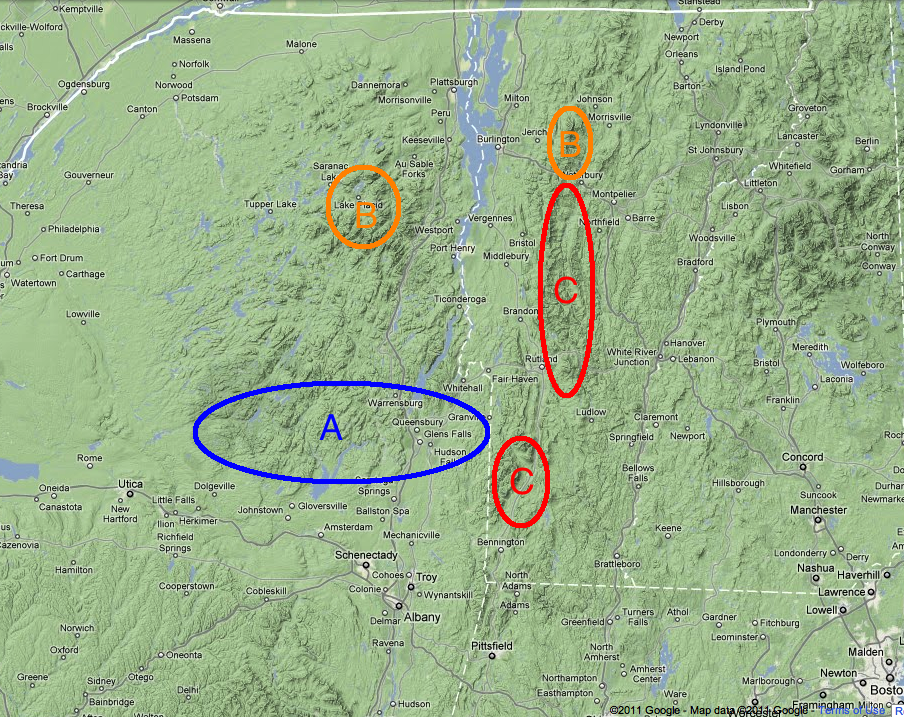 A: The southern Adirondacks – This area will see between 5-8 inches of snow. Light mixing possible.
B: The Northern Adirondacks and Northern Greens – Will be slightly north of the axis of heavy snow.  Likely 6-8 inches here with pockets of higher possible from upslope snow if storm takes N/W rotation under negatively tilted trough once surface low reaches Maine.
C: Central Greens – This area should see the heaviest snows.  Orographic lifting will enhance isentropic snows along the spine.  Totals should be 8-12 inches with decreasing densities as you move from south to north.
Not included but worth mentioning- the Catskills will see a few inches of snow followed by mixed precip.  The whites will see 6-9 inches of snow as well.
I'll update/nowcast but I think the bus to pow town is back in service. For now read about us skiing the Trap Dike in the Adirondacks.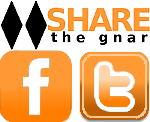 Tags:
Catskills Ski Forecast
,
catskills ski weather
,
lionelhutz forecast
,
lionelhutz ski forecast
,
lionelhutz ski weather
,
ski forecast
,
Ski Weather
,
snow forecast
,
Upslope snow
,
Vermont Ski Forecast
,
Vermont Ski Weather
,
vermont snow forecast
,
winter storm
18 Comments
Please consider visiting our sponsors.
Leave a Reply