December 17, 2010 4:59 pm | Category:
Weather
As we head into the weekend a storm is will be brew that could bring heavy snowfall to Eastern New England. Then again maybe not. Ok…so when I wrote that first sentence I was betting on the Euro. Why? Because it had clearly the best verification scores (i.e. sharted the bed less) than the other models with that messy confused system from Sunday into Monday of this week. AND because in the last two Nina like patterns, 08-09 and 07-08 it was the more reliable weather model. So of course when I finally decide it's time to act, it betrays me. KAAAAHN!!!!!!
ANYWAY….
Hope is not lost however. Allow me to explain in my typical long winded slightly off kilter and all together ADHD sorta way.
First let's start with what was SUPPOSED to happen as projected by the models last night.
In the following progression from the 00z Euro Mode you can clearly see a low develop off the NC coast at 72 hours, then at 96 hours deepen through the cyclogenesis process at 96 hours and then retrograde back under the upper level trough backing up into Maine and NH at 120 hours.
72: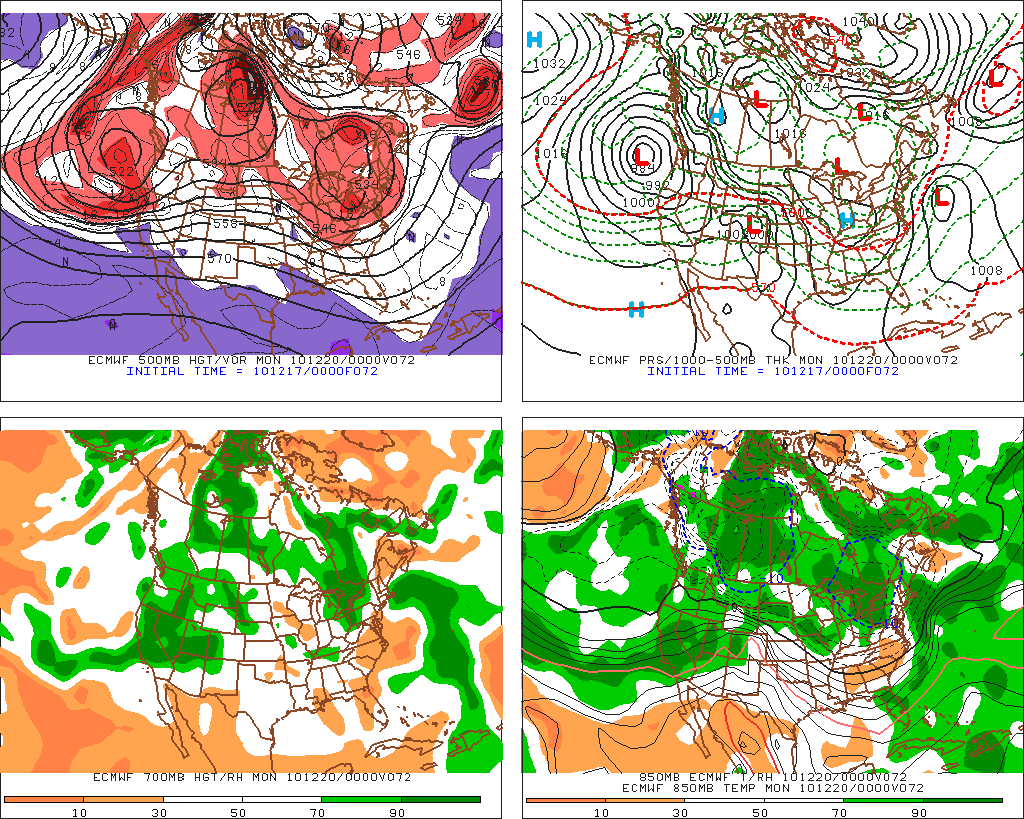 96: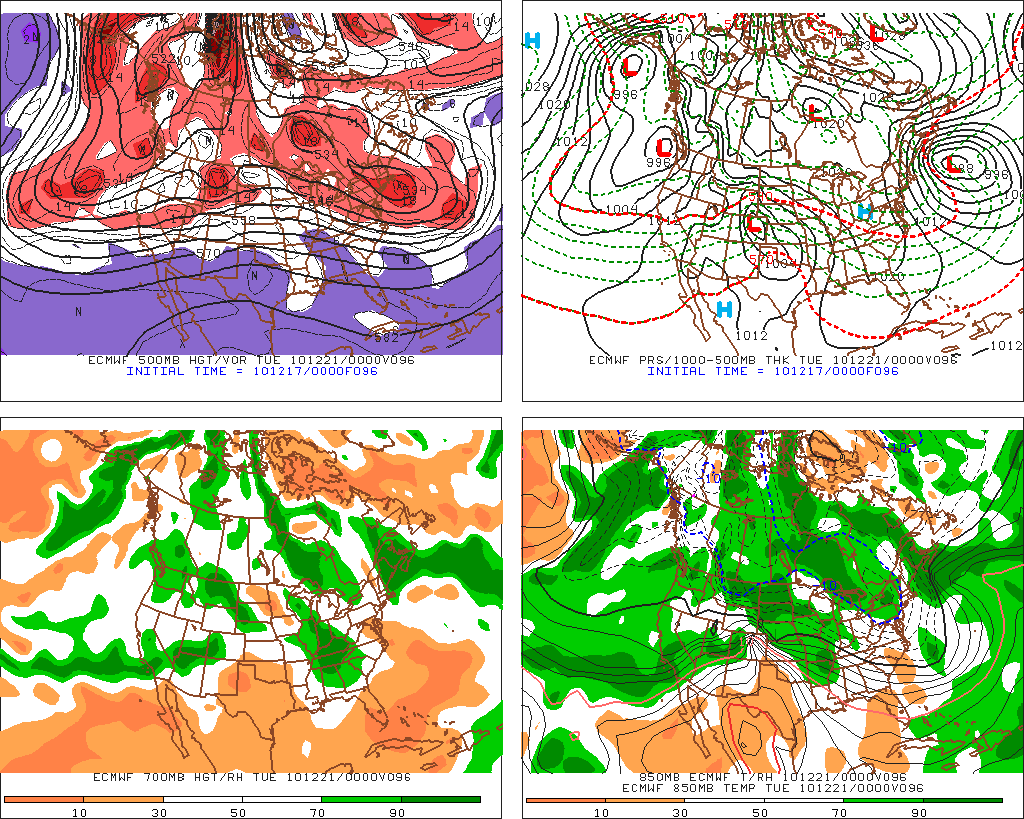 120:

The Canadian Model (which has been pretty much blindly throwing darts at the board of solutions since September and needs a damn overhaul) presented a similar solution. The CMC had a deep, tight low pressure system at 96 hours (albeit a little closer to the coast) and retrograding movement from 108 hours through the EURO forecasted 120 hours. While it was more progressive in timing it certainly MIRRORED the European solution.
At 96 Hours: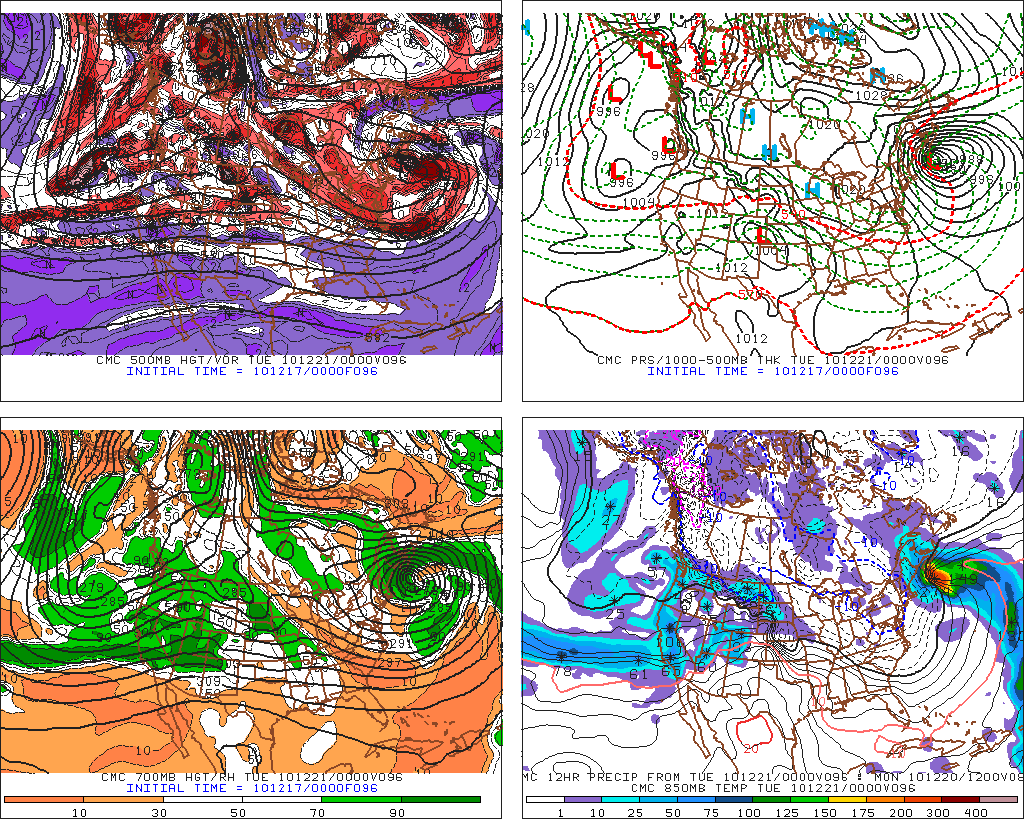 At 108 hours: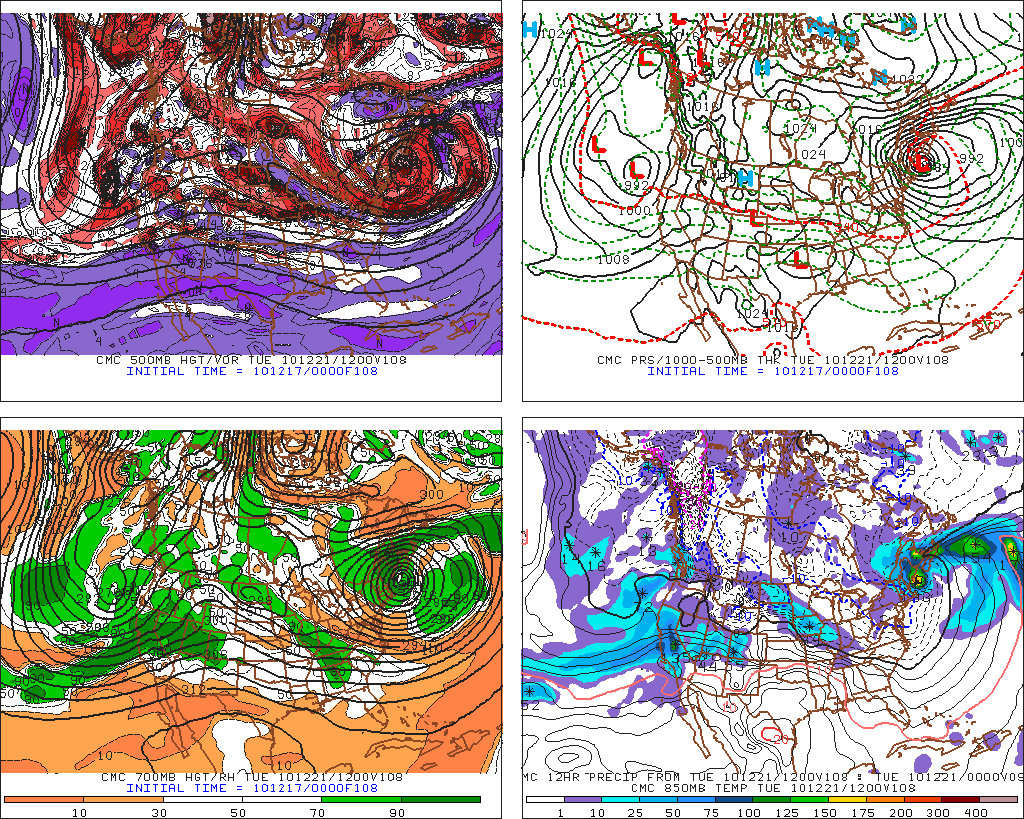 At 132 Hours (system has exited but left moist juicy ULL over the region):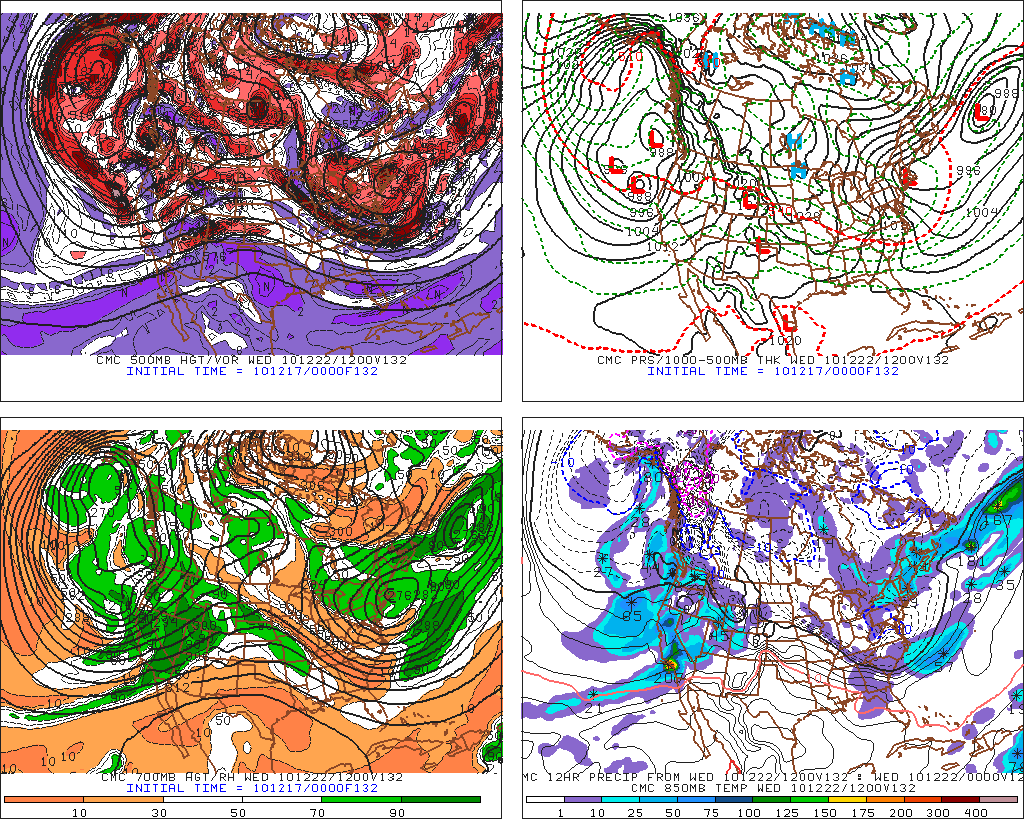 Now…the GFS has always said…Nope…this puppies going out to sea and forget the retrogradation (I made that word up. I do that sometimes….even when I'm not trying.)
Now, come 12 hours after the above models run, what happens. The damn model solutions converge right on the Damn GFS solution. WTF? So yea…that's not good!
However not all hope is lost (wait- I think I said that already). And if we do get something out of this event we can thank the NORLUN instability trough for it.
Nor-what? NORLUN. This trough (named by its first researchers NOgueiRa and LUNdstedt) is a small mesoscale weather phenomenon that works to stream Atlantic moisture from a deep ocean low pressure system inland along a narrow band. Connecting one area of low pressure to another, these bands are areas of not only enhanced moisture transport but also enhanced vertical motion, surface convergence and upper level divergence. They commonly …rather…when they occur, often result in a region of heavy snow squall activity along the trough with intense snowfall rates, over 4-8 hour periods. The greatest effect is often found in southern Maine and NH.
So we getting a NORLUN or what?
Maybe.
Looking at the GFS, and why not as it's pegged this system pretty well, we see the develop of features that look classically NORLUN. MS PAINT!!! (I've added dashed red lines to indicate the axis of the trough)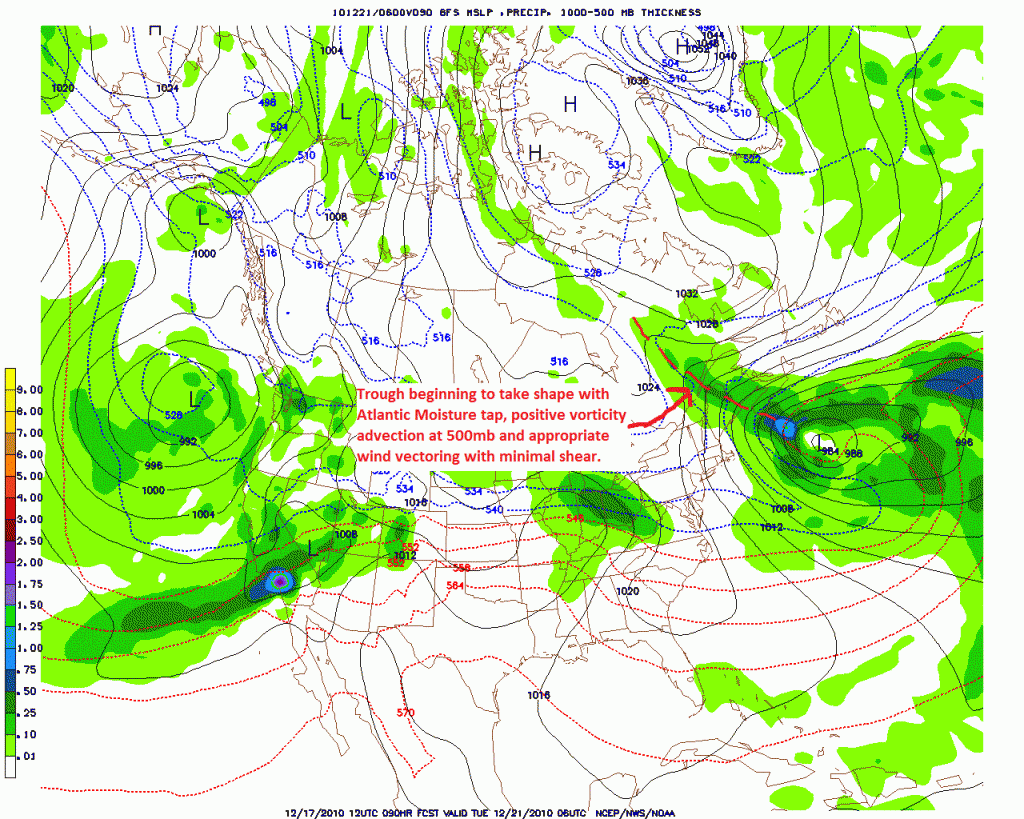 Now just a few hours later we see the trough really take shape:
At 108 Hours: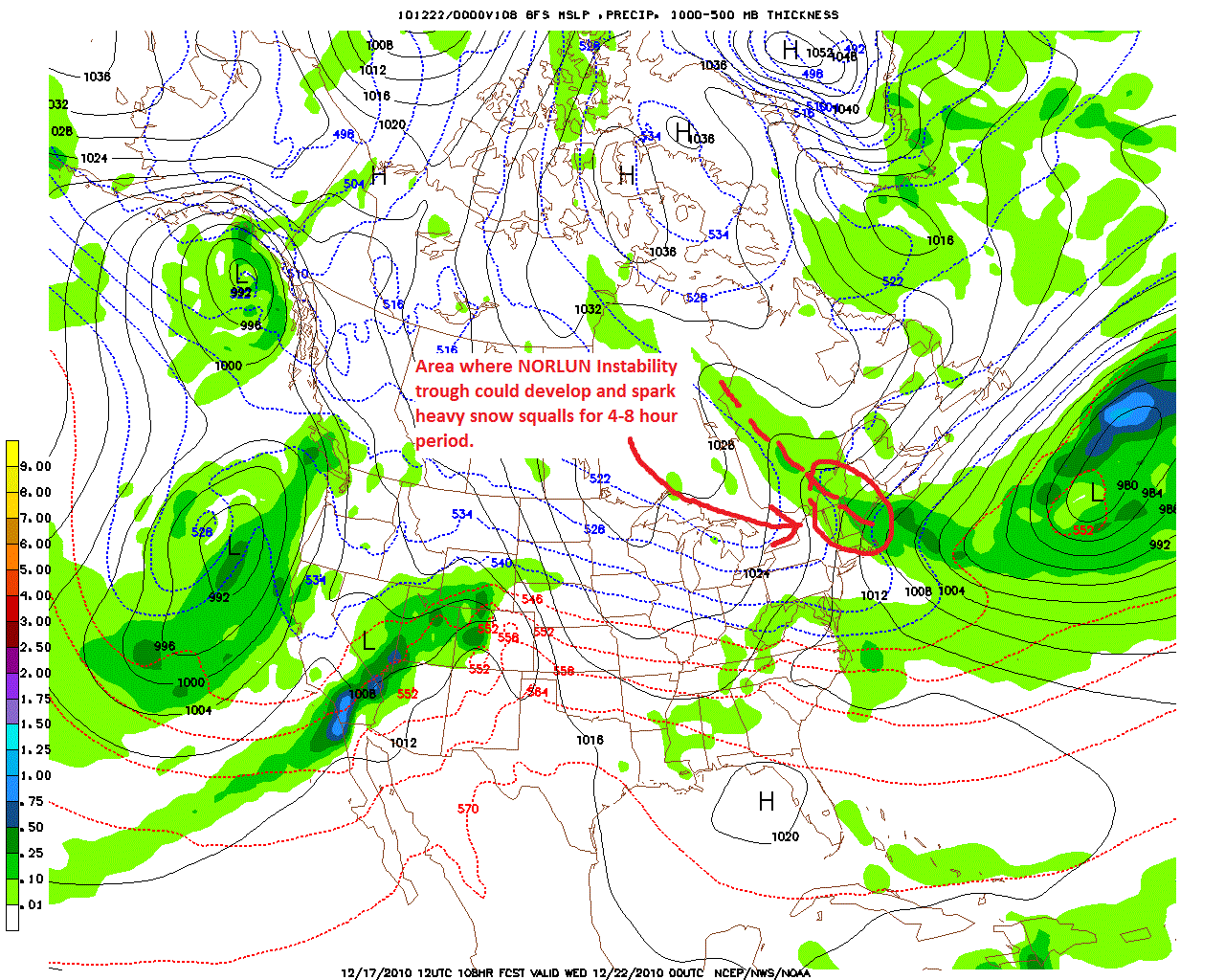 and then 6 hours later: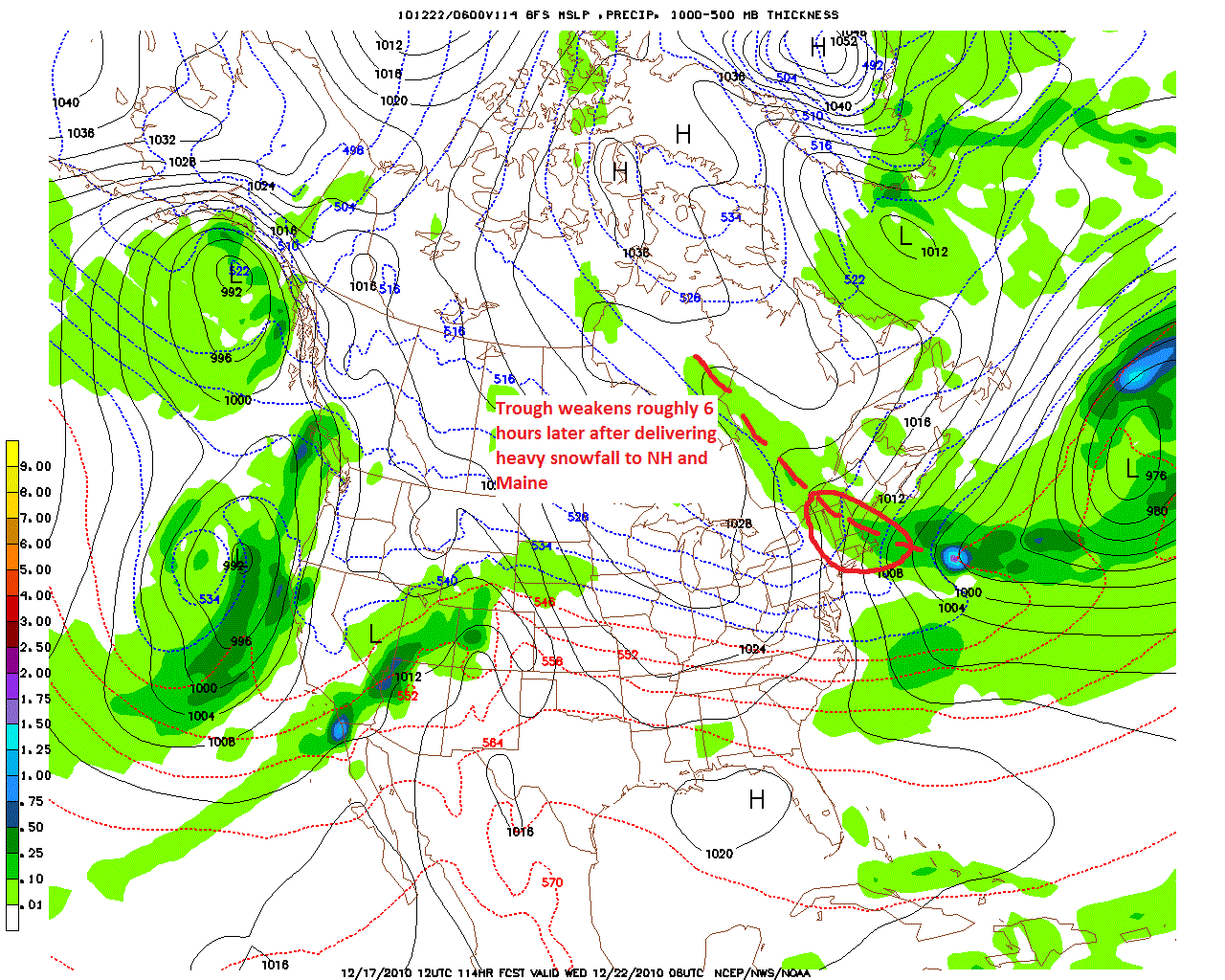 Now what does this all mean?
1. It means don't get too excited when the weather mouth starts spouting off about the possible coastal this weekend. At least don't get too excited until I tell you otherwise sometime over the weekend. We need to see a distinct phase shift west and I'm not sure in this Nina year we want that.
2. Possible develop of instability trough over NH and Maine…maybe VT Tuesday night into Wednesday. Trough could bring a period of heavy, intense snow squall activity to the region. Temperature profiles will be KEY and it's really not worth judging this in greater detail until we get closer.
3. CHECK BACK. This is a volatile pattern. Frequent updates and quick hitting notes will be required. Good thing I'm not doing anything else this weekend!
BTW…buy a poster for Xmas. Your mom will love it.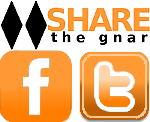 Tags:
Coastal Storm
,
lionelhutz ski weather
,
nor'easter
,
NORLUN trough
,
Ski Weather
,
Vermont Ski Weather
2 Comments
Please consider visiting our sponsors.
Leave a Reply