Gear Reviews
on
F.I.S.
are from the heart. We go through a lot of gear here, and figure some of you might like to know how it holds up. Look for reviews on items both directly and indirectly related to skiing and mountain adventure. Use our reviews to find out what works, what doesn't, and what you didn't even know you
need
. Got an idea for a review?
Contact us
!
We're launching a Gear Review section, and to kick it off, I've reviewed my Dynafit Titans. Let us know what you think of the review in the comments section.
I bought my Dynafit Titans last November in preparation for my trip to India. I needed a boot that could replace my Dalbello Krypton Pro's for the resort and my Scarpa Spirit 3's in the backcountry. By buying a two in one boot, I hoped that I'd get the versatility I had previously needed two boots for, out of one. I seriously considered Black Diamond Factors and Garmont Raidums, but settled on the Titans because of their blend of stiffness, swappable soles, cuff mobility, and weight. While many long-term questions remained in my mind about the Titans, they were getting great early reviews and didn't already have a reputation for poor durability like the Factors. Though I thought the Raidiums would be great boots, their lack of a swapable sole was a deal breaker for me. It's worth noting that Black Diamond's reputation for poor durability came from the first generation of BD boots, and that in all likelihood they're working to address it now.

In the last year I've put something close to 100 days on my Titans and have developed some pretty strong opinions about the boots. In this review I hope to share some of the experiences and thoughts I've developed regarding these boots. Please keep in mind that these experiences are, for the most part, anecdotal and not necessarily representative of all Titans.  So, without further adeu:
The Good: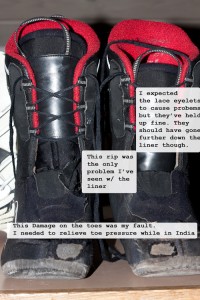 The Liner –  In my experience, the TFX (whatever that stands for) liner has been amazingly durable and comfortable and has yet to pack out (though I did fit these boots tight).  The rubberized soles on the liner are super durable, and I found the laces extremely helpful for keeping the liner snug while the boot was unbuckled during skinning. It's worth noting that I never got any blisters from these liners. The only possible drawback over a foam "wrap" liner, as I see it, is weight. Interestingly, in doing some reading for this review, I've found several accounts of the liner packing out rapidly or otherwise falling apart early, however this was certainly not the case for me and I think many of these issues could have been a case of improper shell fit. My own boots were hideously uncomfortable until I molded the liner, had the other reviewers sized the boot for pre-mold comfort, I think that they could have been setting themselves up for problems.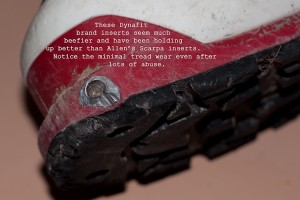 Dynafit brand inserts – Inspecting the toe pin inserts on the boots after a year of use yields no visible evidence of changes or damage. These inserts are clearly heavily built (lots of metal) and are seated deep within the plastic toe block.  Allen's Scarpa Skookums and Spirit 3's on the other hand apear to have a rather light construction and both had to be replaced after the toe inserts warped and started causing pre-releases. Though Allens boot problems have been frustrating, they thankfully haven't proven dangerous like the problems with the Salomon Quest boot. If the problems at Salomon have taught us anything,it's that it's important to be very wary of the construction of your tech inserts, and I can confidently say that these Dynafit ones haven't caused me a moment of worry.
Huge cuff mobility– Dynafit claims 30 degrees and I believe them. Unlike  boots from other manufacturers, there is almost no resistance from the cuff when you move it back and forth. On a boot this stiff and powerful, any advantages in the skinning department are very welcome.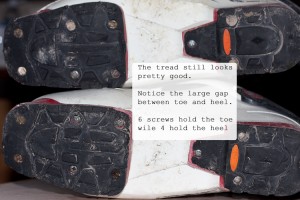 Din-soles and AT-soles ship standard (cough, cough BD Factor, Saolmon Quest) – Unlike Salomon and Black Diamond, Dynafit ships their top of the line touring boot with both tech-insert equipped AT soles and DIN compatible alpine soles.
Durable Rubber on the AT sole – I've been genuinely surprised how at well these have held up. They're the best soles I've owned since my old pair of bulletproof of Denali XT's which featured thick Vibram.
Lightweight – Light is a relative term, these are pretty heavy as compared to other AT boots, but when compared to the Factor, or alpine boots of comparable stiffness, they are indeed light (2000 g).
Very stiff in cold weather – Seriously, like borderline hard to get into (that's a good thing).
Customer Service – Salewa (the North America distributor for Dynafit), has been very helpful and responsive to issues I've had. This shouldn't be read as "better customer service than…."; almost all outdoor manufacturers have great warranties and great customer service departments, but I point out Dynafits because I have had good experiences with them.
and most importantly, How They Ski – I don't have the race background that Ben or Greg have, so I can't compare these boots to an infinity flex Worldcup race boot on an icy downhill course. I can however say that they are hands down the best-skiing boot I've ever owned. They're very responsive and, especially in Dynafit bindings, unbelievably precise. Considering my original AT setup (Freerides, Denali XT's, and Pocket Rockets), the Titan, TLT comfort, and Wailer 105 setup I'm on now is incomparably better and a big part of that is the boot. To be totally explicit: these boots ski and tour amazingly well, and they've been great at driving big skis, like my Lotus 138's.
The Bad:
In my mind there are no deal breaker problems with the Titan, but there is still plenty of room for improvement. Most of the issues I have with the boot are fit-and-finish type problems that could be easily remedied by Dynafit to take this boot from a B+ to an A+. As it is, I recommend this boot with reservations, but if these changes could be implemented, I don't think I'd need a new boot for a very long time. My frustration over these little issues is mainly due to the fact that this boot is so close to perfect, that its sad to see it fall just short.
Non Field-Replaceable Buckles – Almost all manufacturers do this, and I can't figure out why. This is a backcountry ski boot: things will break and need to be replaced in the field. Yet on the Titan, none of the buckles can be swapped out, WHY?! If anyone from Dynafit, or any other AT boot manufacturer would like to shed some light on why this is common practice, I'd love to publish your thoughts here. I'm more than willing to concede that there might be some solid reasoning behind this, but I don't know what it is.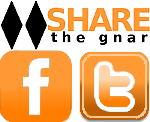 Tags:
Black Diamond Factor
,
booster strap
,
DPS Skis
,
dynafit titan
,
Garmont radium
,
Gear review
,
India
,
review
,
Sam Lozier
,
superfeet
17 Comments
Please consider visiting our sponsors.
Leave a Reply