Gear Reviews
on
F.I.S.
are from the heart. We go through a lot of gear here, and figure some of you might like to know how it holds up. Look for reviews on items both directly and indirectly related to skiing and mountain adventure. Use our reviews to find out what works, what doesn't, and what you didn't even know you
need
. Got an idea for a review?
Contact us
!
Booster Strap Not Standard – This is sold as a top of the line freeride boot from a major manufacturer. I really think it would have been a big improvement to add a Booster strap at the factory. The Booster strap I added dramatically improved the feel of the boot, and I think that a lot of users will be adding one down the road anyway. Had one been shipped with the boots it would have saved a step and a little money for the end user (Dynafit can buy in bulk).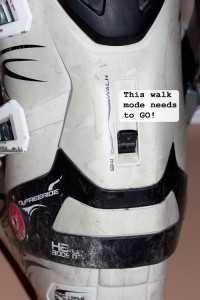 Walk mode – I had my walk mechanism fail on me twice, the first time I had the boots replaced just before I flew to India, the second time (in Kashmir) I was forced to make my own fix. I don't care if adds weight, this boot, like all AT boots NEEDS a field replaceable walk mode (think Factor, but actually good).
Metal on metal boot sole screws – Sure, you can swap the soles on these boots, but when you actually go to do it, you'll be appalled to find that the way they attach is with screws that bite directly into plastic. I was originally excited to be able to swap soles regularly, now however, I'm only going to do it when I wear out the tread on these AT soles for fear that I'll trash the plastic threads in the shell and ruin my $750 boots. Maybe they hold up well to repeated swaps, but it didn't look like it to me and I wasn't willing to try. A threaded metal insert would probably solve this problem.
Gap between toe and heel blocks – Try rock scrambling in these boots, it isn't fun. Sure the rubber is plenty sticky and the tread is good, but there is a huge gap under the ball of the foot where only hard plastic is present. If Dynafit could add a bit of rubber there, any anyone doing long dry-land approaches will be safer and happier in these boots. I'm sure Dynafit had some reasoning behind their design choice here, but in my experience, I found it to be very frustrating if not dangerous. One other thing worth mentioning, if you plan to use these boots in a Duke or Baron regularly, you'll want to use the alpine soles. I think that this is a problem on Markers end, not Dynafits, but the heel throws slam down with such force that they chew up the AT heels (which are taller than the alpine heels).
Warm weather performance – These boots are rocks during the winter, seriously, leave them out in some cold air (less than 20 F) and the shells can be hard to get into. Try skiing them in warm weather though and it's a totally different experience: the plastic they used turns rubbery and rather than driving power into the ski, they flex uselessly forward. Are they still better than any other AT boot I've skied? Certainly, but that doesn't mean this isn't still a problem. I, and many others, do a lot of skiing in the Spring, Summer, and Fall, and I'd love it if this boot were able to retain its wonderfully stiff flex through the warm months. Dynafit has experience adding carbon fiber (a non-temperature sensitive material) to it's Zzero4 boots to increase stiffness and drop a little weight, perhaps adding some to the Titans upper cuff could have produced similar results.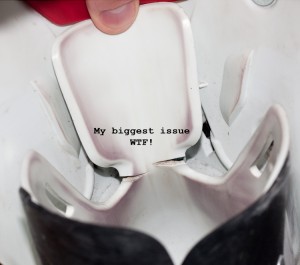 Plastic Cracking – I'm the only one I know of who's had this problem, so I put it at the bottom, but it's very very annoying. Salewa has offered to replace my boots under warranty (for a second time now), and I will likely take them up on their offer in the near future. Though I commend them for standing behind their product and being very responsive, I am not looking forward to spending my own money on the shell punch, and thermo-mold process again.
Overall, I'd give these boots a B+. They were the top performer in their category (stiff touring boots) last year when I bought them, and I believe that they're still near the top, if not at the top. I love them, and despite the issues I've had with them, I'm going to continue to ski them this season. The minor problems I've hi-lighted above are a little annoying, but in the grand scheme of things, I think this boot is a great value, and certainly well worth the money. In summary: if you're looking for a boot for both resort and backcountry skiing, or simply a very powerful backcountry ski boot, look into the Titans.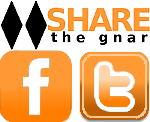 Tags:
Black Diamond Factor
,
booster strap
,
DPS Skis
,
dynafit titan
,
Garmont radium
,
Gear review
,
India
,
review
,
Sam Lozier
,
superfeet
17 Comments
Please consider visiting our sponsors.
Leave a Reply