October 24, 2011 1:26 pm | Category:
Weather
You know what's awesome? Houses that give out full size candy bars on Halloween. It's like the homeowners' are saying to the rest of neighborhood: "Paul did well this year, and you know what, here's our middle finger. We're better than the rest of you." As kid, you gotta love it and respect the game. You know what ELSE is awesome? Snow storms on Halloween weekend. Oh wait…what?..Fall snow? Un-possible! (Oh and WTF is with Winter Weather Event "Able")
Here's the basic set up:

By thursday, a frontal boundary will be draped across the country (arched blue line) in the approx. position shown above. At the same time a shortwave trough (red U shape) will swing down from the central plains/high plains with a strong vort max (red x). As the trough and the associated vort max reaches the great lakes region ohio valley, it will begin to interact with the frontal boundary, with downstream upper level divergence ahead of the vort max, the interaction with the frontal boundary has the potential to spark cyclogenesis. Actually let me rephrase that. It WILL spark some cyclogenesis. How much, and where that system winds up is really the question. You'll note that in the image above I'd noted where I think the trough and vort max will exist come later on thursday (dotted red line). That's a great position for moderatly strong N/E fall storm.
With that position, you sorta have two options.
1: the trough to could tilt westward with height (called negatively tilting) and really start to wrap up a powerful storm. Said storm would track back towards the NW and bring some really interesting weather to the ADK and Northern Greens. (It could also track WAY west as storms have done this year and bring rains…less likely). We'd see the low tracking in that vertical red oval.
2: The trough never really tilts and spins off a moderate strength low that slides along the frontal boundary. This would bring the heavist weather to Southern VT as the low picks up juice from the ocean. The low would track right along in the horizontal red oval.
So ok…computer guidance has plotted BOTH solutions. Recently all major computer guidance has hinted at the second option. However much this fall has verified warmer and further n/w than modeled. With that as a trend you have to take seriously the first option. Coincedently, this was the preferred solution as far back as 10 days ago- giving a little more weight to that option.
With that said, then here is a first idea: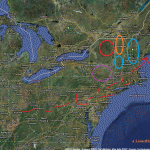 I see the low not really wrapping up that tightly but following a track that is further to the n/w than modeled. I think this brings the best chances for snows to places like Southern VT and NH. (Circled in blue in case you don't know where Southern VT is). I'm not going to talk totals or elevations YET but this event could produce nicely schussable snow here. Next, in northern VT I think the we see snow, in lesser amounts, but to a lower elevation. The ADK follows a similar pattern but remains on the edge with lesser amounts. The catskills are tricky…they could get a very solid snow or they could get mixed out rain and precip. Right now, I'll lean towards mixed to snow.
We'll talk totals later in the week and preserve ourselves the right to adjust this towards solution 1 above as necessary. Oh and just keep your eyes on sunday as well. There is the potential for coastal development.
WEDNESDAY AM UPDATE:
Model consensus is on solution 1 outlined above. At this time my thinking is that the a series of weak impulses will ride that frontal boundary starting early thursday am and culminating in a large impulse that scoots along late thursday night and early friday am. Real accumulating snows (greater than dusting to an inch) will reach about as far north as Kmart with the majority of heavy snow confined to the higher terrain of the Catskills, and Berks. There we could see upwards of 6 inches across the higher terrain with the chance for 8+ across the very tips of the catskills – assuming the thermal profile stays as modeled.
Now – as for the mention of Sunday….there will be costal development…but it will likely be too far s/e to affect "ski country." Thinking however that PHL, NYC and the Cap see some flurries out of this and maybe even a few inches. Cool. I guess.
WEDNESDAY PM UPDATE:
So ok…Lets say this…it's going to snow, starting tomorrow morning, across the high ground of the catskills, berks and southern VT. Simple as that. By late thursday, we'll see snows maxing out in the 3-6 inches across this region. The highest snow totals will occur in southern VT where it's possible the very highest terrain creeps into the 8 inch range if everything breaks right. Will it? Yea. I'll say it does. The orographic flow is good for the southern VT mountains and we've been trending a toucher cooler than guidance for the last few days. So why not.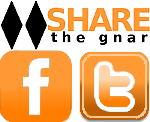 13 Comments
Please consider visiting our sponsors.
Leave a Reply