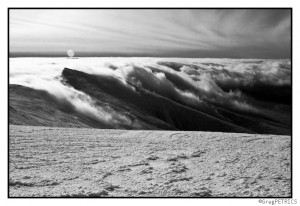 Do you know who pays for finding, rescuing and transporting an incapacitated backcountry user in New Hampshire from the backcountry to a hospital? The injured person? The injured person's insurance? The tax dollars of the people of the state of New Hampshire? The citizens of the United States through the federal government's funding of the National Guard? The discussion that has ensued (see the comments following the Union Leader's article) after the recent helicopter rescue of a backcountry skier on Mount Washington suggest that many people do not know the full answer to this question. In this article I will attempt to inform people about how search and rescue (SAR) is funded in New Hampshire. I believe the current system of funding is unfair. It places a cost burden on some backcountry users, while giving others a de facto backcountry rescue insurance policy for free. In particular, I think backcountry skiers and hikers need to pay more money upfront to help cover the costs of their potential rescue. As an alternative to the current backcountry SAR funding system, I propose an insurance system modeled on the Carré/Carté Neige system in the French Alps. Sold by the state of New Hampshire, it could be purchased for various durations of time, and would only cover transport from the backcountry to the hospital. In particular, it would not cover medical expenses.

The Status Quo.
Currently, under New Hampshire state law, the New Hampshire Fish and Game Department (NHF&G) is tasked with the job of "conduct[ing] search and rescue operations in woodlands and inland waters and to provide security at the sites thereof…" (NH RSA 206:26 Article XII). If a backcountry user becomes incapacitated from acting in a "negligent" manner, the state can recover the costs of the SAR operation from the individual (NH RSA 206:26-bb).
Otherwise SAR for an incapacitated backcountry user who did not act "negligently" is funded by a $1 surcharge on the sale of various sporting licenses and registrations (NH RSA 206:42 and NH RSA 270-E:5 Article II(b)). There are no other provisions in New Hampshire state law for recovering the cost of SAR operations from an incapacitated backcountry user who did not act negligently.
Problems with the Status Quo
There are numerous problems with the language and the mechanisms of this funding system, and I will attempt to address them individually. First, and foremost the word "negligent" is undefined in NH RSA 206:26-bb. This is a serious ambiguity built into the system, and should be clarified immediately, even if nothing else in the law is changed. The problem is that what one person might consider calculated and routine, another might consider grossly negligent. Consider for example the case of Scott Mason, a 17 year old who went missing for 3 days in the Presidential Range of New Hampshire in April 2009. When found, he was in good health, and was moving under his own power. While Mr. Mason believed he was well prepared, and not in need of rescue, the state of New Hampshire deemed his actions negligent and sent him an invoice for the costs of his search. The invoice has since been dropped, but could be brought up again at any time (see here).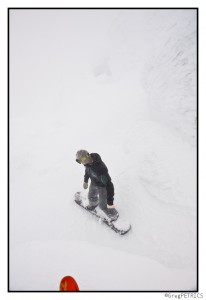 The second problem with the current system, is that there is no clear method for backcountry skiers and hikers to pay into the NHF&G's SAR fund. The fees are entirely sourced from the sale of various sporting licenses and registrations, none of which are applicable to backcountry skiers and hikers (NH RSA 206:42 and NH RSA 270-E:5 Article II(b)). Even if a backcountry skier or hiker wanted to pay into the SAR fund there is no method for them to do so.
Finally, the current system is confusing, counterintuitive and inequitable. Few people appear to understand how NHF&G SAR operations are funded. As noted above, the discussion that ensued (see the comments following the Union Leader's article) following a backcountry skier's helicopter rescue on Mount Washington indicated many people are uninformed on the issue. A common misunderstanding seems to be that people think that New Hampshire taxpayers are the first in line to foot the bill of a helicopter rescue. Not only does this make it clear that people are misinformed on this issue, it suggests that people are extremely confused by the current system. But why are they confused? I think it's because the system in place is counterintuitive. Indeed, it doesn't make sense to a lay person for an incapacitated backcountry skier to be rescued by NHF&G using funds from the sale of licenses sold to boaters and other sportspeople who may not even own skis. Furthermore, the entire proposition smacks of inequity. Why should one group of backcountry users subsidize a rescue fund for other backcountry users? The answer is that they shouldn't have to, and this is the precise reason why the system for funding NHF&G SAR efforts needs to change. All backcountry users should be paying into a fund up front to cover their potential SAR costs.
Carré Neige
In the United States a system whereby one pays a fee (often called a "premium") upfront to protect against losses in the future is called "insurance." The funding system for NHF&G SAR operations might already be classified as insurance, however unlike a traditional insurance policy where one pays a premium to cover only his or her own future losses, in the case of NHF&G SAR, one group of people are effectively paying the premium to cover the losses of many. In my opinion, the simplest and most effective way to fix the inequitable and counterintuitive elements of the NHF&G SAR funding system is to bring all backcountry users into the pool of fee payers. In other words, New Hampshire should offer every backcountry user an option to buy an insurance policy to protect against the cost of a rescue should they become incapacitated.
The idea of buying insurance to cover against the cost of rescue not without precedent. In the French Alps, a popular insurance policy called Carré Neige (PDF file) protects recreational skiers against the cost of a mountain rescue and repatriation–or getting the insured back to their homeland–if they cannot do so themselves. It does not cover any medical expenses incurred at the hospital. Oftentimes, Carré Neige is purchased for a single day from a ski resort as an upgrade to a lift ticket. The cost is approximately $3.64/day (2€70/day), and is available at a significant discount if purchased for longer periods of time. The so called Carté Neige is the name used for the policy when purchased for an entire year, and costs approximately $47.28 (35€).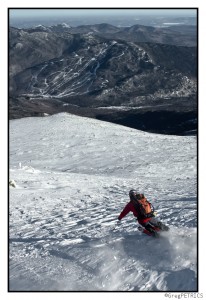 New Hampshire Backcountry Rescue Insurance/Carré Montagnes Blanches
The state of New Hampshire should sell a backcountry rescue insurance policy modeled on Carré Neige. For the purposes of this discussion I will call this proposed policy the Carré Montagnes Blanches (CMB). If purchased yearly it will be referred to as Carté Montagnes Blanches (CtMB). The policy would cover the costs of SAR operations performed by NHF&G. It would cover the costs of moving an incapacitated backcountry user from the backcountry to the hospital. It would not cover the cost of medical expenses once the incapacitated backcountry user was safely transported to the hospital. It would not cover the cost of SAR operations for a backcountry user who became incapacitated as a result negligent actions (assuming the word "negligent" is clarified by the New Hampshire legislature). Those backcountry users who become incapacitated and who do not own a CMB policy would be responsible for the cost of their rescue. Since currently the fee paid by other sportspeople through surcharges on their licenses and registrations is $1 (NH RSA 206:42 and NH RSA 270-E:5 Article II(b)), I propose setting the cost of the CMB at $1/day. At this rate there should be no reason for anyone with enough leisure time to roam the mountains to not own the policy. To avoid a potentially dreadful situation where someone doesn't call for help because they did not know about CMB/CtMB, there could be a 5 year grace period while people learn and understand the new system, and how it should fit into their outdoor activities. During the grace period the first rescue of any non negligent backcountry user in need of assistance would still be free, even if they did not purchase a CMB. For people interested in coverage over a longer period of time than a day, the ratio of the cost of Carré Neige to Carté Neige (35:2.7 which is approximately 13:1) could be preserved for the ratio of the cost of the CMB to the CtMB. Doing this would make the cost of the yearly policy (the CtMB) $13. The policies could be sold online, at popular trailheads (e.g. Pinkham Notch, Crawford Notch), at gear shops, ranger stations, etc. It should become the "right thing" to do in the mountains of New Hampshire. Just as one checks if their ski partner's avalanche transceiver is "beeping" before heading into the backcountry, the checklist should also include: "got your CMB?"
To get an estimate on the amount of money this could raise for the NHF&G SAR fund, consider that approximately 35,000-40,000 people per year visit the terrain on Mount Washington for which avalanche forecasts are produced. If half of these backcountry users purchase a CtMB policy, that would raise more than $225,000 per year. If we then count all the policies that hikers, fishers, boaters, hunters and other backcountry users might purchase, CMB/CtMB could easily raise over a million dollars per year. Perhaps it doesn't fully fund SAR operations, but it raises money for a vital service of the state which is currently funded in a confusing and counterintuitive manner.
While this article is neither the time nor the place to do calculations of hard numbers, the above estimates are telling of how much potential there is for a better system. Something should change. In my opinion, it is time to reform the way NHF&G SAR is funded. It is time to remove the confusing and inequitable status quo. It is time to give backcountry skiers and hikers a chance to be more responsible members of New Hampshire's mountain community by allowing them to pay a fee that goes directly to the NHF&G SAR fund. The big question is though: is it time for backcountry rescue insurance in New Hampshire? Leave your comments on this matter below!
---
Read about/contact the author/photographer:
Greg
---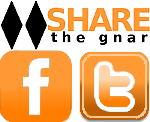 Tags:
Backcountry rescue Insurance
,
Backcountry Skiing
,
Carre Montagnes Blanches
,
Carre Neige
,
Carte Montagnes Blanches
,
carte neige
,
Hiking
,
Insurance for backcountry skiing
,
Mount Washington
,
Mount Washington Rescue
,
New Hampshire Fish and Game Search and Rescue
,
New Hampshire Mountains
,
Presidential Range
,
SAR
,
Scott Mason
,
Search and rescue
,
White Mountains
45 Comments
Please consider visiting our sponsors.
Leave a Reply