July 7, 2009 4:17 pm | Category:
Weather
    Before we get into ski season I figure the best thing to do is to introduce you all to some of the ways we get snow. Partly I'm doing this so that you all can understand what the hell i'm talking about and partly I'm doing this because I don't want to bill any more hours today.
Now not every snowfall we see is because of a classifiable storm. Sometimes it just snows…but really, more often than not, one of the following types of events produced our snow. So without further delay let me introduce you all to the basic types of snow events we get. They are in some particular order:
1. The Alberta Clipper
2. The Great Lakes Cutter (BOOOOOO)
3. The Nor'Easter
4. Lake Effect
5. The "wraparound"
6. The FREAK
1. The Alberta Clipper:
Alberta Clippers are generallyquick moving, small, low pressure systems which originate in – wait for it- Alberta Canada. As they are born from energy in a cold, dry region of the country they usually contain little moisture and little dynamic lift. As a consequence they often produce small snowfalls.
Clipper systems, once borne generally take several paths. They head straight across the Great Lakes, they swing south and head along I-80 and pop out over Long Island or they swing further south and hit Baltimore/Washington area. Storms that travel across the country further than that are generally not considered clipper systems as their origins are likely more southerly latitudes – like the four corners regions of the west.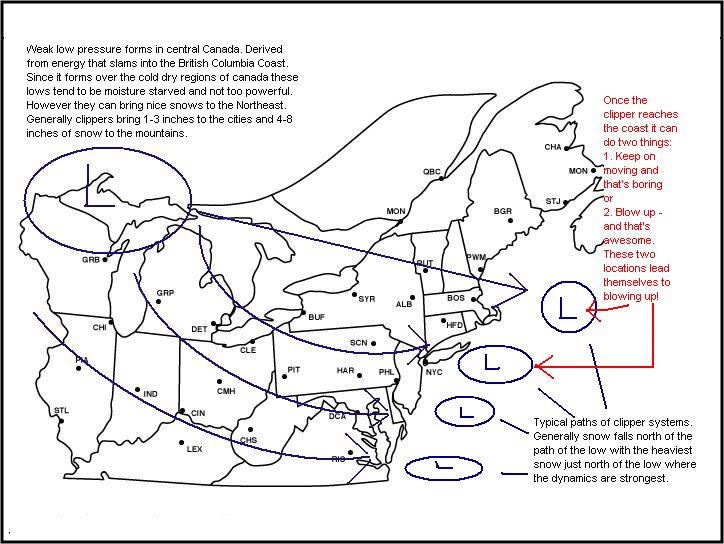 Start of Typical System
Typically you'll see 1-3 inches of snow at lower elevations and in the big cities with a clipper system and 4-8 inches of snow in the mountains.
Now don't start thinking that clippers are boring. In fact they are far from boring. Personally I think that are the second most important weather system for east coast skiers. Why? Well several reasons. First- they are more common. I know we love skiing after a big dump but honestly we need these regular systems to freshen up surfaces, build bases and the like. Second, I love clipper storms because they have the potential to just blow the fuck up (in a good way).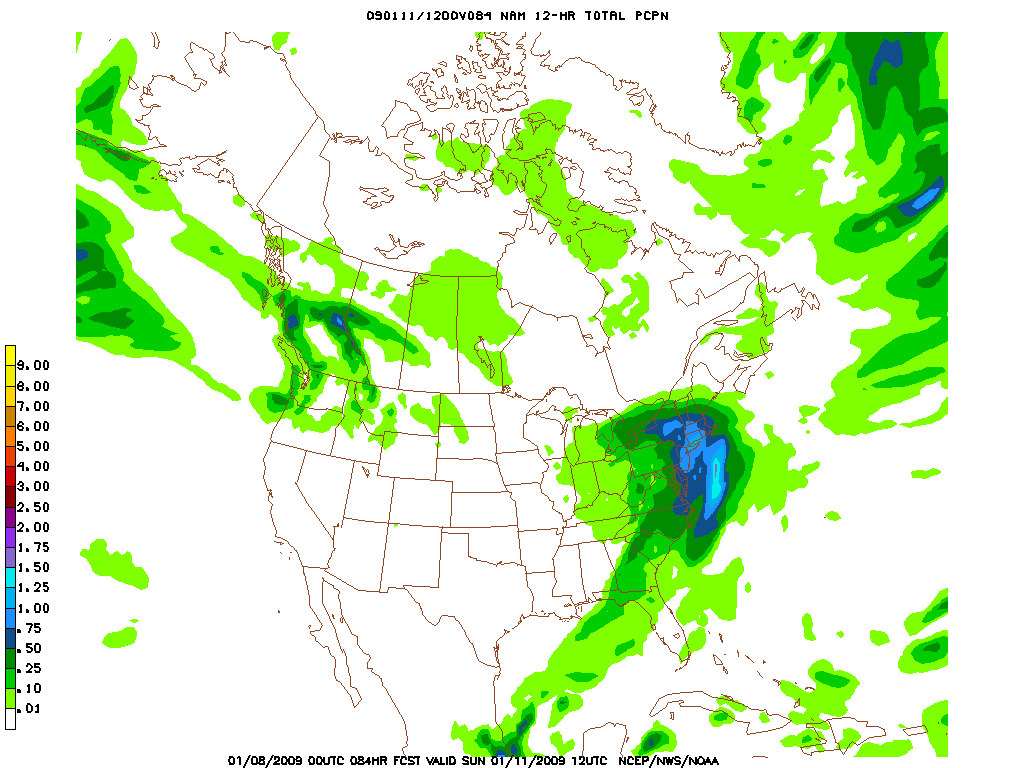 QPF from deepening clipper system.
See clipper storms have a cold heart. They generally move through the northeast when it's cold and usually just pass off into the cold ocean.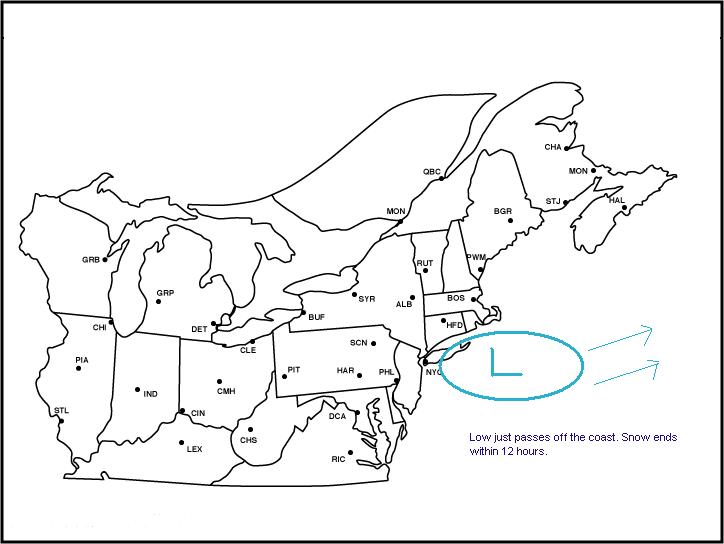 Path of Typical System
But every so often that doesn't happen. Sometimes we get lucky and the clipper catches some of the southern jet stream energy. When this happens warm air is pulled up and over the cold core to the north of the low, as the low strenghens from the interaction of the cold and warm air, the snow really begins to pick up…If you live in the catskills, central VT, or Western Mass- this is your shit.
The next picture shows the enhanced snowfall potential when a clipper starts to draw warm air in from the south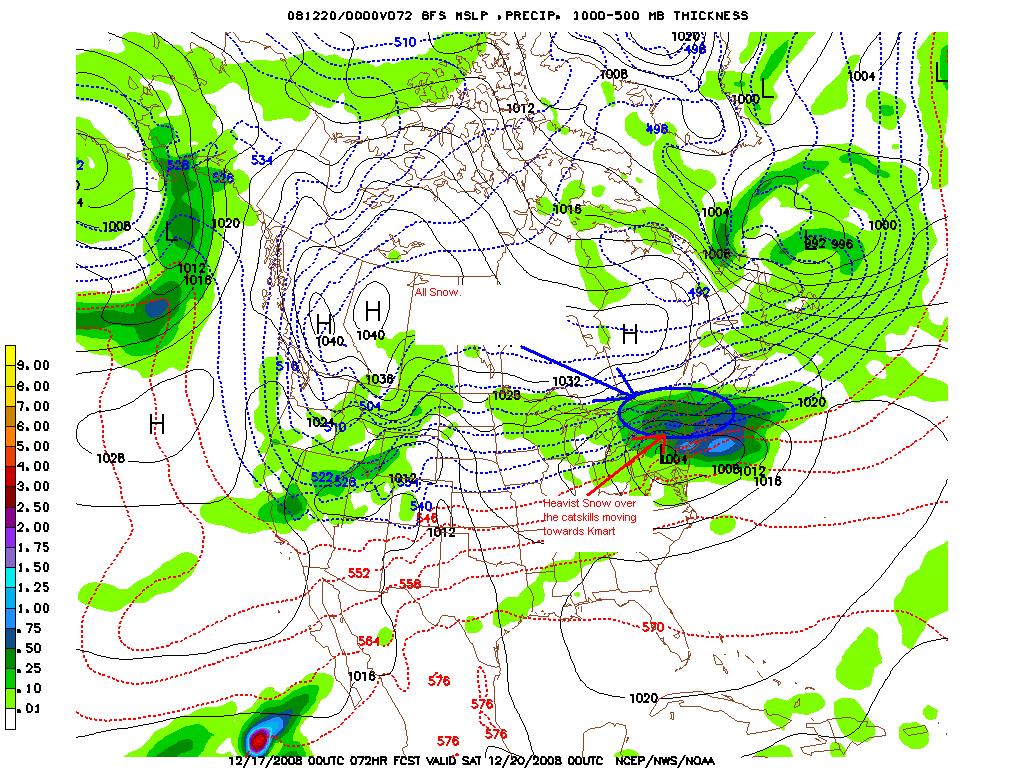 Juicy
But that's not all. If we're really really lucky something truly magical happens…instead of interacting with the southern energy over land, the clipper pops off the coast and interacts with the southern stream energy over the ocean. Now, not only is warm air being pulled into the deepening low, but moist ocean air too boot. The result is a low that is now pulling in artic air from the north and warm moist air from the south. To anybody who knows anything about weather this is the recipe for BIG N/E coastal storms. Depending on the track of the low you can see heavy snow anywhere in ski country!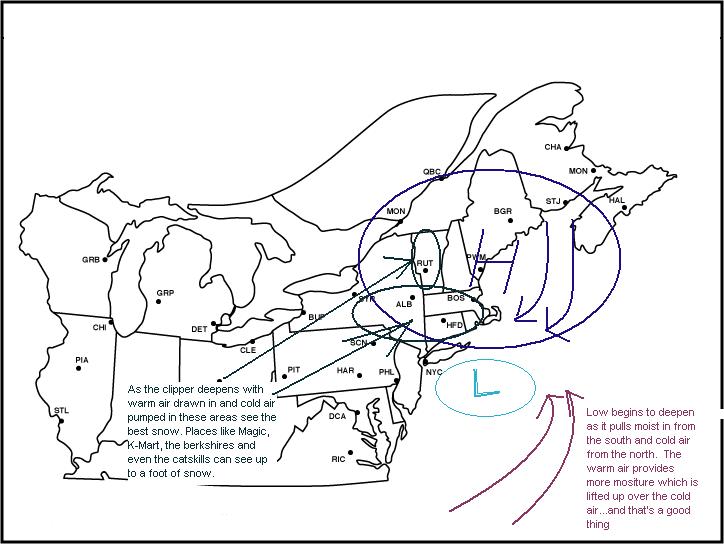 Diagram of Exploding Clipper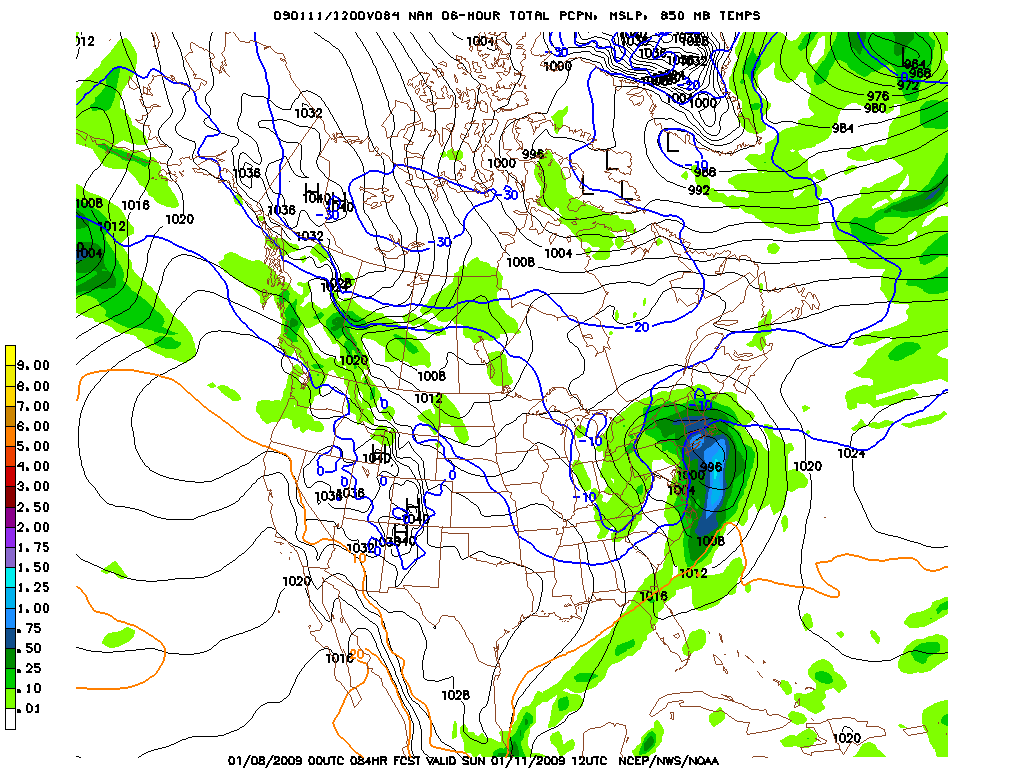 Model depiction of my crappy map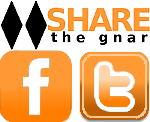 Tags:
Alberta Clipper
One Comments
Please consider visiting our sponsors.
Leave a Reply