UPDATE
I love weather. I really really do. However I recognize that exciting weather rarely comes without consequences. So I wanted to be wrong. I wanted Sandy to miss wide right. By hundreds of miles. She didn't. As I type this Sandy is nearing landfall along the southern NJ coast. Major coastal flooding has taken place and will continue to do so through tonights high tide. Sandy is a metorlogical wonder but a damaging bitch. Marvel at her but regret her at the same time. I feel terrible for the coastal destruction taking place in N.J. right now but very lucky to wtiness this storm live as a weather forecaster.
There is also a sense of pride at getting stuff right. You forecast knowing that deep down, it's all just a guess. A big giant guess. There is always a chance you are a gonna get punked. So when you see this: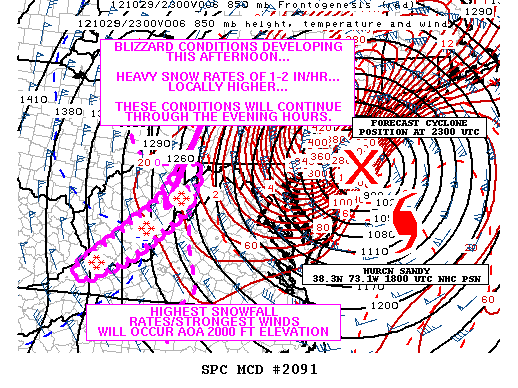 you just gotta smile and bank it for the next time you get one wrong.
End Update
I'm not going to hype this event. No need. As it looks right now, an extremley powerful storm will impact the Northeast early next week. Up until today, I felt that there were two divergent solutions. Now, I believe the major operational weather models are converging on a reasonable solution.
Let me set the stage with the players.
First we have Hurricane Sandy. Sandy currently is just north of the Bahammas with max sustained winds of 105mph. She will move north over the next 72 hours to a position roughly parallel to the NC/SC border: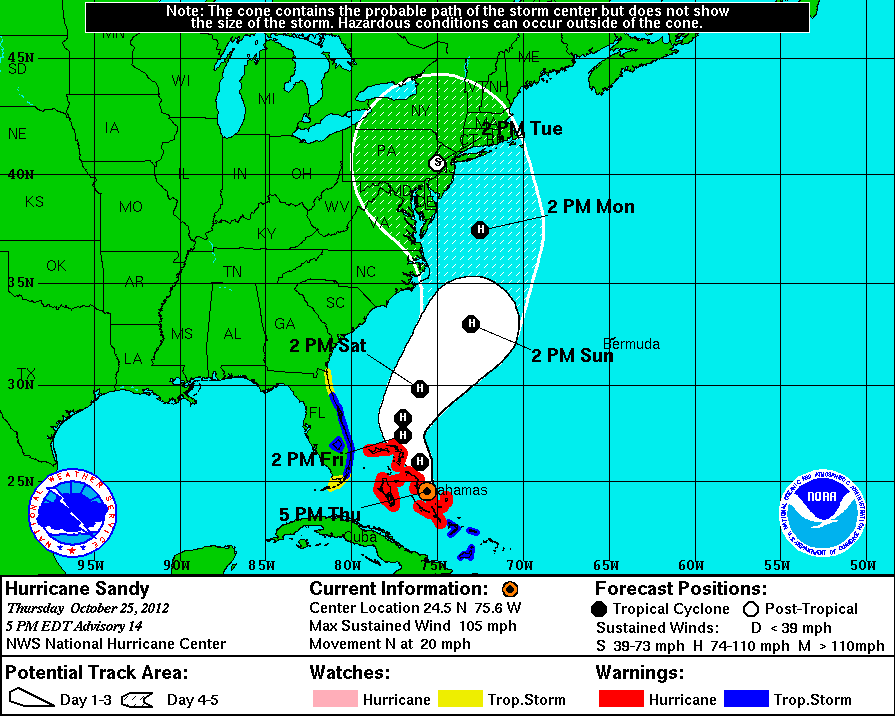 At the same time a cold trough will be digging into the eastern half the united states. (You can see that in the gifs below).
It's how these two pieces interact that gets so interesting. As air rounds the bottom of a trough, its spin relative to the earth picks up. When the air exits that curve, the spin decreases. Like a figure skater who spreads her arms out to slow her spin, the air mass spreads out. This is divergence. When it occurs it promotes uplift and cyclogensis. Tropical systems exist on a similar (but more complex) pattern of uplift, mass divergence and subsistance. If you can get the two system to link up, or "phase", something special happens. Rarely does it actually happen that a fully developed, STILL tropical low, gets caught in a cold trough. That's "Perfect Storm" shit right there. The results are explosive.
Well until today, the models were having a hard time resolving the solutions. The Euro wanted to phase Sandy and the trough very early and slam the combined storm right into the Delmarva. The GFS wanted to track Sandy to the east, and spawn a second phased low through the combination of a NORLUN trough and the upper level divergence from the trough. I favored this solution over the too simple Euro solution.
Well now, today, I think we have a resolution.
Look:
The Euro: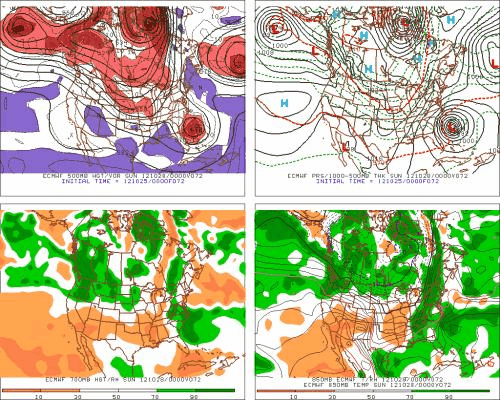 The GFS:

The Canadian Model: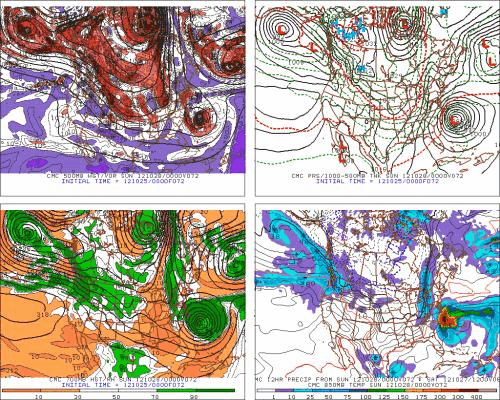 Looking at these models it is clear to me that, an extremely powerful storm is going to make landfall somewhere between NJ, LI and Conn. late Monday/early Tuesday. Before that happens, the entire Northeast will experience bands of rain with embedded thunderstorms as the massive system phases, expands and draws moisture in off the ocean. "Sandy" will make landfall with high winds, and heavy winds. The worst effects will be felt in an arc from Conn. through westchescter county NY and then on into central pa. Further north we'll see steady rain, heavy at times with winds gusting pretty high. Will it be Irene. unlikely. I just don't see THAT much rain falling that quickly. But it could be close in some spots: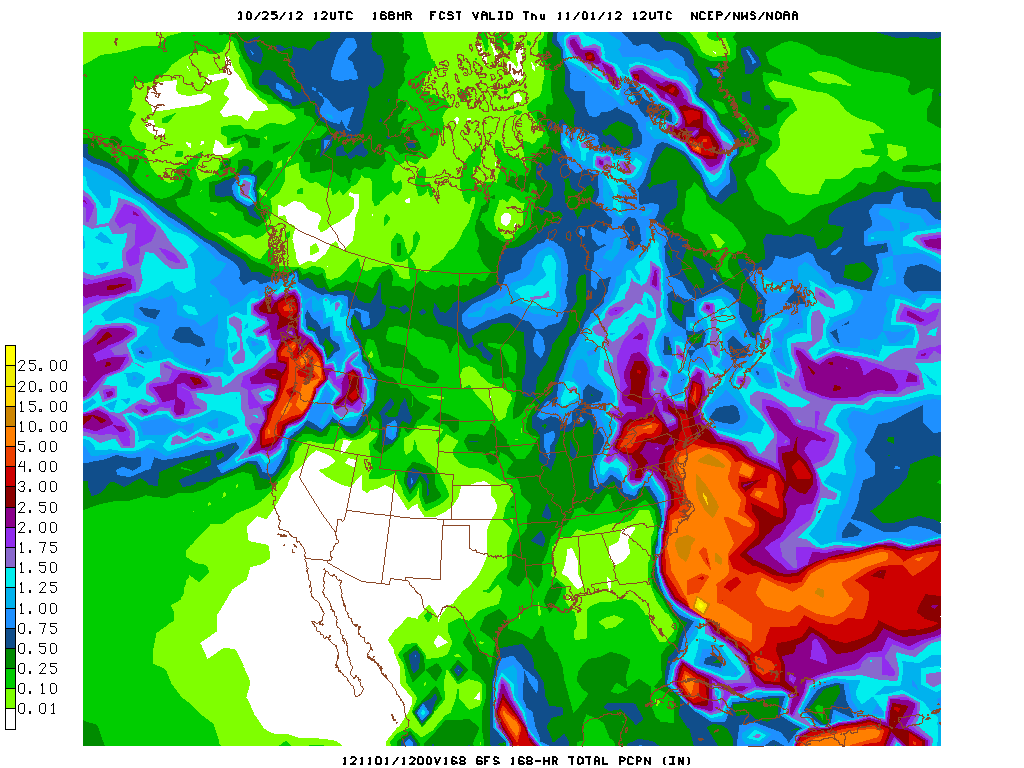 Once Sandy makes landfalls, she'll linger as vertically stacked low. She'll be cut off for a day or two from the prevailing flow and just sit and spin overtop of us. This will produce another few inches of rain and she'll start to wrap cold air around her core and decay further. She then slowly moves out, clearing the area by Thursday of next week.
As for snow, well that's going to be part of this system as well. As of now it looks like the hills of southwestern PA, Western MD and esp. West VA will get a tremendous snowfall. Totals in these areas could approach 4 feet with regular 2-3 foot totals reported when this all wraps up later next week. Also the occluded system drifts out on Wednesday, she has the potential to put a pretty good orogrpahic snow down along the ADK and Greens. But that's really a week away- and I'll update that part later.
For now, focus on the fact that rare, powerful and impressive storm is very likely on Monday.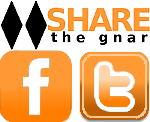 19 Comments
Please consider visiting our sponsors.
Leave a Reply