March 11, 2014 11:09 am | Category:
Weather
On Sunday I wrote about energy ejecting out of the south that had the potential to bring snow to the region. As I wrote that post, the storm track was such that it would only put the North Country in the 4-8″ range. However, as I noted the last major event (Valentines Day) tracked further north and west than the models suggested it would 4-5 days out from the event. I suspected this would do the same.
Current model data suggests I was correct and that we are on the doorstep of this winter's most significant storm.
On wednesday, energy will eject out of the South Central United States and ride along the edge of fairly trough pushing s/e out of the Great Lakes.
By Wednesday evening, the center of the Low will be in Pennsylvania and begin to draw in deep Atlantic moisture. Isentropic lifting along the low's warm front will spark heavy snows to the Northeast of the center of the low from Wednesday evening through late Wednesday night. Snowfall rates at this point will peak in the 2″ an hour range with strong winds out of the east.
As the center of the low tracks through Southern NY state Wednesday evening it will deepen as it begins to occlude and slide N/E. Winds will turn as the low moves to our east and advent moisture into the region on N winds early thursday morning. Oropgraphic lift will enhance snows in areas favored by Norths winds (Smuggs + Jay).
The storm will pull out of the region Thursday AM.
Here, take a look: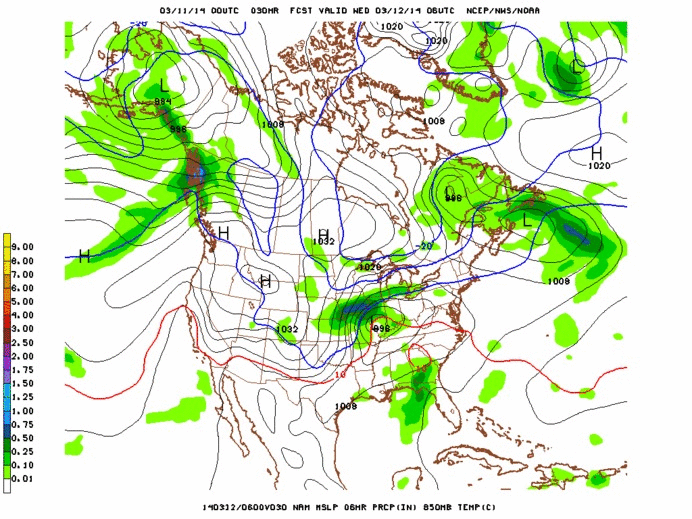 That's from the NAM. The nam is prob. a little aggressive with the overall moisture content of this event. It's also possibly a bit far N/W. The GFS presents a slightly less amplified and west solution. Here it is for the most relevant period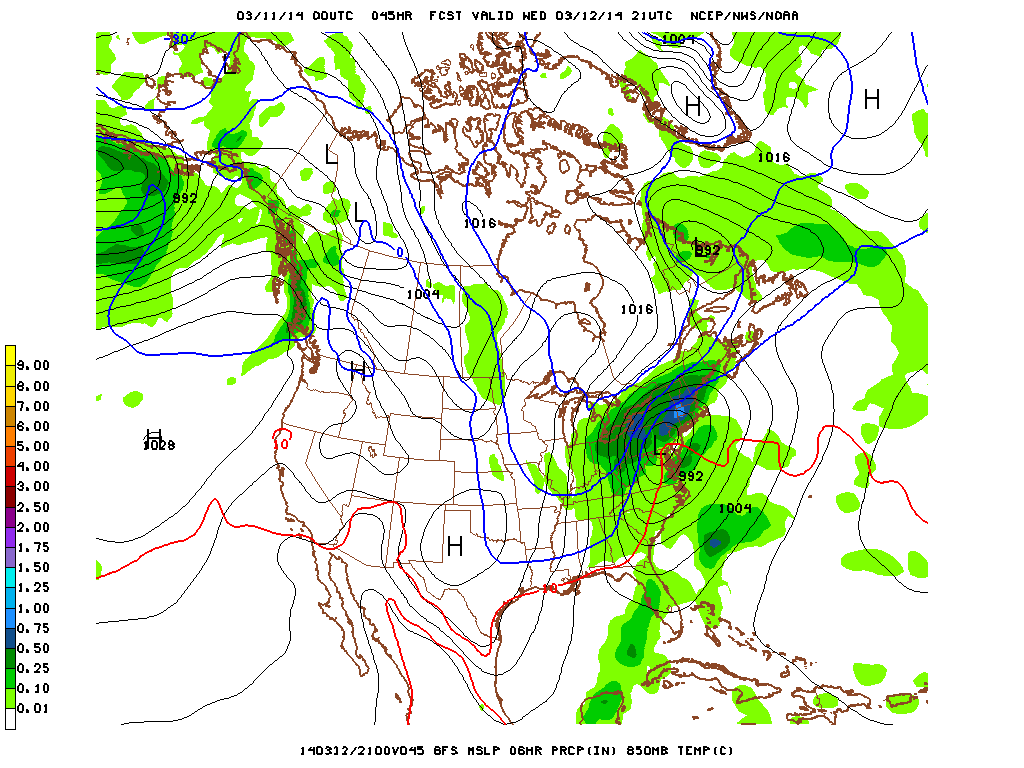 With input from the European suite of models, I'm taking a blend. NAM track, GFS moisture content.
Total QPF from GFS still looks great!

The biggest issue right now is mixing. Currently I suspect mixing to occur to about as far north as Rutland/Albany. With storms like this that bring in a lot of mid-level atlantic air, it's possible to see mixing all the way north to the border. So we'll watch for that as this develops.
Overall I expet this storm to bring a widespread 10″-20″ inches just about everywhere. It's prob. the best overall event of the season so far. So enjoy getting deep in the #backbush.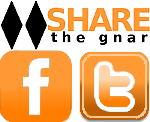 Tags:
Backcountry Skiing
,
Earn Your Turns
,
Lionel Hutz Weather
,
lionelhutz ski weather
,
ski forecast
,
Ski Weather
,
Upslope snow
,
Vermont
,
Vermont Powder Skiing
,
Vermont Ski Forecast
,
Vermont Ski Weather
,
Vermont Upslope Snow
,
VTah
5 Comments
Please consider visiting our sponsors.
Leave a Reply