January 12, 2012 9:38 am | Category:
Weather
Friday Jan 13th 5pm Update
Ok Act III. Upslope snow over next 12 hours will be the story of this storm. We've gotten between 5-8 inches of cumulative snow since Easy started with a few pockets of more. It has fallen in a creamy dense consistency and now it's dumping snow up and down the Spine and on a strong 260 degree wind.
Digging closer we see tremendous upward motion between about 5pm and midnight.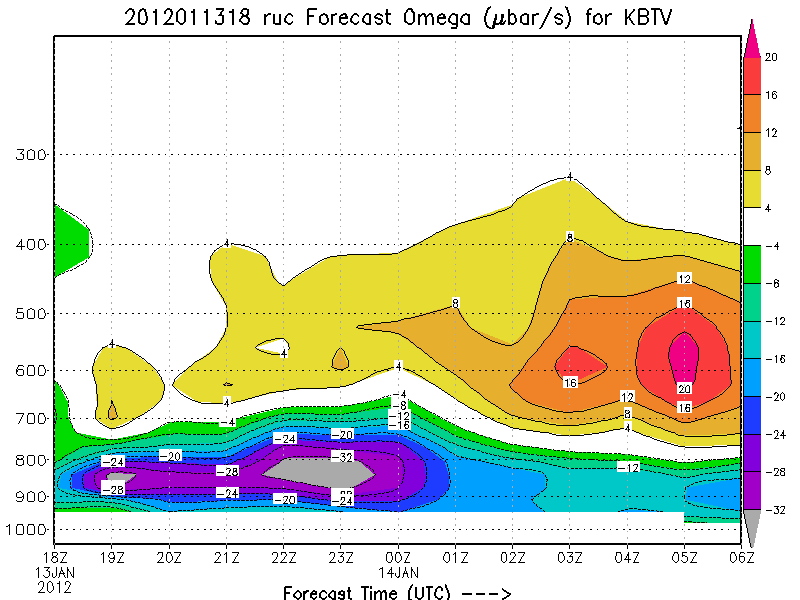 With deep level saturation: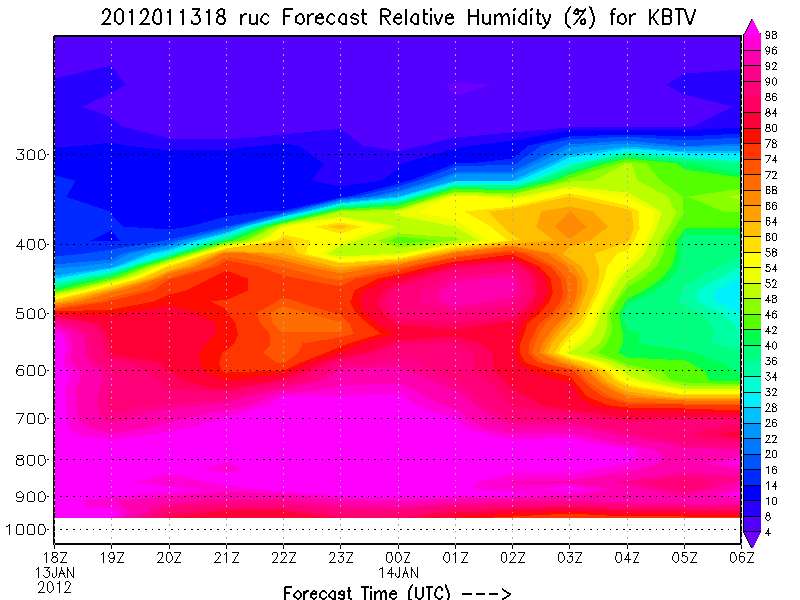 and decent snow growth temps through the layer of upward motion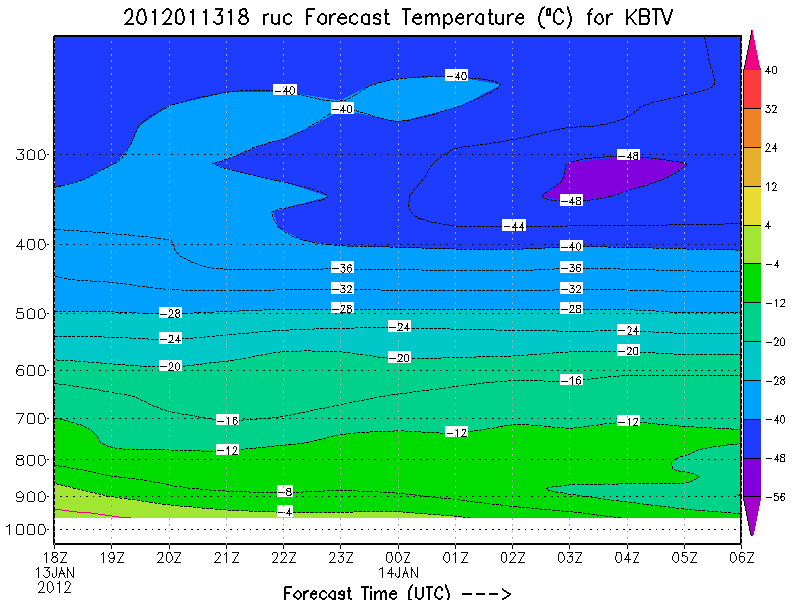 We should see VERY solid snowfall rates between .5 and 1.5 inches an hour depending on the dendrite growth.
I think when all is said and done we will be well into that 6-12 range I originally forecasted and like I said below somebody is coming away with 18 total. This pattern tonight DEF has the possibiltiy of popping off and dropping an additional 8-12 of snow somewhere along the spine. AND if you want my suggestion as to where that might be…well I'd say somewhere between MRG/Bush/the Midd. Snow Bowl / Kmart. Seriously…it's running that way for sure.
Friday Jan 13th, 9:30AM update
So Here comes Acts II and III of Easy.
Right now a strong low has developed with it's surface center just off the NY border north of Watertown. Here is the 850mb meso analysis of the system.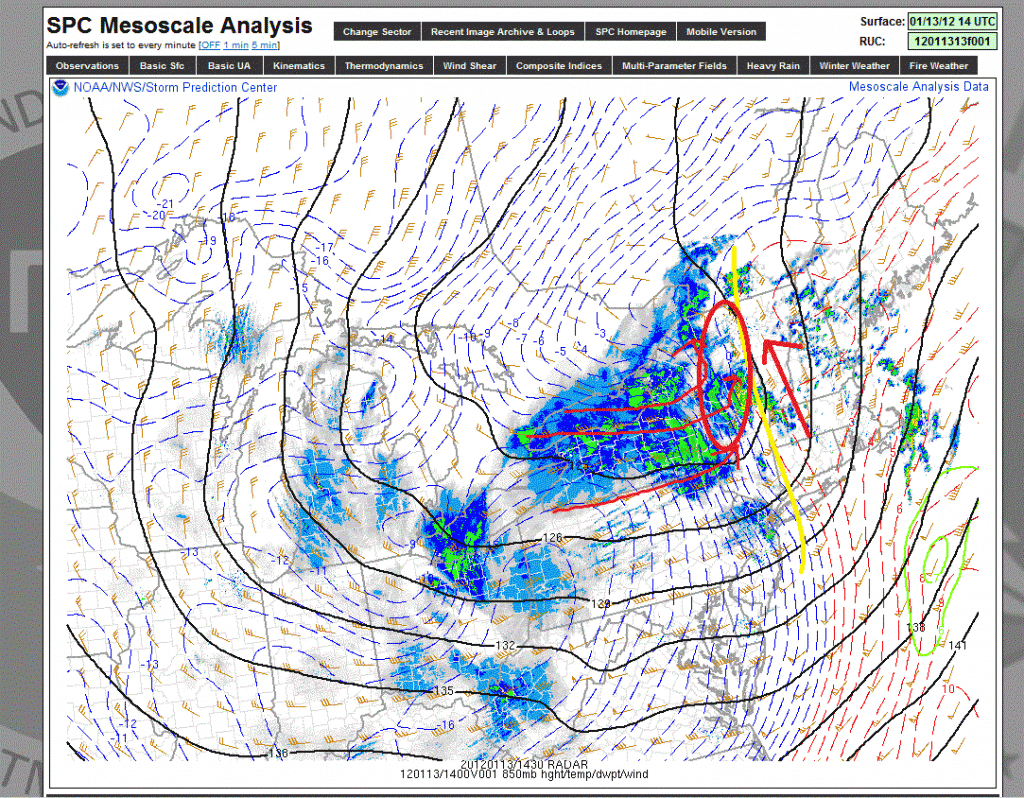 It will track northeast across the border over the next 10-12 horus. As it does it will push a strong cold front through the region ( Marked in yellow) Strong southerly winds out ahead of it in VT and NH are keeping mid level temps just a notch above freezing. (Red arrows to east of yellow).
To the west of the front strong winds from the west are whooshing in a lot of cold air and entraining significant moisture. Noted in the red streamlines in western NY there is also a large degree of convergence behind the front from these winds. That will grealy aid in uplift and convective precip.
Overall once that front pushes through we'll see snow and falling temps. Heaviest snows are going to be in the ADK, and Greens from KMart to MRG. Stowe/Jay might get shadowed a touch from this pattern.
As the winds really stay westerly…the upslope machine kicks in around 10pm tonight with possible a very heavy period of like 2 inches per hour snowfall rates.
Overall I'm going with 3-8 inches additional today.
Jan 12th 12:45PM update:
Storm has started to bring rather steady snows to the Greens over the last few hours. Waiting on reports from the ADK. So far looks like as expected the WAA on the east of the storm has brought a solid 3-5 inches in southern sections of VT and Mass and it's still snowing. Storm isn't that well organized and starting to merge into one large low blob. Which is ok. looks like the 12z suite of high res models is handling this well.
Speaking of, I'm now tuning into that period from Friday thru saturday morning. Looks like we'll see .75 to 1.25 inches or water from Friday morning through Saturday morning along the ADK and Green spine.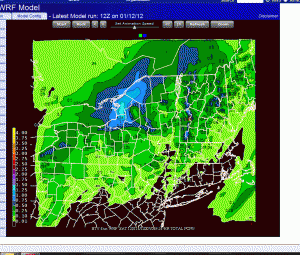 and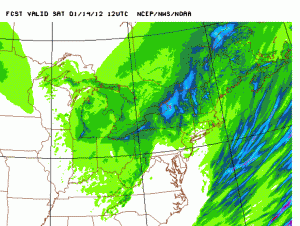 Certainly some of this will fall as mixed precip (sleet, ice and drizzle) over the day on friday. However, as I've discussed below much of this will fall as snow during the later hours of friday and early saturday morning.
Jan 12th 9:38AM update: So this is where we currently stand: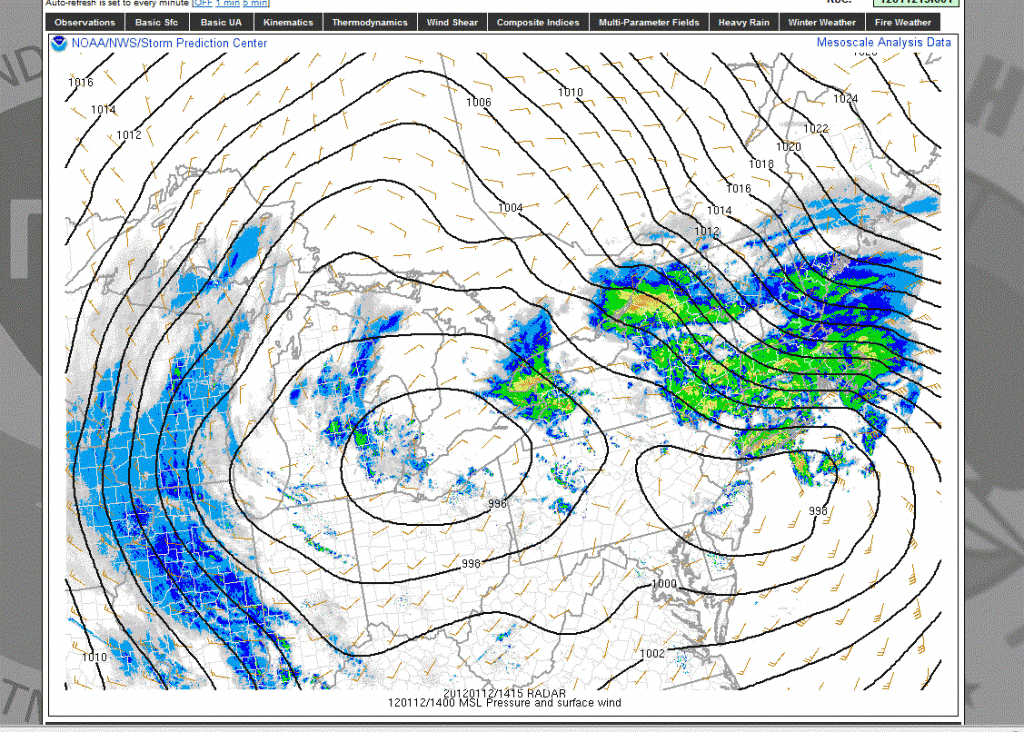 you can clearly see the double low structure that I referenced in the write up below.
Because I don't have a ton of time I will lay out how this plays out based on the current data and model forecasts.
First today we'll see that primary low track to the northeast. It will bring light snows to VT, and Northern NH. Heavier snows will fall in central NH and Maine.
Generally there will be a few inches along the ADK and greens – with more on the eastern slopes. Following that light snow, freezing drizzle and misty type precip will reign tonight thru tomorrow midday. Then, that second low – having deepened- will push through. This will be imo the real story and snow maker. The upslope signal is strong from friday night thru midday saturday. With dropping temps snow growth will be right side up so what falls will go from dense to very light by saturday.
Overall I'm still sticking with this being a total 6-12 type event for much of the mountains of the northeast. I made this comment privately and I'll make it here. If you don't get above 2500ft you will think this storm is a bust. It's just going to be that way. Take your time, let it play out and don't judge it by what falls on your car when it's parked in the driveway.
ORIGINAL POST from January 10th:
Nope- no intro this time. (Well maybe a short one…if you read "Easy" and don't think of "Easy Company" 506th Regiment, of the 101st airborne you have not scene the greatest Television series of all time and possibly the best depiction of American men on the Western Front during World War II: HBO's 10 part epic Band of Brothers. There is little more to say than watch this now. I promise you it will be the best 10 hours you spend this year.)
Back to the weather:
Beginning on Thursday, and running through early Saturday, the North Country has the potential to see a heavy dose of Snow with some rain mixed in.
At its base level "Easy" is a storm complex formed by the interaction of two separate systems. First a moist storm moving out of the south (A) and a cold trough moving out of the northwest/Alberta (B).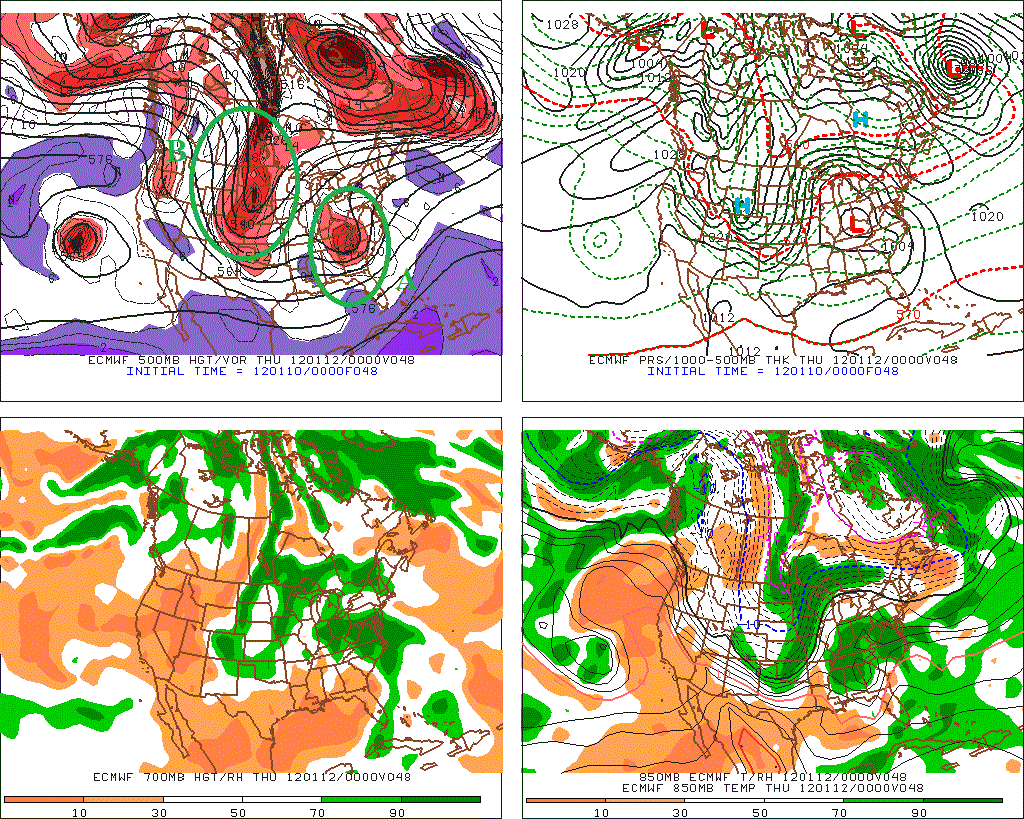 Models wanted to merge- or phase- these two pieces a number of different ways of the past week. Slowly however it's seemed a consensus has emerged. Generally it is agreed that by wednesday the southern low will be over Virginia and the northern energy will be developing a storm over the great lakes.
This is the moment it gets "interesting."
Models have a very hard time with the complex interaction between lows and frankly so do forecasters. There are just a lot of moving parts and wind shifts/temperature changes. TO accurately predict what will happen tends to focus more on the "art" rather than the "science."
Generally however it seems pretty clear that these storms will not totally phase but rather link in a rather unique way. (from the Euro)

Nor often when something like this happens one of the lows takes over as the primary low. Usually that's the coastal low given how cyclones form. That however doesn't seem like it's going to happen. Rather all the major models want to skirt that primary low off to the east while still dragging the second low up into Canada.
– Of course as soon as I publish this the 12z NAM for 1/10/12 comes out and just decides it wants to make that primary low the story. According to the NAM the Greens and ADK a solid 8-10(+) of snow will fall on thursday, FOLLOWED by the passage of the second low with waves and impusles sparking snowfall through saturday. DO I buy this soluition totally…well not quite…read on…
With that said, I think the following plays out…
1) The primary (or southern low) tracks up into southern NY state. VT and the ADK seen WAA snows on the "front end" with a passage to some mixed precip and periods of heavier snow on Thursday.
2) As that primary low moves east, the lagging more vertically stacked "secondary" low- the northern low will slowly drag across the ADK/Greens Thursday night and Friday. While the models don't throw a ton of moisture out, I think there is plenty to be had. Once the high res models come in line I'd not be shocked to see enough water to get us to a foot of snow. These lagging moist lows are just great for the greens.
3) A weak impulse may ride up a secondary front associated with this second low late Friday. That would spark additional snowfall in Vermont- esp. southern and central VT.
4) As the second low moves out into Maine, we'll see a period of solid upslope snow from Friday to Saturday.
So what snowfalls are we looking at? Overall- when all is said and done I think it's VERY possible somewhere along the Green Spine and ADK will be over a foot with the potential to get into the 18 inch range if that second low tracks a little south right over the spine. Otherwise I think this is a solid 5-10/6-12 type event
across much of the North Country (at elevation). Further south I think southern VT could fall in that 4-8 range. Interestingly a low level moist easterly flow at the outset may spike snowfall rates in the Whites putting MTW in that 6-12 range.
-Maine Bonus: On the advice of a wise friend, I'd like to add that the Sunday River/Sugarloaf region could get a real hammering as well. During the first lows life, a strong southeast flow off the ocean will develop and funnel moisture right into Maine. Should be cold enough for snow at both SR and the Loaf. The result will likely be a 8-16 inch snowfall event for them by friday afternoon.
Caveat Conclusion: This is a very complex event that models have not handled well at all and I think there are some assumptions that just might not play out. Am I totally confident this stays all snow? Nope. Not at all. Am I confident that Easy isn't just another warm rain storm? Yes. We're going to get snow out of this and somebody along the spine is going to get a fair (possibly VERY FAIR) amount.
I'll keep you posted.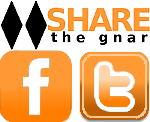 Tags:
Earn Your Turns
,
East Coast
,
Easy Company
,
Lionel Hutz Weather
,
lionelhutz
,
lionelhutz ski weather
,
major winter storm Easy
,
Mount Washington
,
nor'easter
,
Phased Low
,
Powder
,
Powder Skiing
,
ski forecast
,
Ski Weather
,
Upslope snow
,
Vermont
,
Vermont Powder
,
Vermont Powder Skiing
,
Vermont Ski Forecast
,
Vermont Ski Weather
,
Vermont Upslope Snow
,
Weather
43 Comments
Please consider visiting our sponsors.
Leave a Reply