February 6, 2013 9:48 pm | Category:
Weather
"They say its going to snow."
No kidding.
In about 24 hours, widespread heavy snowfall will affect the Northeast. Again, for these big storms, there isn't a lot to say. Nor in truth are these storms what get me jazzed up. Nor are they really why you come here. YOu come here for the little reported, sneaky snow. But whatever….lest's get to the snow.
All the major models have converged on a reasonable solution that combines – or phases- two strong low pressure systems.
I've marked them in blue below: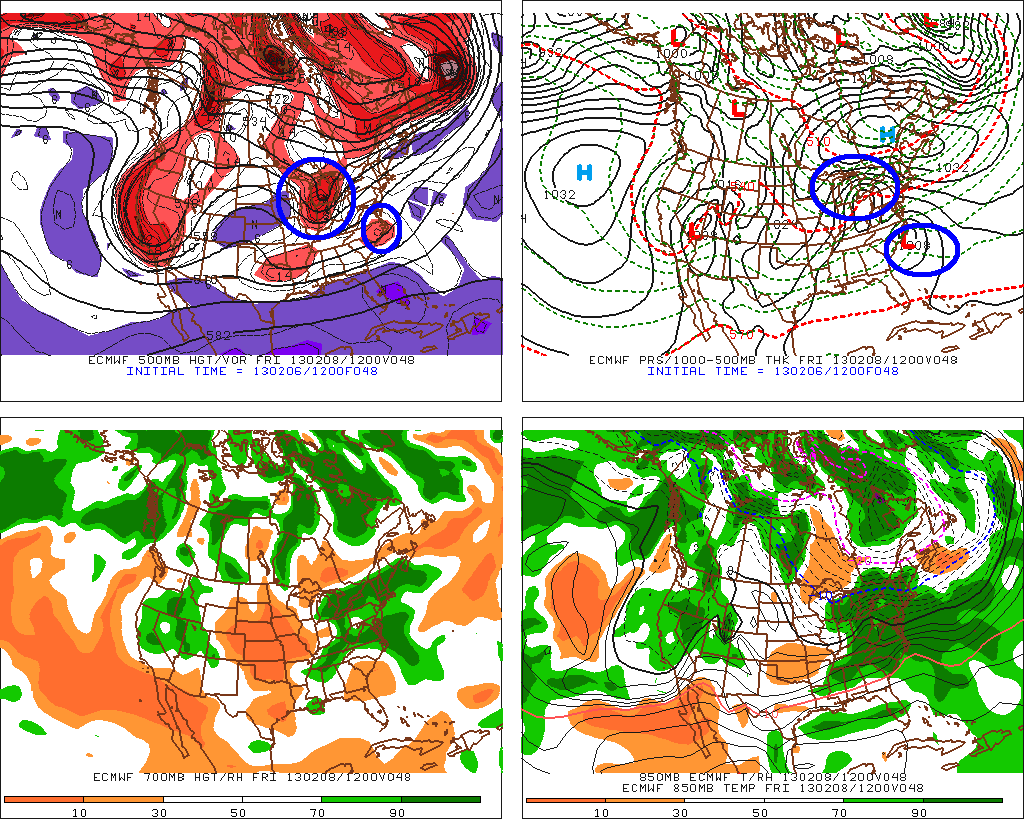 Through the day friday these lows will interact and by Saturday morning these two systems are combined into one large coastal storm: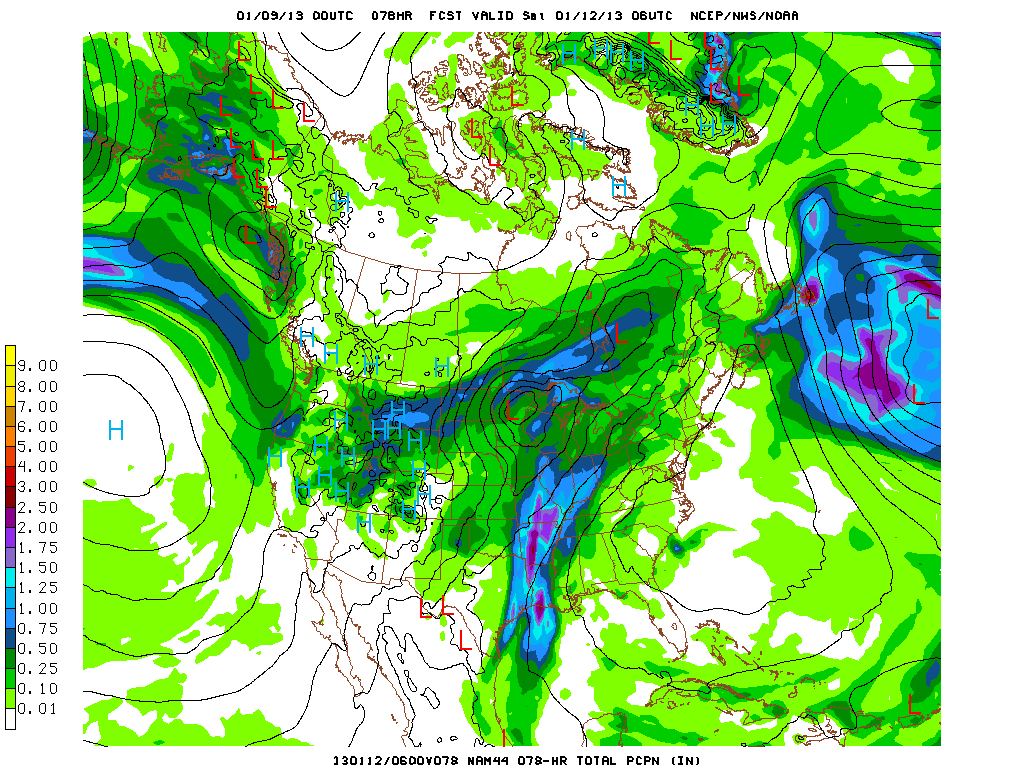 As this plays out the first act will involve a band of heavy precip associated with warm air advection moving into the northern NY. Snow from that will break out friday morning across NY state and then late morning friday in VT. Snows will be moderate thru the day friday in NY and VT. Snow will really ramp up from late afternoon friday thru saturday morning. Some data suggest upwards of 2 inches per hour will be possible for periods overnight friday.
At the same time, the combined large coastal low will begin to take over. This large coastal low will move up the coast and bring heavy heavy snow to portions of S/E New England late friday, early saturday.
The interesting part about this system will be how the northern stream low – and the precip associated with it – affects the Northern Adirondacks, and Northern Vermont. Normally, when you have northern stream low transferring energy to a coastal low, the precip can get cut off pretty quickly to the n/w of the now stronger coastal low. The result is a classic skunking of the ADK and parts of VT. That's not looking like it's going to happen here. Instead, it seems a heavy band of precip will remain going in the ADK. The models show the coastal low interacting with old northern-stream low (which devolved into nothing more than a trough) to funnel moisture into a narrow band in NY (and Nor. VT).
Thurs 3PM UPDATE
Last night I forecasted as such: overall, there isn't much else to say, so I'll just get right to the forecast: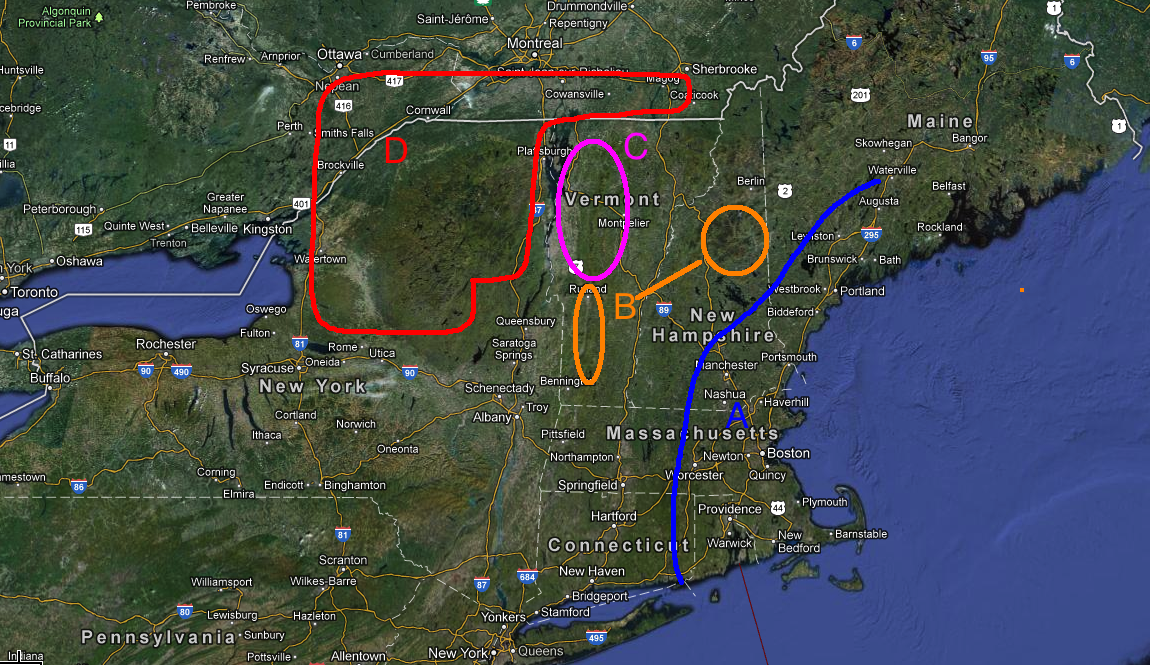 A: Extreme S/E New England. Widespread 18-30 inches of snow.
B: Southern VT, White Mtns (and I guess NW Maine should be here as well). Widespread 10-18 inches of snow.
C: Central and Northern Greens. Average 8-14 inches at lower elevations, 10-18 at higher elevations. VERY high snow to water ratios. Something like 15 or 16 to 1 will make it easy to get higher totals out of less water.
D: ADK and strip through so. quebec (Sutton area). Might just be the $$ spot when all is said and done. Looking a little wetter than Nor. VT per the models and with similarly high snow growth this area wil see widespread 8-14 with pockets MUCH MUCH above that. If this breaks per the 12z suite of guidance, certain pockets will be pushing the 24+ range.
—
Today I'm going to amend that. A clear trend has developed since the overnight models came in. That trend has reduced the precip in Northern VT substantially, tracked the coastal low east of it's wednesday track and lightened the precip in the ADK. This trend was one of the reasons I was hesitant to put up a forecast last night. Since this storm became really likely, I've watched for this suppressed solution to develop. And while it's clearly NOT suppressed per se, the heavy westward extent of the precip always felt overdone. Also, what I've noticed is that the timing – where in the coastal low sucks energy away from the northern low- is going to occur so as to really limit the precip in a pocket over nor vt. Makes sense and I'm gonning to go with that.
So with that in mind, here is my revised forecast:
NW ADK: 8-14, High Peaks: 8-12+, Nor. VT (89 to Jay): 6-10, Central Spine (89 thru 4): 8-16, Southern VT: 10-18+, So NH, 12-24, Whites 8-16, Maine 10-18, Berks and Catskills 12+
FRIDAY 10:30 AM UPDATE
Well, here is where we're at: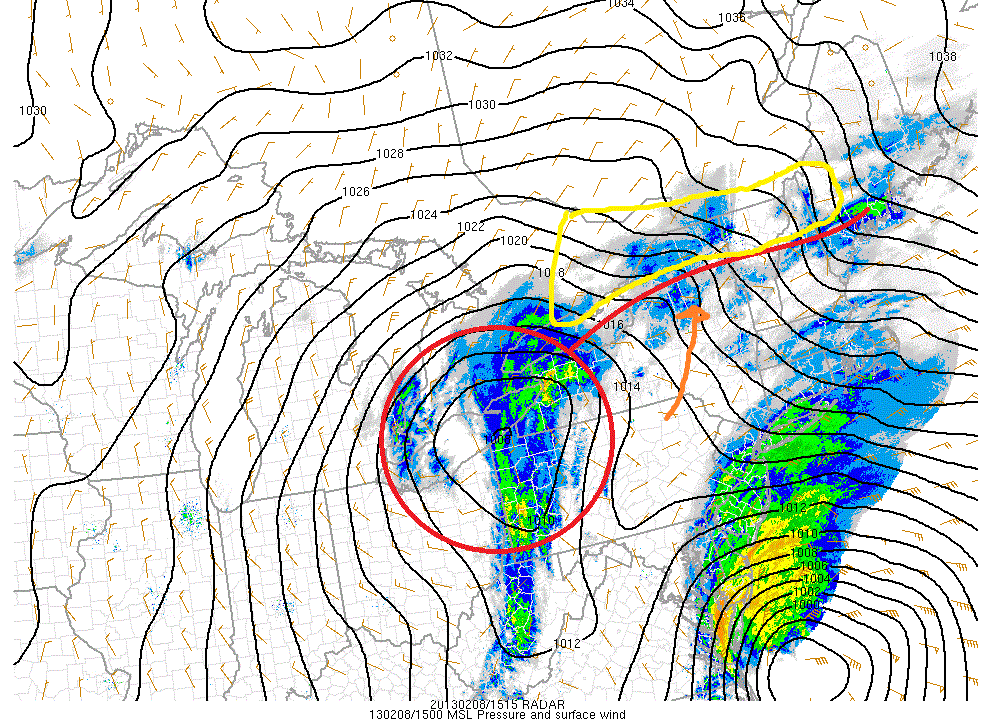 You can clearly see the "northern" low – circled in red- and the southern low hanging just off the east coast. These two lows are going to interact over the next 6-12 hours. The result will be a very strong coastal low. HOWEVER, that's not to say we're done with this northern low.
This morning a warm front is extended out to the east of the "northern" low. I marked that as a red line. Warm air advection on a south/south east wind is bringing warm, moist air into the region. So far this morning it's done really well and over produced snowfall. Whiteface is already reporting 10 inches of new snow on the upper mtn. Stowe is in the 4-6 range!
Looking at the high resolution model, it def. looks like we'll get another 4-6 inches of snow.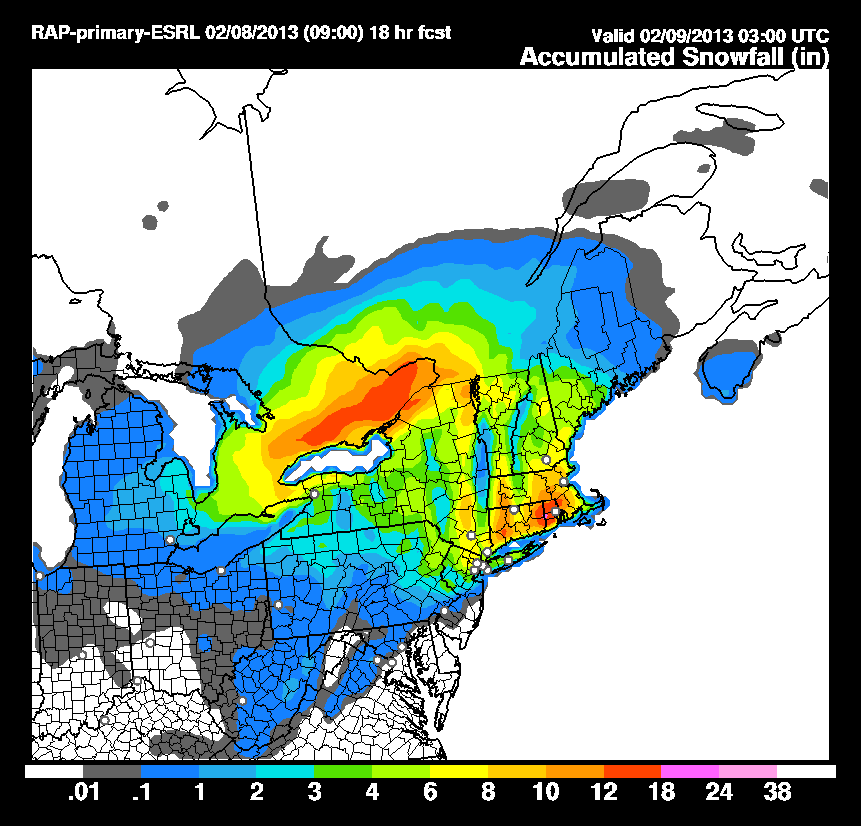 Not sure I need to adjust my totals that much. Maybe bump the High peaks up into the 12-18 range, and bump up the spine from 89 thru smuggs into the 8-14ish range.
/End Update
-Lionel.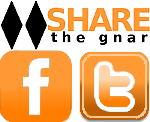 Tags:
East Coast
,
Lionel Hutz Weather
,
lionelhutz
,
lionelhutz ski weather
,
Powder Skiing
,
Ski Weather
,
Vermont
,
Vermont Ski Forecast
,
Vermont Ski Weather
,
VTah
,
Weather
21 Comments
Please consider visiting our sponsors.
Leave a Reply