February 11, 2014 8:15 am | Category:
Weather
>SCROLL DOWN FOR BREATHLESS UPDATE
Gonna do a full write up on the weather this week ('cause it's active). Here is an amuse bouche to start:
WELL hyped coastal low will move up from the Southeast mid-week. It will bring potentially "heavy" snows to the southeast, southern apps and coastal cities of the N/E. It will move out over cape cod and bring snow to Boston and Southern NH. Then it will begin to track north into the gulf of Maine. This track has the potential to bring heavy (no quotes) snow to Sunday River and SADDLEBACK MAINE …the storm will continue this northward track and bring very heavy snowfall to the Chic Chocs for Ski Chic-Chocs Aventure Chic-Chocs and COOP Accès Chic-Chocs …
Wednesday Update Ok, so here it is…THE BIG ONE. But not kinda not really. Currently, a storm system is about to exit the GOM. It's bringing a nasty mix of ice and snow to the deep south as it slides along the southern edge of a very cold pool of air. (It is circled in red. Orange is the new black…err track)
For several days various models have pushed and pulled the track of low within a 50 mile band along the coast of the U.S. On the doorstep of the system, there seems to be some consensus that the surface low will follow a line from Virginia Beach to Cape Cod and then on into the Bay of Fundy.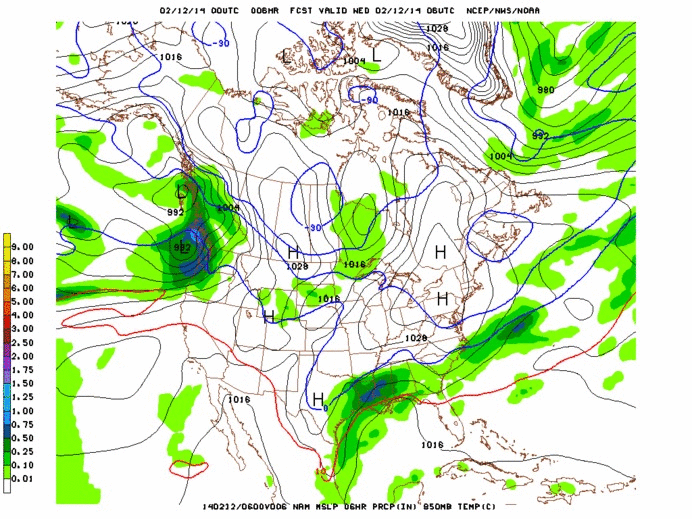 This is a pretty wet storm as it is tapping GOM moisture. QPF totals are impressive.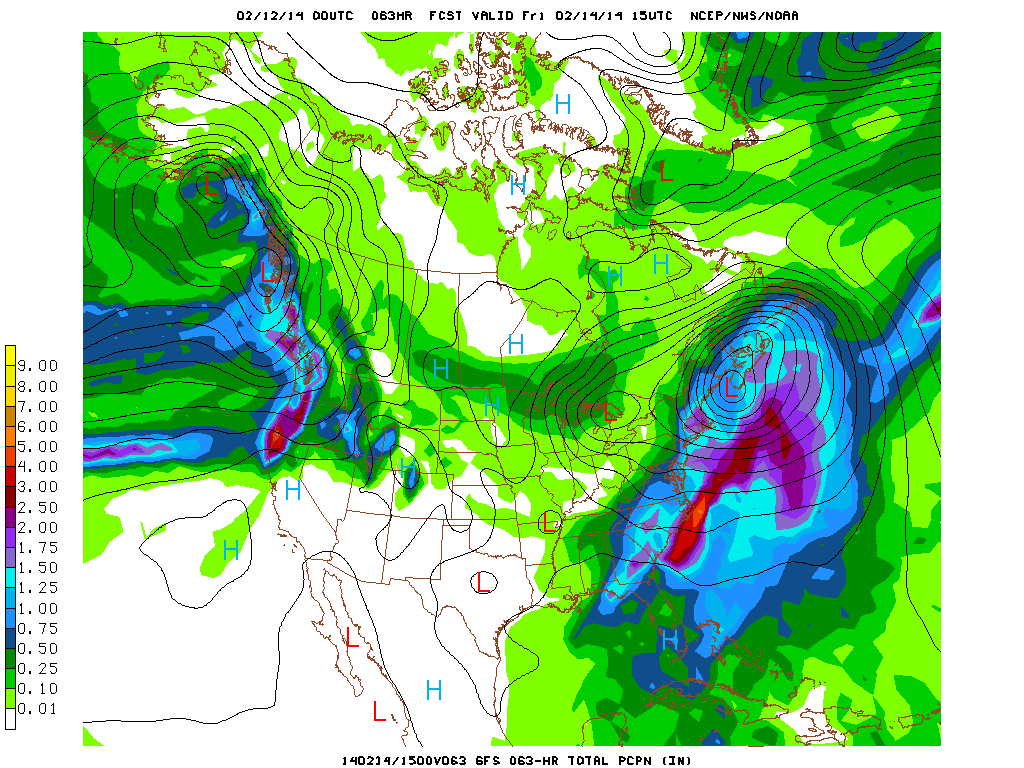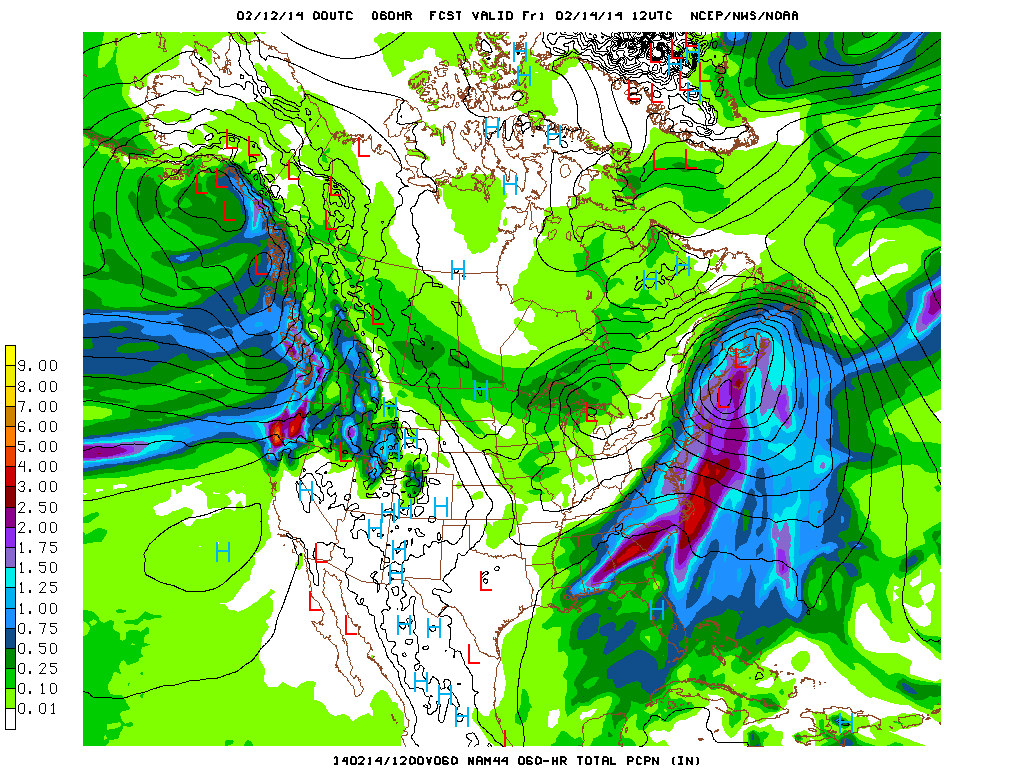 As you can see from the precip total maps, this track isn't that great for delivering a heavy snowfall west of the White mountains. Thus as it looks right now the heaviest snows will fall thursday night through friday in the White Mountains and in Maine on Friday. I think anything between 10-20″ are possible in those regions from this storm.
Further west is a tricker forecast. The Euro model is more robust with the amount of precip that sneaks into VT from the Killington stretch of the Spine north. In general areas on western edges of these large coastal storms are tricky to forecast. If a deformation band develops (where the air is stretched due to opposing forces) towards our region heavier snow totals could easily occur. If banding doesn't develop we can see drastic cut offs between heavy snow to the east and nada to the west.
Right now a safe blend of the models indicates about .5 inches of liquid (4-8″ snow) will fall along the spine from Kmart to Jay. There will be a stretch of the spine that picks up closer to .75in (8-12″ snow) however I can't say with certainty whether that will be the Stowe/Bolton part, the Bush/MRG part or the Kmart/Pico part. Gun to head, I'm going to say its prob. the Mush/MRG section that wins out here. I think Stowe/Bolton/Jay are just a little too far north.
One caveat here is that the winds in this system will be more n/nw than they have been for previous coastal storms. That means places that face east will not have upper elevation snows smacked around by the winds as much. It also means there is an orographic snowfall enhancement possible early friday am. The models aren't doing a great job picking this up but don't be shocked if there is a period of renewed heavy snowfall around 5-9am friday as the low pulls out east and some upslope snow kicks on.
End Wednesday Update
THURSDAY REVISION:
I wasn't a believer. The pattern for the last 8 weeks gave me no reason to be. Good science says don't believe a change till it happens. Well I guess this is the change happening. For weeks now coastal lows have done coastal things. Like bring snow to the coast. Not the interior Mtns of the N/E. As of yesterday, that seemed to the case. However, in the last 24 hours the major models have developed a solution that is significantly inland to the track two days ago.
The result is that this places VT in the western N/W flank of the storm system. Due to the triple air conveyor system (wet and cool from east, warm from the south, cold from the NW) this region of low pressure systems is the favored location for heavy snowfall and deformation (stretching of air) banding. Additionally this track places moves the low in such a fashion so that for a period of time the Spine is orographic to the windflow significantly enhancing the precip totals along the Spine.
Looking at the totals with the new track it's clear that the Spine is going to get slammed: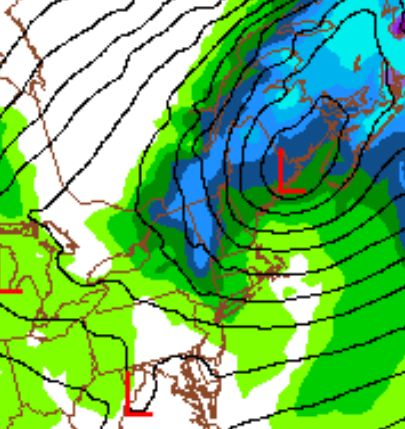 Snow will break out today around 4pm or so. It will intensify rapidly tonight with a period of 2″ an hour snowfall early friday morning. As the storm center moves into the G/Maine snow will become focused on orographicly favored spots where .5″ to 1″ an hour snows will continue through midday friday (at least) and possibly if the low becomes stagnant continue into Saturday.
My revised totals are 12-18″ along the Spine with more (18-24″) in locations favored by a northwest flow. 8-16″ in the ADK (I'm bumping this up), 8-16″ in the Whites and 12-18″ in Maine.
END REVISION
On its heels will be a northern stream low moving out of the great lakes. Earlier model runs had these two lows merging….that would have been perfect for the ADK and Greens. But they don't look to merge as of now. Alone this second low will slide into the area friday into sat. Watch out for sneaky good pows all along the green spine and adk with this event. Right now with the track of the low I think the best snows will be in SO. VT at Pico Mountain and Killington Resort.
Quick update on this lil thing too…I like it. It's sneaky. If moisture from the departing coastal low lingers at 850mb and this trough moves through that moisture with west winds. Watch out. That has "jay cloud fluff" all over it. Be a very good day in VT if that were to work out. I'll update Saturday on Thursday when we see the coastal more developed.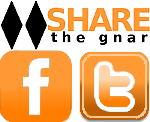 Tags:
East Coast
,
Lionel Hutz Weather
,
lionelhutz
,
lionelhutz ski weather
,
Mount Washington
,
Powder Skiing
,
Presidential Range
,
ski forecast
,
Vermont
,
VTah
,
Weather
3 Comments
Please consider visiting our sponsors.
Leave a Reply