House Republicans are in a never ending arm wrestling match with Senate Democrats and the President. The result of this battle is that they've failed to approve a budget for the upcoming fiscal year 2014. When the government fails to approve a budget, their non-essential personnel start getting to take some unpaid time off.
Little did I know, the least essential personnel of the government are the staff that man our National Parks. These park officers were the first public relation stunt to hit the news media this morning after last night's midnight government shutdown. Claiming they wouldn't be operating any services at the parks today, they'd not man their Twitter account, nor open their website.
I'll be honest, I love our National Parks, but maybe more so in theory than in practice. I've been to dozens of parks, and even spent a summer working for a concessionaire of Glacier National Park. In short, I've worked, lived, visited, and explored almost every park in the West and don't really feel like they're living up to their esteemed duties.
I'm going to take a step back and address some National Park issues before I address the current closure that's been mandated by the Federal Government. If you'd like to read about the current closure, skip to the bottom.
---
Two weekends ago, I drove to Death Valley National Park from Las Vegas. I left early in the morning, 3:30 AM, with the hope of being at the trailhead to Telescope Peak with enough time to spend part of the day on the summit. I made good time past the Nevada Test Site and was in Death Valley at dawn, and ready to head up the 20 mile access road to the Wildrose Trailhead when I ran into my first road closure. The road closure read, "Closed for Flooding." Keeping a close eye on our local weather, I knew our last substantive rain out here had been in mid-August, and it was now mid-September. Had this road really been closed for a month? Not to be deterred there were two other access roads, so I started driving to those. Turned out it was the same story there too, closed.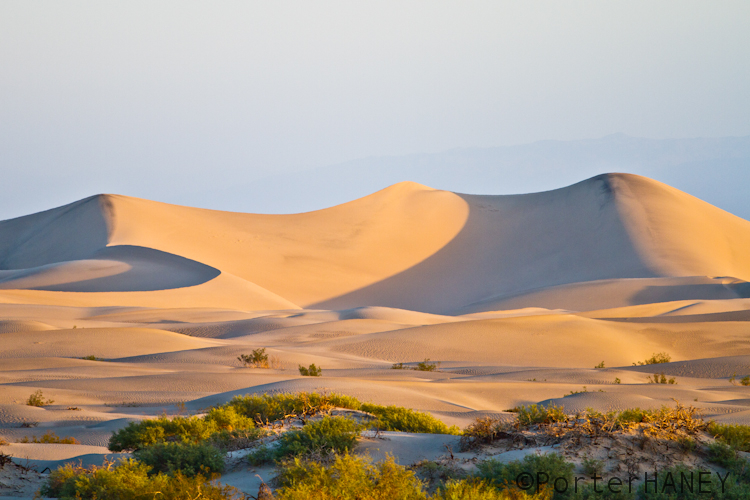 Sunrise at dawn in Death Valley
I made my way back to the visitors center of Death Valley, to see if I could find out what exactly was going on. This is a big park, so it was nearly a 2 hour drive to the visitors center at Furnace Creek.
I arrived at the visitors center, which I'll mention was a giant, brand new building, in the middle of nowhere, with hardly a tourist there to view their myriad of interactive displays. I walk up to the front desk where a half dozen rangers are drinking coffee and chewing the fat. I cough a bit, to get their attention, and one of them finally asks if she can help me. I said sure, but first she wanted to make sure I'd paid my park entrance fee. Which I had, in a roundabout way, I hold a National All Access Pass, which she thoroughly reviewed with my license. After passing her examination, she asked if there was anything else she could help me with besides accepting my park entrance fee. I asked if she could tell me a bit more about the road closures and when they could expect them to reopen. She said she didn't know, she hadn't seen the floods, but heard they were bad. We'd be lucky if the roads could reopen by year end.
Wow, at this point I'm a bit annoyed, but a floods a flood, you can only do so much. She handed me a park map and sent me packing.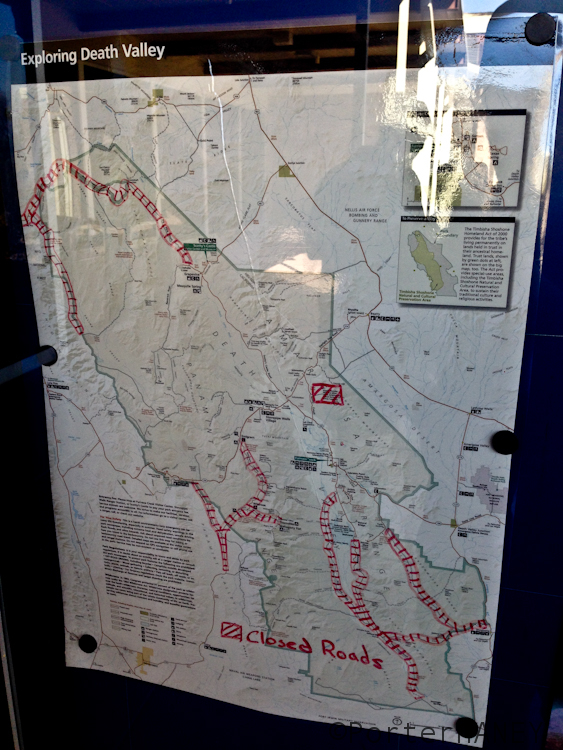 A look at the mostly closed Death Valley National Park.
On the front of the map, is a message from Death Valley National Park Superintendent, Sarah Craighead. I went ahead and read what she had to say, and frankly, I was shocked. It really brought the road closures, the new $10M visitors center, and the current NPS closures full circle.
The park superintendent says, among other things,
"My tenure at Death Valley has been an experience I never could have predicted. I have worked with a wonderful staff who championed many important projects- the most notable being the renovations of the Furnace Creek Visitors Center. This remarkable project transformed the 1959-60 constructed facility, landscape, and interpretive exhibits into a LEED-certified visitor-friendly complex, while preserving its Mid-Century Modern design."
Since this is in the second paragraph of her message, I read this to say, her proudest accomplishment as a park superintendent is the renovation of a giant building in her park. Not that millions of visitors have seen the wilds of Death Valley, or that they've saved millions of acres from mining, or that they've opened access to hundreds of backcountry trailheads. No, we should be most proud of the new building we build on public lands with public money.
Her third paragraph goes on to really spell it out for me,
"We also completed the Wilderness and Backcountry Stewardship plan which outlines management strategies for 3.2 million acres of wilderness and backcountry within the park. The plan formally proposes actions that will be implemented in much of the park for the next 20 years."
Wonderful, instead of actually preserving the park and working to maintain open access to the park, they've been building a plan about how they might handle park management.
At this point I was really fired up. I've worked in a National Park before and understand all of the bureaucracy that comes with trying to do the right thing in a situation like this. But this really rubbed me the wrong way.
The park superintendent is advocating for their newly developed visitors center project, has all of her rangers managing it's front desk, and can't be bothered to address when they might open up access to closed public roads.
I was annoyed by all of this, but it wasn't until the recent National Park Service closure due to the Federal Government not passing a new budget that I really felt obliged to speak out.
---
I'll be honest, my first thought when I heard the parks were shutting down this morning was: This is awesome – National Park roads will be open and there won't be any rangers around to tell the tourists how they're supposed to enjoy their public lands. Maybe even all of their "closed roads" will be open for the public to explore.
I hopped in my car this morning, and went to explore Red Rock Canyon National Conservation Area, the closest National Park Service managed public land to my house.
We got out to the park, and I anticipated all services would be shut down, no employees on duty, and open access to the park.
Well, I was half right. All the services were shuttered, and non-essential personnel were sent home.
It turns out essential personnel were still there. And those essential personnel were Park Rangers armed with assault rifles, wearing bullet proof vests, and blocking access to the park road. So the parks didn't just "close" during this Federal Government shut down. No, instead the Parks are paying federal employees to stand around at the entrance gate, dressed like commandos and enforcing a closure.
It doesn't sound so much like a park closure as it does as the government restricting the public access to their own lands.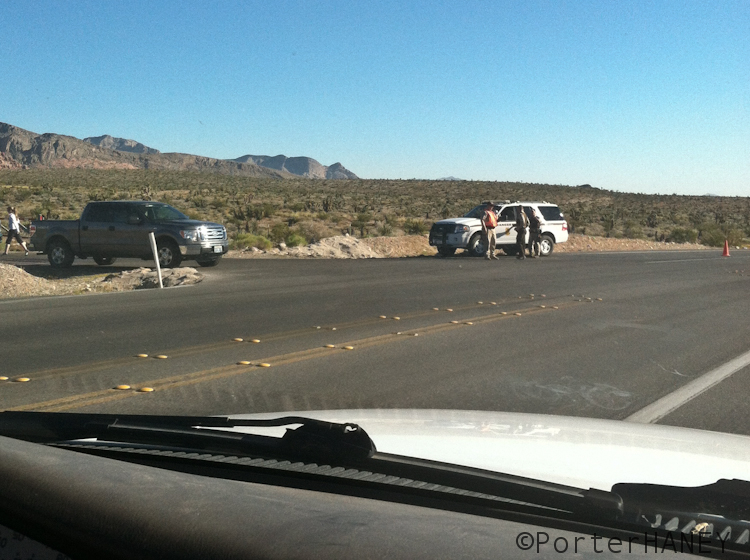 NPS rangers keeping the park "closed"
I don't know about you, but I don't think blocking tax payers from access to their lands is a good use of Federal dollars. No better than a park that's half closed and spent all of their budget on a Visitors Center instead of ensuring public access to the public lands.  In fact, these public lands were designated public, and to not be developed.  The National Park Service's sole job is to manage these lands.  If the National Park Service is relieved of their duties, or elects not to repair a flooded road, than these lands should remain public and open.  Right now it's the exact opposite, we're paying rangers to enforce that they remain closed.
With nothing left to do, and no way in the car past the armed rangers, we protested the only way we knew how.  We walked into the side entrance of the park, and enjoyed it in it's most pristine state I've ever seen.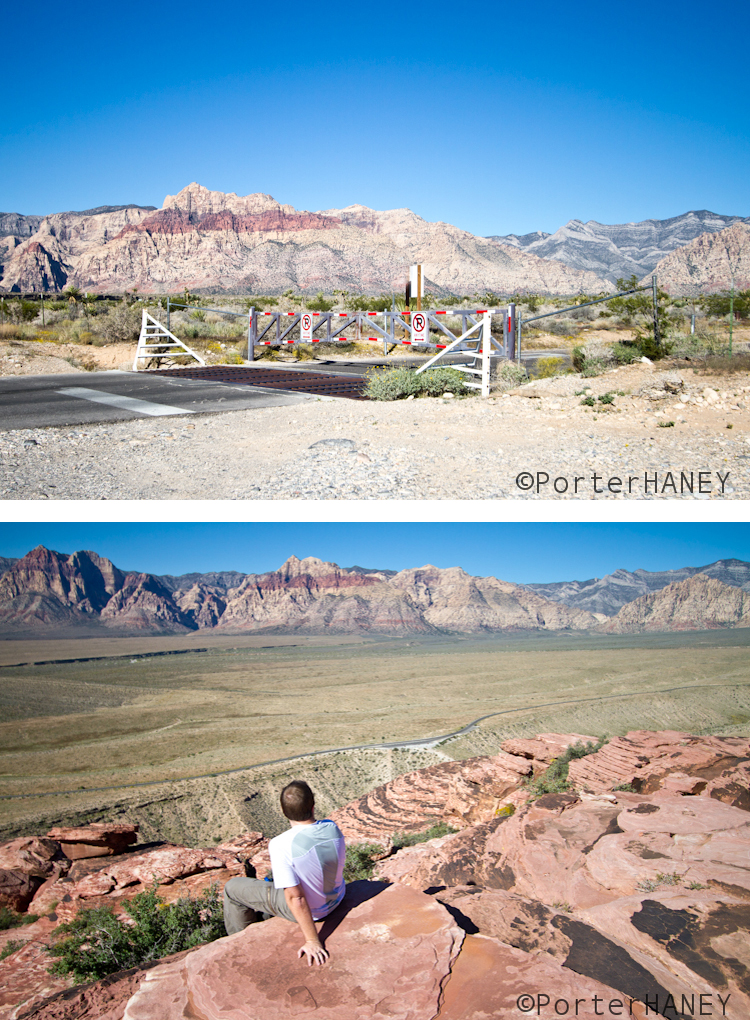 Jimmy enjoying the wilds of Red Rock Canyon
I hope you too get to enjoy our National Parks while they're closed and in their wildest state.
This is definitely a touchy issue, if you have an opinion I'd love to hear it in the comments below.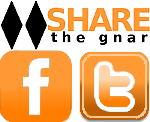 25 Comments
Please consider visiting our sponsors.
Leave a Reply