The
Starting Points for Adventure
series gives your outdoor-imagination a kick in the butt, and gets you on the fast-track to adventures. Approximately every week we provide a few pictures and clues of a great location a bit off the beaten path. We challenge you to read carefully, put your thinking cap on, go out into the wild, and find the location. Report back about your findings in the comments below, but
please don't give it away for someone who has yet to figure it out
. Of course, if you find something even cooler during your travels don't hesitate to challenge us! If you find something really awesome, and think it's worthy of being included in the SPA Trip series
send us an email
!
Many people refer to this place as being the falls of some dude who died in a hotel fire in Cedar Rapids, Iowa, at the age of 62. This is not those falls. Look at Bill go! (Bill just got in from CT, and needed to get some air time!)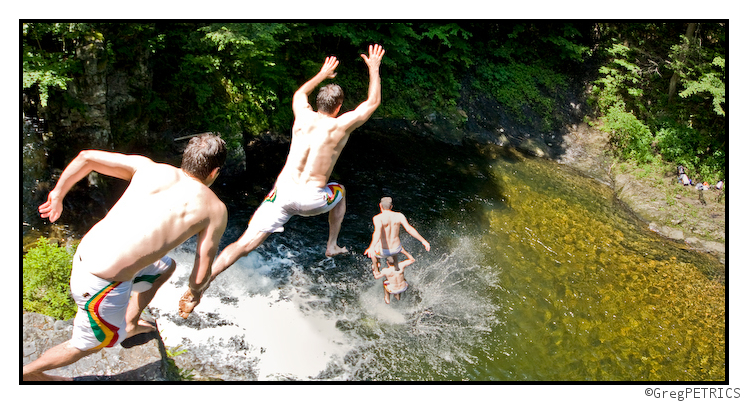 Those falls are not quite as secluded and private, and serene. No, this place is not "those" falls. This place is perhaps what is meant by a "wild goose chase" in Let's Make a Splash. Christian leads the wild goose chase into the water from 25 feet up and over some rocks.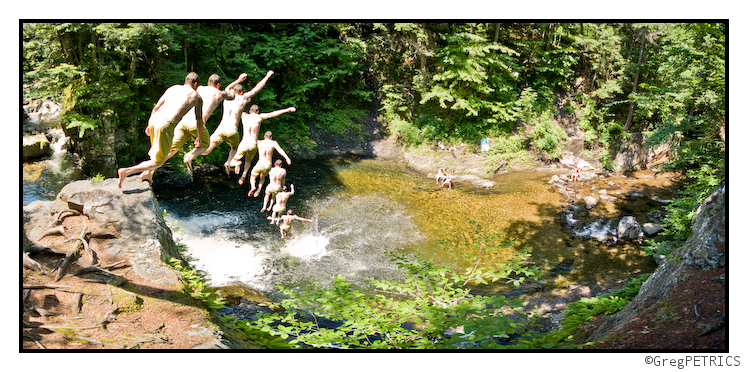 As far as I know, these falls are named after some dude who was the Grand Marshal of the Lebanon 4th of July Parade in 2005. Whomever is correct, this place is definitely worth a visit. There might just be some pretty awesome larger falls and deeper canyons just upstream. Go check it out! This is a Starting Point for Adventure….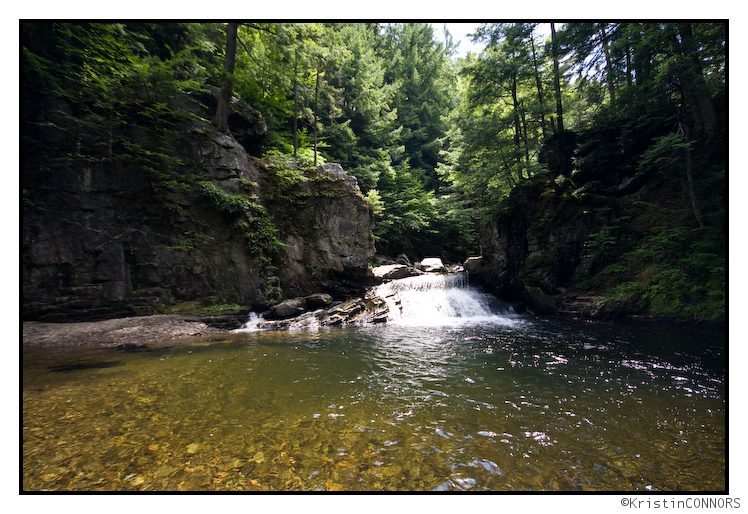 HEY! Pick up a sticker for a buck over in the store. YES! They're just one dollar. Alternatively if you're feeling cheap, but knowledgeable, if you can name all 6 of the East Coast SPA trip locations, email us with your answers (and address) and we'll send you won (one?).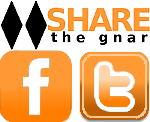 Tags:
East Coast
,
Jumping over Waterfalls
,
old fashioned New England swimming hole
,
photos of swimming holes in New England
,
river swimming
,
SPA
,
SPA Trips
,
Starting Points for Adventure
,
swim
,
Swimming
,
swimming holes in New England
,
swimming in Vermont
,
Vermont
,
vermont swimming hole
,
Vermont Swimming Holes
5 Comments
Please consider visiting our sponsors.
Leave a Reply