Gear Reviews
on
F.I.S.
are from the heart. We go through a lot of gear here, and figure some of you might like to know how it holds up. Look for reviews on items both directly and indirectly related to skiing and mountain adventure. Use our reviews to find out what works, what doesn't, and what you didn't even know you
need
. Got an idea for a review?
Contact us
!
As our first real pow producer of the season began it's final approach into northern Vermont, I got my hands on a pair of Black Diamond Reverts, it's newest touring offering to us, the skiing public. The Revert is a 95mm waist, playful smear board. Designed to be a "mini AMPerage", this ski sports some very new technology to the Black Diamond line of schussing tools. Significant taper at the tip and tail, moderate rocker both of the tip and tail, and camber underfoot are the hallmarks of this new shred axe. All with the same ABS sidewalls introduced on this years Freeride skis, the Revert is the first of the FreeTour skis (formerly Efficient series) to be built in this style, as opposed to cap construction. For those into SAT style analogies, the AMPerage is to the Rossignol S7 what the Revert is to an S3. Same premise in the design, saving some weight and a bit less sidecut.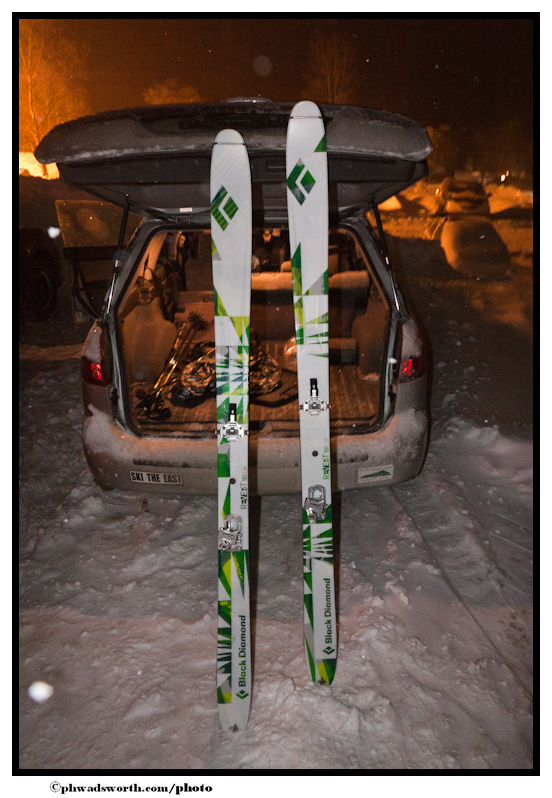 Before we get started with my thoughts, let me tell you a bit about myself.
Age: 28
Height: 5'9
Weight: 170
All Time Favorite Skis: 183 Volkl Katana, 183 Volkl Gotama
Ski Reviewed: 2012/13 Black Diamond Revert w/ Plum Guide
Mount: Manufacturers recommended mark
My first impression of the Revert was very positive. A very good looking ski both graphically and technically. Let me state, for the record, that I was never a huge fan of the older BD skis. Some I enjoyed skiing, but in terms of construction and durability I felt they left something to be desired. So I have been very pleased in the past year plus with BD's construction changes and desire to hop on board with newer technology (camber/rocker profiles, use of carbon, taper, and more soft snow specific shapes).
The ski came with a Plum Guide binding, a French company who has been building rando race tech bindings in Europe for about 6 years, but only released their first Freeride tech binding last season. I have heard many good, and a few bad, things about this supremely beautiful piece of machined steel and polymer that affixes boot to ski. It was good to get on snow with this binding. Frankly, I found it so similar to my Dynafit FT 12s in terms of skiing performance. I would need more time to vet out real durability differences, but both Dynafit and Plum have aspects of their bindings that I am not a huge fan of, while each offering is really a dynamite piece of equipment when used in the manner it is designed for.
My first day on the Revert was the Saturday morning after "Easy" had moved through. The pair I was given to test was the 181cm, 121/95/109 version. I was on the skin track at 6am and got about 4,000 vertical feet of skinning and skiing through 12-20 inches of fresh snow. I was skiing the Revert with my Dynafit Titans on this day. And it took some time to get comfortable with such a different plank than what I usually choose to ski. My skiing style is fairly aggressive. I tend to try and drive the tip of my ski hard and keep my weight forward over the ball of my foot. This ski does not like that type of skiing. On the very first 100ft of descent, I punched it over a small convexity to see how this tool likes air under it. I landed, the ski folded up and I did a little ass-over-teakettle into the deep fresh.
"Ok, let's start a little slower." I told myself.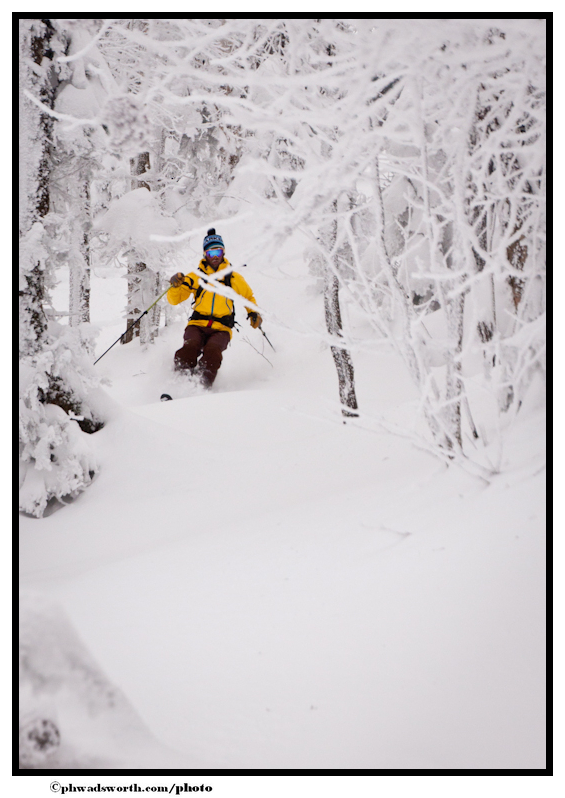 After that I got the hang of it a bit, but still had to get comfortable with a more centered stance on the ski than what I am accustomed to, and an almost non-existent tail. The more time I spent on the ski, the more I enjoyed it. And I really enjoyed it's softness on the ascent. The soft tip constantly residing on top of the blower, and the feathery weight were all big assets on a day of deep snow skinning.

I did get a groomer run on the Revert, and it was a bit squirrely (to be expected), but overall it was pretty responsive and fun. The fact of the matter is that groomers are not really what this ski should be doing, but when asked to they respond with a surprisingly pleasant ride.
On day two I decided to lighten up the boot pairing, and plugged in my Garmont Helixs to the Plums. This, a last minute decision before venturing out into the 0 degree F sunshine, was the best decision I made all weekend. Without the stiff forward flex and high cuff (in a relative sense) of the Titan, I was forced to ski the lateral stiffness of the Helix and kind of "rock" the ski side-to-side. In this style I was doing my best to keep my weight over the middle of my foot. This strategy yielded much better results, hoots, hollers, face shots, and fun.
If I had some more time with this ski, I would make an effort to put it into situations where I don't think it would be best suited. Just to see if the engineers at BD put something into this board that would surprise me. High speed groomers (with a brake-less tech binding; YIKES), chop, crud, and icy steeps should be the bane of the Revert's existence. But at least for now, I will not know this from experience.
And can you blame me for devouring 7,000 ft of human powered flakeage this weekend? I think passing on holiday weekend resort skiing was a strong decision.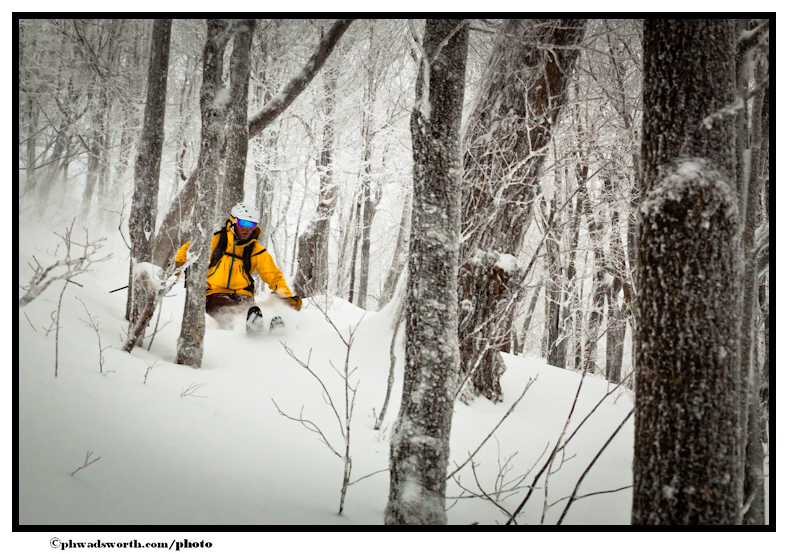 My overall impression of the Revert is that it is very well built, light, playful, and easy going modern moderate powder ski. It would be wonderful for a person not too set in one skiing style, or a newer skier who has had time to get used to driving the new ski shapes. The ski is best driven with a lighter and softer boot (think TLT 5) by a skier who is happy slicing effortless turns in medium deep powder. Did everyone just raise their hand?
If I could change anything, it would be to stiffen up the flex underfoot, soften the tip slightly, and add a bit more to the tail. Maybe I am fundamentally changing the ski at this point, and maybe I should have been on the 189cm version, but I feel this way for one major objective reason.
When a soft flexing ski is paired with a tech binding, there is a lot of movement of the heel pins into, and out of, the boot heel inserts. Make sure if you are using this type of setup to keep your forward pressure on the loose end, since most pre-releases with tech bindings come from a deep flex where the binding heel housing hits the back of the boot and pops it out. I set my pressure loose on the Plum, and noticed that while standing still waiting to ski, I was flexing the ski so much that the heel housing was almost touching my boot. And in certain situations while skinning my boot heel would catch on the binding housing. (This was when I was on the flat tour setting, and coming up out of a water bar style feature where only the tail was flexing). Not a huge deal, but still a little strange and never a factor on any of the stiffer underfoot skis I have used tech bindings with.
To sum it all up, when approached the right way (fluid and balanced skiing, not hard charging) on the right terrain (moderate gladed terrain and moderate pow slopes; not steep or very variable terrain) this thing will be a tool that facilitates superb experiences.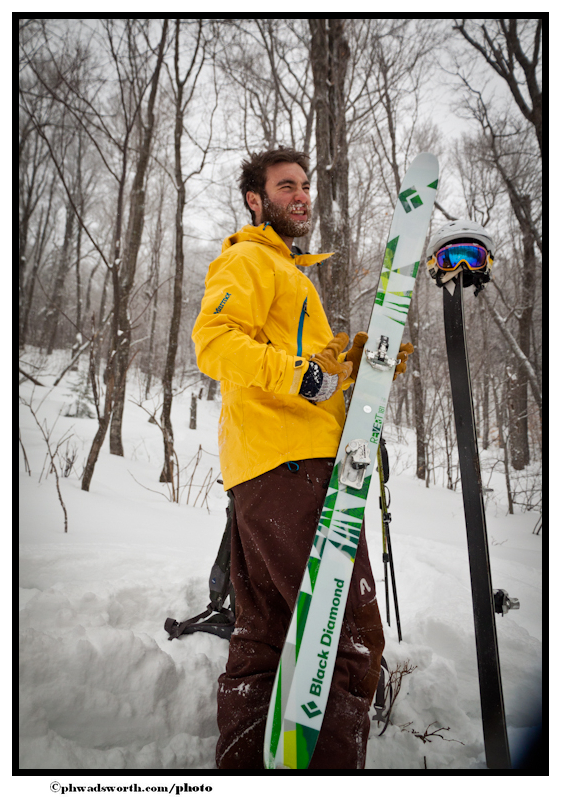 Stay tuned for more flavors of gear I am using now, and some small tastes of what will be available for the coming Fall.
And of course, stay tuned to FIS for more of the quality stoke and weather forecasts you have come to expect and rely on. I know I will! (And if you're looking to pick up some Black Diamond gear we suggest this particularly fine VT gear proprietor)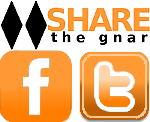 Tags:
Black Diamond
,
Black Diamond AMPerage
,
Black Diamond Efficient
,
Black Diamond FreeTour
,
Black Diamond Revert
,
Gear review
,
Plum Guide
,
Rossignol S7
12 Comments
Please consider visiting our sponsors.
Leave a Reply