November 20, 2012 11:22 am | Category:
Weather
Turkey, cranberry sauce, stuffing, some green vegeatable, pie, gas, football, weird relative interactions, "SAY HELLO TO YOUR AUNT."
Oh, you wanted a weather prediction. Riiiiight.
So on the east coast, we've been under an incredible high pressure. The amount of clear, quiet weather we've had is anamalous for November in the northeast. While we've seen a real lack of snowfall, the clear, dry cold nights have allowed a nubmer of ski mountains to blow snow like (AVN joke deleted). While I like natural snowfall, perfectly groomed corn runs in the dawn light are great regardless of whether a pipe, pump or dyanmic atmospheric lift produced the white stuff under my skis.
Over the next few days, we'll see the center of the high pressure slide east. The clockwise flow of air around the high will, as the high slides east, create a return flow of warm air into the region. High temps will nose up a notch each day from now thru friday. High temps on thursday and friday, on the mtns, will be in the 40s. If you time it right, you might get some nice corn shuss late in the morning.
Following that things begin to get a little interesting. A wave of energy at 500mb will push into the region Saturday. A surface low associated with the 500mb trough will push north of the region Friday night into Saturday am. Cold front passage will occur Saturday morning with rain showers turning to snow showers. In the wake of the front, a cool and moist airmass will slide over the notheastern mountains. The model consensus right now is that for about 6-12 hours, conditions favorable for orographic precip will exist.
(Here, I highligted low level omega and RH in the key timeframe)
Rel. Humidity: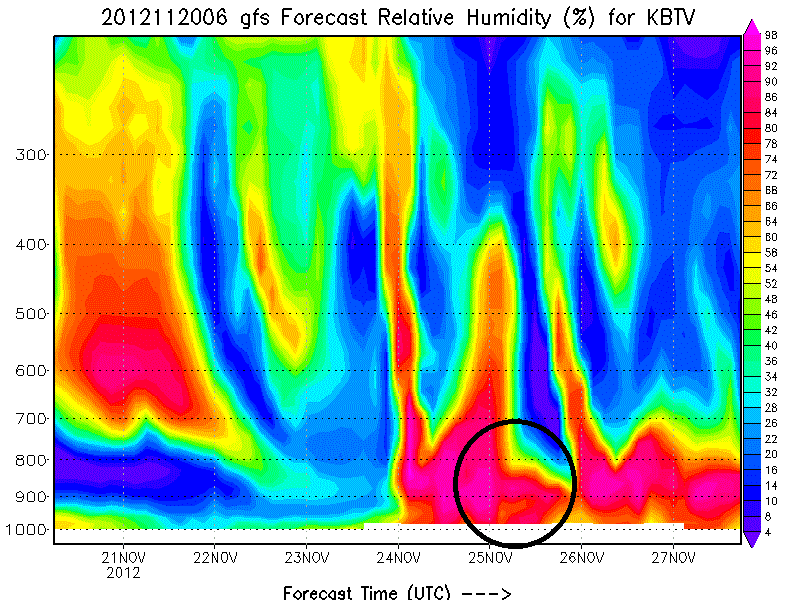 Omega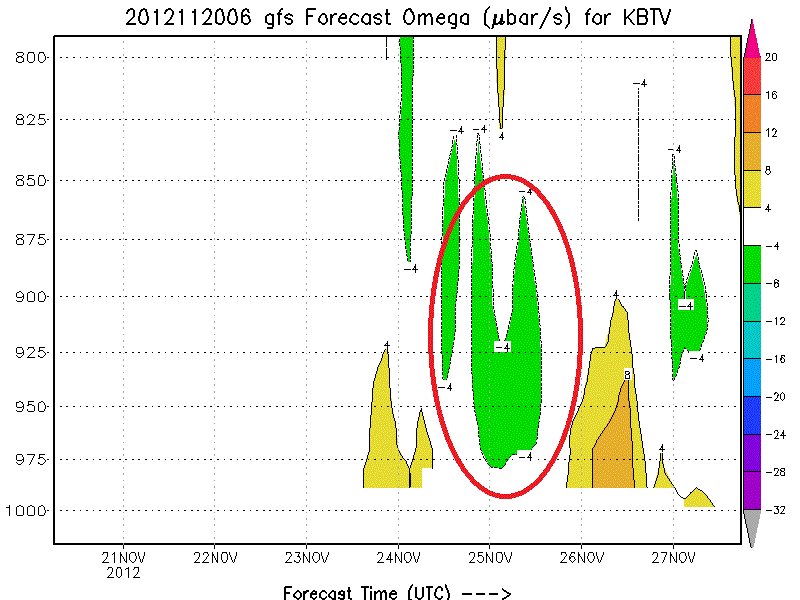 Add that to the front and I think we're looking something like 3-6+ in the N/E Saturday/Sat. night. Dry air moves in early sunday am and shuts the system down (mostly).
UPDATE: This still looks good. Think 3-6 is about right for the range of snowfall totals by the time we get to sunday afternoon. Also going to add that Sunday will feel pretty dang cold. -12 to -14c air at 850mb will mean mtn top temps in the teens with a brisk NW wind. Welcome winter. Stay awhile. Next system is progged for midweek. Looking good. Update on that on monday.
Beyond this weekend…well…I'm excited. All the major operational models, and a large number the individual GFS ensemble models have consistently shown a colder, stormier east coast. From 11/26 thru 12/8 I've watched model run after model run develop signioficant snow storms. Large scale teleconnection modeling supports these solutions. So long story short: I feel good for east coast powder in that period.
Turning to the west, a trough will move inland into the Pac NW over the next few days bringing mountain snows to Wash/Oregon and Northern Idaho. In Utah there will be a weak system passing over the state wed-thursday. Not looking too impressive right now but I'm sure the Wasatch will wring a few inches out of the event. A more complex (read potentially snowy) event is progged for the weekend. Sat into Sun a disturbance will move eastward off the ocean with the associated cold front tapping a decent amount of pacific moisture. The timing and placement of the front, along with the exact dynamics of the event have been batted around with the model runs. So I'm not going to get too specific here. Check back with me friday for more details on Friday.
UPDATE: Models have backed off any significant snow for UT this weekend. PacNW still should do well along with Northern Idaho. Just don't see much moving into UT. Still like the long term from 12/1 thru 12/10.
Looking further out, I also see a period of increased storminess for the west in days 8-15. The pattern just doesn't want to be as quiet as it has been.
Ok, back to work. Happy Thanksgiving. I'll update as needed.
Laterz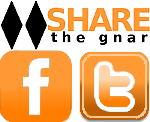 13 Comments
Please consider visiting our sponsors.
Leave a Reply