Slackfest 2009 with M.W. Otto Rhode
June 6, 2009
Ever since the circumnavigation I've been feeling pretty full of slack. How better to get my fill than with the opening of our best friend M. W. Otto Rhode?
Over the course of a week+ I made two trips over there… one was for opening day with K_C and a friend from Dartmouth, and the other was on Friday with Allenataylor, AWF, and ILOVE2SKI. After a season of hard earned love on this mountain, it was nice to get a pair of great ski days pretty much for free (modulo ~10$ per person : )
It gave me a chance to appreciate the runs more, and see them for what they offered in terms of skiing as opposed to being merely fruits of hard labor. I can't complain about having fresh legs for the descents either!
It also gave me a great chance to see the mountain with (if it's possible) even more admiration for it's dangerous beauty.
It also gave me a great chance to start to feel like I could happily transition from ski mode into spring/summer mode, and recharge the batteries for next season.
Here's some long overdue pictures that tell the story of our slackfest(week) both on and off the auto road. They aren't in any particular order, but I tried to arrange them in a way that goes from winter to summer… the same way the week has felt to me.
In the spirit of my goal this winter to find new challenges, I spent alot of time in the Great Gulf during slackfest. The view into and over the Gulf as you approach always gets my heart going and my mind racing

The wind was intense! People lashed their skis to cairns to be retrieved later, and I even heard that one person lost a pair of Gots into the GG!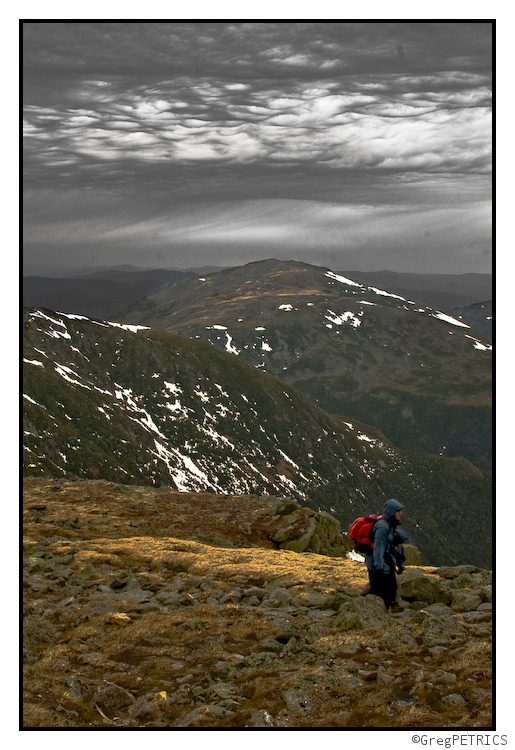 I wanted a challenge right off the bat, and so I decided to ski Spacewalk pretty hard upon entering the Great Gulf. Furthermore, since my other goal was to take my imagery to the next level this winter, I instructed K_C to take lots of pictures from a point above Airplane so I could put together a mosaic that tells the tale of Spacewalk better than I think it ever has been told before. I'm still tweaking this, and plan to attempt to fill in the full background later, but for now here is the sterographic projection "just-the-line" version. I kinda like it even though it isn't "final product" quality.

After that tight and tricky descent (you can barely tell that "G.P. #9" almost ate it) I took a look around and saw some pretty amazing beauty. This cloud on Adams just could not have enough pictures of it taken.


Here's how the cloud and Adams fit into the community that always seems to form at the top of Airplane when Otto is open.


---
Read about the author:
Greg
---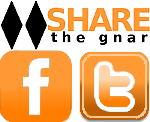 4 Comments
Please consider visiting our sponsors.
Leave a Reply