A Presidential Orbit
July 11, 2011
Ahhh… The Presidential Traverse in the White Mountain National Forest. It's a classic. Sam and I did it a few years ago, and lucked into a hundred year high pressure system. Even though Sam and I had undoubtedly the best weather that will ever occur in the Presidentials in the next hundred years, I still always want to go back and traverse the "presis" again… or–in honor of the final space shuttle mission--maybe even orbit them…
"Orbit?" you ask.
"Sure, 'orbit,' like a planet from Utah (or see here too for a planet from Vermont)."
Indeed, as regular readers of FIS might know, I like to produce so-called "planetary/panoramic orbs," which I think are the most natural way to display a 360 degree panorama. The idea is that the "core" or these images is where the photographer is standing, and if you rotate the photo (or twist your head around sideways) you can simulate rotating in place from the point of view of the photographer; you get to see all 360 degrees without some super wide and short panorama which doesn't really simulate the experience of being there. Plus, they're oftentimes just cool to look at without any fancy interpretations.
Consequently, I thought it would be neat to show all the peaks of the Presidential Traverse (in order: Madison, Adams, Jefferson, Clay [not actually an official summit], Washington, Monroe, Franklin, Eisenhower, and Pierce) as such "planets." In my opinion, viewing these planets is as close as you can get to actually standing on the summits of the peaks without doing the hike yourself. Moreover, I think it's kind of cool to watch the weather and light change throughout the day as we travelled from North to South along the Presidential Range. And so with that, here's what one might call an "FO" (first orbit) by a cadre of highly skilled, expertly trained and supremely equipped interplanetary explorers…or you might also call us a bunch of dorks. Enjoy.
The first peak was Planet Madison at the Northern edge of the Presidential Planetary Solar System. We approached from the Pine Link, which allows the orbiter to not have to "out-and-back" Madison from the Spring Hut. I personally find this better for the morale of the group as well as less taxing on our rockets' fuel supplies. In this picture KC is seated in the teal tank top, facing north staring across the Great Gulf at the route ahead. Wildcat ski area's trails are visible at "10 o'clock;" the Mt. Washington Auto Road is visible at "noon." Clouds hung ominously on what was supposed to be a crystal clear day. We debated bailing as Planet Washington went in and out of the clouds across The Gulf, but we were well equipped, and agreed to press on.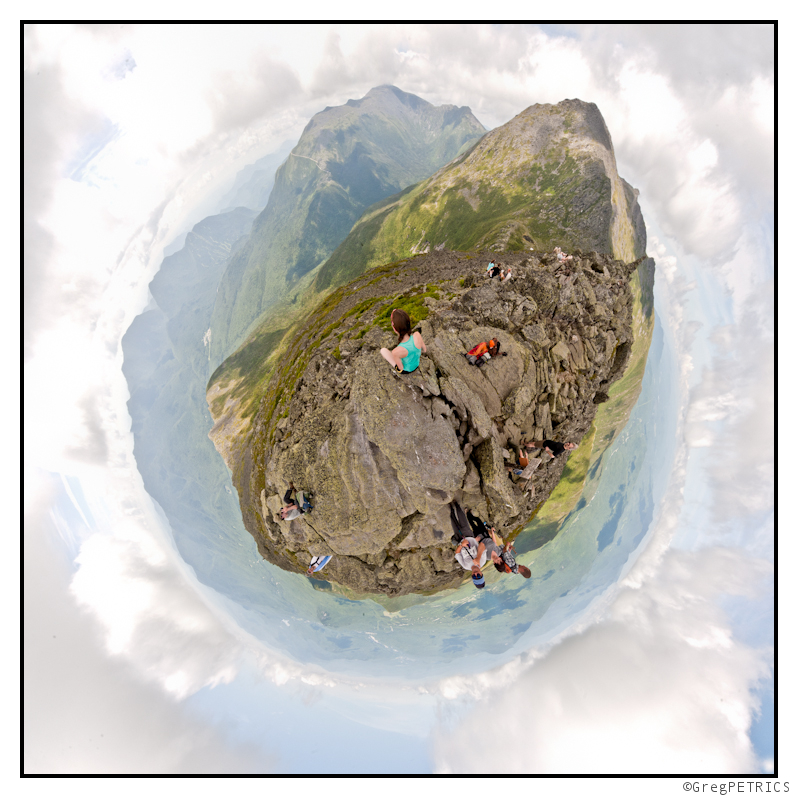 We turned the thrusters on as we passed the Spring Hut and Star Lake, and quickly came into the gravitational tug of Planet Adams. The sun poked out, and instantly rejuvenated the spirits of the fearless explorers, from left, Chrisil, Kristin (KC), and Christian… that's a lot of "Christ-based" names. Sheesh!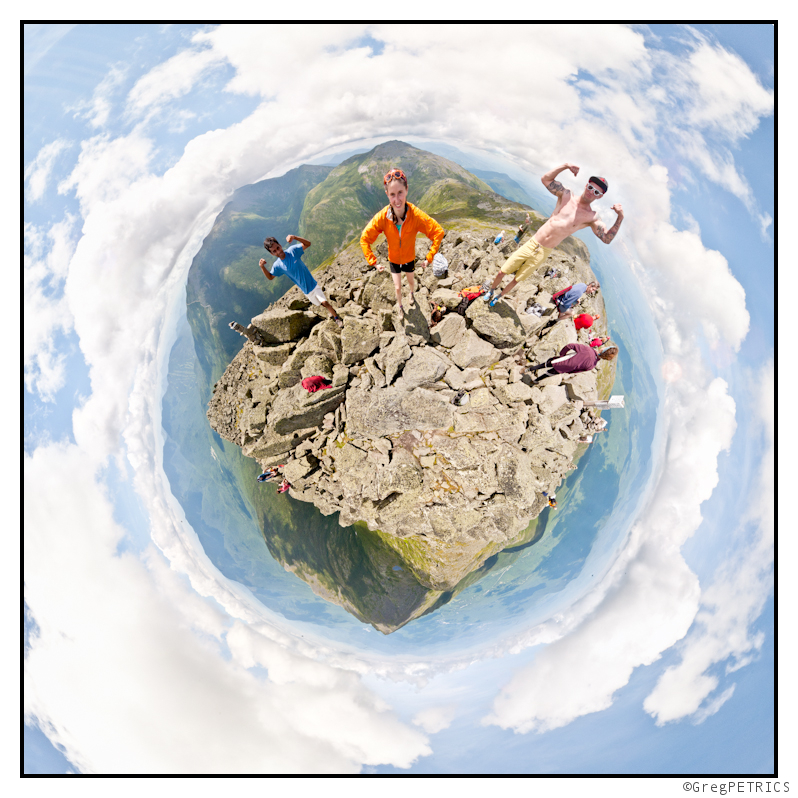 We all decided we should press on, and not take any significant breaks until we had made it up and over Washington. In all honesty I think this is the best advice you can give a traverser: don't stop for anything longer than a water sip/snack munch until you're over Washington. It's tough on the engines to shut them down and warm them back up multiple times on the rough rocky terrain of the Northern Presidentials. Not to mention, Planet Jefferson–the easiest summit in the Presidentials to reach on foot with the trailhead poking just above 3000 feet–is often incredibly overcrowded, and not worth lingering on. Astronaut Christian needed only to touch down for a brief second to flex his muscles on this overcrowded planet before continuing.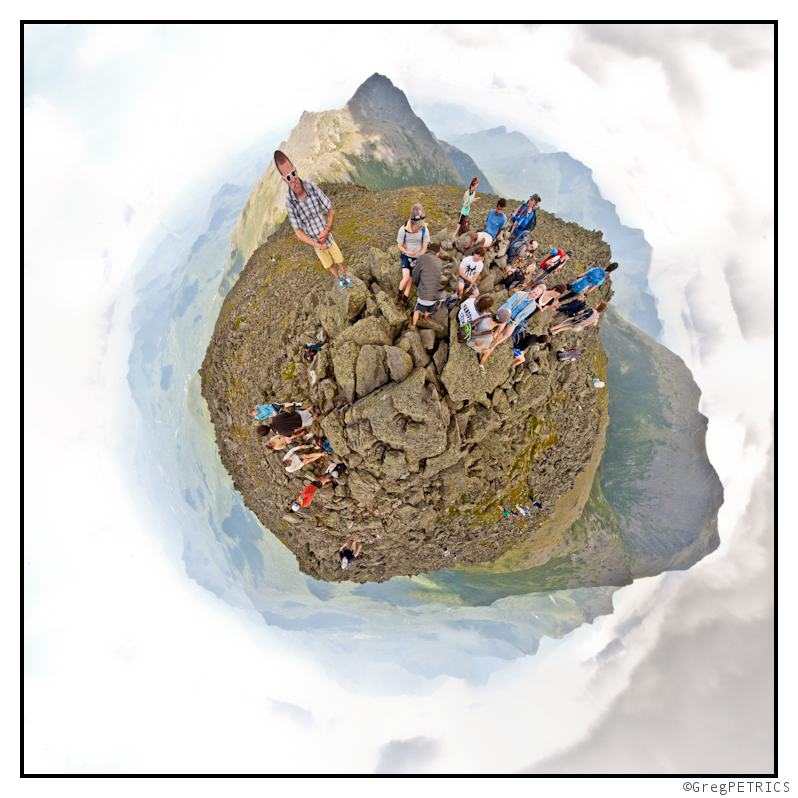 Despite the fact that Mt. Clay doesn't qualify as a peak–it's key col with Washington doesn't lend it enough topographic prominence–we briefly made terrestrial contact anyway. The bugs were surprisingly bad though, so we fired up the auxiliary engines for the last "big thrust," and hurtled up into space as we went up, up up to our "deepest orbit" atop Washington.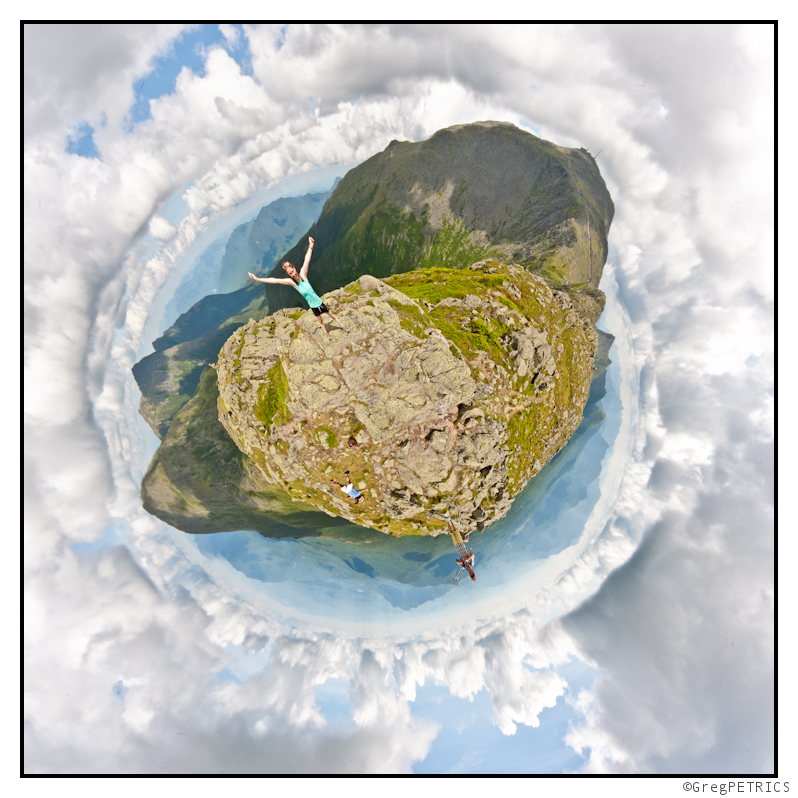 ---
Read about the author:
Greg
---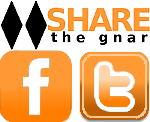 16 Comments
Please consider visiting our sponsors.
Leave a Reply