Coleman Headwall – Success!
June 23, 2012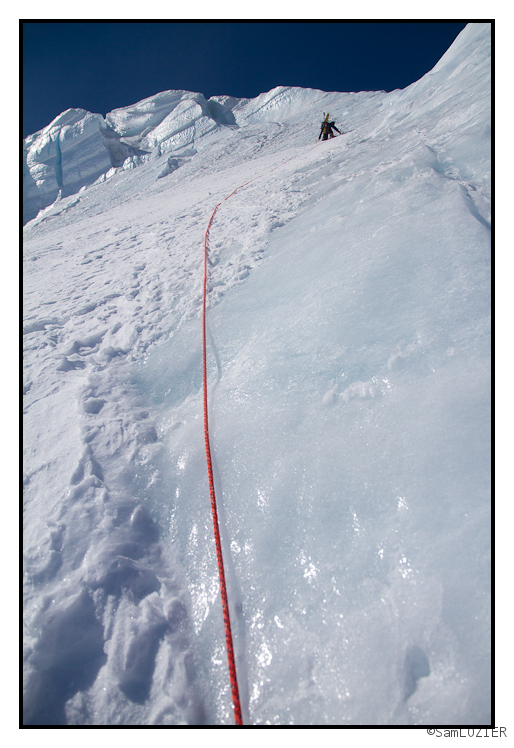 Then came the fun part, two pitches of moderate but exposed alpine ice with skis on the back – Allen's first roped ice leads!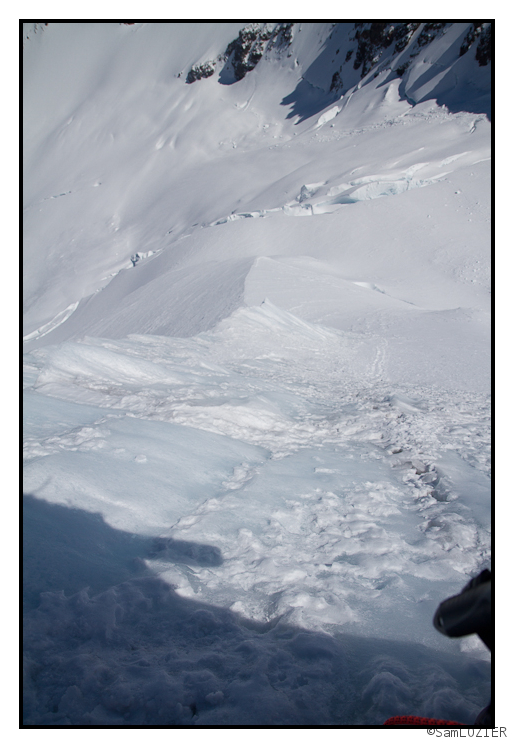 Would you believe this has been skied? gulp.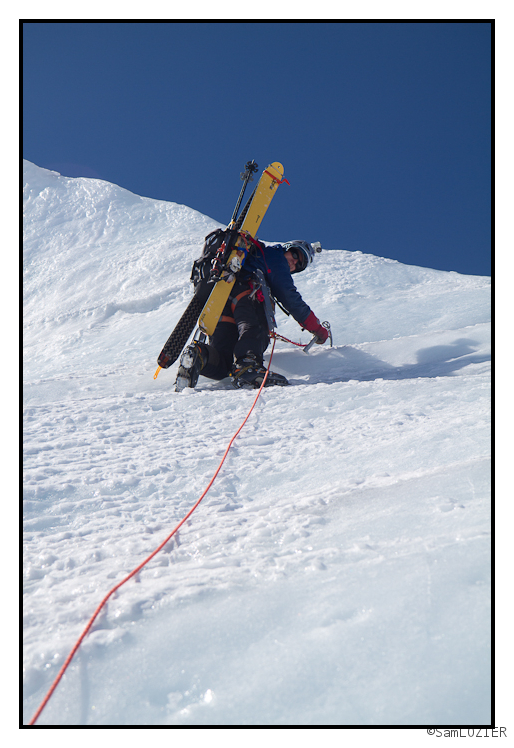 Allen, are we ski mountaineering yet?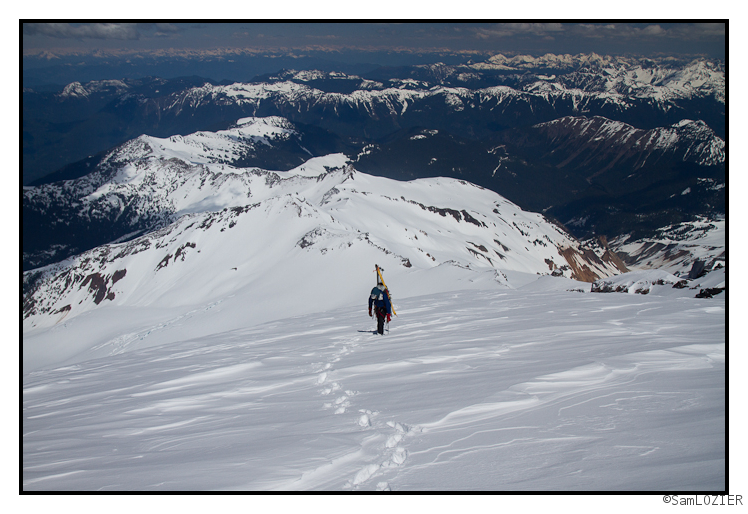 After figuring out the crux of the ascent, we were ready to be on the summit, yet several hundred feet of punishing slogging remained.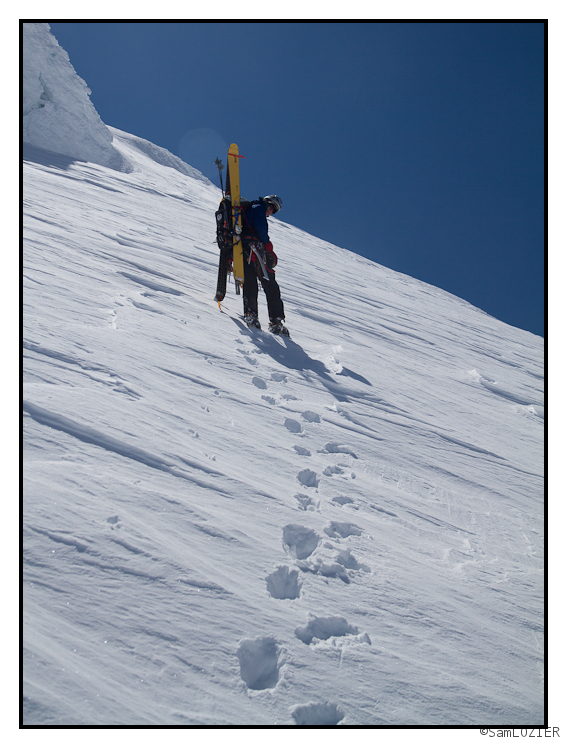 Almost there…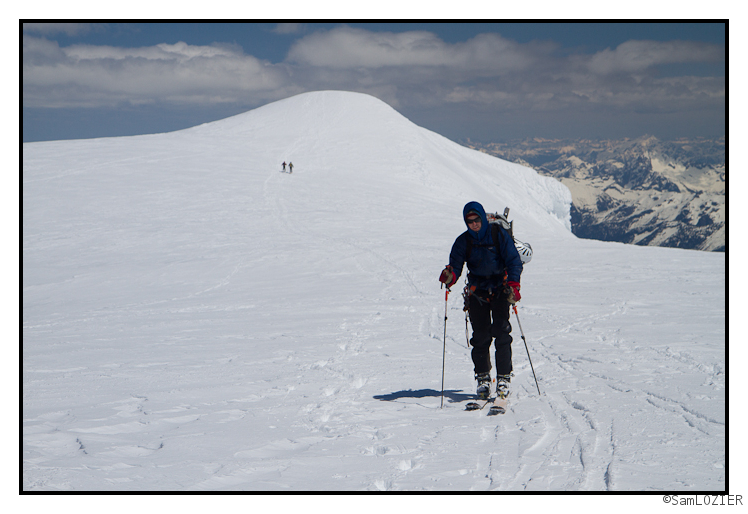 After tagging the top, we hung around on the summit melting water, eating, and trying to get as ready as we could for what lay ahead. I had half way bonked pushing for the top when I should have stopped to eat, so I needed a few minutes to recover. Once I got some calories into my stomach, we discussed skiing the Park Headwall so that we'd have something to do while we let the Coleman Headwall warm up, but as we were talking, we started seeing climbers coming up the standard Coleman Deming route wearing only base layers. It was clearly already a lot warmer on the west side of the mountain than it was on the summit. So, fueled up and psyched to go, we skinned over to the top of the top of the headwall, switched to downhill mode, gave each other a "nice knowing you" pole whack, and headed off towards the dreaded roll to see what we'd find.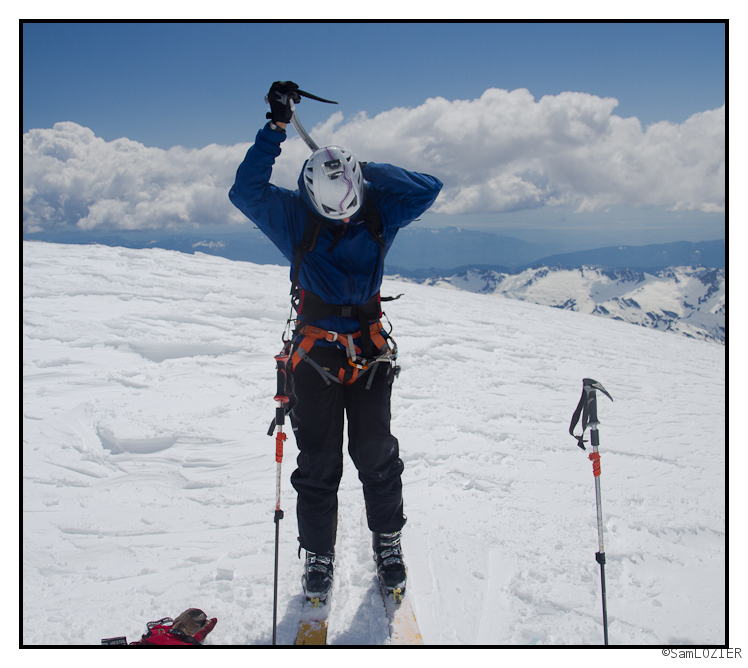 Allen getting ready for battle. Just so that you can say you learned anything from this website; Allen is pictured here wearing all of the gear we'd normally use on a steep descent: a lightweight harness, alpine-draw, and ice tool stashed between the shoulder straps. If there is trouble, or he just wants stability while taking photos, the harness, and alpine draw attached to it, allow Allen to clip into the axe which he would have plunged into the snow. On glaciers, we'll often have an ice screw racked to the harness as well

---
Read about the author:
Sam
---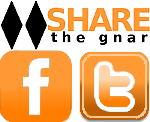 6 Comments
Please consider visiting our sponsors.
Leave a Reply