SPA Trip #16: Row Jer'! It's Row-Climbing Time!
July 23, 2012
Finally, at the crack of 11:30am we started climbing.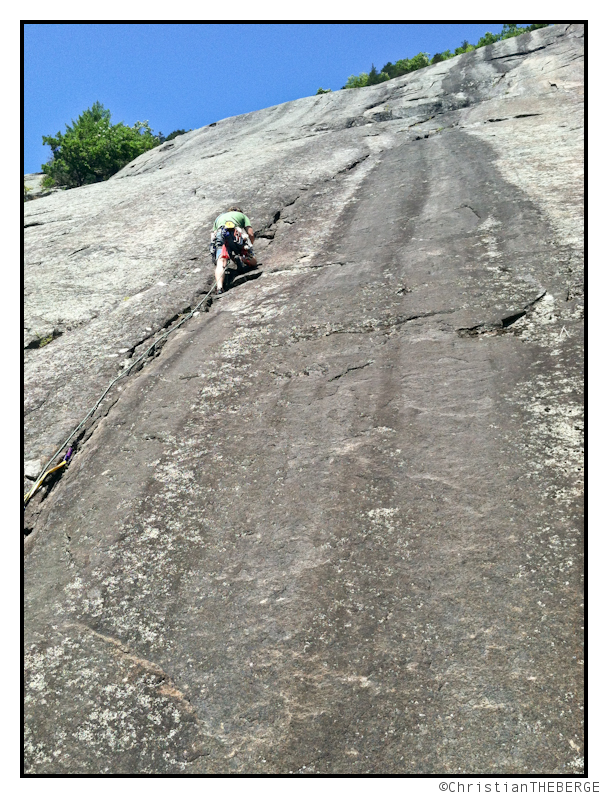 The first pitch featured fun moves, and great quality rock. With each bomber piece of gear placed, our confidence-level rose. Finally we were feeling good after having accumulated two strikes before even setting a finger on the rock that morning.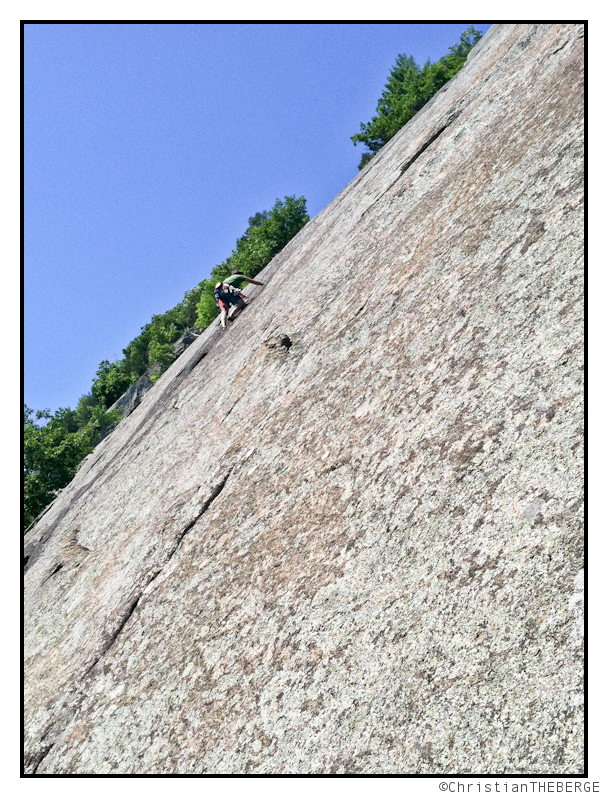 The first belay ledge was nothing short of magnificent. From there you could see the entire rock face and the crack system we were on rising dramatically from the lake. What a sight!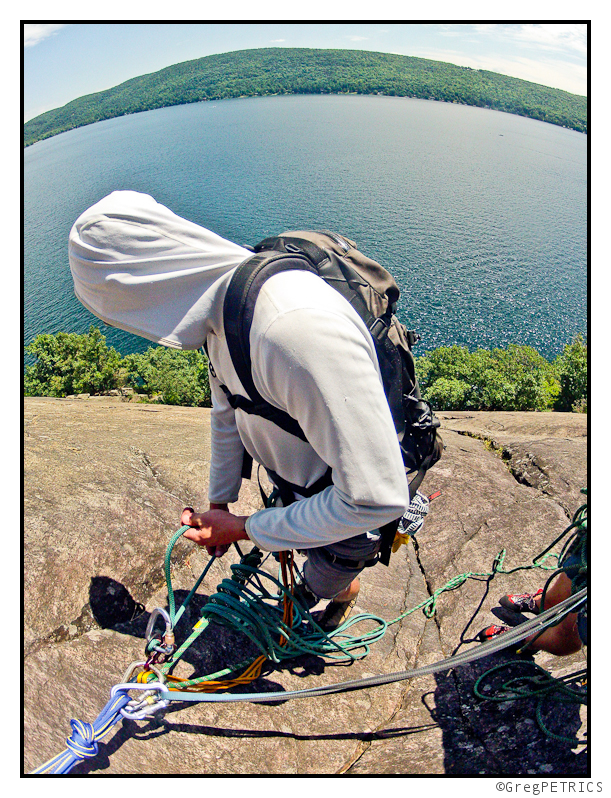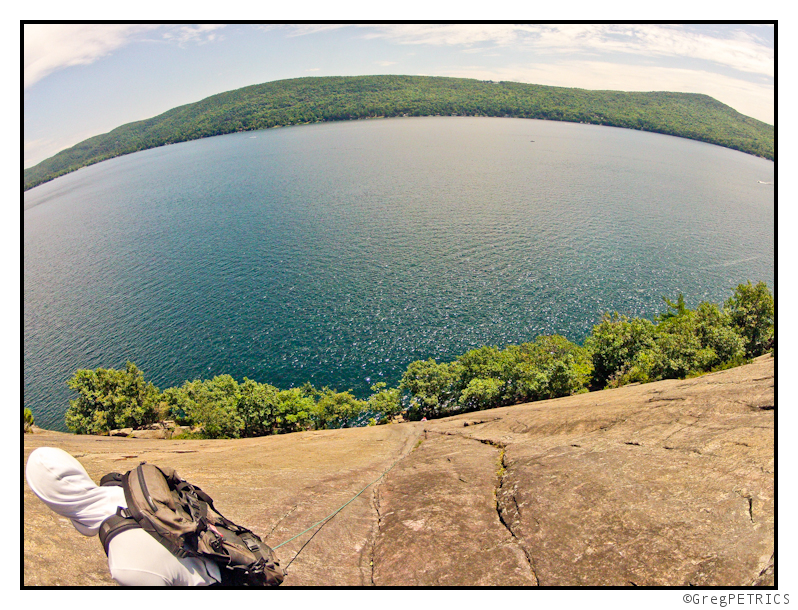 Christian was running a "guide belay," and Jer' was having fun! What more can you ask for?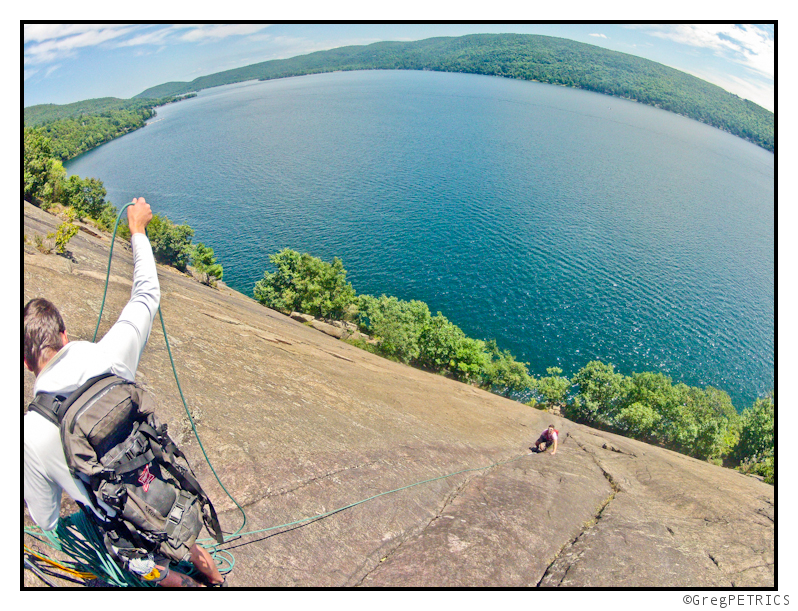 Apparently, we could ask for more. In particular, we should have asked for was more high quality rock and a comfortable stance from which to belay at the top of the second pitch. Perhaps it was just a failure on our part, or perhaps it really is the case that the rock quality is bad there, but we had a very hard time finding a spot that provided a comfortable belay stance as well as good quality rock to build an anchor with. To exacerbate the situation, there was lots of extremely hollow sounding flakes all over the place threatening to break free and slice someone below in half. We stepped gingerly around them, and after some hunting, we found some good quality rock for the anchor, but with an unfortunately awful stance to belay from. The sun was really heating up the rock, and we all fidgeted and cooked as we regrouped at the second belay. Naturally there are no pictures of this scene of three hot sweaty dirty men tied together delicately trying to stand on a slab. As soon as possible, we set out on the third and final pitch. This pitch was great, and rewarded us with more fun moves, and more great views. That's more like it!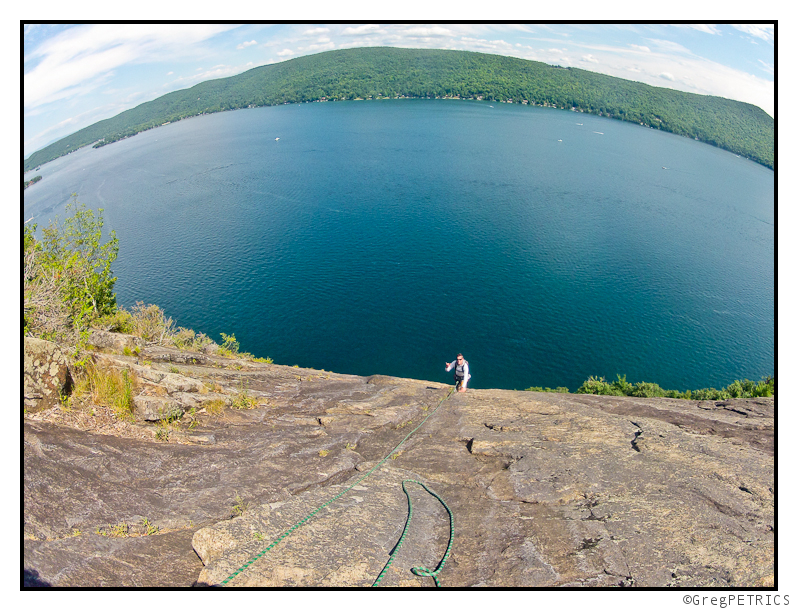 We savored the top for a bit (awkward picture alert!)…

…but it was now close to 3:30, and the boat was due back at 5. We would have to hustle if we wanted to get back.
It took two long rappels to get back down to the lake. Jer' yelled down to all the gawkers in the boats below that he was coming down and that the ladies should be prepared to come and shower him with congratulations.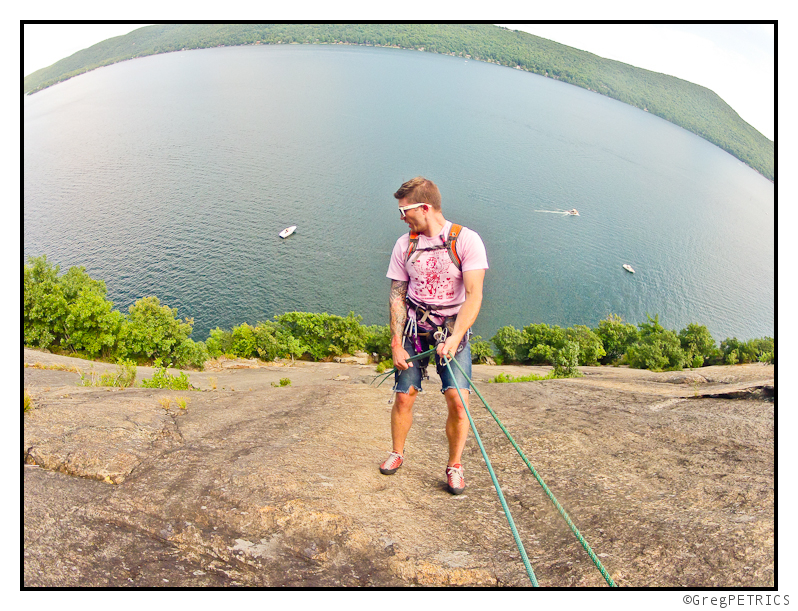 In reality, what Jer' really needed was a shower with soap and water, and until he did so, the ladies all got in their boats and stand-up-paddleboards, and made haste for less stinky shores.

At the bottom we cracked a few beers in celebration, took a much needed dip in the lake, and started packing up to get out. There was no way we were going to be able to do the shuttle and get the boat back in time, so I agreed to swim back, while Christian and Jer' rowed. As Christian and Jer' sped away trying to makeup time, I heard Christian yell: "Row Jer'! It's Row-Climbing time!"
Indeed it was!
Thanks for checking in on FIS! Go out and start an adventure!
---
Read about the author:
Greg
---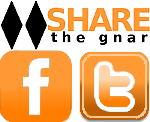 18 Comments
Please consider visiting our sponsors.
Leave a Reply