Twin Sisters Traverse
April 9, 2012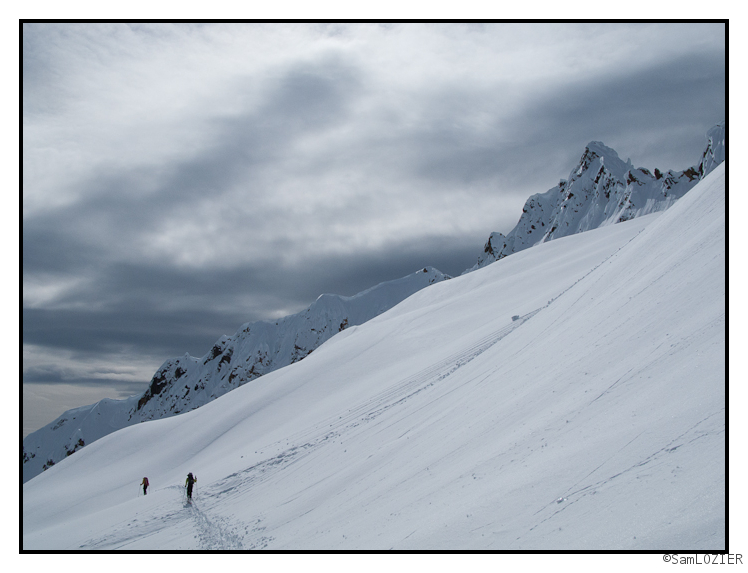 The last forecast we saw had called for increasing clouds, possible small storms, and rising temperatures, so when we saw these clouds we started to wonder if it was time to run to the valley. With just one more ridge to cross before skiing out of the alpine and completing our intended route though, we decided to continue as planned.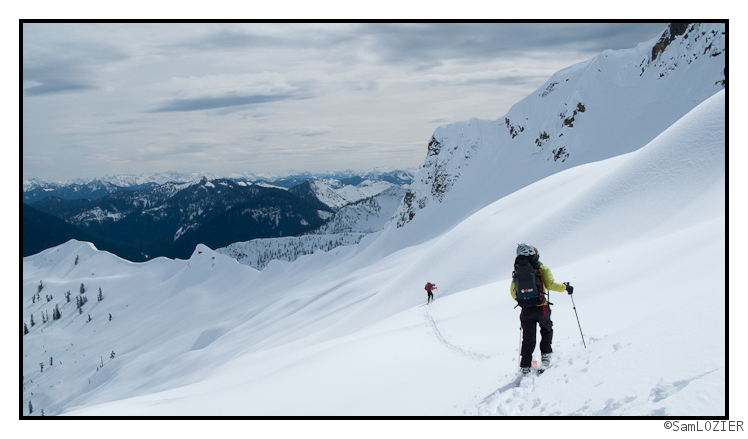 Gloppy inconsistent snow necessitated a downhill skins-on traverse in order to efficiently reach the next ridge.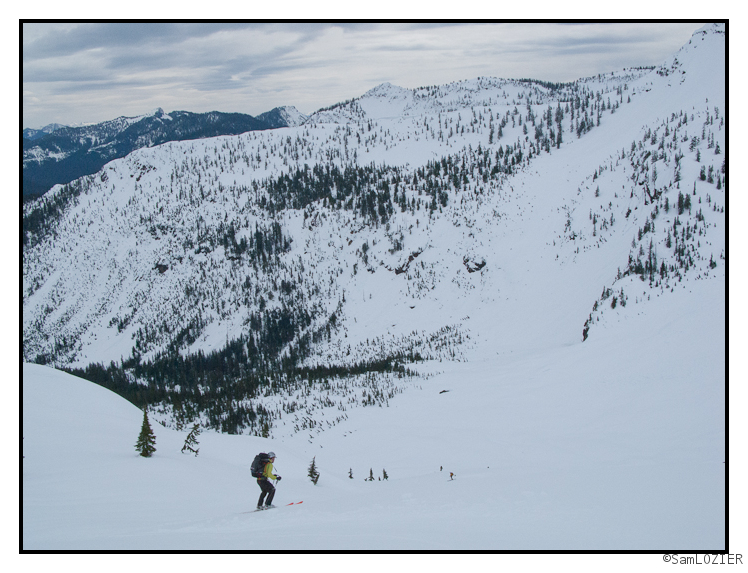 This valley looks benign, but there was actually a rather large cliff band just below Travis that could have caused us some trouble with only a little less snow.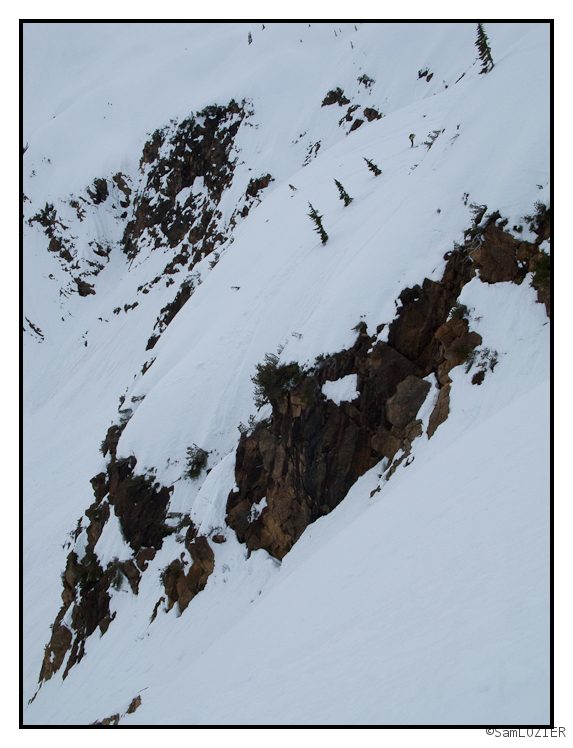 Spot the cliffed-out skier.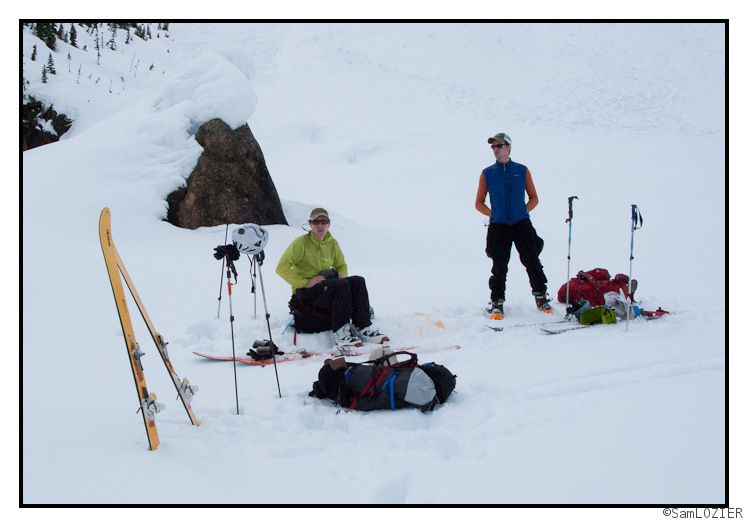 We did it! We traversed the Sisters… only now we had to pay the piper and somehow get out of the southern end of the Twins. We soon found the answer to our question: "why haven't more people done this trip?"
Several miles of downhill skiing and skinning through the forest brought us to the South Fork of the Nooksack River, the first branch of which we crossed with relative ease.


…and the second branch of which we impatiently waded through with our ski boots on. I'd expected less snow than we eventually found on the way out, so at the time it seemed preferable to have damp ski boots rather than damp hiking shoes.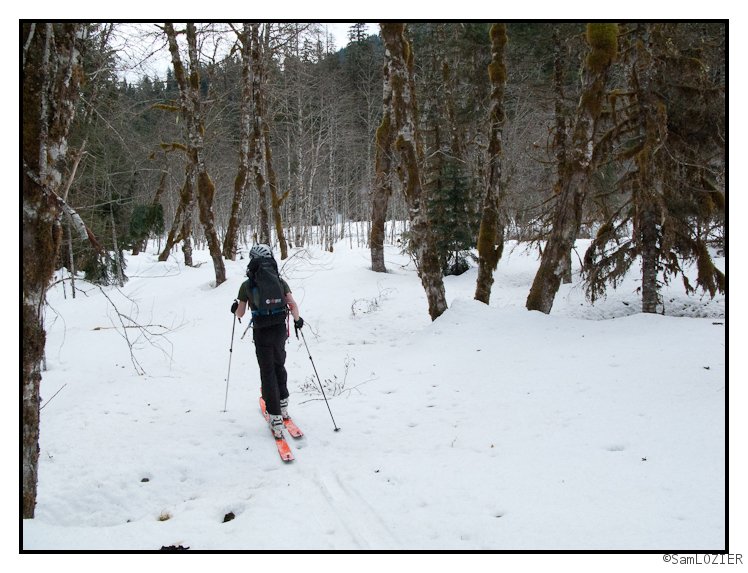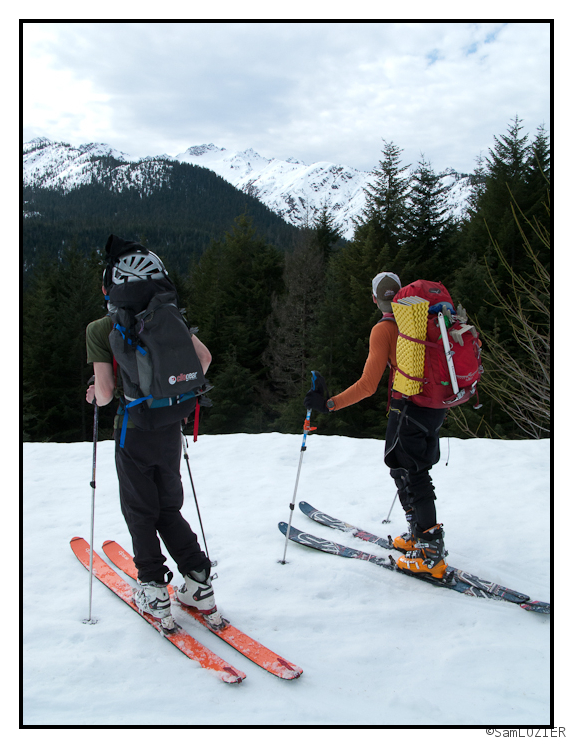 One last view.
After the last glimpses of the twins, we put our heads down and ground out the blister-inducing 6 miles and 1000 feet to the top of Wanlick pass. Due to some miracle of road grading, ski wax, and air temperature, we were, with a minimum amount of skating, poling, and side stepping, able to ski the next 5 miles of road all the way to Allen's car where three ice cold IPA's awaited.
Ultimately, this traverse could hardly have gone better. The gear, the route, the weather, and the snow all made a traverse through this rugged, beautiful, and surprisingly remote sub-range as simple as we could have dared hope for. Thanks to Allen and his girlfriend Leah for stashing Allen's car at the end of our traverse and thus making our point-to-point route possible. Thanks to Travis for being flexible and committing to this trip with a days notice and then pulling his weight the entire way through while managing to tolerate Allen and I for two whole days with a smile on his face.
If anyone comes across this trip report and wants to repeat this route, I'd be happy to provide as much information as I can. With the exception of the frustratingly long exit, I think this route has the potential to be a local classic, and it would be great to see more Bellingham skiers enjoying their local mountains.

---
Read about the author:
Sam
---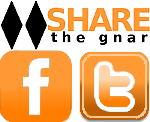 14 Comments
Please consider visiting our sponsors.
Leave a Reply