November 27, 2009 11:55 am | Category:
Weather
Things I love about Thanksgiving:
1) No bull- the day is about good food and spending time with people you want to spend time with. No present stress to muck it all up.
2) Stuffing. 'nuff said
3) Leftover turkey sandwiches with gravy and cranberry sauce. YUM.
4) Upslope snow events.

Number 4 caught you by surprise a little? It's ok to admit it. It's been a boring November. Mild-ish air, inactive storm track for the interior (EPIC Nor'easter for the tidewater area last week) and no lake snowfall events. Yawn. But next weekend I'm watching the potential for an upslope snow event that may just make turn that frown upside down.
Forecast:
( I'm going to do this in stages as this develops and as time progresses- meaning I'm going to show you what's forecasted to happen now and then via updates augment as we move closer to the event. K? )
There are several moving parts to this forecast.
1. We have an upper level low currently spinning in the upper plains. This needs to move out of the area over the weekend.
2. A low pressure system developing along the Gulf Coast needs to ride up the east coast and meander over maritime Canada.
3. A deep trough will dig into the plains, and start to swing up and around to the east with a low pressure center moving from the eastern great lakes north over Montréal.
4. The low will slow down, fill in and start to wrap air in from the W/NW for roughly 48 hours.
Maps as of 11/19:
Here we have the low pulling just past the border and winds starting to move in from the west/northwest. You'll note the 2m temps are just around freezing for the ADK.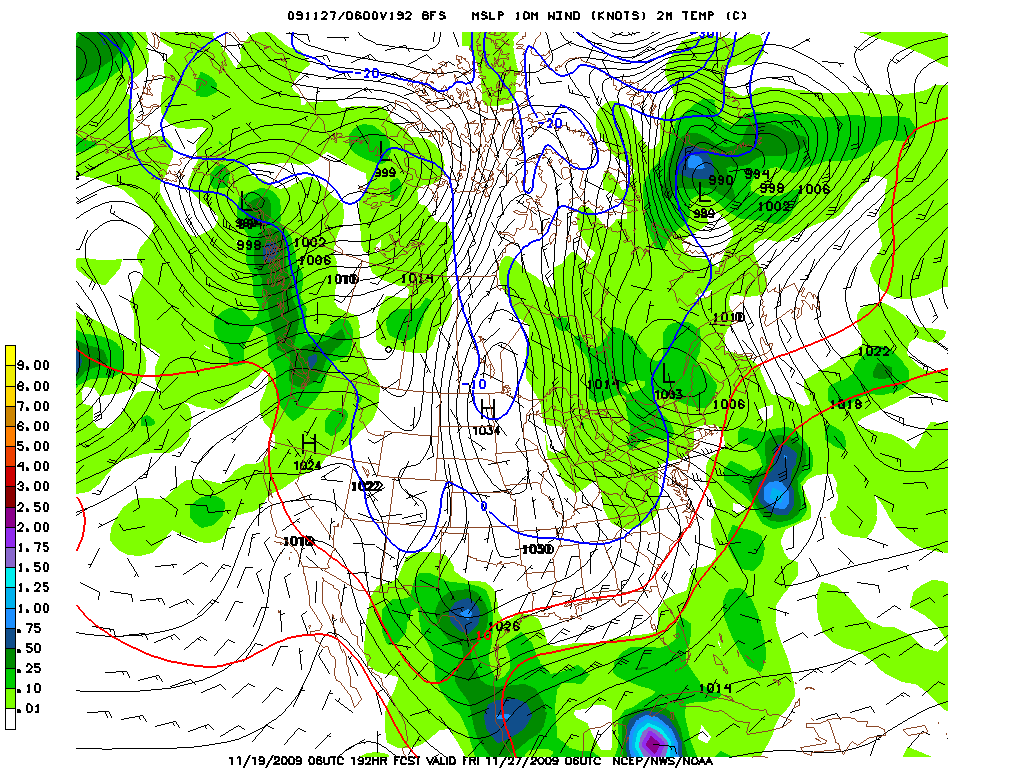 By early Saturday morning the Low is now in Quebec and really pumping air from the north and west down over the Greens. Jay looks to be in the "bullseye" with this set up.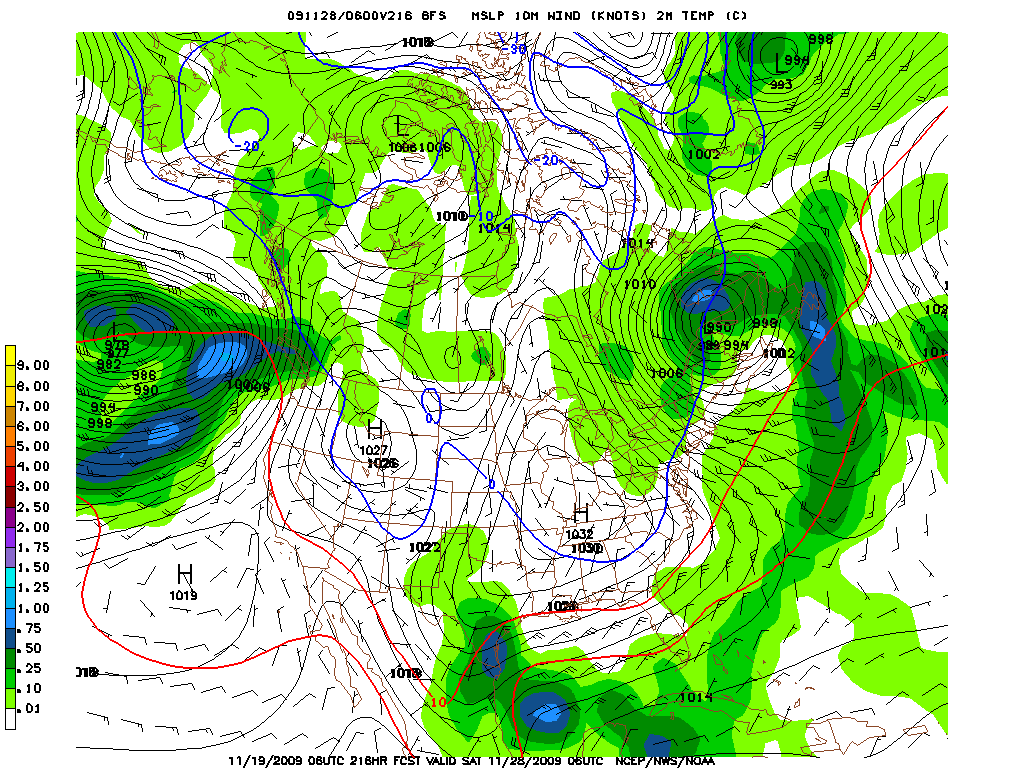 Still going later on saturday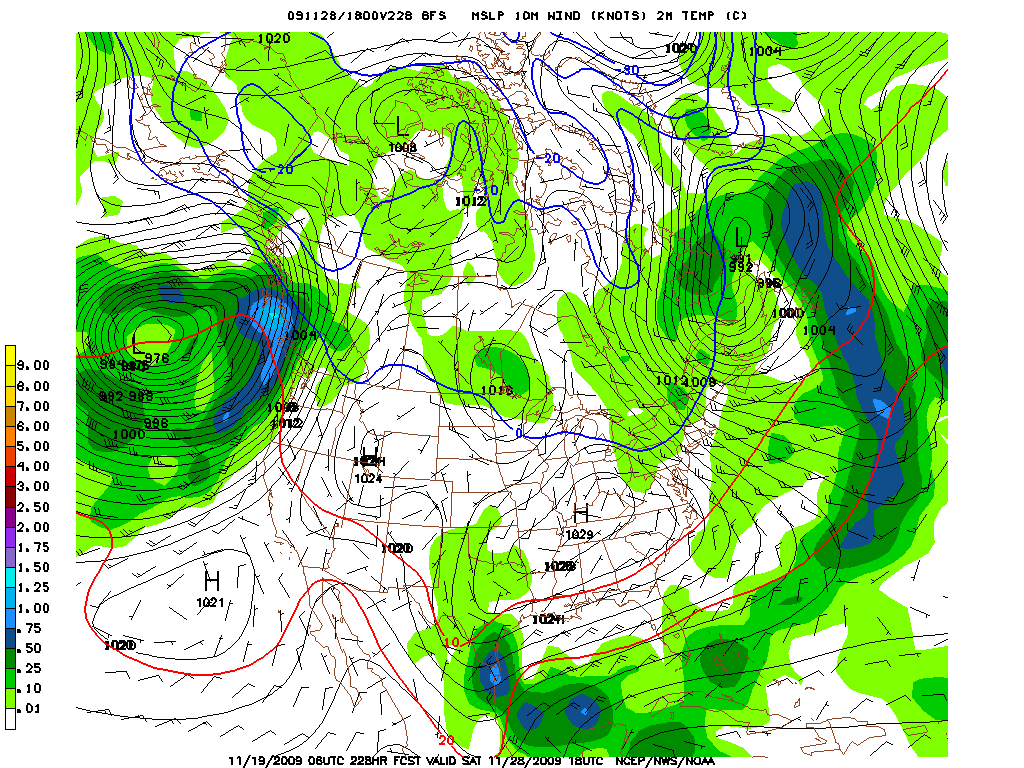 Total precip for the event: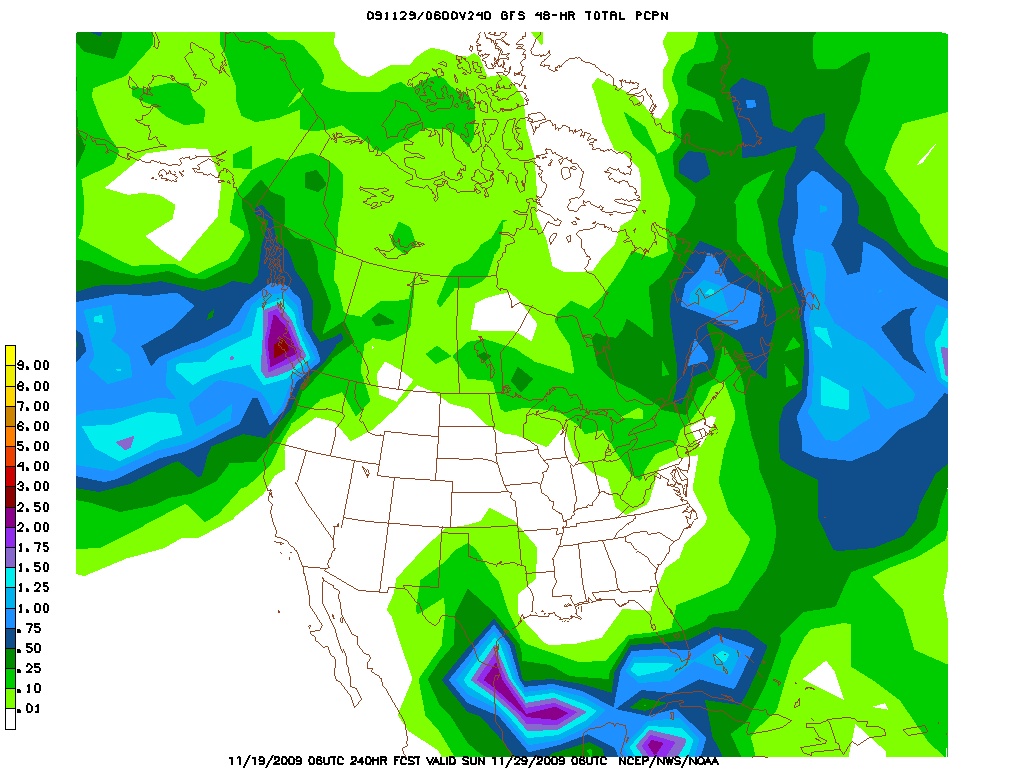 Add that all up and you have a 36-48 hour mild upslope event with moderate snow growth temps in november. What does that mean vis-a-vis snow on the ground? Not sure yet. SOOOO many moving parts that it's not worth even guessing. Locations are easire to guess. ADK starts well but Jay/Stowe due best if this plays out.
I'll keep you kids updated. Don't skimp on the cranberry sauce and brine your turkey.
11/20 Update:
As Scott B. mentioned in coments below, the GFS is trending towards a snyoptic snow event in addition to the upslope event described above.
Now, the GFS and other models start to develop a low pressure system along the coast on tuesday/Wed which, by late thanksgiving night, hooks up with a sharply digging trough in the N/E. This is a pretty good set up for elevevation dependent snow this time of year. It kinda reminds me of the trough/storm set up from Halloween 2008. That time marginally cold air just caught up with a strong low pressure system and brought very significant snow to the catskills, 'dacks and greens. Snow levels were roughly 2k. I'm not saying this will be the case next week. I'm just saying we're trending that way.
As always stayed tuned.
UPDATE: 11/24
Good morning! (Got the turkey in the brine yet?…wait you don't brine the turkey? Well enjoy a nice "Griswold" style bird!) At the moment most ski areas have admitted defeat and moved their opening dates back. But that doesn't mean there will be no skiing or riding to be had this long weekend.
As we talked about before there is upslope system we have to talk about but in the last few days, the weather gods have given us an actual winter storm to discuss. Now, again, if you had been following us, this isn't news. In fact you've prob. already emailed me, pm'd me, snail mailed me, sent me a carrier pidgeon or done some skywriting asking about this system if you've been following the FIS weather team. So without furher ado we delve.
(I know scott is going to post on this system also so it will be great to get his thoughts.)
When we last left off we talked about a low pressure system developing along the eastern seaboard and hooking up with a sharply digging trough. Well that idea still holds water.
(we're having FIS tech issues- I lost my ability to thumbnail images)
Here is the GFS: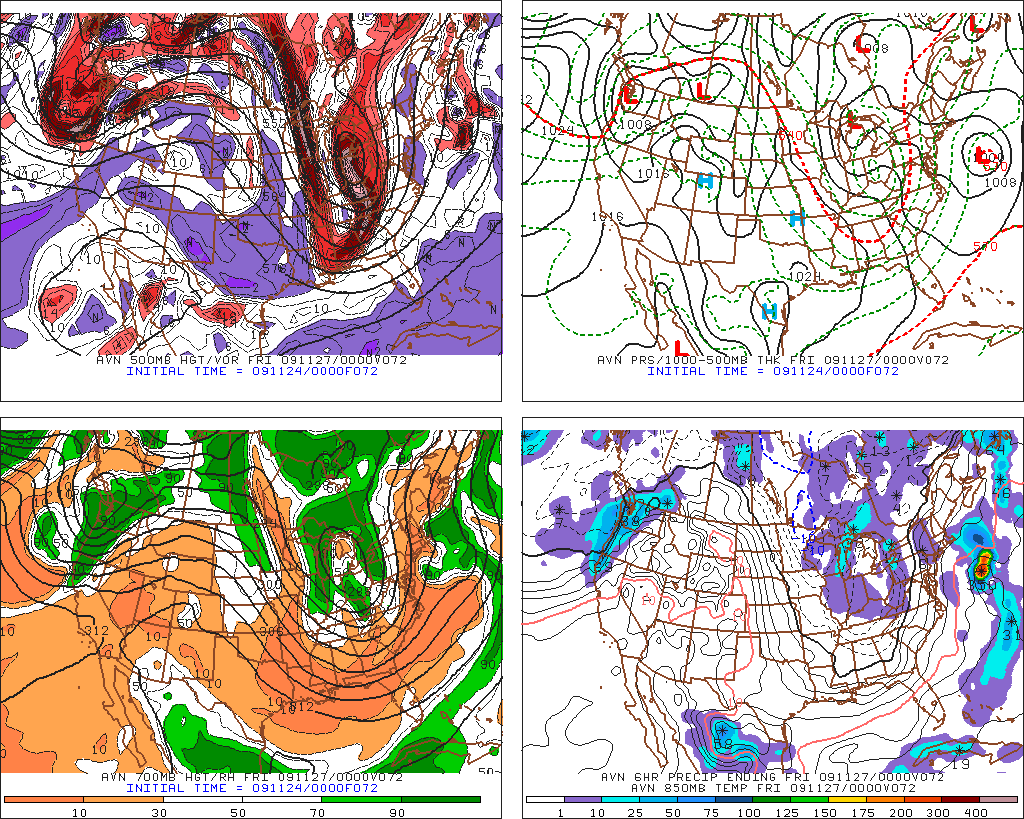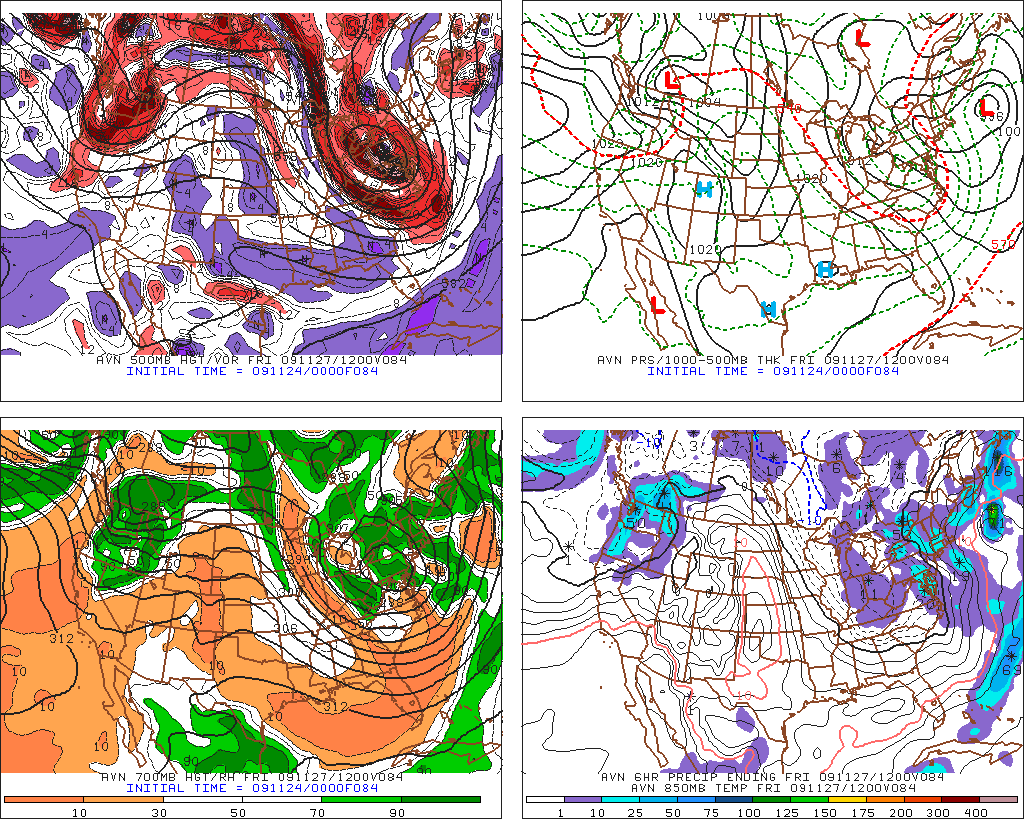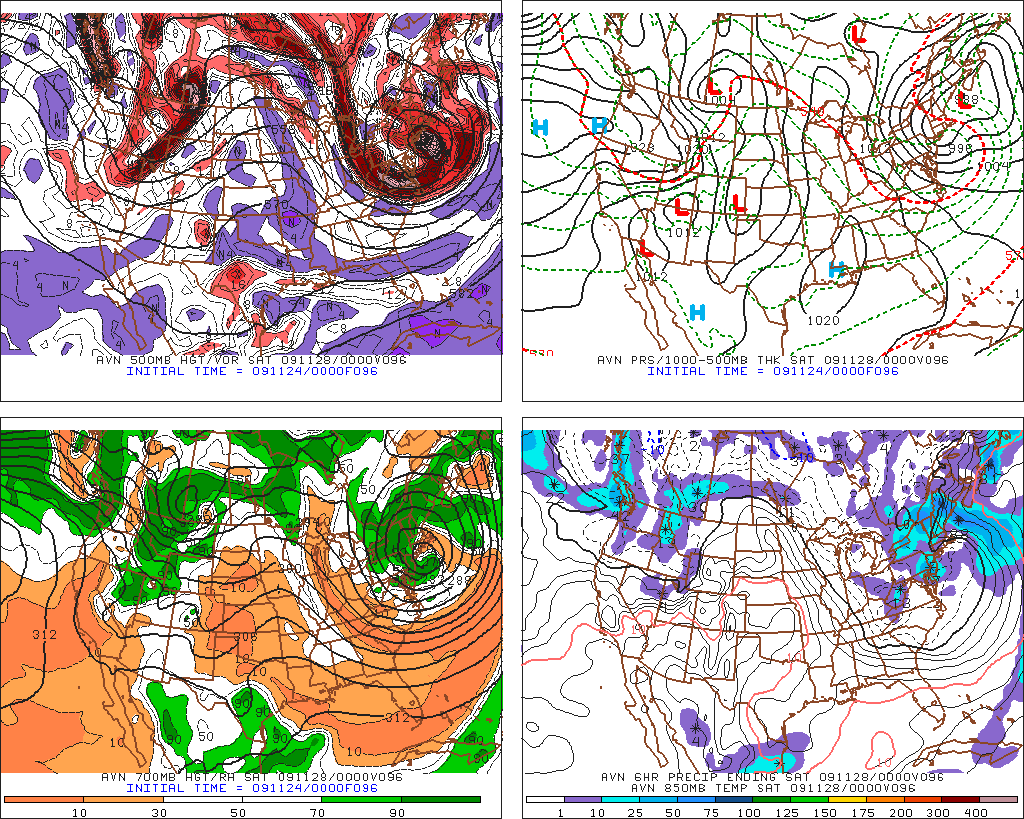 – In this last image you can really see the deep moisture being moved over the spine of the greens via the "wraparound."
Here is the CMC: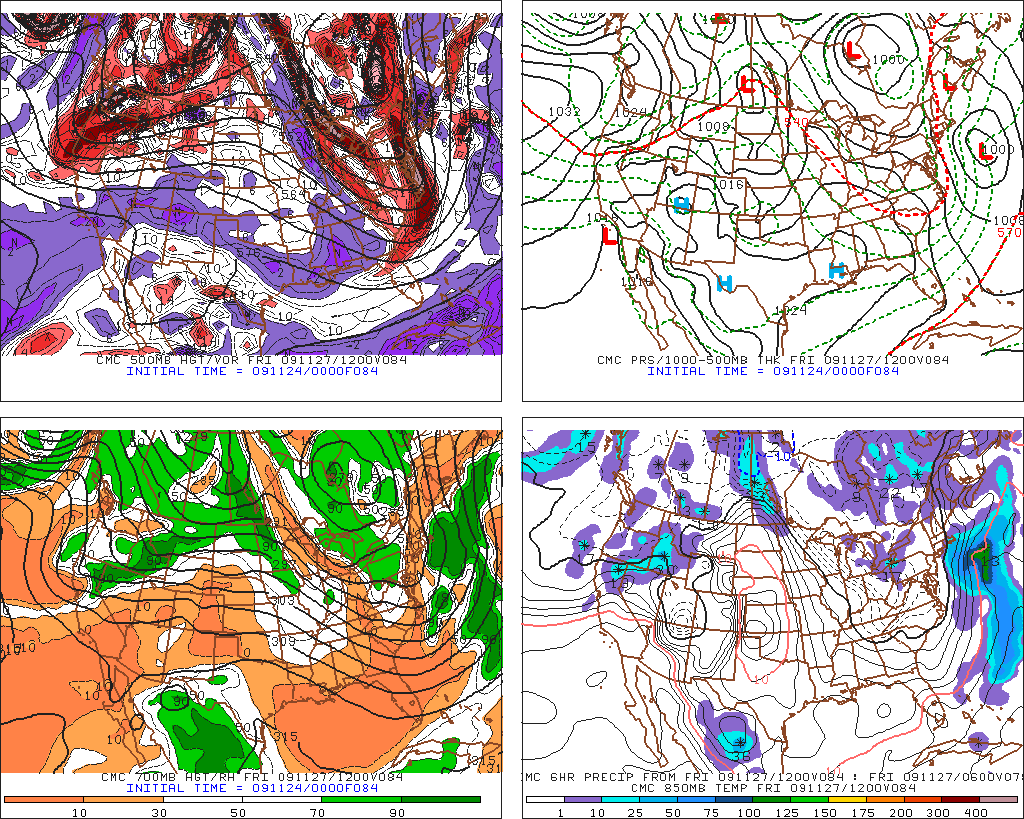 – Notice the difference 'tween the GFS and the Canadian model w/r/t the shape of the digging trough and the placement of the developing low. CMC is further east with the low and has a less angular trough. This translates into a storm path that cuts up less into New England.
See how the low moves more N/NE and doesn't retrograde around the sharp trough like in the GFS. Big difference in snowfall/rainfall totals.
Here is the Euro: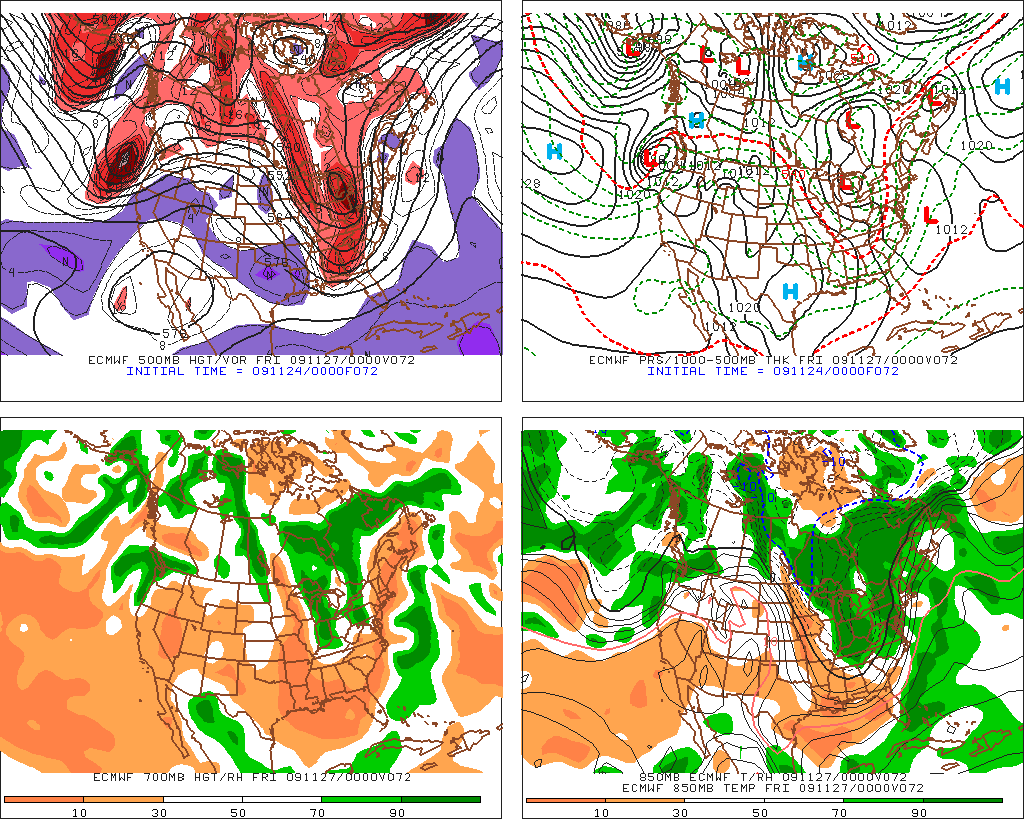 – note shape of trough. Not as sharp as GFS but Low not as east as Canadian.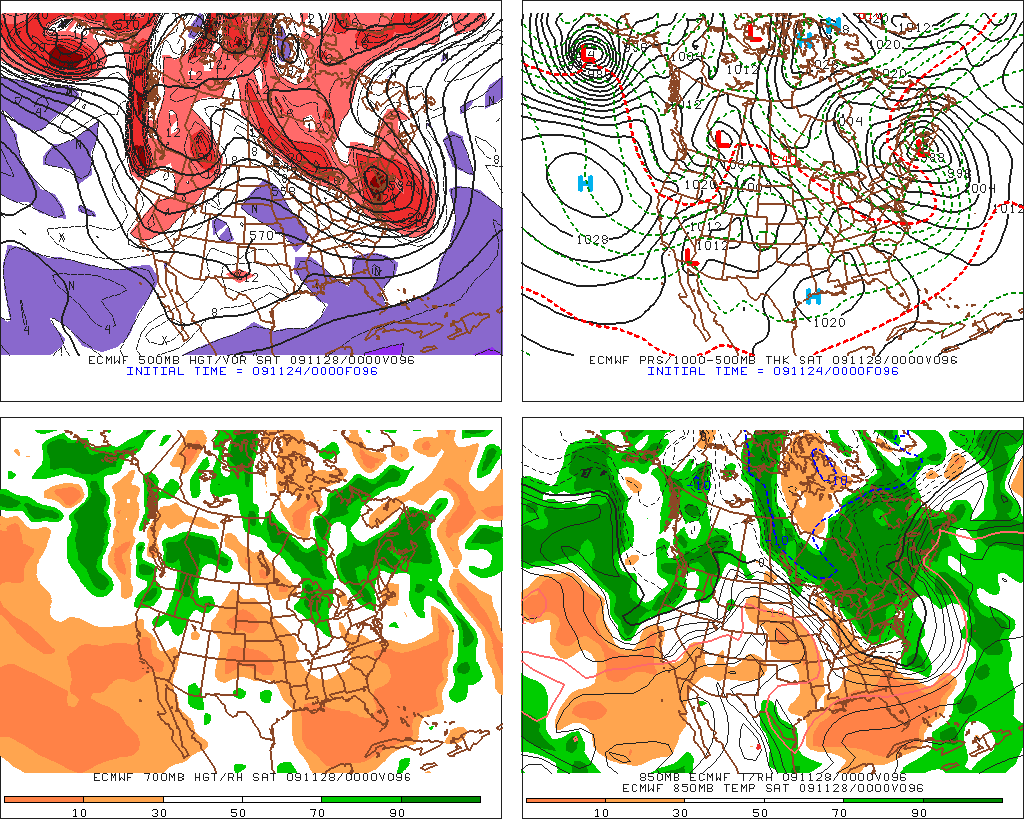 -Euro bascially HAMMERS the spine of the greens here. Powerful low pulls mucho moisture into the spine. Deep angular trough flowing behind and around the low. Relative Humidity values are great, shear at all levels is constant. Snow growth potential is significant. Euro showed this yesterday too.
Here is the WRF: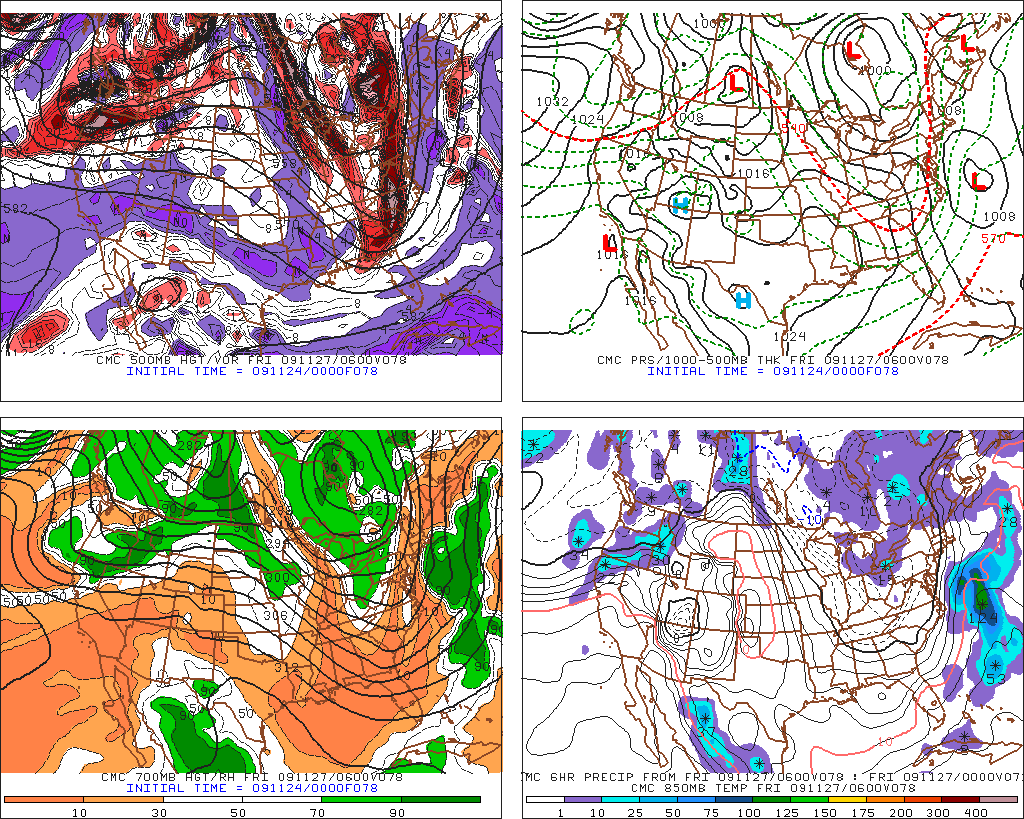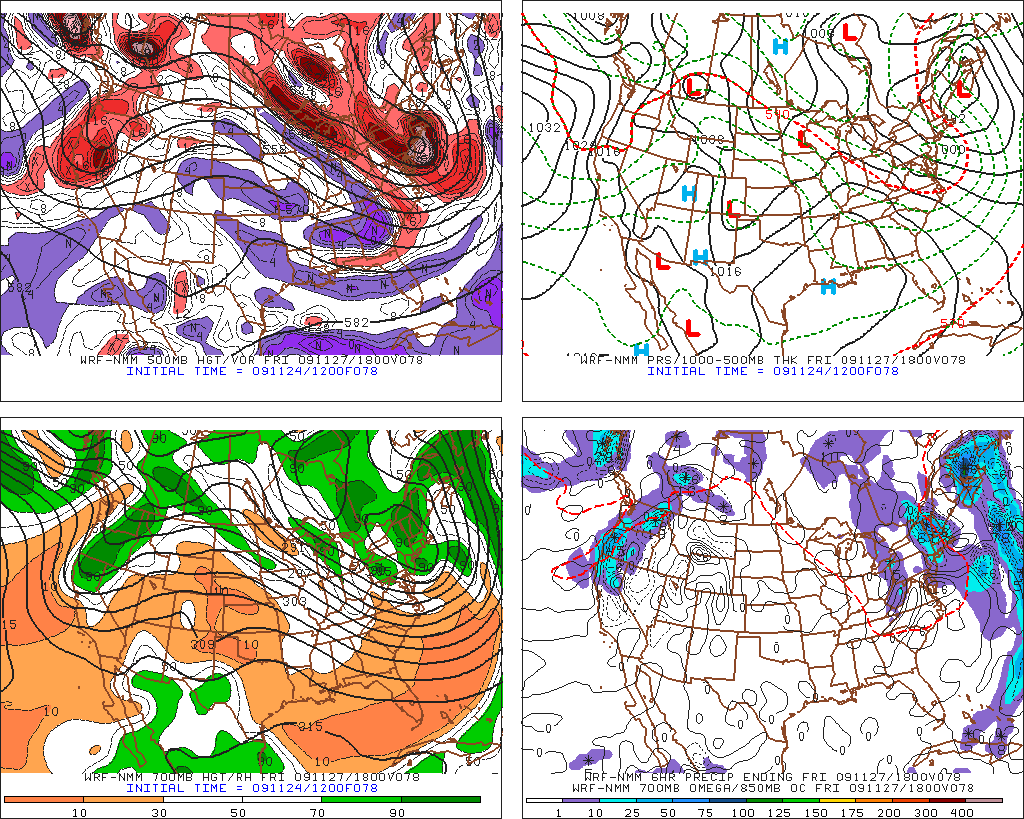 hb5 temps already below freezing. Heavy precip on friday afternoon in 'dacks and greens falls as snow.
Here is the UKMET:
Trough not as sharp. Storm forming on coast. Less upper atmosphere support of snow.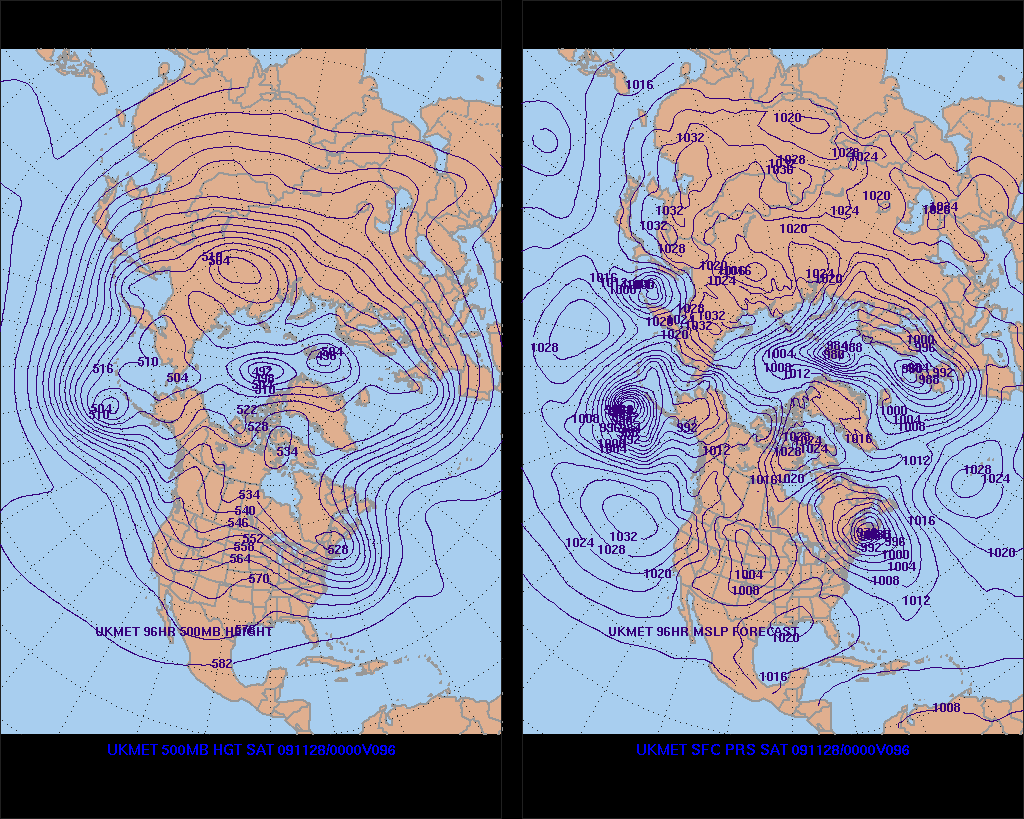 Now we see the sharp trough and the deepening low. Similar to the EURO this map really favors heavy upslope snow.
Reading all the models we see generally the same situation:
1. A trough digging into the NE around friday
2. A storm developing along the coast and swinging N/NW around the trough.
3. Precip spreading back around the storm starting friday afternoon
4. Above freezing temps to start at middle elevations
5. Transition to below freezing temps by late friday night/Sat am.
6. The low slows down and fills in over canada. This helps to maintain an N/NW flow along the adk/green spine which allows for significant upslope dynamics.
As the models have developed over the past few days, there have also been a few trends of note:
1. The trough has been less sharp allowing the h85 temp line to meander west. This is a good thing. It means that earlier on at the outset of this system temps above 3000ft will support snow sooner rather than later
2. The amount of precip has increased after temps fall low enough to support snow
3. the upslope enhancement has remained steady.
4. The storm center's track has trended further west.
Looking at all of this it does appear that the north country will be affected by both a synoptic event and an upslope event over the holiday weekend.
Starting on friday, precip will develop over the north country. It does appear that at the outset this will fall as rain. However through the day and into the night, the temps will fall at the snow levels will lower. By saturday morning- terrain above 2500 feet should be seeing all snow. Though the snow line could be higher depending on how warm we get on friday, how much rain we get, how humid the air is…lots of factors.
As we go into the day on saturday, the main low will pull away into canada and begin to wrap moist air into the greens. Winds should remain steady N/NW at all levels which is essential for proper lifting. Favored areas will likely do much better from the upslope snow than from the storm. Hopefully the storm leaves a coating of snow for the upslope to fall on as this will help up accums. (not melting on warm ground).
I'd say by saturday afternoon favored areas at high elevations could be looking at 8-10 inches of total accum. with amounts dropping very quickly as we descend.
However there is one SERIOUS note of caution here. The Canadian Model (which has been very good) shows the storm very far out to the west and barely affecting the north country. I'd toss this as an outlier BUT the model has been consistently trending this way, AND the other models have picked up similar trends in the last few days.
To be blunt…if this goes bust you can bet the storm will follow the CMC model's track.
11/27 UPDATE:
It cost Ms. Hutz 3.99 to make this post. Thanks Starbucks internet gouging!
There's not that much to add at this point. We have a deepening low and temperatures which are supporting snow above the higher terrain.
At this point we just have to wait and see what ullr brings.
By way of a personal investigation this afternoon, the snow level in the ADK/High Peaks appears to be just under 2000ft. A drive up the toll road showed snow sticking at the gatehouse with roughly a slushy inch on the ground by 4:00pm. If this continues with some heavier bursts overnight I'd say the NWS forecast of 3-7 for the adk would be accurate. Based on the placement of the low, history and my $.02 I'd be careful to expect much more than 6 in the ADK.
As for the greens, I'd forecast less than Scott for the northern greens. I think 10-14 above 3000ft is more reasonable when all is said and done. Though he does have more experience with Stowe/Jay's upslope events so we'll see. It also will matter when you go. By sat. morning it is unlikely anything beyond 6-9 would be on the ground. The big numbers in Greens are only possible because the uplifting continues all day Saturday, where as it tapers off in the 'dacks by late morning.
Regardless- I just want to toot the FIS weather horn for a job well done staying on this system from a week out.
See you on the toll road tomorrow.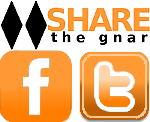 19 Comments
Please consider visiting our sponsors.
Leave a Reply