February 25, 2011 5:00 am | Category:
Weather
2/26/11 – HOLY SH*T update
Look…either the collins plot is messed up or something seriously magical just went down up at Alta.
What am I talking about? Well look at these precip totals for the last two hours: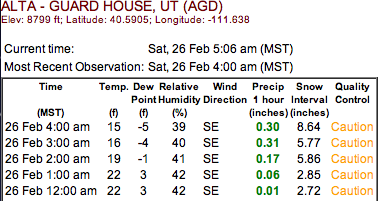 .6 inches of precip in the last 2 hours?  Wozers. That's impressive. Somebody needs to go find out if this is true.
2/25/11 UPDATE
With all the talk about the bus taking us to pow town in the east,  we can't lose sight of the fact that the Cottonwoods are already there!  Snow should be breaking out early this morning as the trough digs into the west.  Once it breaks out it will remain steady throughout the day with total daytime accumulations (i.e. from now until 5pm UT time) reaching a foot.  Overnight the snow will continue as a cold front moves through.  Another 12 inches are likely from 5pm UT time until lift start saturday morning.  A secondary wave will push into the region tomorrow spiking snowfall again and putting out another 6-8 inches.  Storm totals of 24-36 inches look reasonable in the high cottonwoods. Yay.
Original post:
Last week we discussed how a distinct pattern change was going to bring substantial snows back to the Wasatch.  I'd say it did – to the tune of roughly 50 inches in four days.  Awesome.  Here's the thing about pattern changes in UT- when the hose turns on- it doesn't turn right off.  So as we head into the later half of this week and weekend, we're  under the gun for another major storm system.
Essentially, a deep and cold Canadian storm will drop out of the Pacific Northwest, dig deep around the coast, and swing inland over the Great Basin.  As it does it will first bring heavy snows on a sw flow then as it swings in and punches a cold front through snowfall rates will spike. In it's wake, a sustained period of moist unstable nw flow will prevail keeping the snowfall going.
So what does this mean…well first- look at the big ass sustained period of upward motion in a saturated environment: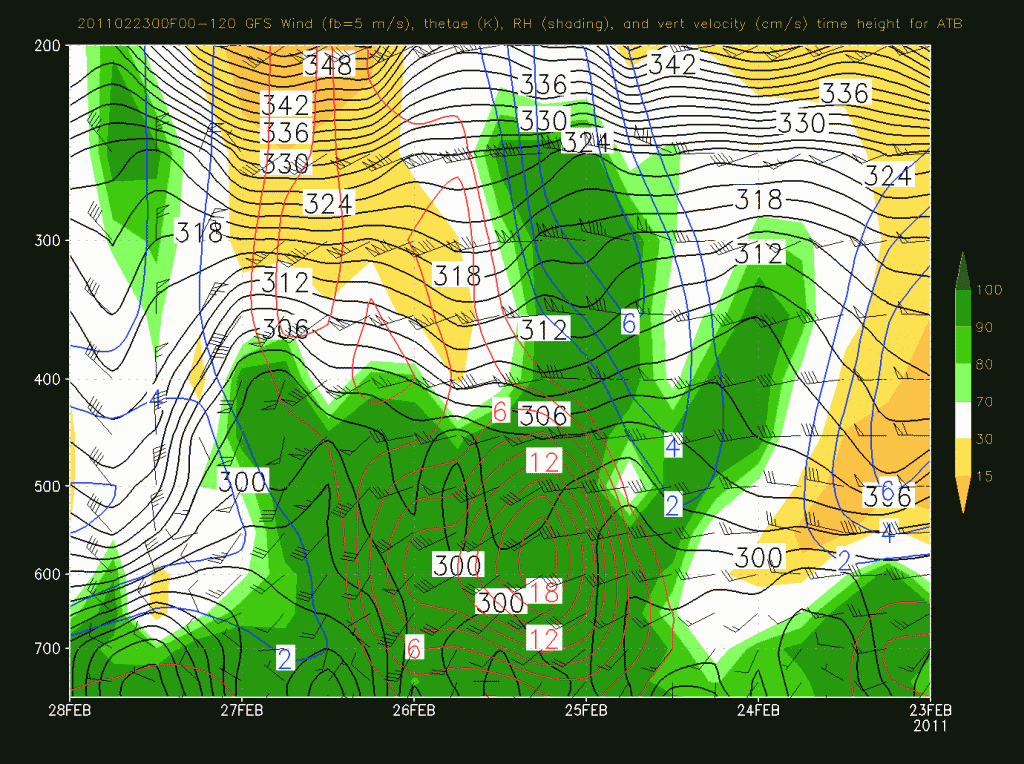 That's good for snows for sure and overall we should expect to see 20-30 inches plus in the high Cottonwoods.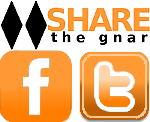 Tags:
Alta Ski Forecast
,
Alta ski weather
,
lionelhutz ski weather
,
powder forecast
,
ski forecast
,
Snowbird Ski Forecast
,
snowbird ski weather
,
Utah
,
West Coast
4 Comments
Please consider visiting our sponsors.
Leave a Reply