February 17, 2012 10:59 am | Category:
Weather
Yea. I know. It might actually like snow in Utah. In brief, on saturday, a storm will dive southwest out of oregon and Washington and move through the northen section of the beehive state. It will push a cold front through the region saturday afternoon with cool/unstable amd moist northwest flow resulting through sunday. That's the basic, standard pattern for a good little pow event in Utah. It will taper off on monday, though some data favors the development of lake effect snow bands into the Wasatch south/southwest of the GSL.
Here's the thing….while this will make some pow, I think it's being over forecaste. Let me explain-
If you allow the magic NWS computers to spit out your totals you are going to get: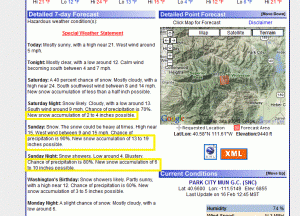 The NWS LCC specific forecast follows this: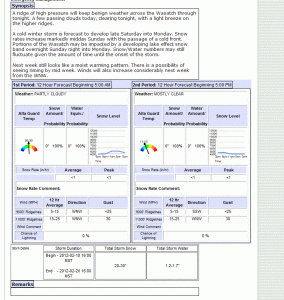 Both suggest between 20-30 inches of new snow are possible when all is said and done. I frankly think that's too much by 50%.
Looking at the time height series modeled for Alta, I don't see the proper conditions for 20-30 inches of snow.
Here is the 00z and 12z NAM runs showing relative humidity, and vertical ascent over the Alta Base: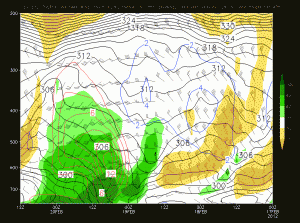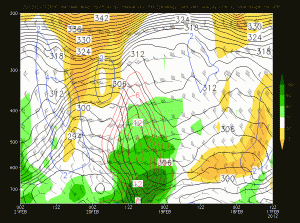 And here is the 00z GFS run showing the same thing

Frankly I just don't see two things I'd like to see to support a call of 2-3 feet of snow. First I don't see the max uplift occuring in a region of high relative humdity. That's needed for prime dendrite growth. Second, I don't see a long enough duration. Science shows the KEY for big dumps in the Wastach is long durations of unstable n/w flow resulting in sustained orographicly enhanced precip. This shows a strong and robust front punching through with a period of VERY heavy precip sat into sunday. Also, the latest NAM runs almost have TOO much vertical ascent. When you get extremely fast vertical ascent you hamper the the ability for dendrites to form. Graupel or balls of snow, or rimed out flakes are possible. That greatly cuts down the the totals when that happens. So frankly I don't think 20-30 is the right call. I think more reasonably this storm could result in 1-2 new feet of snow.
Update:
Total Failboat here. I'm happy I saw the trend was towards lower amounts than the computers. Not so happy that 1-2 feet verified as 6-10. W/e. As a certain hippy nutjob in the Wasatch says…this is all just guessin' anyway.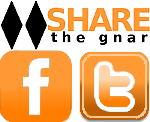 Tags:
Lionel Hutz Weather
,
lionelhutz
,
lionelhutz ski weather
,
Little Cottonwood Canyon
,
Powder Skiing
,
Powder Snow
,
ski forecast
,
Ski Weather
,
Upslope snow
,
Utah
,
Weather
,
West Coast
6 Comments
Please consider visiting our sponsors.
Leave a Reply