February 11, 2010 11:31 am | Category:
Weather
With this all important three day weekend looming we should prob. have a little chat about the weather on the slopes (boy that sounded lame. -1 man point).

This weekend will feature rather quiet weather in Ski Country. Not that conditions will be bad. In fact they could be quite nice.
Overall we'll see snow showers on and off throughout the weekend. Most notably the snow showers will be heaviest along the spine of the green mountains. (Shocker).
Right now the exiting surface low is pulling winds out of Canada with an almost direct northerly flow. This is favoring WV where up to a foot of snow is possible by the end of the next 48 hours. Steadily however the flow will turn more NW. This should allow for the all important cross barrier flow in the Greens and enhance the natural snow showers.
The HIRES WRF picks this up pretty well.
24hr precip thru Friday AM: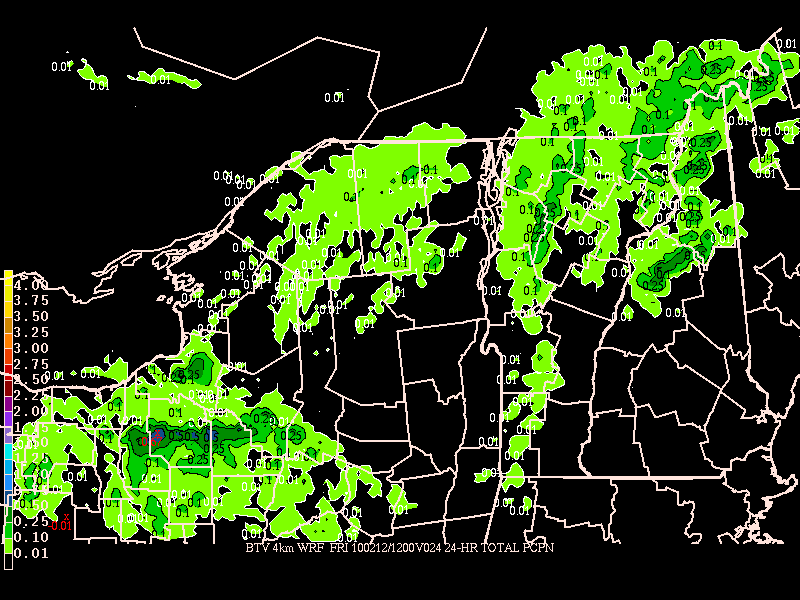 The beat goes into Sat: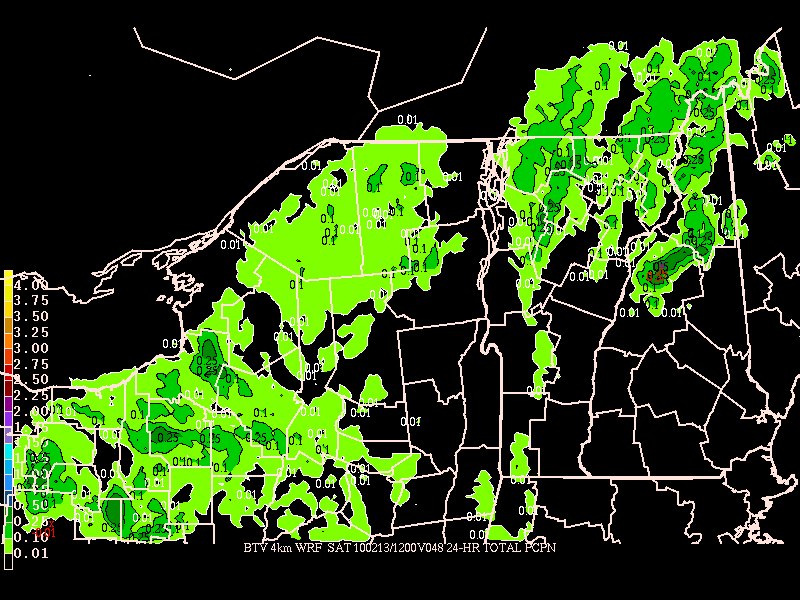 Looking at this map, and the climo factors at play, I'd say that a steady 1-2 inches should be expected per day over the weekend. There might be some heavier showers over in NH as we get interaction with the surface low. Maybe the MTW area gets 4-5 late friday into sat. We'll see. So overall, while this isn't a ton of snow, it should at least keep surfaces fresh.
As for temps, we're looking at highs in the low 20s with lows in the single digits. Winds could be gusty at times but when aren't they in the winter in the N.E. mountains.
Looking into the future I sadly don't see a ton of changes for the overall weather pattern through the end of next week. I knew this would be a blockbuster February and boy has it ever been for DC and Philly. I just never imagined that ALL the snow would be confined south of the NYS Thruway. I mean that's a once in a hundred years phenomenon…you have to marvel at it!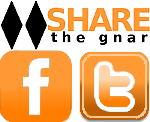 7 Comments
Please consider visiting our sponsors.
Leave a Reply