March 12, 2010 10:03 am | Category:
Weather
That's right: an above the fold update
Looking at the latest data, there appears to be the potential for not rain across the higher terrain of the Catskills, southern Adirondacks and southern VT. It's going to be close and the scales of Ullr are teetering right now but it's certainly worth talking about!
3/14/10 Update
Quick review of events last night shows 6-8 on east facing slopes of the catskills above 1500 feet and 3-5 along west facing slopes.
So. Vt also got into the party. K-mart region east facing 5-6.
Even looks the high peaks will get 3-5 inches by the end of today. No. Greens likely out of the game.
3/13/10 Update
Not too much to add really. This is going to be a close call. As we head into the afternoon the temp will fall and areas above 1500 ft in the catskills, so. vt and so. adk could see a changeover to snow/sleet.
Total accums in the catskills and So. vt could reach 8 inches if we get more snow with an early change over. Of course amts will be lower the later the cooling takes place or the less dramatic the cooling is.
I wish I could do better than that but really…I can't. This is a tricky forecast as is. But hey, a snow chance is a snow chance.
Stay tuned.
Ok – so here is the deal:
Coastal storm. Wet as hell. By way of rundown
Philly, NJ, MD, DC = Rowboat territory.
NYC = Ratmageddon (the rats drown the sewers when it rains a lot. Happened with Hurricane Floyd when I was in college. It was gross but satisfying to see them all floating down the Harlem over the next week…but I digress).
Catskills: This is where the story gets interesting. Previously I had told you that they were under the gun for a significant precip event. Well that's true. However it is starting to appear possible that some of this precip will fall as not rain…and some (a significant portion) might fall as snow overnight saturday.
The basic story is that while the Catskills will start off with a mix of rain, sleet and freezing rain Saturday, temps just might cool enough across the higher terrain to change the precip into a wet snow/sleet mix.
Before we get to the models I want to add a few things:
First we really need some good upward vertical motion here to get this to work out. Without I'm afraid we don't have the dynamic set up to overcome the fact that I feel models are working too much cold air into the this at mid to lower layers of the atmosphere.
Second, on the flip side, there is a good cold-air-dam set up here with the high moving into Northwest New England. This should put the boundary level temps just below MOS guidance as CAD isn't handled well by models.
Third, the dew points are just so marginal for me. I'd be lying if I told you I was sold on all frozen precip here. Just so not the case.
Lastly, this storm looks like the one that just HAMMERED the Catskills two (or three) weeks ago. Really similar in the development and placement of low pressure systems. This is a major consideration both in regards to cold air availability AND precip amts.
So lets take a quick look at some models: (The key issue is the temps so that's what we'll focus on)
By late sat. the lower level temps will hover just around the freezing mark across the higher terrain.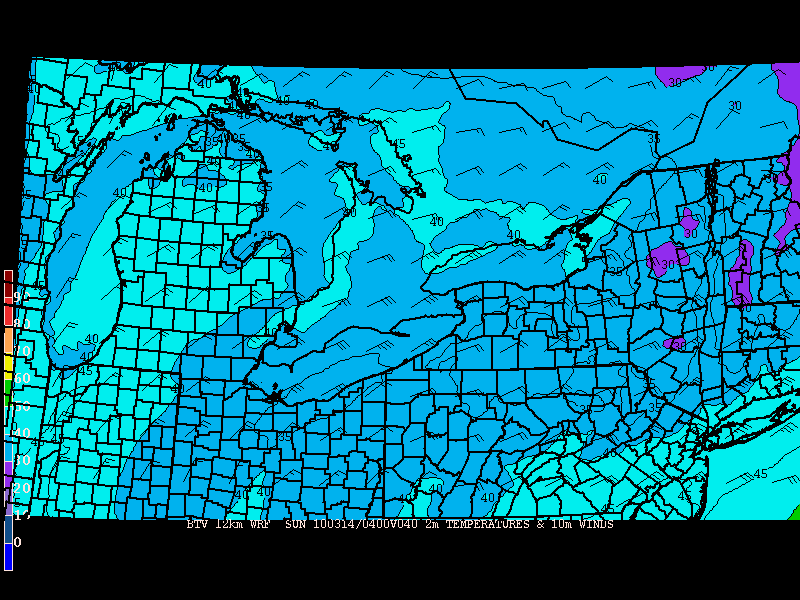 and appear to stay that way overnight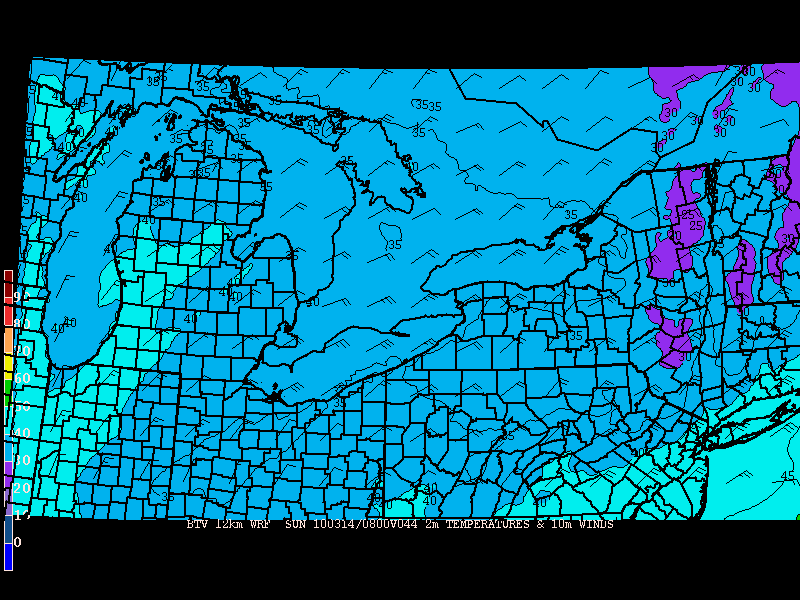 A little higher in the atm we have a similar situation:
Sat. Evening

Overnight: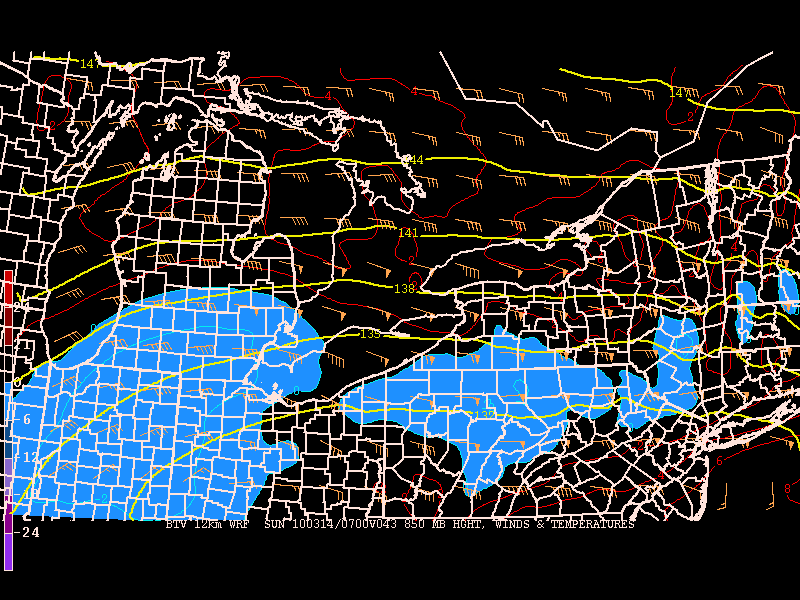 Precip for the overnight hours is robust: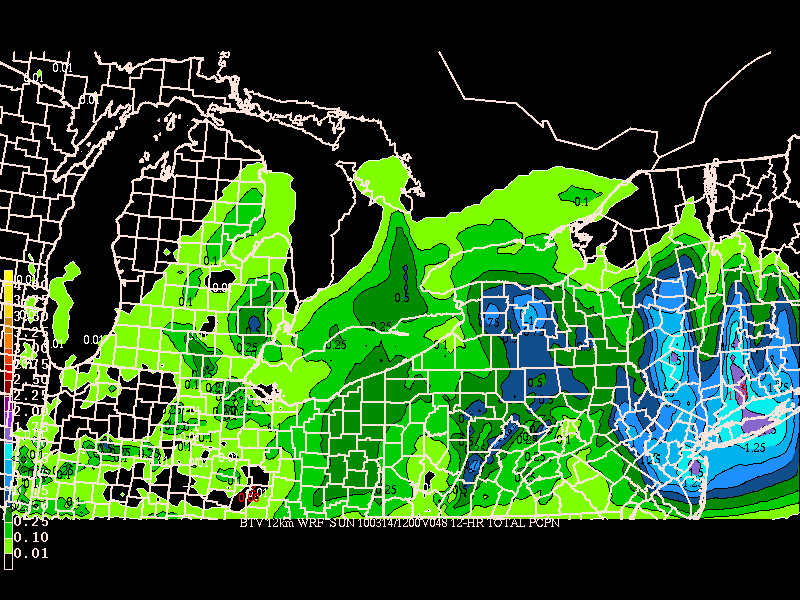 So to sum up…mix sat. during the day with the potential to change to mix/snow sat night across the higher terrain of the Catskills/So. ADK and So. VT. Total accums IMPOSSIBLE to predict at this point. I'll update tomorrow. (Sorry for going through this quickly but this is an evolving forecast and I wanted to get this out ASAP.)
3/11/10 Update
So far this winter we've seen a very suppressed pattern. A huge amount of snowfall has been blocked from migrating north of the Mass Pike due to the overall weather pattern. While this sucked some powder out of ski season, it just might save large sections of the norht country a soaking.
As of this morning, it appears that the majority of the heaviest rain will fall south of the Mass pike, and the north country should see a relatively rain free day on saturday. Only later on sunday will any strong rain move into the area. This doesn't mean that there will be perfect spring conditions- it just means you don't need a canoe to get to the hill.
Of course, as the catskills are south of the mass pike (or even with it), they are not out of the woods. In fact, I still say if you live in a low lying area around the catskill watershed, be aware of the water levels. This storm has the potentital to flood streams and creeks very quickly as the combo of heavy rain and melting snow catches up with ice dams.
Older stuff
Before I get to the forecast (and trust me – you should be in no rush to get to the forecast) let me apologize for the long time between updates here. Things have been rough for the Hutz. After a great trip to WF and first tracks down Slides 1 and 3 and an epic day and MVH the Ms. and I returned to the real world, which subsequently proceeded to dump a big bucket of manure right on my head. Of course this "nice" weather only made matters worse as I was the only person in metro Philly that wasn't happy it was sunny, windy and 53 degrees. To put it bluntly, I was grumpy. But I'm over that (kinda). Roy Halladay looks awesome, I could be getting a dog in the future and I get to go to Rhode Island to review documents (oh wait…that's not fun…). Anyway, on to the weather:
I'm going to keep this brief because it contains a lot of words none of you want to hear.
Beginning on Friday afternoon, a very wet and warm coastal storm will impact the Northeast. Models vary greatly on the location of the heaviest rain but all do agree that the Friday night to Sunday midday period could be very wet for significant portions of the NE.
Most notably, the Catskills are under the gun right now. With a deep, wet snow pack, the several inches of rain and highs in the 50s as forecasted by various models would disastrous. Flooding would be the norm with the potential for very damaging flooding possible. Another danger that much of the NE will face is wind damage. Moderate to high winds can be expected at times over the weekend. With the possibility of significant melting this will loosen up the soil and make it much easier for trees to come down.
Now, the best locations right now to avoid the worst of this poo-poo platter appears to the be ADK and Northern Greens where, if god cares one iota about your spring, the brunt of the system will stay to the SE and some cold air will work in to maybe change over this crap to some snow at higher elevations (like 3000+).
So yea…sorry to be the bearer of bad news but I gotta keep it real. Not going to be a great weekend on the slopes.
Long term I see some interesting signs that we may enter another blocking period towards the end of the month and on into arpil. While that time frame makes it tough to get good cold at lower elevations, it certainly can produce rather nice higher elevation snow events. So don't get the swim trunks out just yet. (Plus you're def. not ready for bathing suit season. I've seen some of you. Lay off the beer. Find some sun. Sheesh.)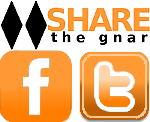 Tags:
Weather
13 Comments
Please consider visiting our sponsors.
Leave a Reply