February 18, 2010 7:35 am | Category:
Weather
I hope that's sealed up tight or you are going to have one unique wax job on your Birdos!
Through the weekend the western weather pattern will feature two systems of note.

2/20/10 Update
Overall the pattern looks on track from yesterday's forecast. A frontal boundary swung through the state of UT over the last 36 hrs and has stalled in central UT. This front will act as a forcing mechanism to direct several impulses rolling in from the west coast. As lows move into Cali and then on through NV they will be forced into the central mountains of UT and then on into So. Colorado.
This pattern should produce nice snows from tahoe, through southern UT and then very nice snows in Colorado. 1-2 feet totals are very possible with more possible high up in Colorado.
For northern UT and the cottonwoods this pattern will produce light snow for the most part. However on Sunday a weak disturbance will swing through the upper atmosphere. This and orographic lifting created by some nw winds should provide enough enhancement of the lift to enhance snowfall in the upper cottonwoods. A period of heavier snow is certainly possible on Sunday. Totals are clearly tricky but 5-10 inches are possible at this time.
2/19/10 Update
Looks like the cold front that swings through the area will act to force the majority of the precip. further south. Tahoe will still do ok but the precip seems more directed at central to southern UT. At least right now. But stuff can change.
2/18/10 Update
Just a few quick notes.
First the system set to roll in to town (UT) today:
This system looks like a simple cold front with moist air interaction to me.
Total precip from the system isn't mind blowing but it certainly looks like a nice refresher dose. By midnight or so a decent dose of snow should fall across the north facing slope of the central Wasatch on north.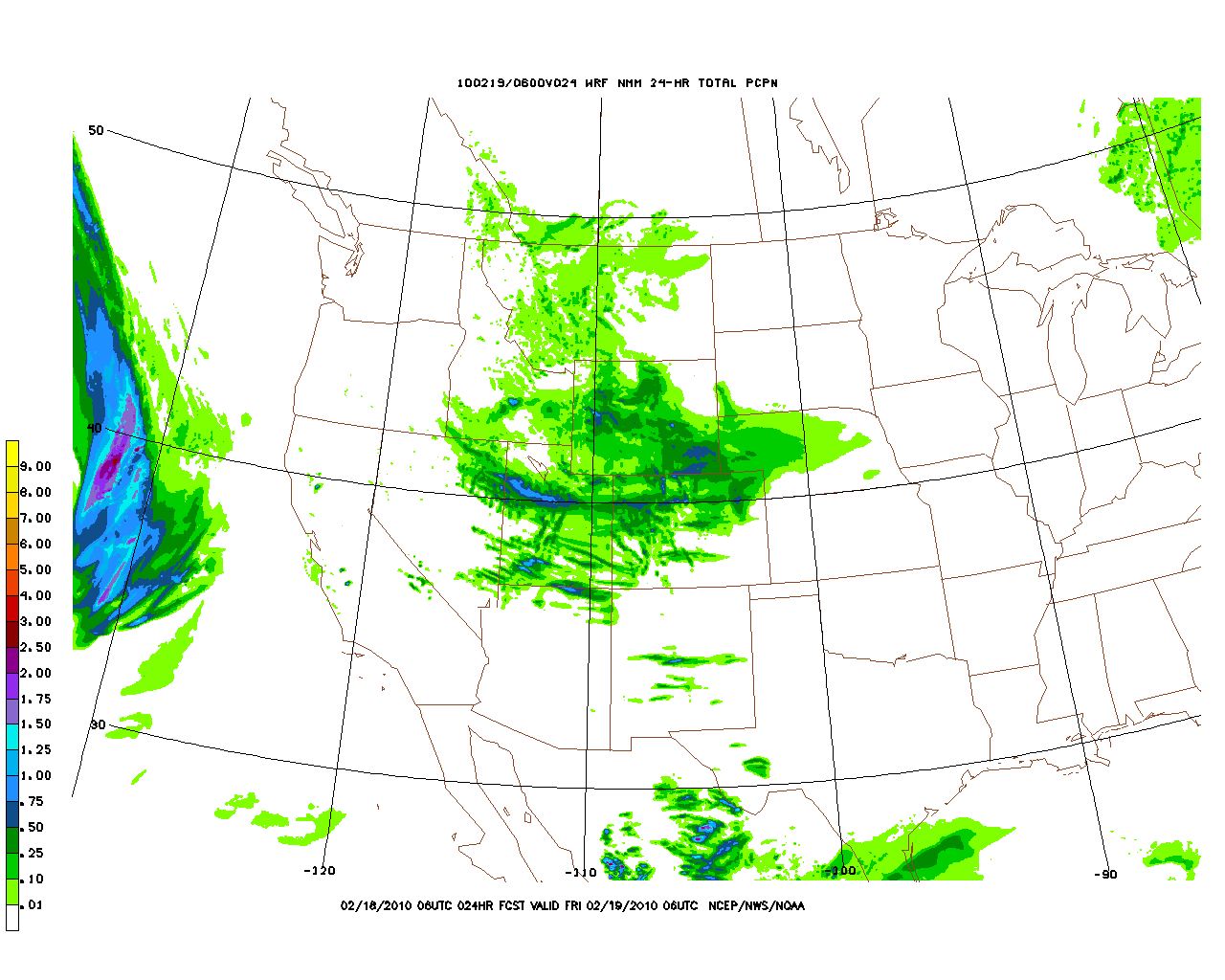 Now, while the qpf doesn't look that great and most models only spit out 5-8 for the upper cottonwoods be aware that these systems, if the wind lines up right can certainly get into the 9, 10, 12 inch range. Depends on timing, lifting factors and wind shear. Personally I'd go with 6-8 in the upper cottonwoods with pockets of 8-10 along north facing slopes.
In the wake of the front, the pattern certainly looks wetter. A series of impulses will move west to east from roughly Tahoe through the Salt Lake basin. These impulses will work with a moist atmosphere and steady westerly winds to produce rather significant snowfall in the mountains of Central Utah.
As you can see here, there are several weak surface lows set to move in to the area.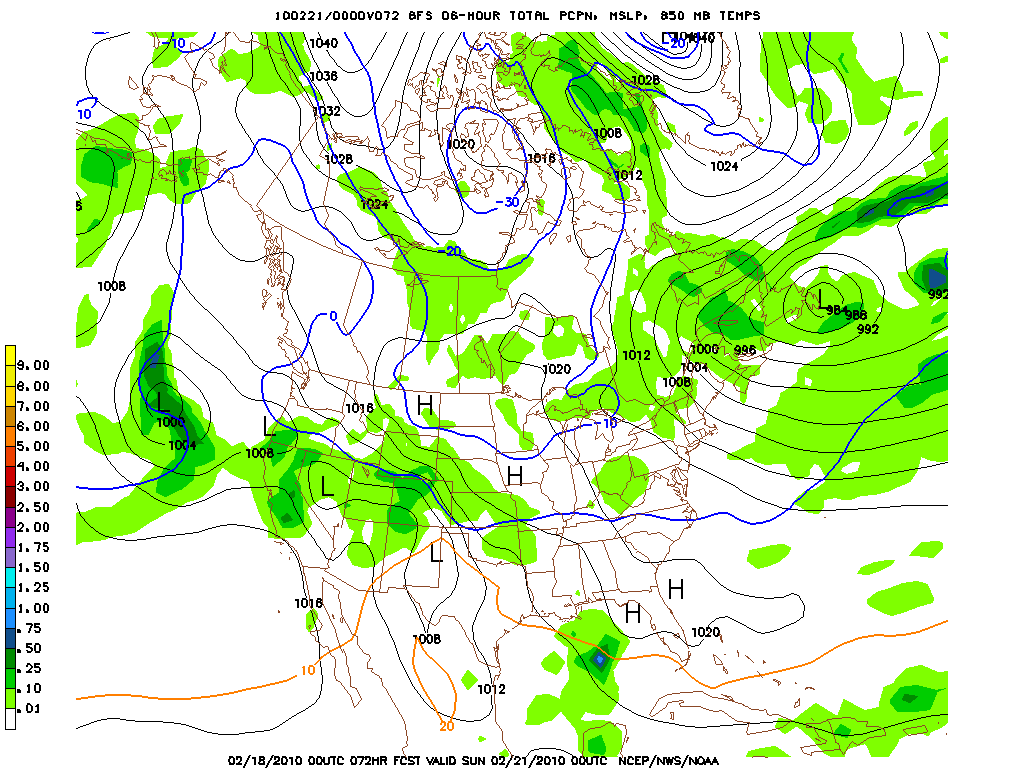 At the same time, the air will be almost saturated with moisture. Prevailing winds will be out of the west.
The lift provided by the disturbances and the Wasatch should work to produce a very nice period of snowfall. By the time Sunday rolls around the central Wasatch should be looking at a general 1.25-1.5 inches of liquid equiv.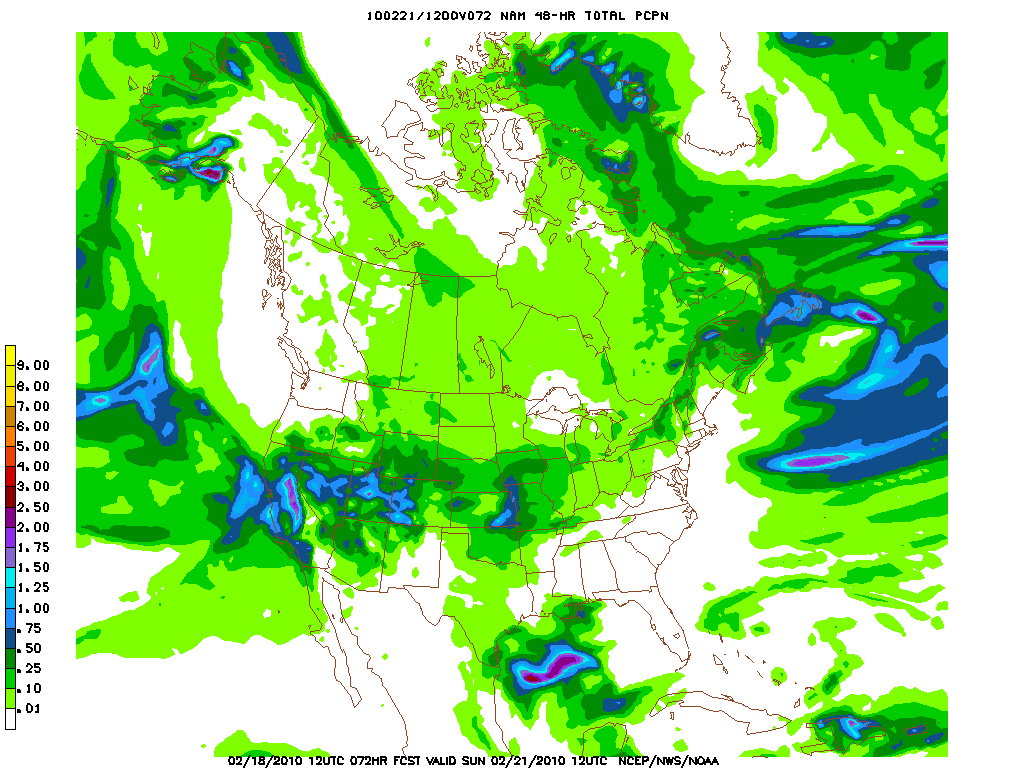 With moderate temperatures in the air column I'd prob go with a simple lower snow ratio. So 1 to 2 feet of snow with the highest amounts occuring along west facing slopes and at the end of west facing box canyons seems reasonable to me.
Older Stuff
The First system will be a low pressure system which will dive behind an amplifying west coast ridge. This will place UT in the target zone fo this system.
As it dives south it bring moist air at 700mb level down into the northern portions of the state with a steady NW wind flow. Coupled with several vort maxes progged to pass just south of the great salt lake as they swing through UT ample lift should exist for snow to fall.
Overall I'd suspect the snow to fall all along the Wasatch range with the heaviest accumulations on N/NW facing slopes. Totals will not be mind blowing but a solid 6-10 inches are possible by friday morning.
Later in the weekend, there seems to be a general agreement that the west coast ridge breaks down as a broader trough moves inland. This should spread precip west to east from Cali to Colorado and about as far north as the UT/ID line.
Models have waffled a bit with the placement of the heaviest precip, moving it north and south from run to run but generally, remained consistent with the overall system. As it stands now, over the weekend, I'd expect to see moderate snow along west facing slopes of Northern Cali, UT and then on into Colorado. Accums are difficult this far out so not really worth discussing.
P.S.: Sorry for no ppt or cool graphics. The hampster that runs this computer is having a bad day.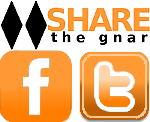 4 Comments
Please consider visiting our sponsors.
Leave a Reply