February 15, 2010 9:05 am | Category:
Weather
Since the FIS team has a few friends out west, we're going to add a some Western US weather reports from time to time. So yea…here we go:

2/15/10 Update
Normally Monday am is new "weather blather time" but since the mean weather pattern for much of the west and the Cottonwoods is the same I think an update is more appropriate.
As we noted in the last post, several impulses rode around the northern edge of a large high pressure system and spread moisture into the Wasatch and Tetons over the weekend. Totals, including what has fallen overnight have exceed expectations- especially in LCC. I noted that a foot total was possible and it appears LCC managed to just beat that with UT Avy center reporting at least 10 in the last 24 hours at both the Bird and Alta. Over in the Tetons, we saw roughly 20 over the weekend at Targhee and roughly the same from Mid Mountain up at JHMR (according to BTNF Avy center). So all in all this pattern worked out well it seems.
Well good, because we have another day at least of it. Only this time the flow has turned a little bit so I'd suspect less snow in the Tetons and more in the Wasatch. Overall I think were looking at another 4-8 inches there with the potential for slightly higher accums if the snow growth region cools a little bit and increases instability which a few models have hinted at.
2/12/10 Update
Looking into sunday and early monday the flow pattern should remain steady with a few "nuggets of vorticity" rippling through. This, combined with the Cottonwoods ability to really wring out snowfall from N/NW flow events should allow for overall storm totals of a foot (certainly if you include the 5-6 down yesterday) by the time dry air moves in monday am.
News for the Long Term:
It does appear that we'll see a change in the mean storm track pattern in the last week of feb. Signs point to change of track whereby distrubances roll in along the Cali/Or coast and proceed West/SW down into UT. We'll see how this plays out but it has appeared in several model runs and the teleconnection indicies at this point show some changes around that time. Will it happen? I don't know. Nobody does. I'm just saying there's a chance.
Previous rambling
Overall Western Pattern for the weekend:
A westerly flow will persist over the next 48 hours as high pressure centered of the Cali coast directs the flow around it's northern edge.
Interaction with a deep vortex off the coast of BC will wet this flow.
We can see here in these two 700mb RH charts the moist air mass and W/NW flow at 15k ft.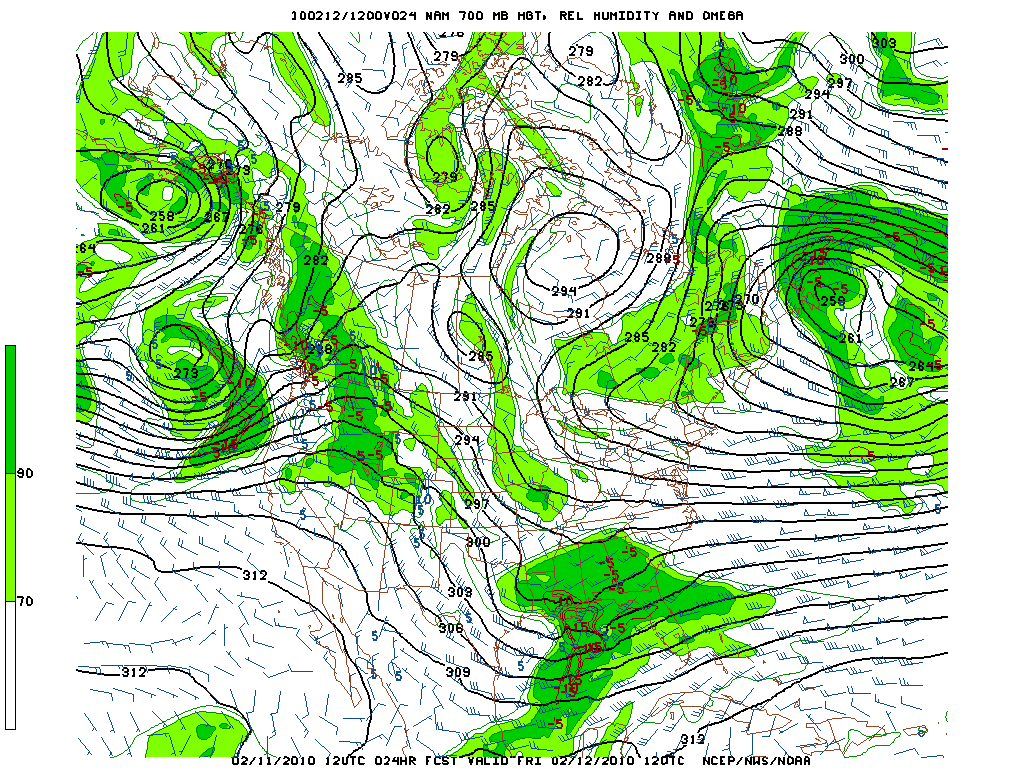 Same story by sat.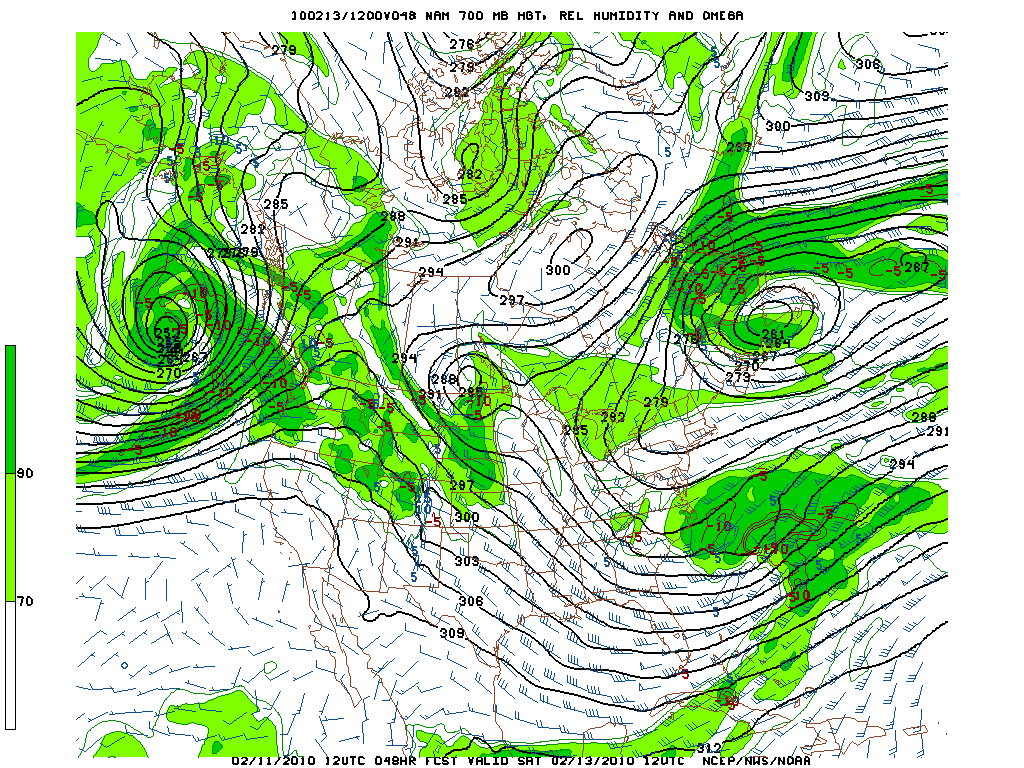 Now this isn't some big synoptic storm by any means however it does have some really nice consequences.
First the Tetons will really get hammered. This flow pattern runs right into the Tetons and as we know from the greens- cross barrier is good.
Storm totals in the tetons going to approach 2-3 feet when all is said and done.
As for UT. Northern UT could see some nice snow from this. Notably the flow is a little off for LCC to work its magic BUT its not bad either. I'd expect the upper reaches of the cottonwoods to see 8 inches or so by the time this flow shuts off Saturday. It will be close but there should be enough lift of the lower atmosphere by the mountains for that much snow to squeeze out.
Looking longer range we get a HUGE ridge next week with some signs of a progressive pattern developing the last weekend/week of feb.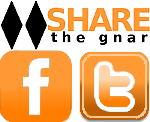 4 Comments
Please consider visiting our sponsors.
Leave a Reply