Lots to say, lots to say.
Starting with the East:
Since Thanksgiving weekend the northeast has been in a favorable pattern. Weak high pressure centered overhead and derived from Canada has kept temps cool. At the same time a number of weak disturbances have rippled over the region. These ripples sparked snow showers Monday morning and tuesday afternoon. Following the 6-7 inches the higher terrain recieved over the weekend, stuff looks downright wintry.
Going forward, the pattern will continue thru Saturday. As I write this a shortwave trough is poised to swing on thru the North Country overnight. It's not too impressive per se but when you combine orographic lift, and a moist boundary layer, you're looking a solid 1-3 inches across the Nor. ADK and Green spine by Thursday morning.
A mere 18 hours latter, the pattern will repeat itself. Early friday morning/late thursday night, a weak cold front will sweep through the region from the north. Again it isn't that impressive on its own, but with very cold temps (-15c at 850 poss) and decent lift, we're looking at another 1-4 inches by Friday AM.
Overall, the 48 hour totals are looking pretty nice: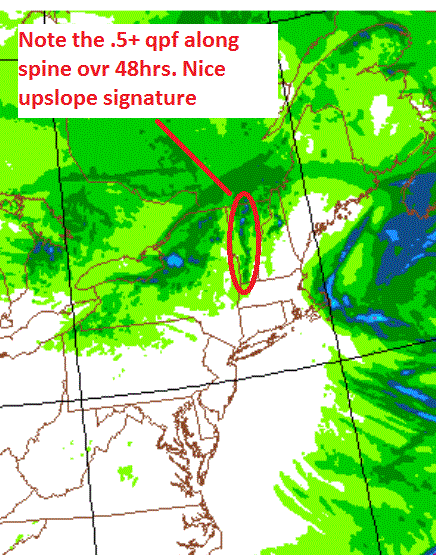 UPDATE
Well, today panned out pretty well with a solid 2-3 inches overall. Now it looks like the little cold front coming throught might over perform. As it sits right now, ahead of the front there is a solid west flow. That's pulling a decent amount of moisture off the great lakes. If that stays as is, this will enhance the snowfall along the ADK and Green spine. Possible that somewhere will pick up a very quick 6-8 out of this system if the moisture stream hooks up right…

Following that, Saturday will feature another round of snow showers as a warm front pushes across the region from the southwest. The news gets less good after that. On sunday, a low will move out of the great lakes in the wake of the departing high. Southwest flow ahead of the low will push warm-ish air into the region. Temps will reach into the 40s prob. at elevation. Some rain showers mixed with sleet are possible sunday into monday.
We stay warm till the middle of next week when the longer range models are hinting at some activity around 12/7-12/9.
Now, out west:
First, let me get this out the way: It gonna snow a lot at Mt. Shasta. I'm a weather geek. I like stuff that's impressive. 40+ inches of snow in a 12 hour period is impressive. Mt. Shasta has a chance of seeing that much snow at least once, maybe several times this week. A powerful pacific low, spinning off the coast will eject a piece of energy that will slam the Cali/Oregon border. Higher elevations there will see a lot of snow.
That energy works its way northeast over time. It will bring with it steady snows to Idaho (several feet by the end of the weekend) and Montana. Further south UT and WYO will be somewhat cut off until later in the weekend.
At that point- say Sunday- the trough will swing inland. It will bring with it pretty substaintial moisture from the ocean. (goooood). As the primary low tracks through ID and MT a strong cold front will push into UT. I tweeted a picture of what it looks like via a time/height series earlier today.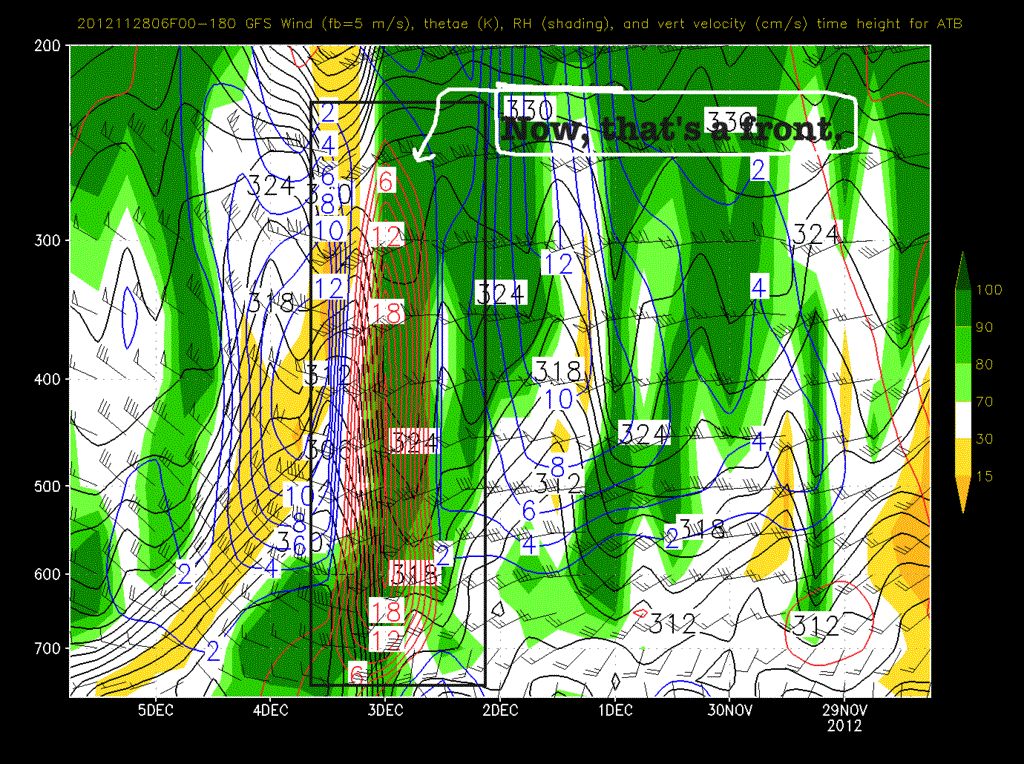 That's one impressive front! I would expect that because of the incredible vertical velocity forecasted some of the precip that falls will fall as graupel. I also wouldn't be shocked to hear some thunder as the front passes. With the warm air ahead of the system and cold air aloft there is certainly some convective potential.
Totals for the frontal system are uncertain at this time. Earlier in the week it looked like it would only be a weak 6 inch system. However models have progressed and now it looks much more robust. I'll update totals over the weekend but I think something give or take 8-16″ is a reasonable guess right now.
Beyond that, like when the #omniten are in Park City (Porter, my jorts are packed. Got the Whiskey?) models diverage on the Western pattern. Some models hold the main jet north into Washington leaving much of the west high and dry. Other models move the jet south, keeping much of the west active and wetter. When I get a clearer picture of what will happen, I'll also update.
So for now here is the Dr. JWJ summary:
East:
– Weak waves over next few days
– 1-4 each time.
– Overall 6+ by weekend.
– Warmer sunday. Few showers.
– Warmish start to next week.
– Pay attention next friday/sat.
West:
– Big Snows Cal/OR border.
– Wet for northern pac/nw weekend.
– Front for UT sunday-monday. 8-16 reasonable guess now.
– Mixed reviews for following timeframe.
In the meantime, you should support FIS by picking up a copy of our 2013 calendar over in the store. It will snow more if you do.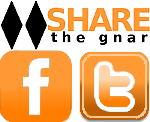 Tags:
East Coast
,
lionelhutz
,
lionelhutz ski weather
,
Ski Weather
,
Upslope snow
,
Vermont Ski Forecast
,
Wasatch
,
Weather
,
West Coast
10 Comments
Please consider visiting our sponsors.
Leave a Reply