I figured it was time for a new post since Selma has the potential to be a real doozy.
3/3/10 Update
Just a quick wrap up to throw some 5 day snow totals I think you all might want to check out:
Hunter, NY 72.5 The Ski center @ Hunter 84.5
E. Windham (Tower) 90″/Village 72″
E. Jewett 84″
Tannersville 60″
That my friends is why I told you the catskills would get nuked.
9 PM Update
Ok…so we're still on track for every area with one (good) change.
I'm really beginning to think that from mid elevations up..say 2000ft and up… the greens, especially the southern greens are going to see a heavy wet snow tonight into tomorrow. ALB NWS first hinted at this but it now seems well supported by several model runs. The air column will cool sufficiently starting with pockets in Southern VT and in the White Mountains just has some heavy precip start rolling in. I think there will be a period from midnight tonight to maybe 7am tomorrow where these areas stand to pick up 8 inches or more in east facing slopes where orographic enhancement will take place.
So to review:
Catskills: Nuked with wet heavy snow
ADK: above 1500ft not bad at all. Another 6-8 overnight
Greens: Better than before. South better than north. East facing deeper than west facing.
Whites: Up high starting to look white.
3 PM Update
So far we're on track with this storm. Freezing line looks to be between 1500 and 2000 feet west of I-87. LP is seeing snow and SLK is seeing a mixed bag of wet poop.
The Northern Greens are getting shadowed by the Whites.
So. Vt will see rain, heavy at times mixing in with periods of snow. The So. greens will see the best chance at top dressing from friday into sunday am along a cooler eastern flow. (Albany thinks this will be more than top dressing. Just went with a BALLSY call of 6-16 inches. Look I'm understand. There is a very deep tap of moist air thats going to flow smack into some hills. The east facing slopes will get snow. But that's a ballsy call. I'd be more inclined to go with 6-10 but hey…go big or go home)
But the real magic is going to happen along the western Catskills. There is a cold front knocking on the backdoor right now. It's like 24 in Buffalo. That cold air is going to meet a stream of atlantic moisture somewhere right over the edge of the catskills. This mositure is DEEP. It comes from Cuba, and according to my secret CIA sources it's humid down there. So you know when that mosit wet air meets this dry cold air…BANG!. I suspect that Plattekill will be the target zone for this storm again as it is closest to this zone.
2/25/10 6:30 Update
Look how much I like you. I'm up early and making an update. Thank me later in microbrewery beer (or Miller lite- I like that too).
So here is the latest word on Selma.
Catskills are again under the gun. Big time. I'd expect to see another 14-24 inches of snow at higher elevations in the Catskills with Plattekill being in the best location to get snow at all times from this system. At times from this afternoon until Friday morning, there will be periods of very heavy snowfall with 2 inch an hour rates possible.
For the greens:
It's not going to be pretty. Snow and rain will mix with models diverging on the total accumulation. Personally I'm not feeling great about the greens picking up good snow with this system- particularly the southern greens.
The northern greens may be spared any heavy rain as some dry air works in and combines with warmer Atlantic air. This would essentially result in a period of windy, warmish and misty weather but little rain for the northern greens.
The ADK is still a quesiton mark. I'd expect I-87 to be a dividing line. To the west we're mainly dealing with snow above 1500/2000 feet. If this is the case we'll see prob. 8-10 inches in the 'dacks with some periods of rain mixed in at lower levels today.
So here's the deal-o, or as Regina George's mom would say, the 4-1-1.
As Patti decays she'll migrate west-ish. This will work to turn a trough behind her into a banana shape. A system already working its way through the south will emerge off the NC coast by later today.
As this system taps warm gulf air it will deepen and move NW towards the NJ coast. Upon reaching the NJ coast a tongue of precip will surge into NJ, NY. The system will deepen off NYC and because of the shape of the trough, hook west into Conn/NYC suburbs and deepen very rapidly at the surface.
This will have several key effects:
First this will direct another bazooka of moisture at the Catskills later tomorrow afternoon. From late morning until the evening the Catskills will be under the gun for a period with snowfall rates easily reaching 2 inches an hour in the heavier bands. However, as the ground temps will be just near or above freezing, and 5000ft temps barely below, periods of mixed precip are possible and rain is possible below at least 1200ft.
Here we see the system starting to develop and shoot that moisture into NY/NJ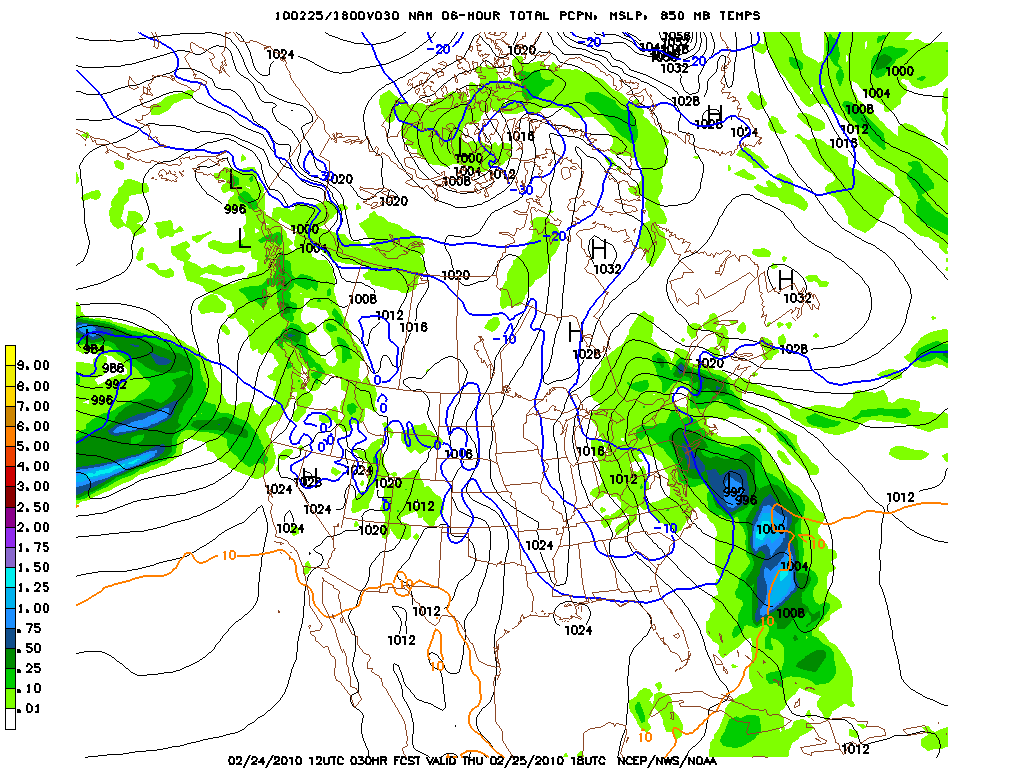 Here is't starting to deepen and dig west around the trough: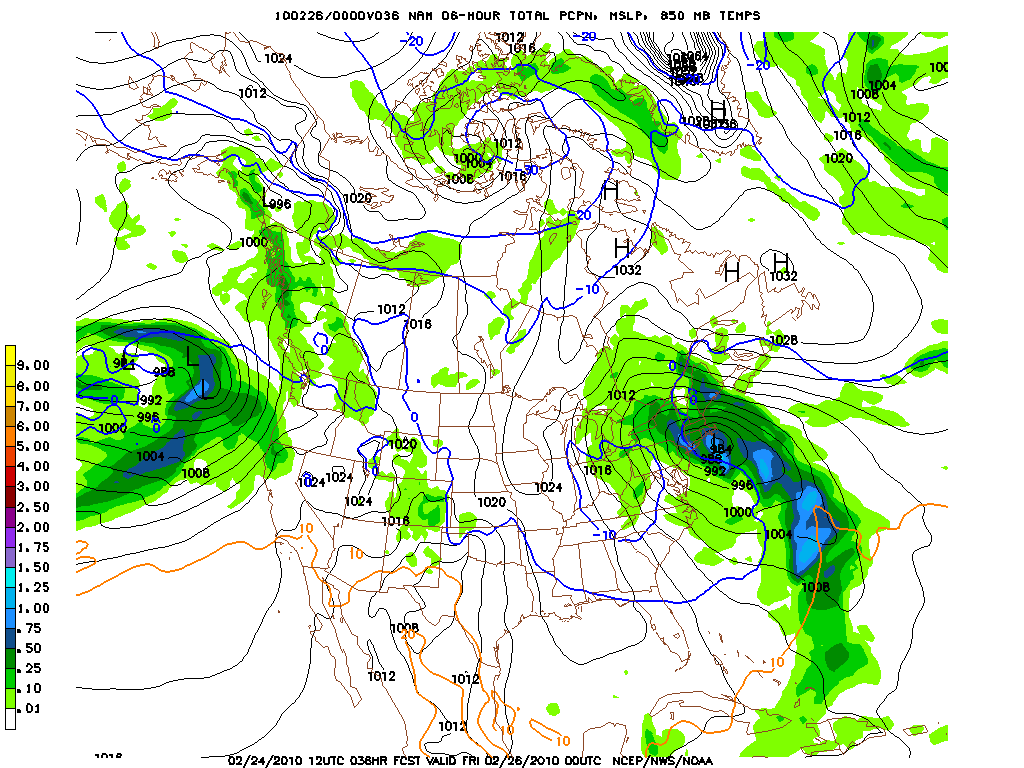 Tightly wrapped up now, smoking the catskills, starting to pull in warm air around east side (see text below)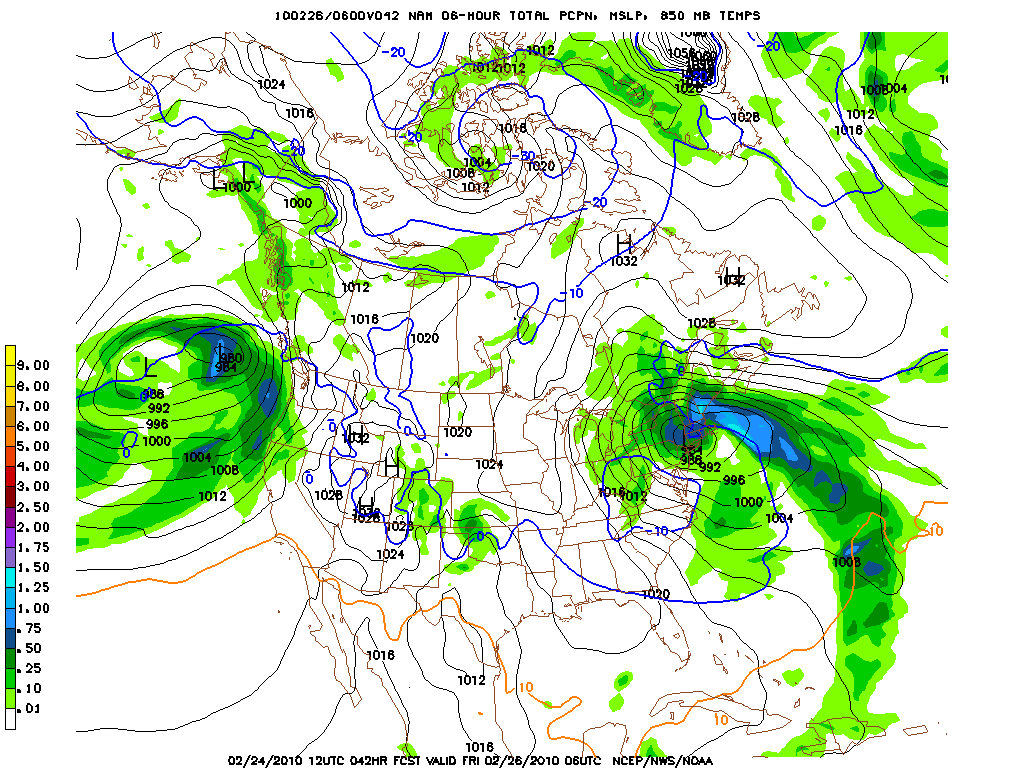 Second, the rapid deepening will produce strong winds and pull a significant chunk of warm air into the system. (See above where 0c isotherm is pushed west) This warm air, because of the odd position, will wrap around the NE side. Areas in NH, and VT will see temps rise with the intrusion of this warm air. 850mb temps will exceed 0c. At lower levels of the atm temps under this band will also be above freezing. Therefore anywhere EAST of the Hudson River/Champlain Valley is under a threat of rain during daylight hours on Thursday and Friday.
Third, as the system wraps up into a nasty little ball over South Eastern NY, the cold air and moisture will move in a counter-clockwise motion bringing heavy snow to bubble-ville PA and NY (ok…Binghamton NY) and then even further south/east. There may actually be a period of time on Friday early morning where it's warmer in BTV than in Philly with snow falling in Philly and Rain in BTV.
Here it's fully cut off by friday morning. Precip to the east north and nw is showery. Precip west is steady. To the south the possiblity exists for a deformation zone to set up bringing a bit of heavier precip.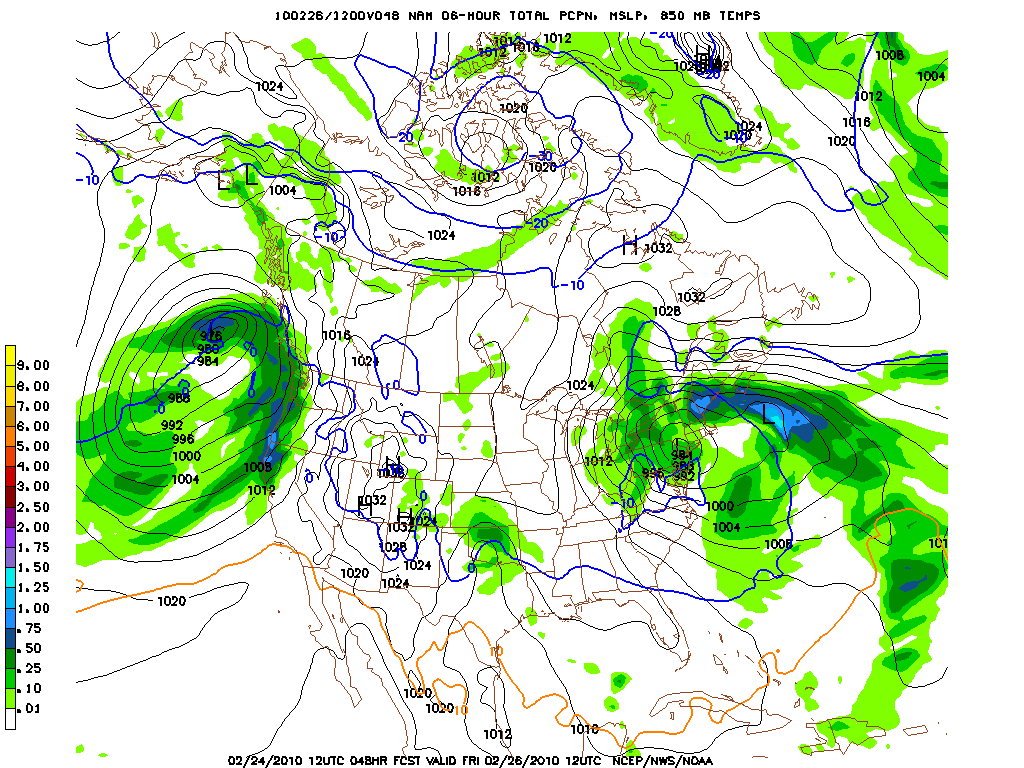 Total QPF: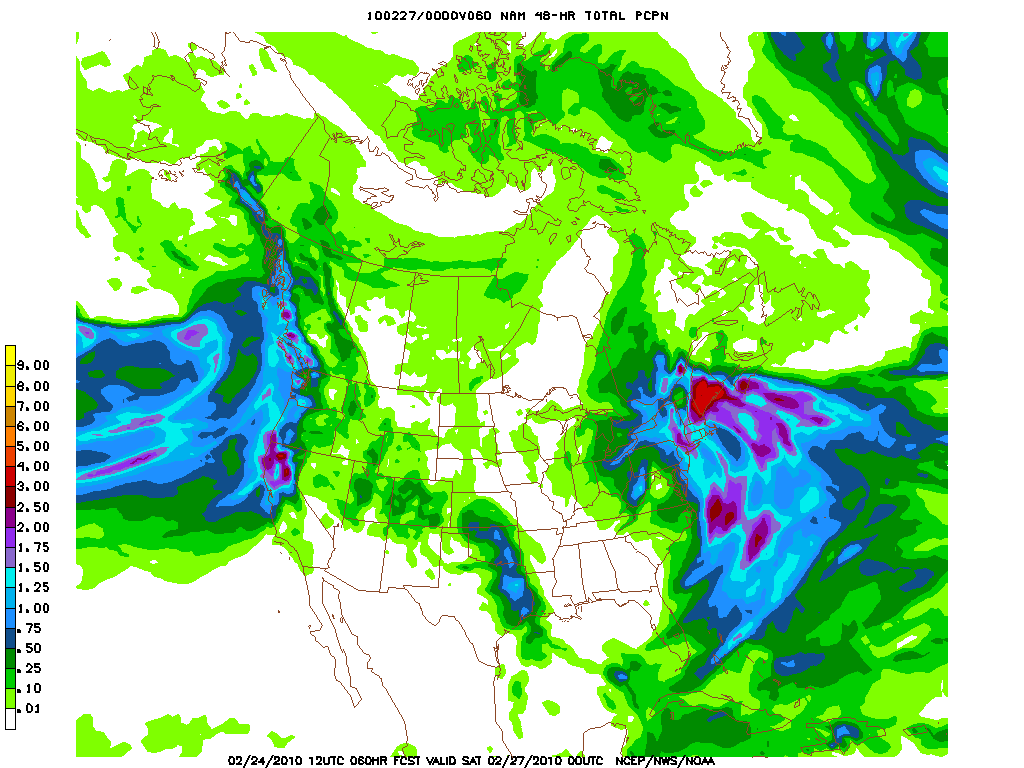 Lastly, the great unknown here is the ADK. Models are having a very hard time with this region. Surface temps on the GFS appear to be too warm for snow below at least 1000 feet. However climo suggests to me that when temps are that warm on the GFS the freezing level is actually more like 1800ft. Also, the models have a hard time understanding the extent of the heaviest precip as the system moves NW Thursday afternoon. Because of the tight gradient between the Greens, the Hudson Valley and the 'Dacks the data gets all messed up. Sometimes it's way too wet, sometimes it's way too dry. You just gotta go with your gut. At this time I'd make a reasonable guess that the ADK region will see amts ranging from 6-12 in the north to 10-20 in the south.
As for other regions:
Higher elevations of catskills 10-18 inches with 24 possible if we stay all snow at the measuring stations.
VT, mix with periods of heavier snow tomorrow evening, periods of changeover, misting at times and then a tricky period of orographic precip along east facing slopes as we head into the weekend.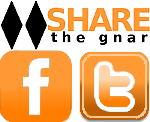 15 Comments
Please consider visiting our sponsors.
Leave a Reply