1/18/11 5:30 AM UPDATE:
Moist system is blooming very nicely off the NJ coast.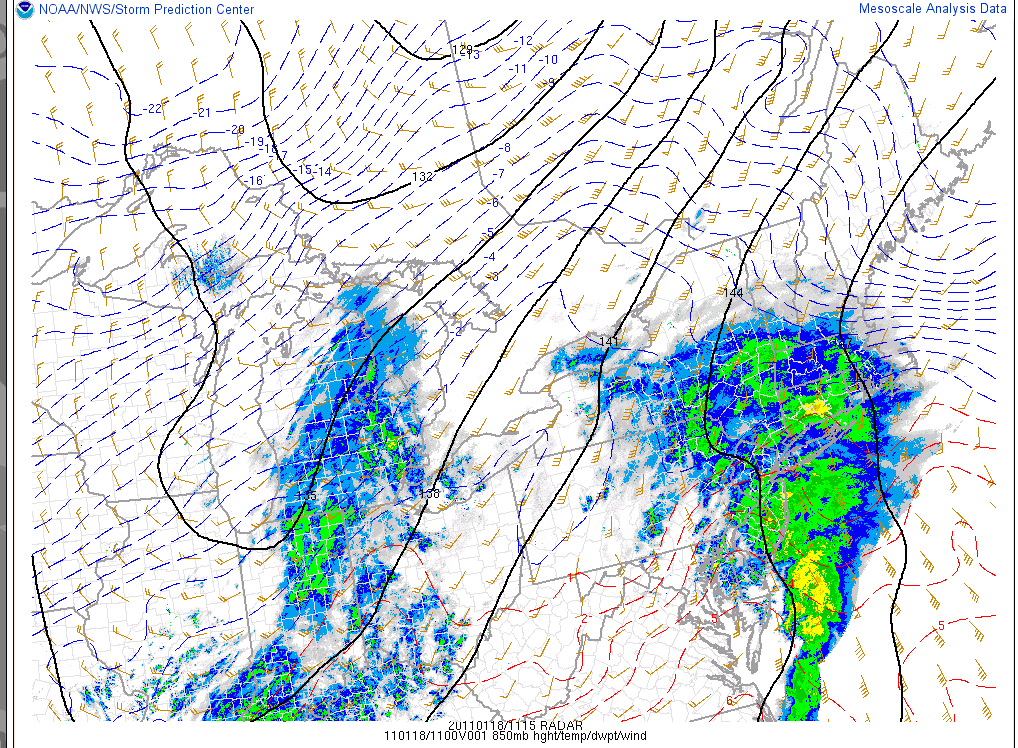 As it grows and deepens significantly over the next 12 hours it will continue to spread significant moisture northwards into the Southern Tier of NY, Mass and Southern VT.  However, as you can see strong warm air advection at mid-layers of the atmosphere.  It is already above freezing at the h85 pressure level as far north as I-84 in NY and the Merritt parkway in CT.  As the storm progresses this warm air will advance northwards. However surface cold air is proving to be VERY hard to scour out.  As a result SUBSTANTIAL and dangerous ice is likely in and around the NYC region and on up and through the Catskills.
The RUC (Rapid Update Cycle Model) shows the warm air advancing north as far as about Mt. Snow. However, it's likely this model is understating the extent of the warm air intrusion.  Personally I'd expect warm air to advance as far as at least 89/Montpelier/BTV line.  This will therefore introduce some sleet into the Greens.  Overall I think plenty of moisture is on the way so it's not like the sleet will kill the totals.
Overall I think the prediction from yesterday are within range still.  8-14 in so. vt, 6-10 along the middle spine with a few pockets along east facing terrain likely in need of a bump into the 12 inch range.  One area that I'm particulary interested in is the Bush/MRV region.  From what I've seen this year the eastern flow from these coastals funnels a touch extra moisture right into the MRG area.  If any areas in No. VT get deep I'd put my money on this small region.
Further north – Stowe -Jay should see around 6 inches of snow.   The whites will see snow/sleet totals in the 6-12 range.
Now you want some more good news?  Another one is on the way for friday into Saturday.
I'm serious. No. Really. :
That is all. Be safe out there.
1/17/11 Original Post
Wow.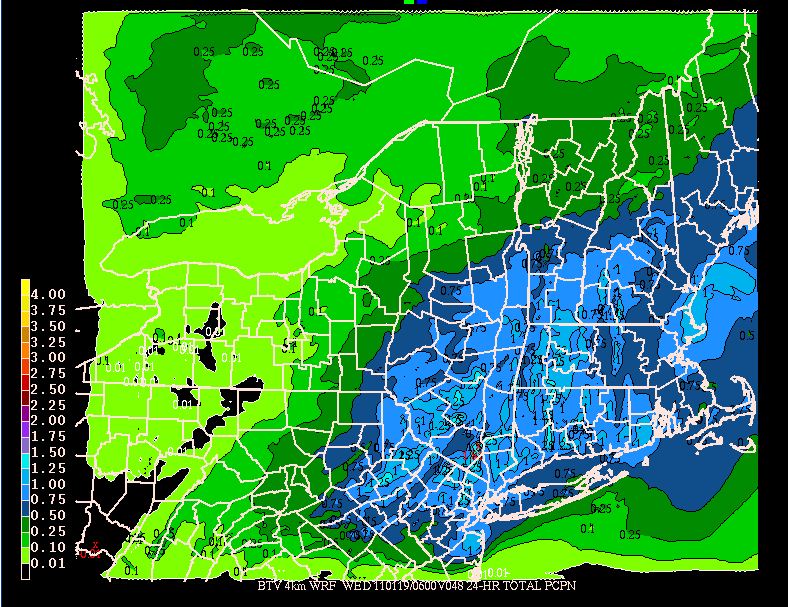 Way back in October when I wrote my winter outlook I never expected January to be as loaded as it is. In fact nobody in the weather community that I trust was particular positive about January. Guess what? We were wrong. Wanna know why? Well in a typical la nina year storms tend to track more inland. While active, nina years tend to be messier with elevation dependent snowfalls in ski country. However this isn't a typical nina year. Based on major climate teleconnection indices (NAO, PDO, QBO, PNA, AO) this is only the second time in the last 100 years or so that the current nina conditions have been experienced. So yea…not typical is putting it mildly. Why does that matter? Well having an overall hypothesis of what you think the weather should be doing helps you judge the likelihood of model solutions. With that removed at this point we have to press on with only recent weather trends (a very effective tool) as our primary guide. And so we do as another coastal storm takes aim at the northeast.
By tuesday, energy driving northeast around a flat shortwave trough will interact with a front along the coast.
Below you can can see the 500mb heights, winds and areas of max vorticity.  Downwind of the area of max vorticity the air is area of max upper level divergence.  Under that area, is the prime location for  key surface cyclogenesis to occur.
As the surface low develops it will track along the NJ coast and almost right into NY Harbor.   Right now, unlike several of the last storms the issue will be less about the track and more about the thermal profile of the system.
As I see it the storm will track though the NY metro area, and then northeast through CT, RI and Mass.  This will bring the warm air conveyor feeding the storm very close to the the Catskills, Southern VT and NH along with significant amounts of moisture.  Accordingly, the primary issue will be the level of warm air intrusion into the column in these regions.
First lets look at the QPF: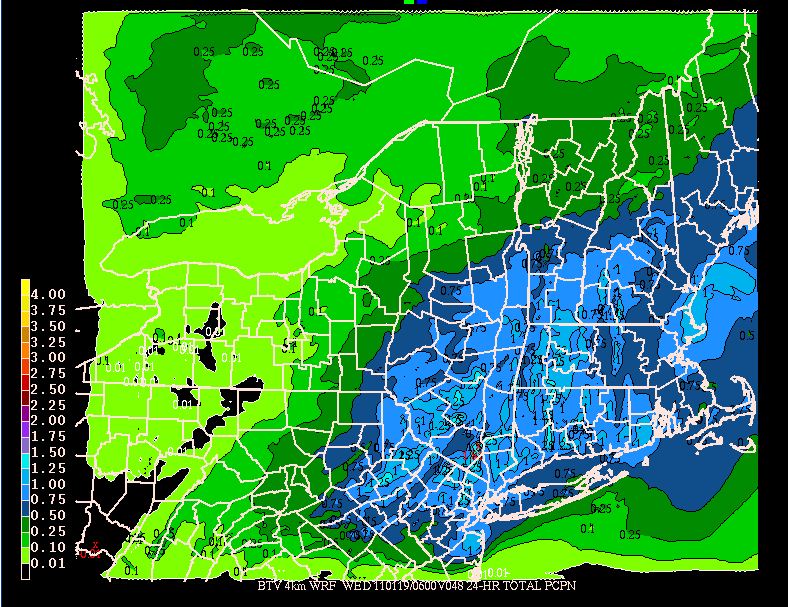 As we see it's pretty high and fairly broad in coverage.  As the model resolution can't capture the micro effects of the summits in So. VT and even the Catskills very well, the widespread .75 -1 inch qpf output translates to 1 to 1.25 inches of water across the higher terrain.
Now lets look at the thermal profiles.  As said before a strong east and south wind will push a fair amount of warm air into the system.
In So. VT we see thermal profiles at the start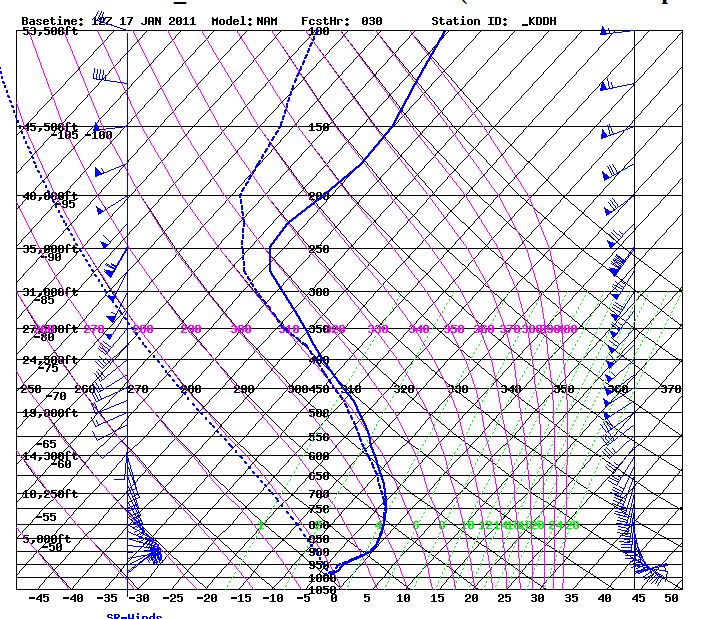 and middle
of the event hovering near the zero degree C line and barely nosing over it at the upper layers.  This leads  to the conclusion that a heavier wetter snow should predominate here with a  little sleet mixed in.
In the Catskills, the robust QPF will exist in a significantly warmer environment.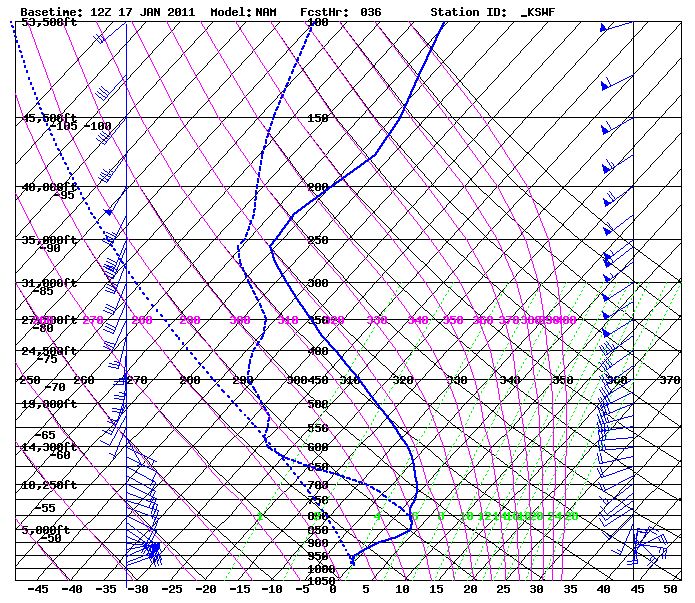 With surface temps near 0 and upper air temps above zero significant freezing rain and/or sleet is likely here.
Further north along the green spine, while the temps will be more conducive to snow, the moisture will be somewhat limited.  Last week when the storm blew up and migrated a ton of moisture northwestward, exceeding any modeled forecast it was due to the storm occluding under at strong 500mb trough.  No such pattern is projected this time so the NW migration of the precip should be modeled well.
Anyway- putting this all together I'd say the catskills are looking at some snow-to mix with dangerous glaze ice possible.  Southern VT is looking at 8-14 inches of a heavier wetter snow with some sleet mixed in.  K-Mart north through Stowe are likely looking at a 5-10 inch snowfall.  The whites will see something in the 6-10 range. with again, some sleet/FZR mixing in. With the mountains already looking like they are in top schuss-shape, this storm will probably make a lot of folks really happy.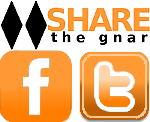 Tags:
catskills ski weather
,
Coastal Storm
,
Lionel Hutz Weather
,
magic mountain forecast ski weather
,
nor'easter
,
orographic snow
,
ski forecasts
,
Vermont Ski Forecast
,
Vermont Ski Weather
,
Vermont Upslope Snow
6 Comments
Please consider visiting our sponsors.
Leave a Reply