Well do you like your turkey cold? I do and apparently Ullr might as well. As I hinted last week, the potential existed for a major winter storm around the 23/24th. Well damnit "City Dwelling Dad/Father of 2", if that isn't going to be the case!
So here we go.
By late tuesday/early early wedneday morning, a cold high pressure system will slide just east, and flatten out as a storm gathers strength.
Previous model runs had this high either sitting right over the North Country and driving the storm to the south and east, or shrinking back up into Canada like little Mr. Costansza after a cold morning swim. Well no longer. The model consensus at this point is for the high to flatten and hold strong. This will drive the storm just to the south of the North Country. See the predicted track below.

As the storm deepens wednesday the cold air will hold strong across the higher terrain but barely. However the NAM explodes the storm midday wendesday.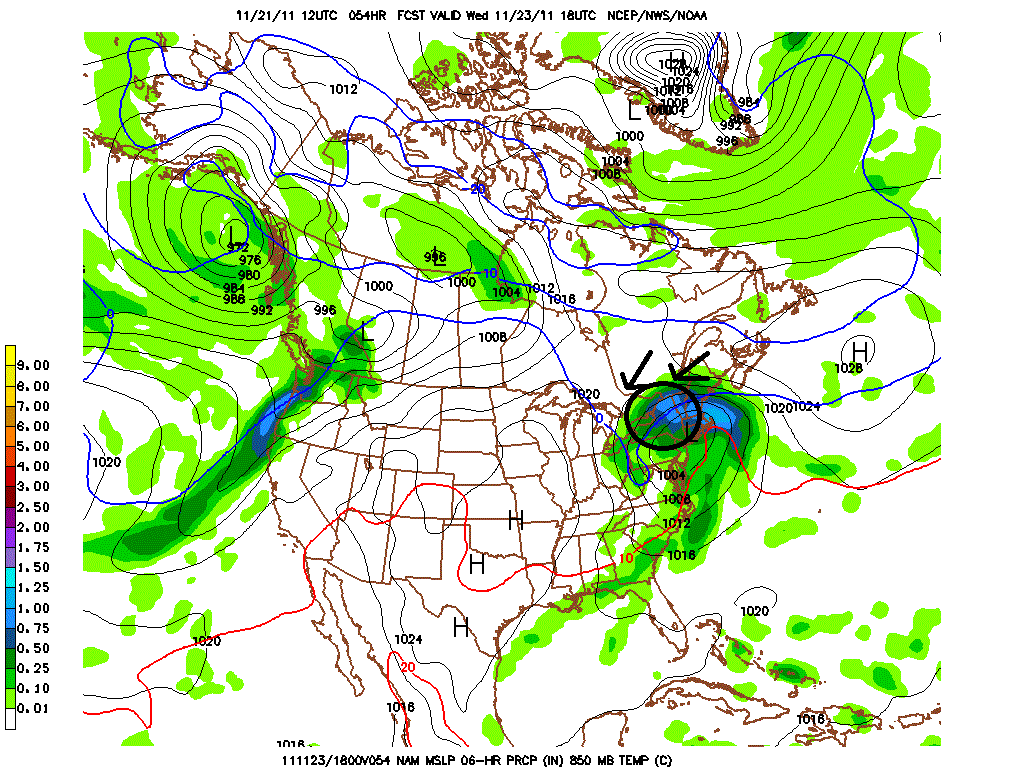 This will allow midlevel cold air to hold strong as the deepening storm will induce greater inflow of cool air from the northeast. This will keep freezing levels across the ADK and Greens at about 2500 feet for the bulk of the event.
I've shown you the nam- and what's important to note- the GFS and the Euro agree. The Euro REALLY agrees. Bulding: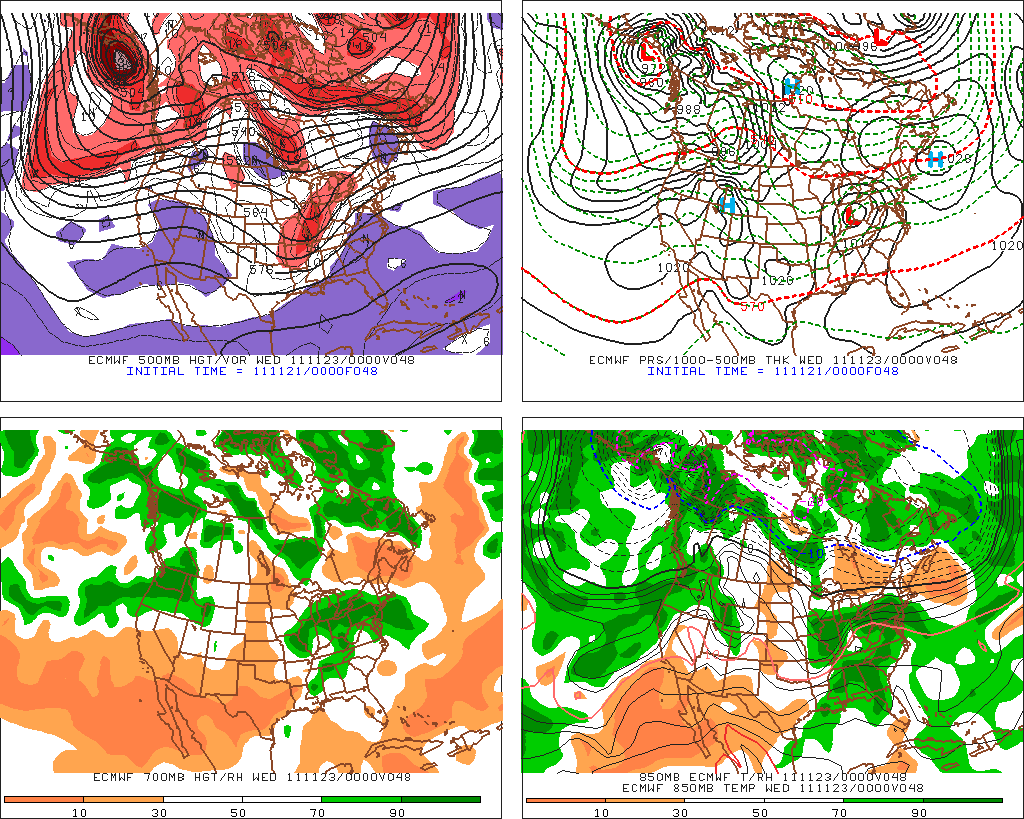 and done built: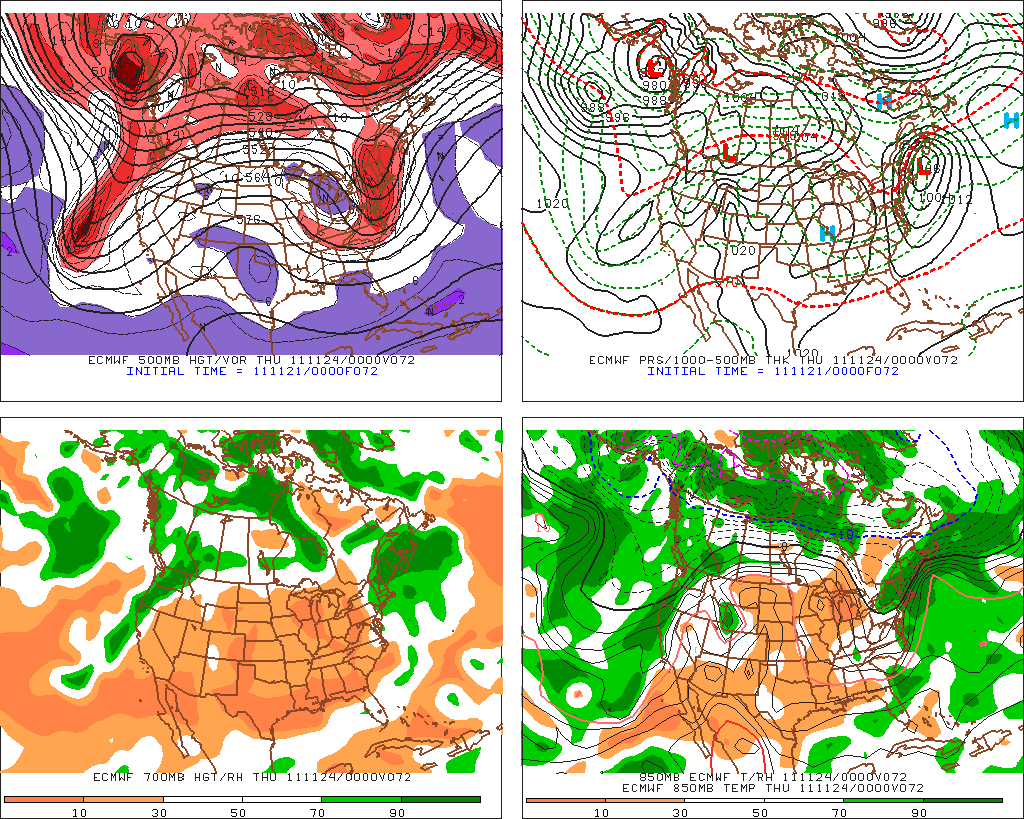 As the storm then wraps up, and swings out towards the NE, the classic backside upslope flow will linger into Wednesday night and thursday AM.
What does this add up to? Well first of all look at the pure water predicted: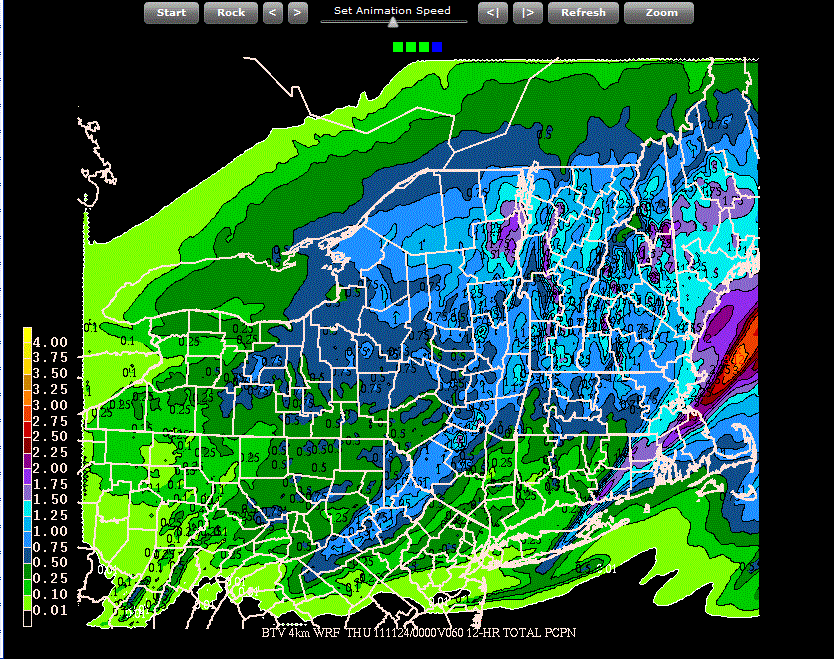 That's a wet storm. And truth be told, with the warm air movement and the resulting isentropic lift along with the storm's track and moisture source I think those 12 hour water totals are reasonable. Wednesday could be a wet and wild day. I know…we don't care about wet- we care about white. So how much? Well there is a reason I called labeled this Winter Storm Charlie. While this will be a heavy, wet snow, I strongly feel that the potential exists for the highest terrain and the northerly terrain to do very well. Above 3000 ft from KMart north to Stowe I think there is the potential for 6-12 inches of heavy snow to fall. In the ADK I think a similar 6-12 is reasonable with the chance for a pocket of more. Jay could be the winner here because of their northerly position and the potential for coldest temps so I'd maybe go 8-16 inches up high at Jay.
A few additional notes. 1) I'm def. concerned about this becoming a sleety mess. Model soundings flirt with the 0c line all the way north to almost 700hpa. So sleet is surely in play (along with of course straight bone chilling rain). 2) A few ensemble solutions take a much more southerly track. I'm leaning NAM here since the NAM really did well with Baker- the Halloween storm. But just be aware that a southerly solution is out there. 3) This doesn't mean deep winter is upon us. This pattern still isn't great.
Tuesday AM Update
Looks like the overnight models have converged on a more southerly solution. Heaviest precip looks to be trough central NY and Central to Southern VT. I circled that in black.

Now there is still ample moisture in the High Peaks (whiteface) and Northern Greens (Bush, MRG, Bolton and Stowe). Circled in yellow. Interestingly because of the temperature profile these areas – despite the differences in quantifiable liquid precip, could come out about equal on the rule test. I'm still comfortable with an overall 6-12 snowfall across the higher terrain. Jay looks less favorable than it did, the whites look a little better and central VT looks a little better. Were this to hold serve as modeled, Kmart's summit along with the spine up to about the Bush would like be your best bet for finding a pocket of anomalous heavy snow.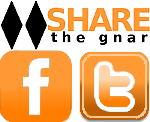 Tags:
East Coast
,
Lionel Hutz Weather
,
lionelhutz
,
lionelhutz ski weather
,
nor'easter
,
Powder Skiing
,
Thanksgiving nor'easter
,
Thanksgiving storm
,
Turkey Day storm
,
Vermont Powder Skiing
,
Vermont Ski Forecast
,
Vermont Upslope Snow
,
VTah
,
Weather
25 Comments
Please consider visiting our sponsors.
Leave a Reply