November 18, 2011 11:03 am | Category:
Weather
About this time every year, or so it seems, the skier in all of us starts to get antsy. We've had a taste, we're tired of hiking and we're ready to ski. Amazingly in a completely unrelated phenomenon my email inbox fills up with some version of the following emails I may have taken a few creative liberties in translation)
Email 1:
From: City Dwelling Dad/Father of 2
To: Lionel Hutz
Re: Conditions on my pre-planned, very pricy holiday vacation to ski resort X.
Lionel, I know it's a ways away but with this warm weather do you think ski resort X will be open? Do you think it will have good powder snow? Which days will have the best conditions? I'm only asking because my wife needs to know which of her 7 pairs of uggs to bring. I mean u know me I'm joe cool, I'm not worried. I can ski anything and if it wasn't for my bad knees, back, prostate problems, and 37 work related phones calls I get that I answer on the chair lift, I'd be right there with you shredding the backcountry bowls (P.s. If it's not far from Hunter can I tag along?). But seriously I'm just asking U cause you're cool and I repeat your weather forecasts at the office to impress my other day traders/financial consultants/partners. Well that and I need to know in the next 48 hours whether it's going to be worth the 4k I spending on the condo, in order to get my deposit back. So yea…man…whatever advice you can give would be appreciated.
– City Dwelling Dad/Father of 2
Email 2:
From: Bro
To: LH
Re: WHAT'S UP DOG…WHERE'S MY SNOW.
Yo HUTZ…what's up dude. We gonna get some snows in des partz? Ja know i'm ready to shred da gnar? me and my boys were up in yo woods and we took down all your lines last year and we gonna do it again. U know it. HOLLA. No for real, my trust fund runs out after this year so it needs to snow good this winter. When's it starting? Oh and how much snow is resort X going to get out the storm everybody is talking about on the GFS at 380 hours.
Email 3:
From: Guy Who Thinks he Knows
To: Lionel Hutz
Re: Thoughts?
I read/heard/saw somewhere that a storm/maybe/possibly/kinda could be heading our way in the next day/two days/five days/month. Is this true? Where and When? I love following you to the goods but I gotta make plans now. I know this weather sucks but it's coming. Any idea when? I have a trip planned to Mt. Snow with DA Boys Dec. 16-17th and we'd love to hit the pow and then the hot tubs. Chances? Stay cool dog.
-Guy who thinks he knows.
So first of all, thanks for reading and I appreciate the support. In paraphrasing above, I'm just messing around and having some fun at your angst. I'm the same way. In truth, it's one of the reasons I got into weather. I got tired of my dad being wrong all the time when I asked him what it would be like on our annual vacation to Lake Placid – so I totally am with all of you. And look, we all get antsy when it's warm in November. But that's not something we should be surprised by. It's not cold in November anymore. I've given up that thought. However, this is when you start to seriously consider when is it going to get there. And this year, we have a crappy synoptic pattern for sustained east coast cold and snow. This however doesn't mean we're stuck in the woods without a paddle.
Here's why.
First of all we're in store for a cool weekend. Looking at forecasted soundings it appears that across the N/E upper elevation snow guns should be able to blaze away almost all weekend long. Following that I think it stays seasonably cool.
I like the presence of a weak disturbance to slide across a frontal zone around Tuesday. It should work through as show below: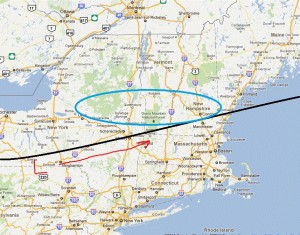 The area circled in blue will have the best chances for some higher elevation snows. Thinking it's possible this pulls a 6-7 out of its hat somewhere along the central green spine. As such I'll call it Winter Weather Event Charlie. It's similar to little wave that spawned Wither Weather Event Able and that was fairly nice to K-Mart. So this could be as well.
Now, after that wave passes, some cool air builds south and this is where things get interesting. Another wave will move through the center of the country and into the mid-Atlantic. It should interact with the cold front Charlie pulled south. This interaction, location and timing has the potential to spawn a decent coastal low. Let me make 1 thing clear. There are similarities in this pattern to the pattern that spawned Major Winter Storm Baker. Not that this will be another 20-30 inch storm. But I do think coastal N/E areas should pay attention late on Wednesday for the potential for snow, heavy across higher elevations.
Once that storm passes, Thursday and Friday should be seasonably cool with good snow making conditions. Friday will see a high build in and start to scour out the cold air from west to east and we start to warm up again over the weekend.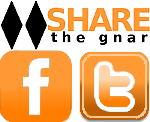 9 Comments
Please consider visiting our sponsors.
Leave a Reply