December 14, 2012 10:20 am | Category:
Weather
Monday AM update. (Again UT update is on page 2)
I'm sick. I'm angry. I had to miss what was prob. a great dawn patrol today. My head feels like it is in f fishbowl. I blame this jerk. Carbonara. My ass. More like spagetti with flu sauce. Accordingly, I'm going to keep this short and terse. (Oh and if you ask me how much Magic is going to get, I might find you, hunt you down and kill you with a whippet.)
A warm front has moved through. It sparked a quick burst of snow early this am. Total snow in the ADK is 2 inches or so and in Nor VT 4-5. NH and ME did better. As I said below, the placement of the warm front meant these areas would stay colder and more favorable to snow. NH is roughly 4-7 and Maine resorts 4-8. Some more is on the way for these areas as well.
The rest of the story plays out in two parts. First we have today. Currently the Northcountry is stuck in the boring warm sector of a storm. Were going to see some warming temps and lighter mistier type precip throughout the day. Temps in the mountains should hover around freezing with pockets staying below freezing. Light sleet or snow will be the most likely preip type through today.
Then tonight through tomorrow a second low pressure will develop. I talked about this below as well. Right now it looks to develop and track inside the coast. This will mean we'll see some warmer temps and a little more mixed precip. It will track over the north country on tuesday and then deepen to our east tues night-wed am pulling colder air back into the system. So Wednesday looks to be the best day for snow out of this system. The totals for that period will prob. be in the 3-6 range as well.
Adding one last thing. I think the high whites might make out VERY well. Per thermal profiles I think areas above 4000 feet will get a solid dump of thick, heavy mixed precip. The summit of MTW could see something like 8-14 inches of thick mixed precip….which might be the high total for the event.
END MONDAY AM UPDATE
UPDATE….for Utah Content go to page 2
For the Northeast, model runs are looking less favorable to zee pows. Current model runs have continued the trend in the last 24 hours which is to introduce more warm air into the system. We'll still see snows breaking out at first as the warm front passes tomorrow. But with more warm air intruding we'll see greater chances for sleet, freezing rain and plain old rain sunday thru monday. There is still the chance a secondary coastal low develops but that is looking warmer as well.
I caution though that this whole event is very "nowcast-y." There are number of interesting variables that seem to be coming into play. I personally think any forecast that doesn't admit the low confidence is foolish. This storm is messy. I feel like I'm on solid ground with a forecast for light snows changing to sleet, freezing rain and rain for the ADK and VT, the same story with more frozen stuff in NH and maybe all frozen stuff in Maine…at least through monday am. Beyond that there isn't much to say. I wish I could say more but there isn't the data there to support any more concrete conclusions.
End Update
Beginning Sunday and extending thru Thursday of next week there are two possible winter weather events for the Northeast.
I'll begin with the event Sunday (how reasonable of me).
Currently a 500mb trough has moved into the desert southwest. The associated surface low is over New Mexico (where it is no doubt getting some blue):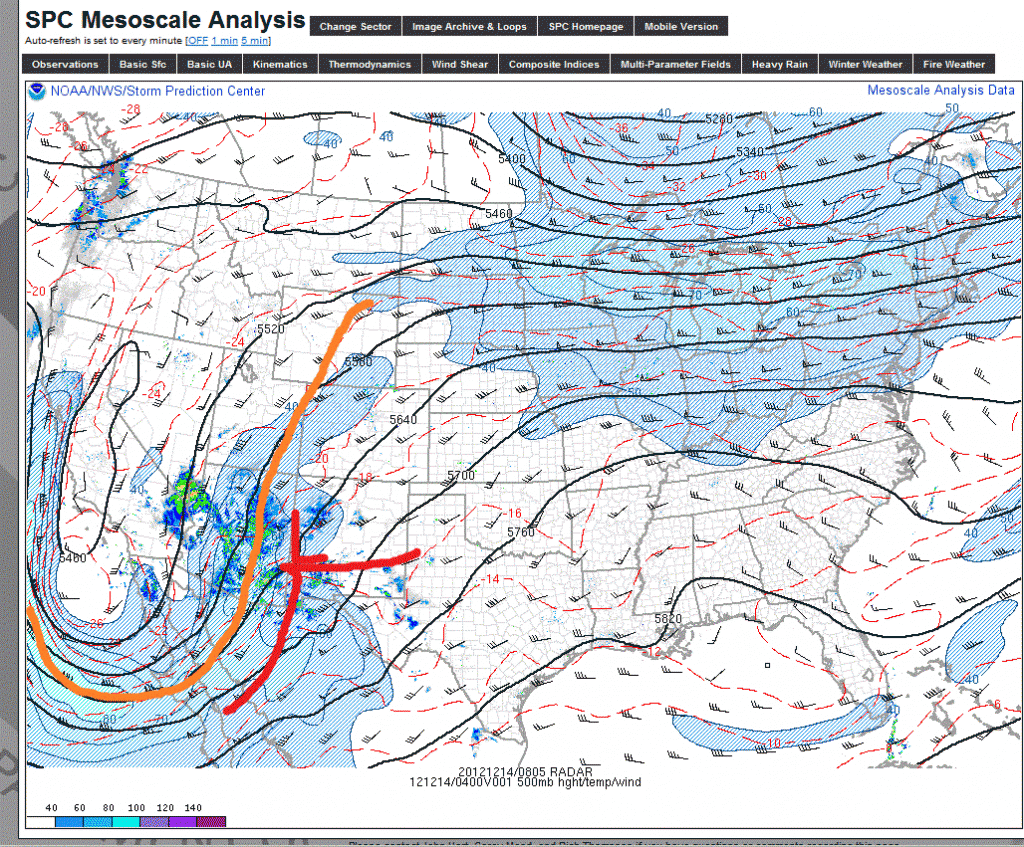 All major models agree that this surface low will track east, northeast bringing a chance for some snowy, messy weather in the northeast. The GFS and EURO models are very consistent with the general track of the system. As you can see in the animations below the surface low will track east and then turn towards the north. (The low is circled in red). The pink/green line represents the southern boundary of a departing high pressure system to our north. It plays a key role in this forecast which is discussed below.
The GFS: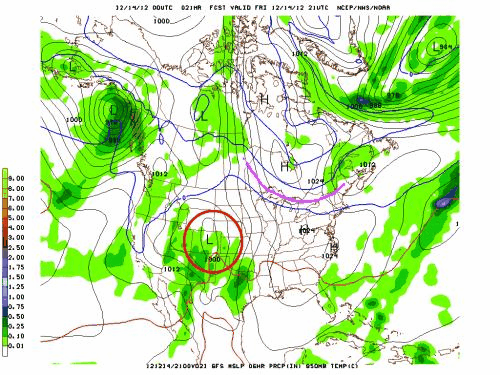 The EURO: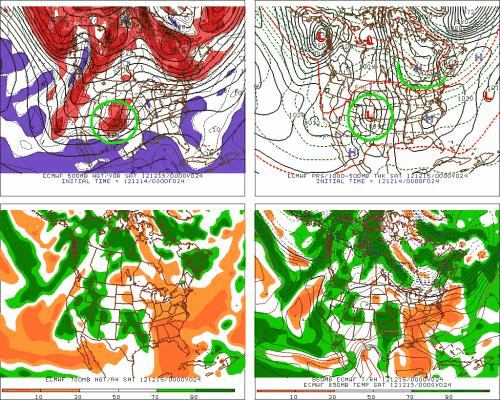 Now, back to that departing high pressure. Previous model runs had held that high pressure solid to our north. The presence of that high would have shunted the low more east than north. The low would have taken a track more towards southern NY state as diagrammed below.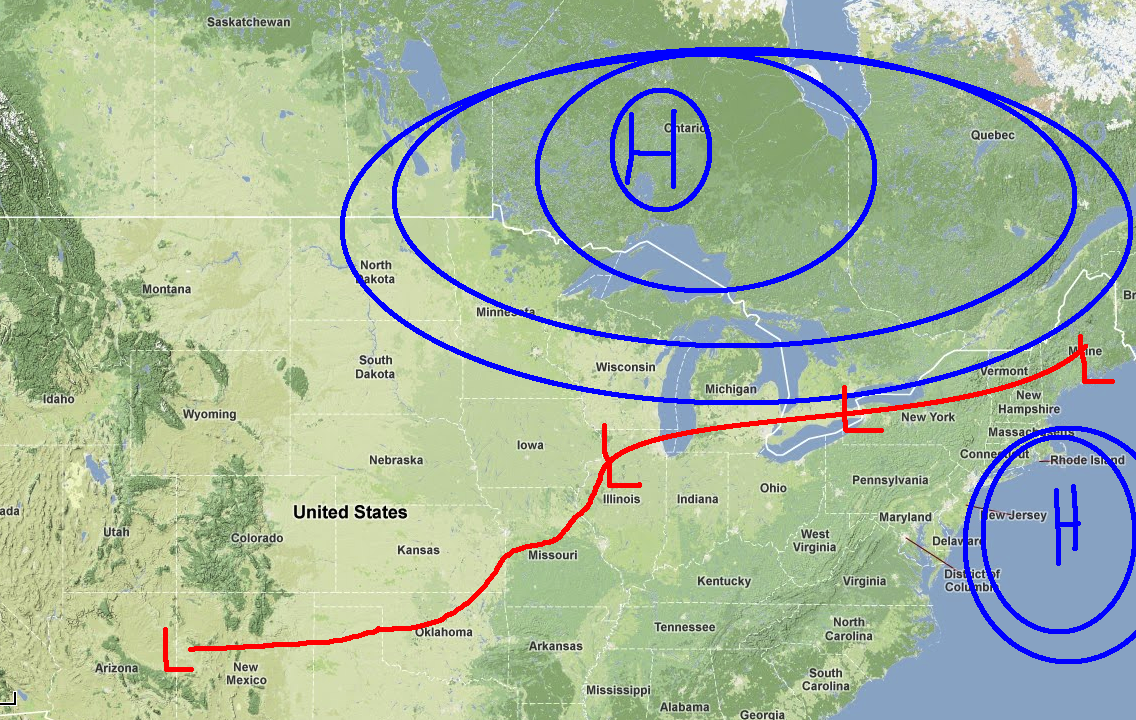 This would have been more exciting. Now, as we look at the animations we see that this high actually departs to the northeast, allowing the primary low to turn into the great lakes region, placing the N/E in the warmer sector of the storm.
The result is that we'll see more isentropic snows as warm air flows north in association with the parent low's warm front. Such isentropic snows can be actually pretty robust but that doesn't look to to be the case right now. As of now it looks like we're going to see overall qpf totals in the .5 of an inch range across much of the north country (That's #ADK, #NorVT).
You'll note that I haven't given snow totals yet. There is a reason for that. Complicating this forecast is the possible development of a second weak surface low pressure towards our southeast (along the coast). If you look closely at the images below, and the animations you'll see the birth of a small weak low along the coast.
GFS: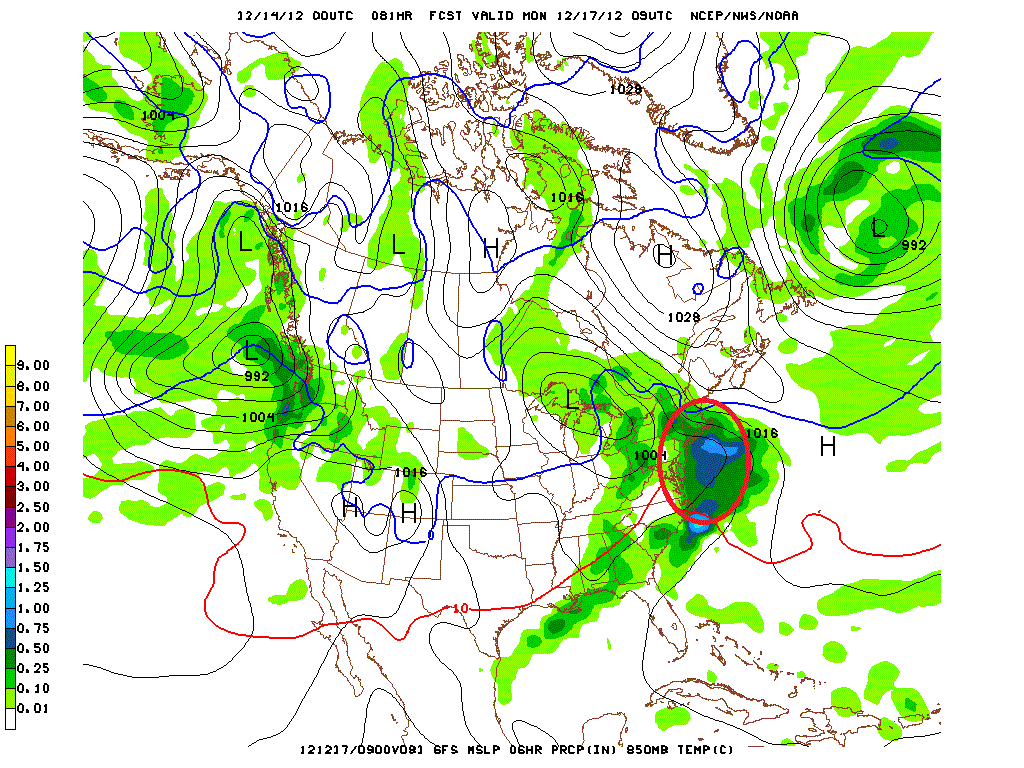 and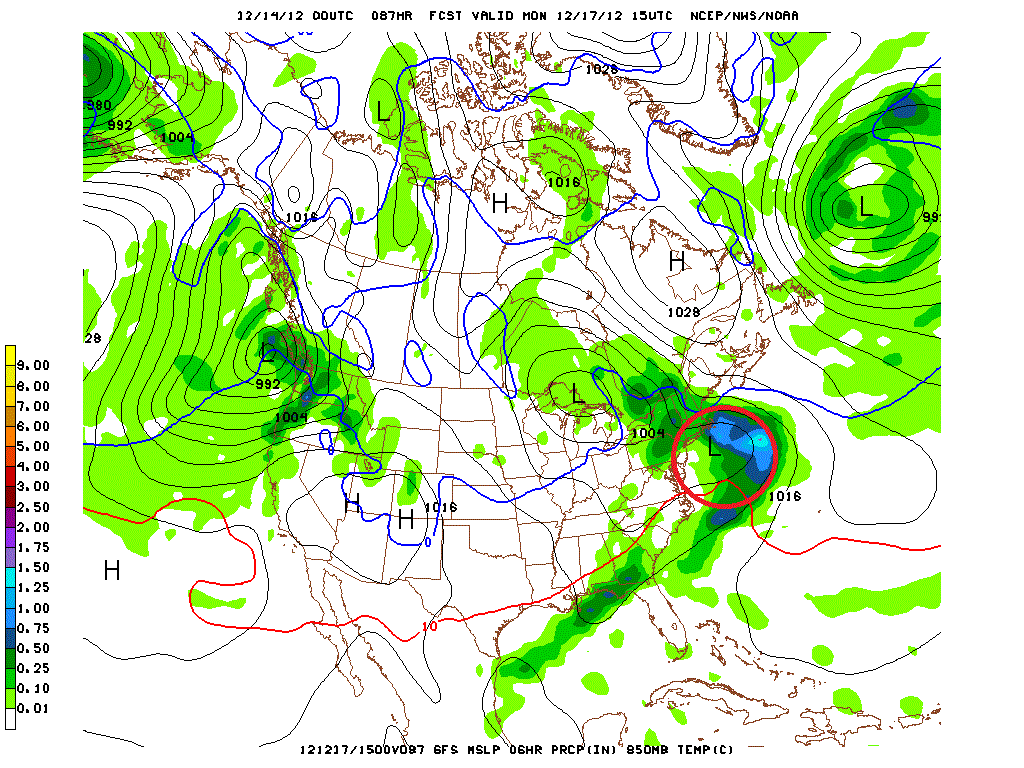 The NAM model also shows this system. However unlike the GFS the NAM allows this coastal low to enhance cold air advection from the north. As a result, the column of air over Nor. VT and NH remains more conducive to mostly all snow. If the GFS solution is accurate there will be more sleet/FRZ drizzle and possibly rain mixed in throughout the region.
Blending all of this together is tricky. Forecasters all over right now are struggling with exactly how to resolve these somewhat competing solutions. My take? I think 2-6 inches of snow will result from this system when all is said and done through the #ADK and #VT. I think snow will break out Sunday as the warm front moves in and amplify overnight. Sleet and freezing rain will mix in with some plain rain as well as we go into the day Monday. NH looks to do slightly better and stave off some of the warm air intrusion into its air column. I'd expect some of the higher terrain there to end up with 4-7 inches of snow/mixed precip. Maine may be the ultimate winner here as it looks to remain cold enough there for this to be an all snow event. Maine's issue however will be moisture. If the coastal low develops a little too far east it will cut off the precip to northwestern Maine (or wherever Saddleback and Sunday River are).
As the higher resolution models come into range later today, and tomorrow I'll update this. So make sure to check back with me here.
We're not done. There is more. This post is called double trouble for a reason.
As the period goes forward, a cold front will push to the coast sometime on Tuesday. At about the same time a 500mb shortwave will pass over the front and likely spark surface cyclogenesis. From there there is significant model confusion over the solutions.
The GFS creates a pretty strong coastal low: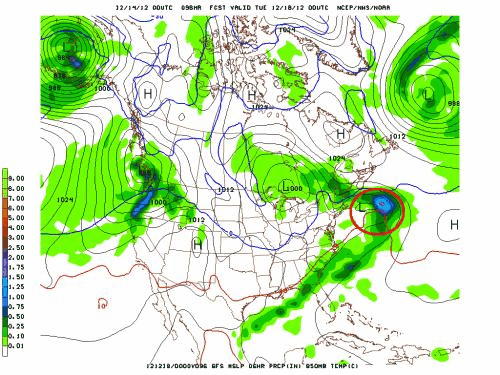 The Euro HAD a similar solution but has started to lose it. The model seems to focus on amplifying a secondary wave more closely associated with the parent low discussed above. It then tracks that low to the coast.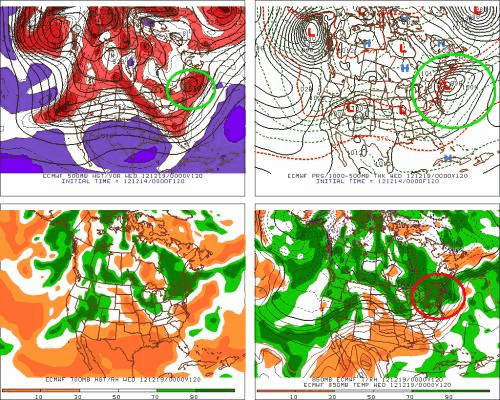 It then tracks that developed low more inland, bringing larger chances for snow to the interior N/E. Of course it could also slide out to sea which has been the preferred solution so far this year.
Well that's it for now. I think that's enough. Most of you aren't going a) read all of this or b) get this far. For those that do, I'll reward you with this. if you didn't make it that far, it's all good. GGR. Have fun and I'll see you out there!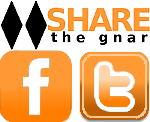 Tags:
Early Season skiing
,
East Coast
,
Lionel Hutz Weather
,
lionelhutz
,
lionelhutz ski weather
,
ski forecast
,
Ski Weather
,
Stowe Mountain Resort
,
Vermont
,
Vermont Ski Weather
,
Vermont Upslope Snow
,
Weather
14 Comments
Please consider visiting our sponsors.
Leave a Reply