October 28, 2011 5:45 am | Category:
Weather
Going to make this short, clear and to the damn point. Last week in my write up I alluded to the potential for large coastal development. The European model hit this solution and stuck with for a few days, but finally pushed the storm out to sea. Hope was lost. It shouldn't have been. As last night, Mr. Coastal Came back. Since our little buddy here as the potential to produce as much as a foot of snow, he's earning the Major Winter Storm prefix.
Lets get to it. Both the GFS and the NAM have clearly defined solutions in agreement. BOth show a shortwave interacting with a frontal boundary and spinning up a surface low somewhere in the DelMarVa/NC/VA region. The low then tracks along the coast bringing large precip amounts. to the N/E. As Saturday turns into sunday it could get pretty snowy as 850 temps would support frozen precip almost all the way to I95. Water totals are BIG. As the storm tracks n/e it would spread significant moisture through the Poconos, southern tier of NY, Mass and NH. Snow totals across the higher elevations could be in the 8-14 range fairly easily with possibly a touch more in NH and Maine.
So wait – you might be asking why and I talking about this. There isn't any skiing down there. (With the exception of some fun little trails in the Poconos). Well here is why. Because Able tracked further to the NW. Baker's now being modeled to track further to the NW than it was a week ago. As such the smart half of my brain ( I think I have smart half and dumb half) is telling me: baker will move N/W with time as well, or at least that I should seriously consider the possibility that Baker will move NW with time. Were this to happen I'd again put Southern VT in the kill zone.
Ok. That's that for now. I'll get some MS paint snow maps up later today.
UPDATE UPDATE
And we have a N/W trend.
Looking at the 500mb Vort Max maps this morning when I wrote the above I notice the surface low and wasn't tracking in accordance with the standard rules given the shape of the h500 trough. Normally surface lows track under the area of maximum upper level divergence. This, in a sharply negatively tilted trough, means a track towards the N/W and occlusion. In the storm here, I said the models haven't caught up with the placement of the surface low but are showing us with the trough where they think the low will go. SO what does this mean.
Well first it means don't close the book on this storm yet. Second it means if you live along the Green spine…be prepared for snow in amounts greater than currently forecasted. Well Lionel…how much? So to answer that question I asked the snow bunny. He was surprised I asked for his guidance so soon again. And frankly he seemed a little mad. I guess that what happens when you are 3lb rodent and I ate all your carrots.
Regardless, I remember I can do this snowfall thing too. He is my best guess currently: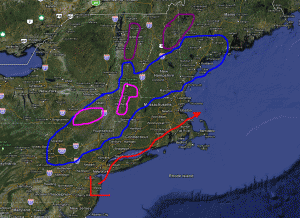 The area bounded by blue will see snow. 4-8 inches across the wide area with pockets of 10-12 across the highest terrain possible. Areas in Pink should see a very heavy snowfall. 8-16 inches is very reasonable. The Magenta covers areas that right now are getting 0-3 inches but where I feel there is the chance if the N/W trend continues to see upward of 3-6 inches of snow. As for timing snow will break out in the catskills first midday saturday and then begin to work n/e throughout the day with peak intensity across Mass and So. Vt late saturday.
I'm serious when I say this is a situation in flux. There is a clear trend to the N/W on computer guidance…and that makes sense. Hence I reserve the right to adjust accordingly.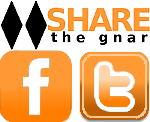 5 Comments
Please consider visiting our sponsors.
Leave a Reply