Gear Reviews
on
F.I.S.
are from the heart. We go through a lot of gear here, and figure some of you might like to know how it holds up. Look for reviews on items both directly and indirectly related to skiing and mountain adventure. Use our reviews to find out what works, what doesn't, and what you didn't even know you
need
. Got an idea for a review?
Contact us
!
Well, I think my ski season is over. With mucho inches still high in Utah, it's hard to say conclusively, but given that I have other pressing things to do, it's pretty likely I'm not strapping on a pair of skis until at least October. (You know…because that's when the best schuss starts).
With that said then, I think it's time for the first annual Lionel Hutz Year in Gear. Look, I'm no gear junkie but, I get a few things every year and I figure it's a good idea to share them you. So here we go…
1) Dakine Tactic:.
Available at our partner Bc.com here.
What it is: A pack. Shocking I know. The Dakine Tactic is described as follows :
Tipping the scales at a meager 40oz, the DAKINE Tactic Backpack weighs just as much as the liquid courage you have stashed inside this low-profile backcountry pack. With two methods of lugging your boards and a dialed back-access entry, you'll reach the goods and be able to grab a snack without emptying your bag. Take a quick nip … errr sip from the tube inside the insulated hydro sleeve and thank DAKINE for making room inside the Tactic for your water and an extra layer alongside your safety gear.
Now I think I agree with much of this. The pack is light, but honestly I don't care how much a pack weighs if it can't carry anything. This is where the Dakine pack excels. Listed at roughly 1800cu-in, the pack hauls your crap. You can fit all you need for a long day tour in this pack. It has easily fit my skins, insulating layer, extra baselayer, lunch, nalgene, shovel and probe, while A-Frame carrying my skis and dangling my helmet off the back. Just look at how much room it has in the main compartment (Note the Johnnie Walker Blue simulates ….well…heck…if you aren't bringing JW Blue on your BC tours you are missing out.)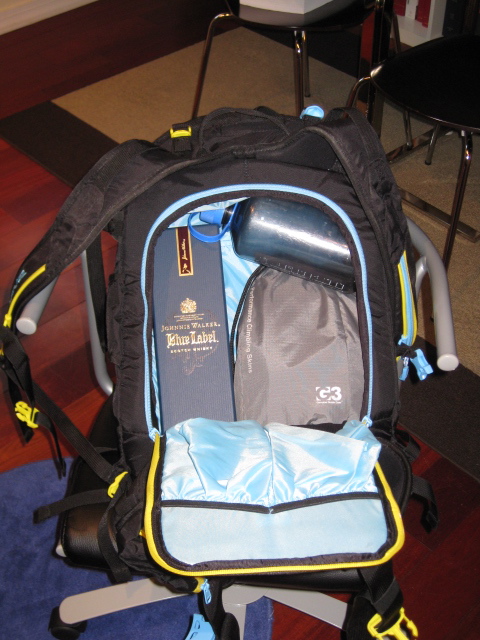 The sole issue I have with this pack is that it's too short to really put a shovel in. On the BC.com and Dakine site they show a broken down shovel easily fitting in the pack. While a broken down shovel does fit, because of the geometry of shovels, the pack and your back, doing this sorta wrecks your ability to fit more stuff comfortably in the pack. I've found it best to place the shovel, with the handle compacted but attached, in the smaller pocket and let the last few inches of the handle stick out.
Like so: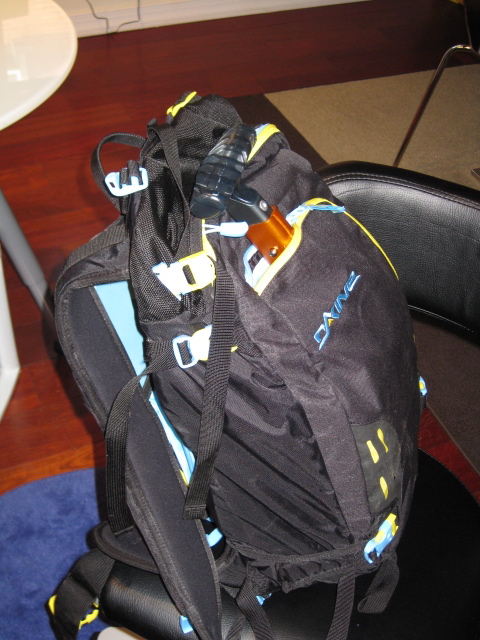 By doing this, you preserve a lot of room in your pack and still can carry the shovel securely. In a whole year of doing this, the shovel has not snagged on anything my face didn't snag on first. Nor has it come out in one of my many faceplant/snow explosion falls.
Overall I'd wholeheartedly recommend this pack as a day touring pack. Unless you are carrying a bunch of camera gear or ice tools, this could easily be your day to day go to pack.
One last note….It's steezy. I have the "microlink" color and let me tell you- it's sharp. I mean look at it…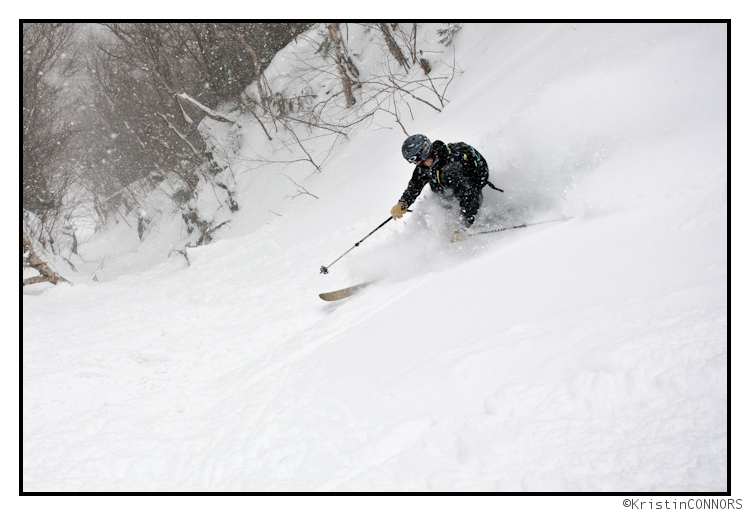 and the yellow accents look nice in the sun: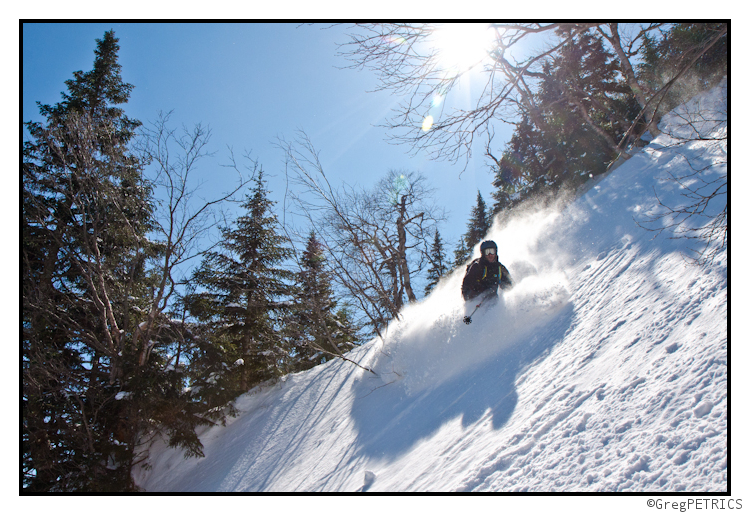 And if you don't believe me, ask Dani the cute liftie at Snowbird who has commented on it twice. (Once of course was while I was decked out in this fine number:
so……)
2) Leki BackCountry Ultralight Speedlock Pole:
Available at Bc.com here
Leki describes this pole: "Cross a steep traverse outside the gates and you'll be thankful to have the Leki Backcountry Ultralite Speedlock Ski Pole in hand. A long rubberized handle gives you plenty of space to move your grip down the pole or hold the shaft horizontally to stabilize yourself during a steep ascent. Leki gave this lightweight but tough aluminum shaft a quick-adjustment system for uphill, downhill, and storage. It has a securely locking lever on the mid-shaft adjusts this lightweight pole from 37-55in (94-140cm). The Twister basket dynamically tilts up to 45-degree from horizontal to match the angle of the slope and to help you gain maximum traction and push and cross slippery slopes with ease thanks to the long Carbide flextip that bites into ice and deep crust. "
Ummmm really? If I were to attribute anything to these poles it's not a securely locking lever or a twister basket (whatever that is) that gives you maximum traction. My experience with these poles has consisted mainly of realizing that A) the pole is shorter than it was three steps ago and B) getting little traction in deep, steep slopes from the "twisting basket". Honestly, I'm not sure what Leki has done with their flip lock system but it repeatedly failed to remain locked. I'm not a big guy so I doubt the force I was applying to the pole as I drove uphill was substantial enough to overcome the locking mechanism. On my standard Black Diamond Traverse Poles I rarely ever had a problem with the pole shortening on me. With the Leki poles just the opposite was true. Rarely did I have a run or climb where the pole didn't shorten up on me. Sure it's not the biggest deal in the world but it's VERY annoying to stop and adjust your pole in the freezing cold wind. Also- the flip lock on these pole is just too small to open easliy with mittens on. (Yes- I wear mittens. I'm an 11 year old like that.)
The pole also comes with a fancy-dancy handle that reminds me of a gun handle. This is fun for fantasying you're James Bond and the pole is a special one Q gave you with a machine gun/gas sprayer/death ray stored inside. However, its not really functional for when you wanna push with your palm on the top of the pole. The tops are just too small and drive into your palms after a few steps. The flatter, wider tops of the BD poles are much nicer on your hands. (Remember, I'm a girl like that).
Interestingly though the poles do SKI really nicely.
See: (Photo by SheRa posted here)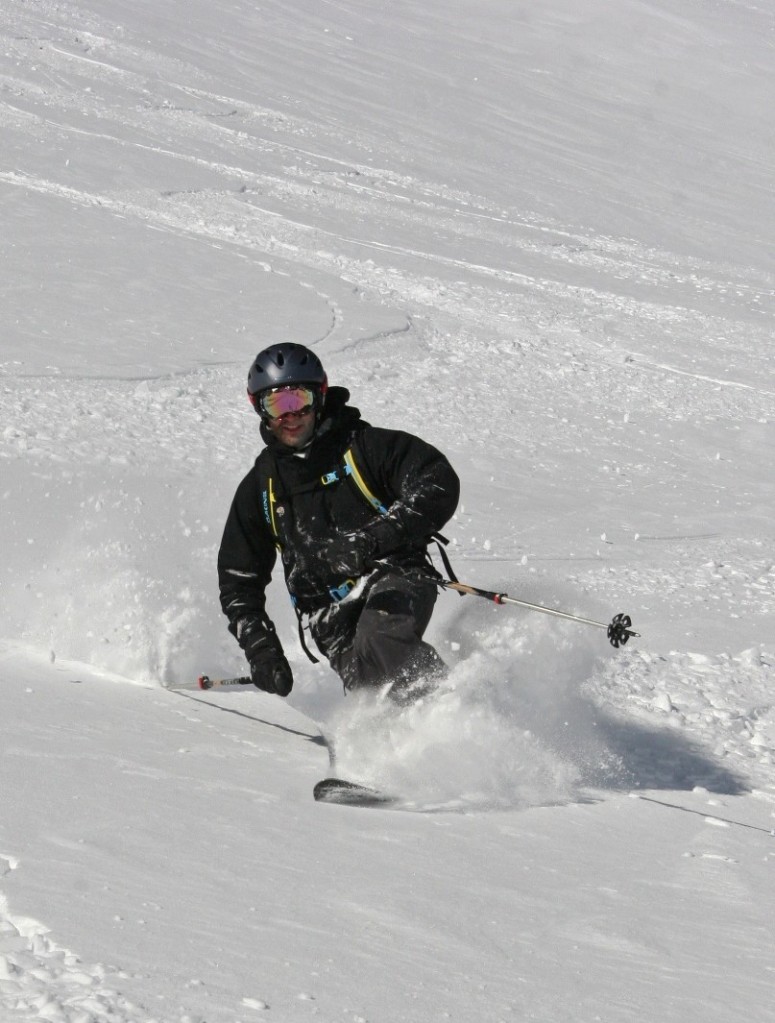 I'm not sure why but they are nicer to ski with than the BD traverse poles. Perhaps it is the gun handle shape, but the pole feels really nice in your hand when you ski. For a tele-skier like myself who gets rhythm from their pole plants or rather really focuses on the pole plant and reach, the handle on the leki makes it really comfortable to sorta flick your pole out there ahead of your next turn.
Overall, though, for being priced quite a bit higher than the BD traverse pole, I'm not sure there is value in the Leki pole. If they were to fix the locking mechanism I'd say the pole is certainly comparable to the best adjustable poles on the market. Until that happens however, save your $$ and get a cheaper pole and a sixer of beer.
3) Black Diamond Gigawatt model skis (2011-2012).
Before I say anything more here let me ask you a simple question: Do you like skiing powder? Yes? Then GET THESE SKIS.
Techy Background:
So apparently, BD decided that its uber popular Megawatt needed a fatter brother. So they dialed up the Gigawatt. This is fattest ski BD has made. However when mounted with 01 bindings the skis were still light enough to carry with ease on a boot-pack, or execute the Alta sidestep without blowing out my hips. BD really focused on this and developed a complex core geometry that seeks to decrease weight in key areas, while efficiently maintaining stiffness and torsional rigidity. Plus it has a wood core so it feels nice to ski …and who doesn't like to play with stiff wood.
Most importantly however, the Gigawatt is BD's first full reverse camber ski. The Megawatt, has a rocker tip and rocker tail with a traditional (albeit small) camber underfoot. That gives the Megawatt a longer useable edge to manage hard snow. It also makes it a little less turny in the deep stuff. The reverse camber on the other hand has an extremely small useable edge and basically spins on a dime. Good for tighter turns in the deep, bad for schussing the piste. Black Diamond makes them in two sizes. 185cm (163-135-141) and 195cm (163-135-141).
My Experience:
In April, before he was banished to Asia for a month because he kept putting Bourbon in the coffee at Black Diamond, my man Dwyer hooked me up with a demo set of 185cm Gigawatts. They were mounted with BD 01 bindings and the mid-stiff springs. Ullr, thinking I needed a good test platform for these powder boards hooked me up with a 40 inch storm with some mixed density layers. And Solitude hooked us up by dropping their access gates…or at least looking the other way.
I'll be the first to admit I was a bit skeptical of these boys when I first put them on. "Damn they are big" was my first thought.
Of course that quickly faded when I made my first turn into at least 24-30 inches of consolidated powder and began laughing uncontrollably. As a tele skier, mixed density powder is fun but usually results in quite a few face plants, tumbles and such. Why? Because it's hard to keep the weight balanced on the back ski, in deep snow that's not blower, and STILL not catch the tip of the back ski or some edge of it. You really have to focus and bounce up and around into the next turn. Doable- but hard. Well with the Gigawatts, that whole concern was eliminated. You could just ski the powder like you were droppin' knees on a groomer. The picture below is a good example. Where this was taken the snow had sorta a mixed layer in it that would have been a real p.i.t.a to tele through. Not with the Gigawatts (You've heard of Blackbeard? Well this is Powbeard the Pirate):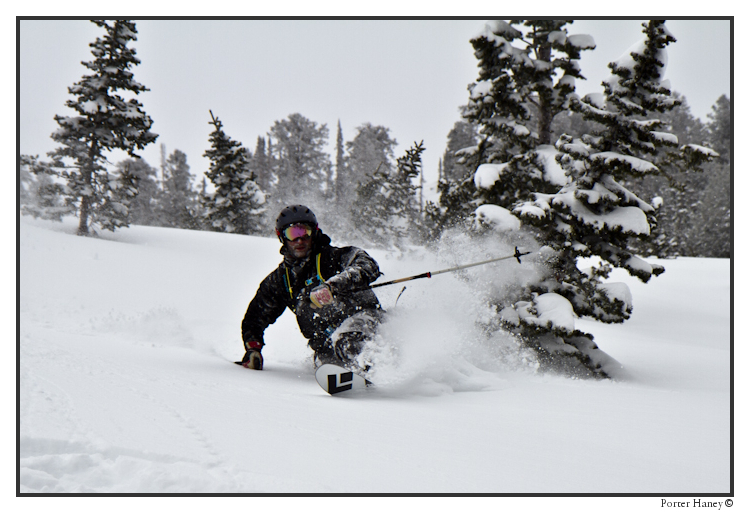 The rocker/reverse camber just launched your back ski up every time you wanted to initiate the next turn. It was just so easy it felt like cheating. You could do stuff like this:


and just pop right back to the top for the next turn. And this wasn't Vtah blower either.
All in all, I've never smiled so much or come away from runs laughing as I did skiing these skis. Without being too simplistic, these skis make skiing deep powder almost too easy and just inspire absurdly silly, fun skiing. Wanna straightline that meadow and then drop a knee a Mach 4 to see how much snow you can bury into? The Gigawatts say "Cool…lets go." Wanna slay some trees and then jump off a few pillow lines? "Rock on" says the Gigawatts.
And best of all…they match that steezy Dakine pack so you can get boss-ass photos like this: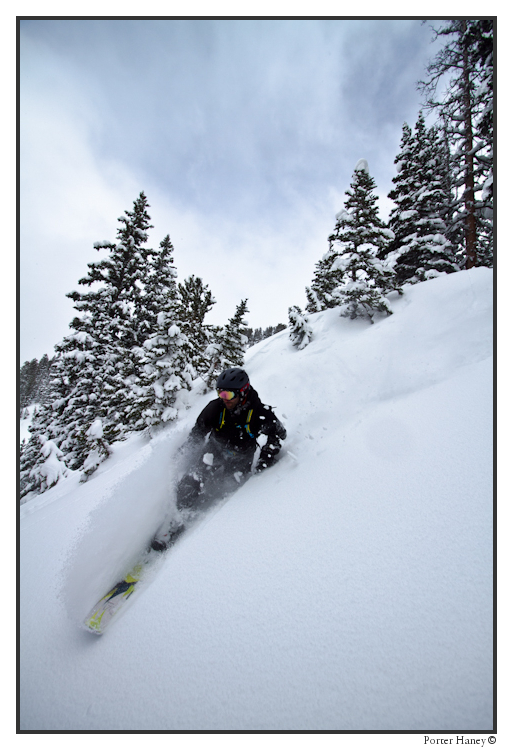 So yea…if you ski powder and want to have fun get these skis. Are they pretty crappy on groomers? You bet. With tele bindings, the Gigawatts are an adventure on rutted, packed out or bumpy groomers. But so what? You aren't buying them to ski that. Your buying them for when it's DEEP and you wanna have fun.
4) Black Diamond Amperage model Skis.
Lastly, at JortSki I got to ski a pair of BD Amperage "AMP" model skis.
The AMPs are available in a 185, 175, and 165cm lengths. I had the 185s mounted with 01 bindings. They are 115 at the waist, and come with a rockered tip and tail. They feature a reverse sidecut at the tips and tails, along with a traditional sidecut/camber underfoot. This makes them essentially a jack-of-all-trades ski that can make variable radius turns rather easily. WIth lightweight construction for all their beefiness the AMP really could be a quiver of 1 ski. In my review it sorta reminds me of the Rossi S7 in shape but its def. stronger and more powerful. It also comes in a Ladies version called the "element." According to inside sources at BD, the best part about the AMP is that if you ski them, you'll get laid more frequently because of the secret bull pheromone secretion packets placed in the midsole of the ski. (See…this is why you come here for gear reviews. Think that nugget is in Ski.com/review_of_boring_expensive_gear_that_comes_mounted_with_bindings_for_your_trip_to_Aspen ?)
My Take:
I wish I had better conditions to test the AMPS, and possibly wish I had drank less when I skied them. Look it was JortSki, we might have had a few adult beverages so I might not have been on my game 100%. Regardless I think the ski really enjoys mixed conditions. Anything from a foot of powder, to consistent cream cheese would be cake to the AMPS. Where they didn't excel was on hard-packed snow or sticky spring snow (though that could be 'cause they needed a wax…prob. the only thing at JortSki that did …ZING!). When I did get them onto some good spring snow they skied really nicely.
For example, we rooted around and hit Main Chute early in the morning and the AMPs just chewed up the soft, consistent spring snow. See: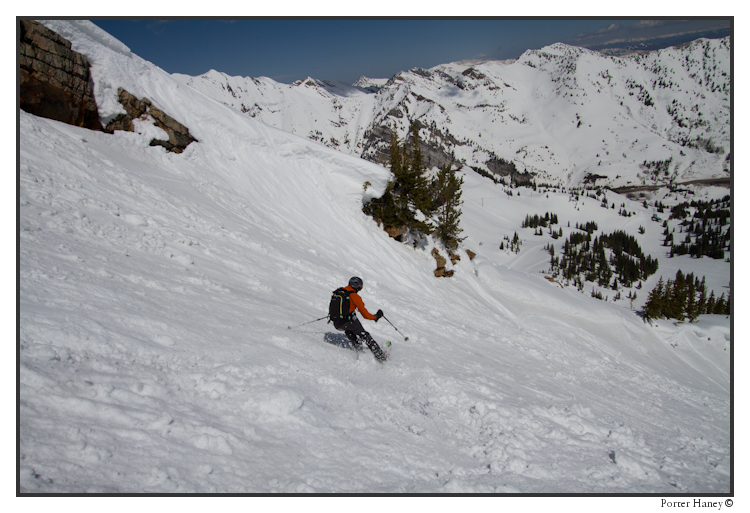 Very fun ski in those conditions. However, once we got on the refrozen run outs they acted like a disobedient puppy- tugging and fighting me the whole way. Again, I think a good spring wax would have helped a great deal, but all in all they aren't a hardpack ski. They are a mixed conditions ski for off-piste skiing. Personally, I'd love to take these up and tour around Flagstaff/Toledo bowl an a morning with maybe 8-10 fresh and strong sun. They'd really hammer the mixed densities that would result.
Now, Dwyer has skied this in just these conditions…and it looks fun: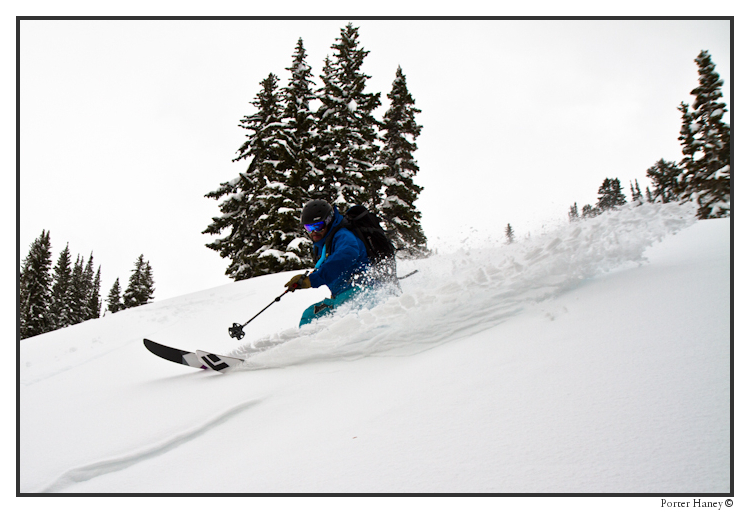 So that's that….that's my year in relevant gear (unless anybody wants to know about my new running socks). If you got questions, fire away!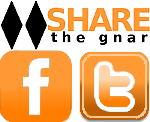 Tags:
black diamond gigawatt
,
black diamond gigawatt 2011
,
black diamond gigawatt review
,
black diamond ski review
,
Dakine Tactic
,
Dakine tactic review
,
Gear review
,
lionelhutz
2 Comments
Please consider visiting our sponsors.
Leave a Reply