January 2, 2013 5:18 pm | Category:
Weather
What a stretch it has been! 2012 has certainly closed with a bang in the Northeast….err…rather a "POW!" Since it rained on 12/19 it hasn't stopped snowing! High five.
As we roll into 2013 it looks like that snowy pattern will continue.
The overall pattern across the country is pretty clear right now: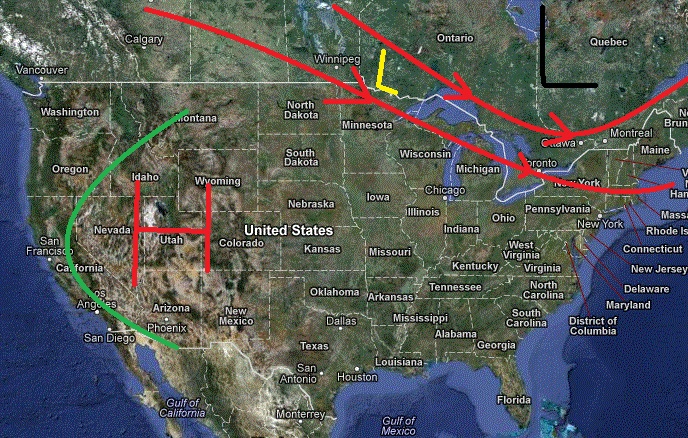 Large scale high pressure out west (red H) is driving energy up into Canada. (green line is flow around high) To our north a quasi stationary vortex has set up over N/E Canada. That's pumping cold air from the north into our region. Combined these two features create a flow that directs energy from central canada right through our region. (Marked as red lines with arrows, representative L is in yellow)
Given the source region (Canada) for these lows, and the limited interaction with southern moisture the waves tend to be rather weak and moisture starved.
They do however tend to be pretty cold. With the base we have down, that's perfect.
The first of these events will unfold thursday into friday morning. All the major models agree that a weak low will move over the Great Lakes during the day on thursday, pick up some moisture, and roll into the ADK and VT Thursday night. Here is an annotated NAM view to give you an idea of the path. (See how it follows the above pattern pretty much spot on?)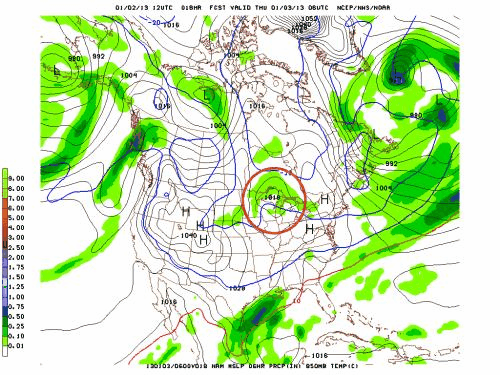 Snow should break out around midnight and run through late morning Friday. With temps in the teens this wave should produce 2-6 inches of fluffy cold snow across the ADK, and Greens. It will have less of an impact downstream from the greens (in NH and Maine). One, the storm moisture will be squeeze out by then, and two because the low looks to track north of NH and Maine, limiting the best dynamics there.
The next event will be a cold front dropping in from the north later in the day Friday into Saturday. Just to our north, a low pressure system will develop (and some VERY cold air) will rotate around in a broad cyclonic flow. The cold front associated with this low will drop into our region. As it does it will spark snow showers across the Mtns. Again we're talking limited strength and moisture but there are certainly enough dynamics to support 2-4 more inches of snow. Again, this may impact NY and VT more than NH and Maine. As of Thursday AM, the best snow looks to fall from around Sutton down south thru Jay and those mtns 'round there.
Lastly, it seems some warm air advection snows could develop on sunday. As a cold high pressure departs our region and another high builds in to our west, the flow of air will turn southwesterly. That will bring some warmer, moisture air into the forecast area. The warm air will rise over the cold air and cool, losing it's moisture as snow in the process. This looks to be the lightest of all the events. I'd say a trace to 2 inches are possible from this event. Though these WAA snows can be sneaky.
Entering next week I think we see the pattern relax, though only after another cold front crosses the region (1-3″) on tuesday. Major models all show a ridge of high pressure developing across the N/E mid-next week. This will bring temps above normal for a few days in advance of a potentially strong storm for that weekend.
The flip side to this active pattern out east, is clear, high pressure out west. Nothing complicated here. Big dome of high pressure is going to move into the intermountain west. Inversions will become pretty narsty by next week. So climb out of the cold, smoggy, valleys and enjoy some brilliant January sun. By day 10, it will break and we'll get back to the pows.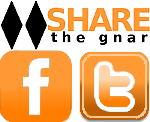 Tags:
Lionel Hutz Weather
,
lionelhutz
,
lionelhutz ski weather
,
little waves of joy
,
Vermont Ski Weather
,
Weather
3 Comments
Please consider visiting our sponsors.
Leave a Reply