Greg and I are pretty stoked with our accomplishments as of late. After picking up climbing a few years ago as a summertime recreational endeavor that is perhaps the perfect antithesis of our other ballistic sports, we've gone on to achieve the following:
We barely know how to climb (this is an accomplishment BTW, since not long ago we didn't know how to climb).
We've had almost zero beta on anything we've ever climbed aside from some hastily drawn and/or purposefully vague and/or out-dated topos we've stumbled across here and there on the Internet and in a few GREAT books.
We've survived.
We have somehow managed to put up a 2 pitch moderate sport route in Smuggler's Notch this summer. It's called Steep Jugs! (5.9) and you should go climb it.
Here's a timeline of the route's history:
8/25
Day 1; the first bolt hole.

9/7
After a couple weeks of small weather windows, pitch 1 is (mostly) bolted and ready for a send! Climb time, FA of pitch 1.
"I'm not so sure I'm ready for this, man."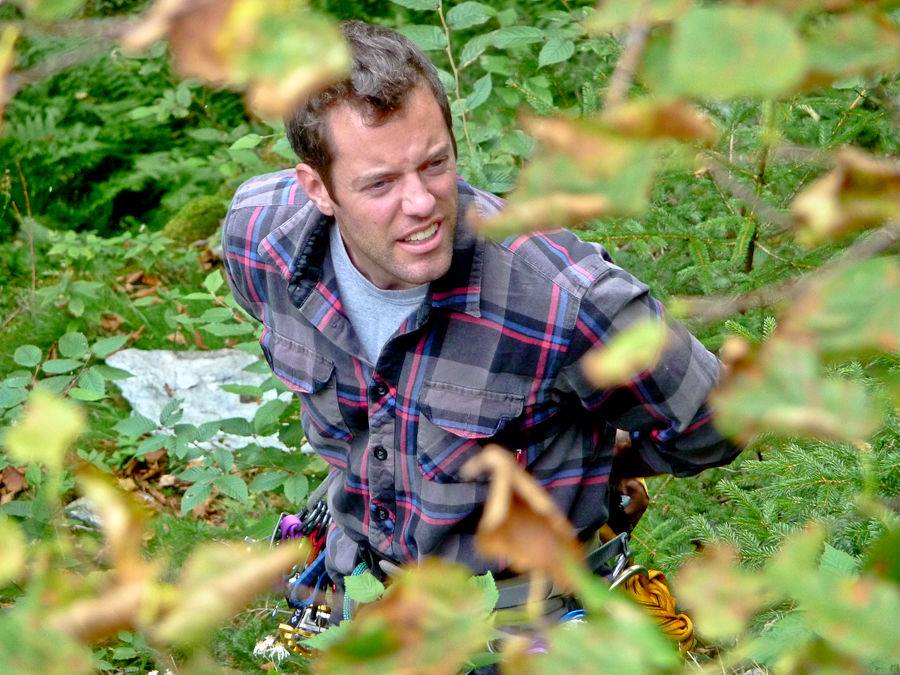 According to Greg – "i think there's a good spot for a cam up there" – P., there was supposed to be a cam placement here.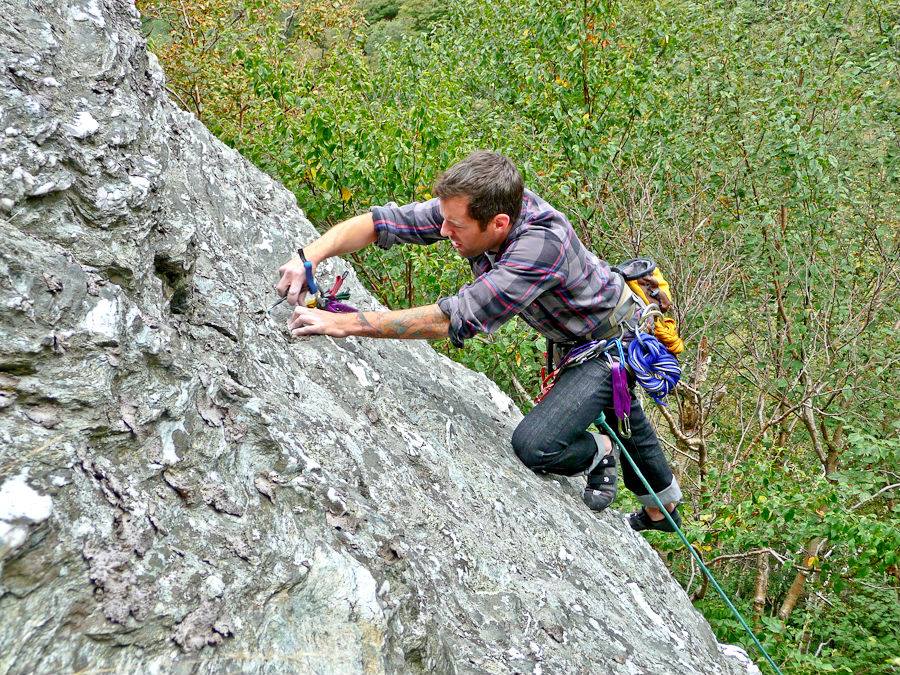 "Really dude?!"

"No, dude! Whatever, we'll stick another bolt in here next week."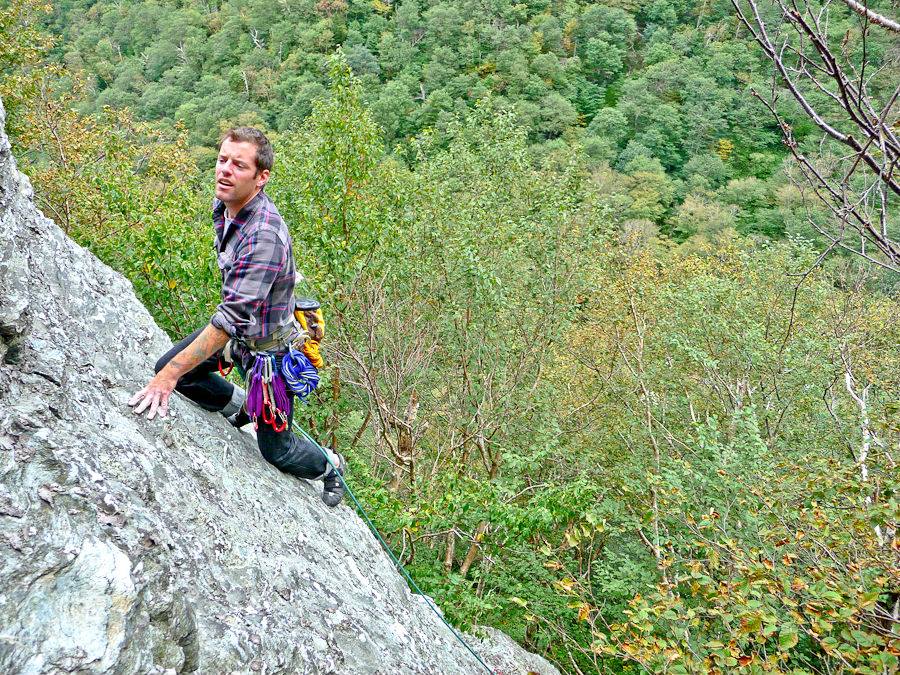 Here's me taking on the face that gives Steep Jugs! its name for the first time.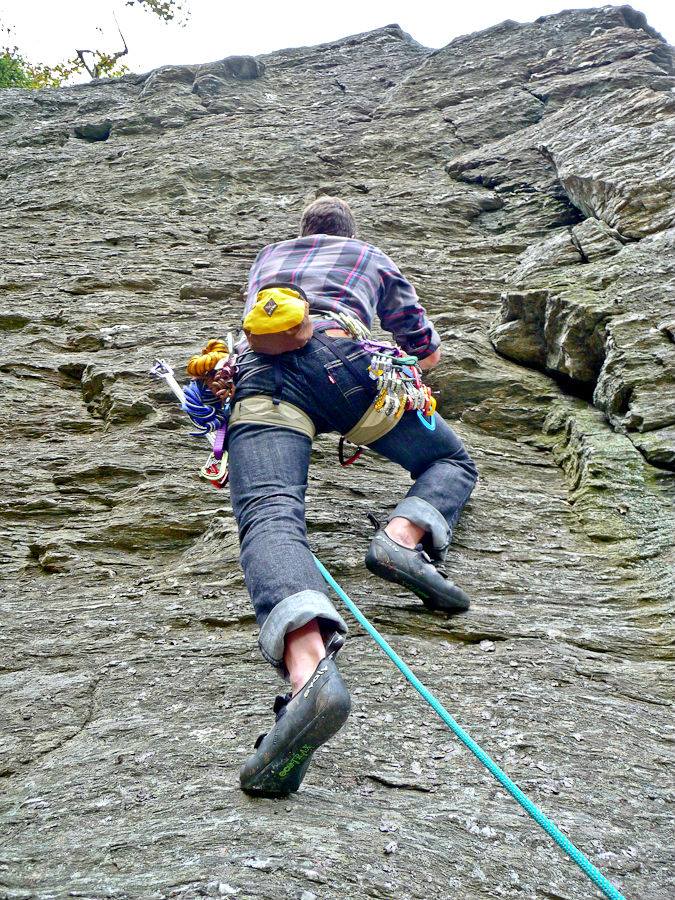 Here's Greg before he tries it himself. I think he got the impression it was easy. He struggled a little bit through the crux (typical).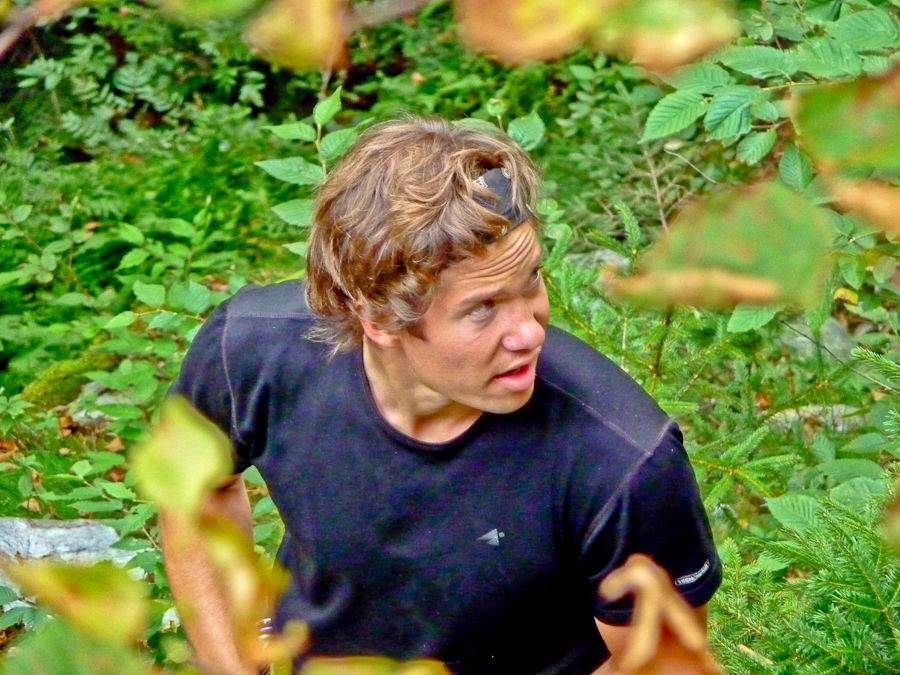 Here's Greg working into the crux…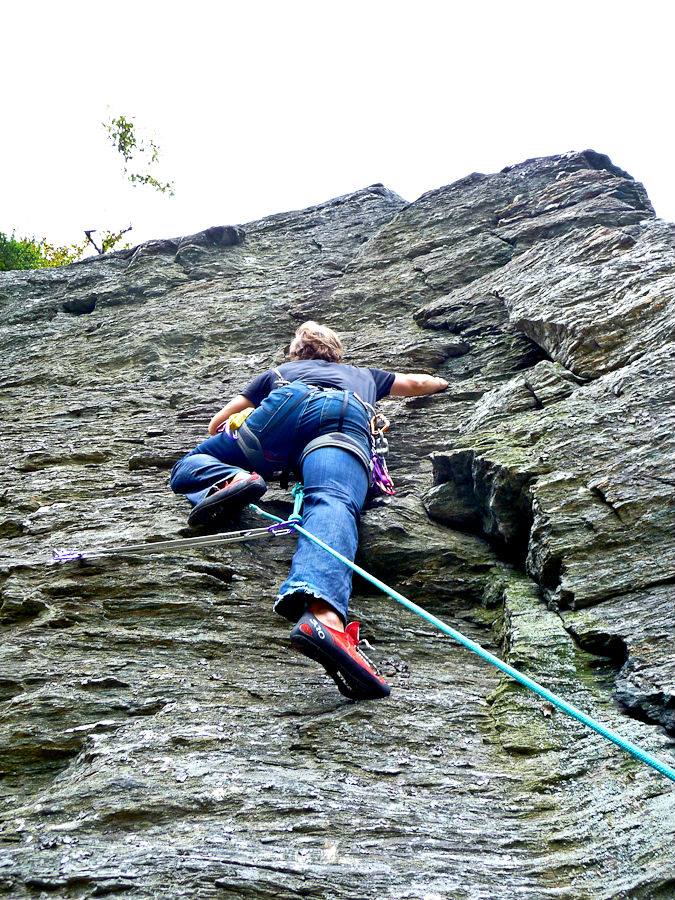 …and clipping bolt 5…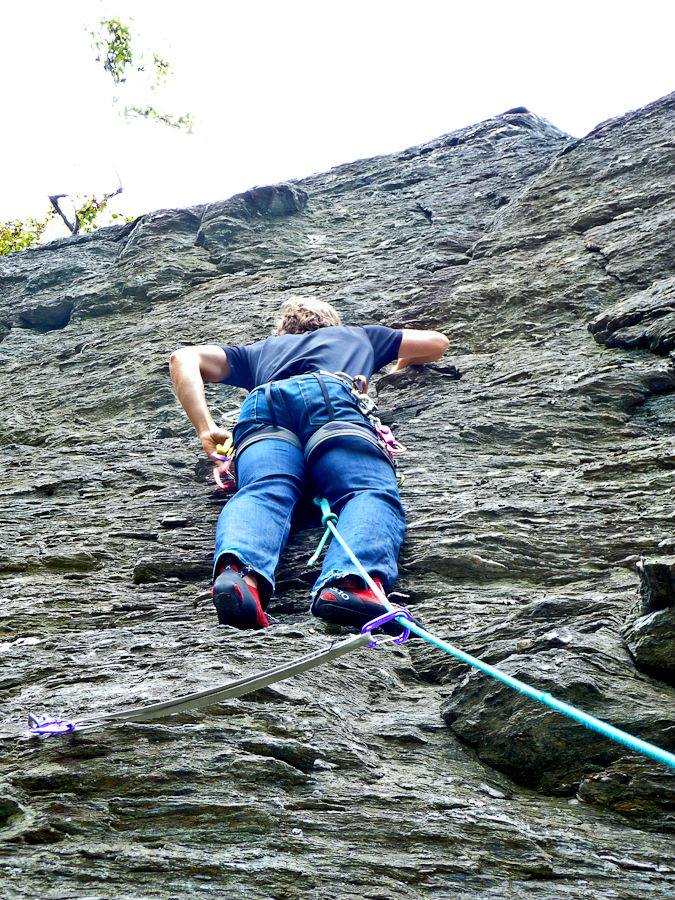 …and then finally standing above the crux and perched on "the beer ledge" (so named because he rested a beer can while drilling the bolt hole below it).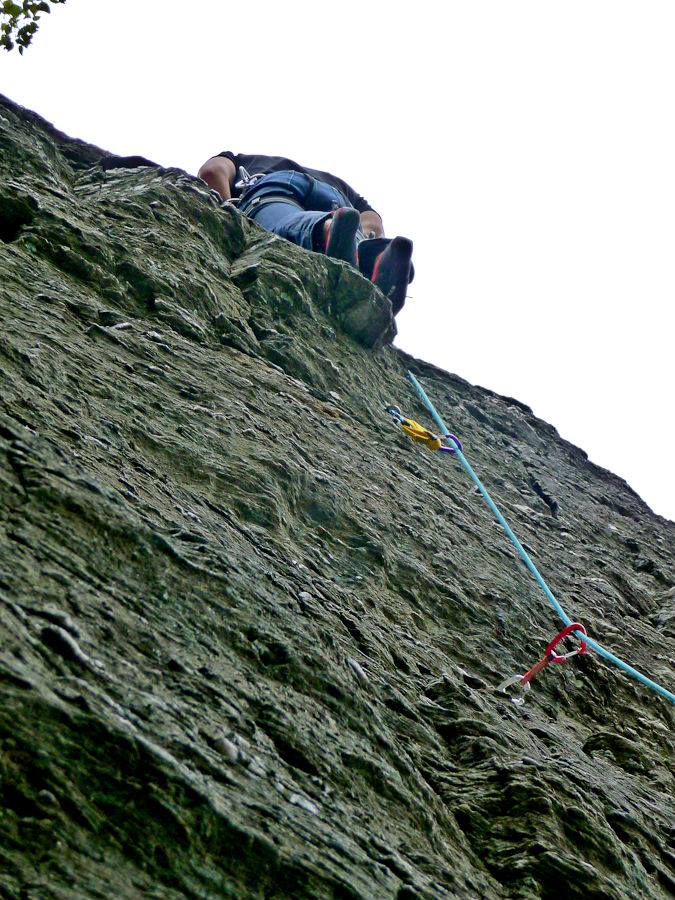 And then finally here was our view from the top of P1. in the bat cave after our first ascent(s). Apparently someone told the Air National Guard we were doing some "big deal" stuff, and they clearly were doing a flyby to get some shots from the chopper. (look for those later ;) )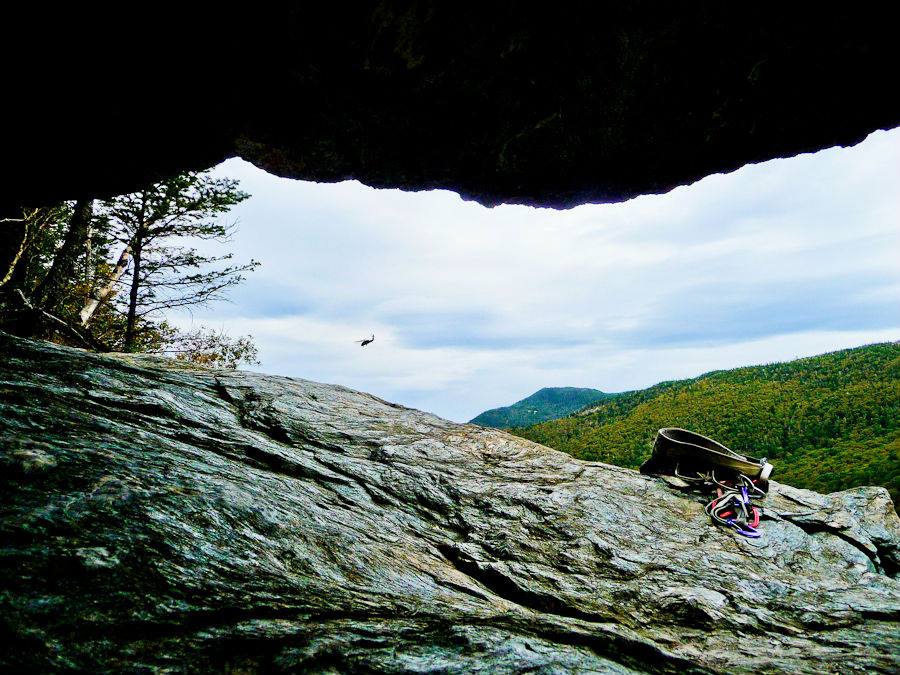 It felt great to climb what we had put so much sweat into, and get what was likely a first free ascent, but we still had more work to do. We had only finished bolting one pitch, and were envisioning another higher up the face into territory we doubted anyone had even considered climbing before.
9/14
After a week of work, we went back, and thrashed our way to the top of P2 to start drilling the climb. Here's me rapping out of the woods to bolt the second pitch. cold, wet and scared is no way to go through life… or maybe it is.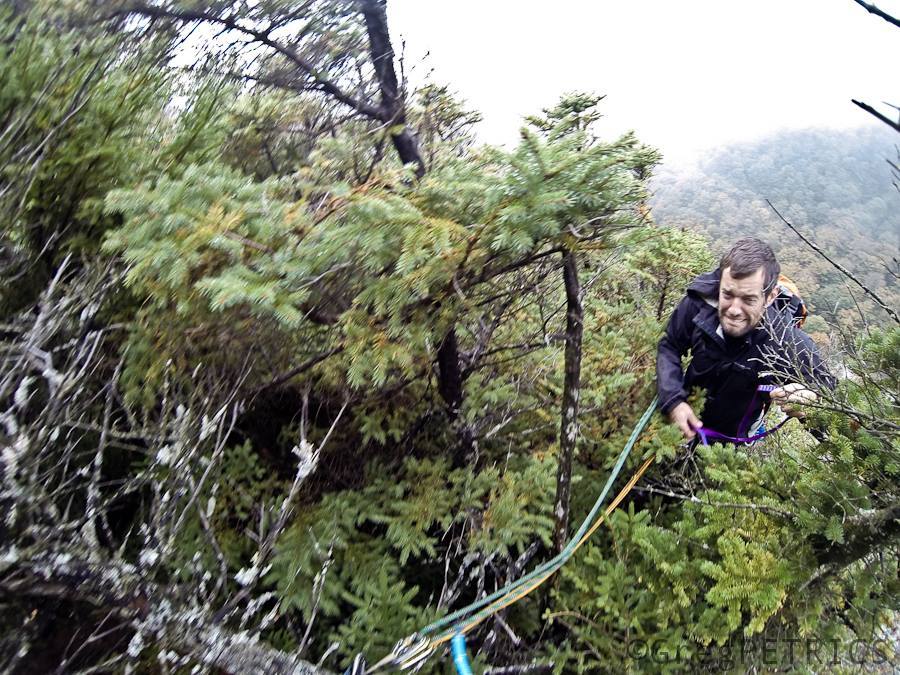 Here I am hanging on the two bolts Greg just put in above me (from where the picture is taken from) hand drilling on the arête. There's not a much stronger affirmation of trust than this.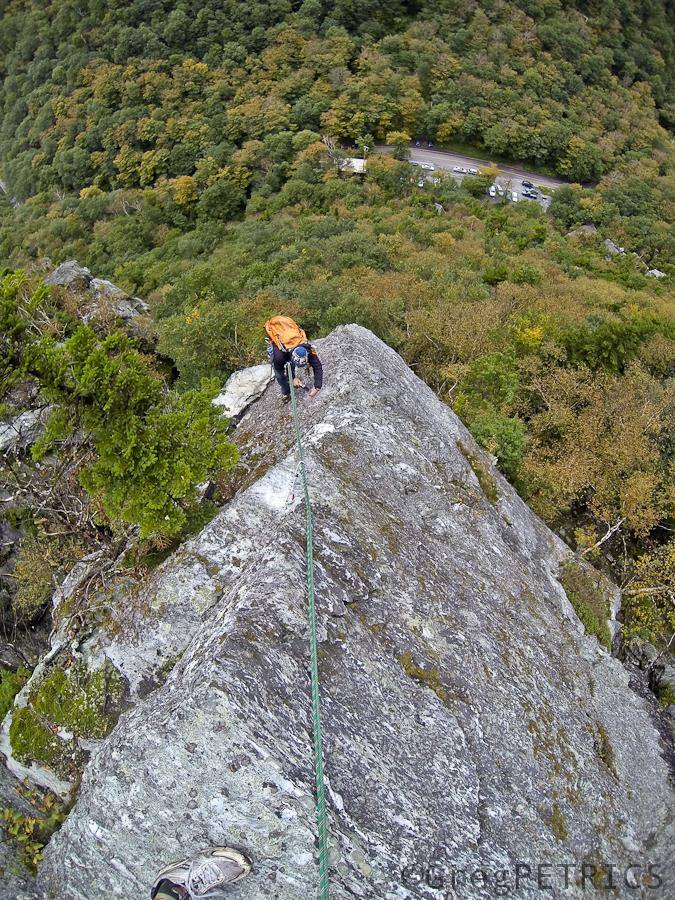 And then finally here's Greg drilling the last bolt of our climb… 5 feet from the first one!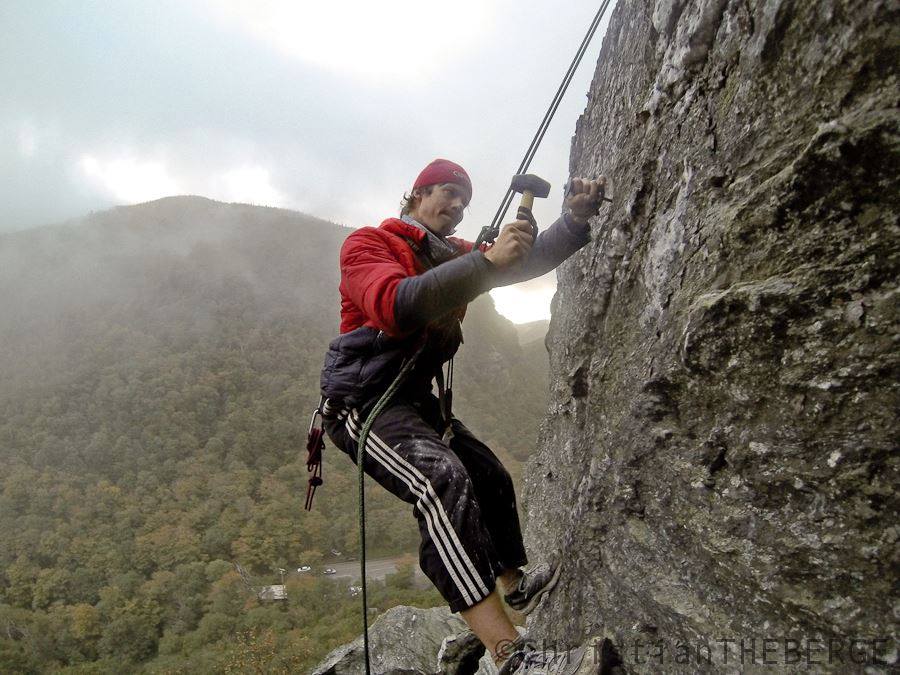 The sweet taste of a job well done… and a PBR… and ground up schist in your mouth.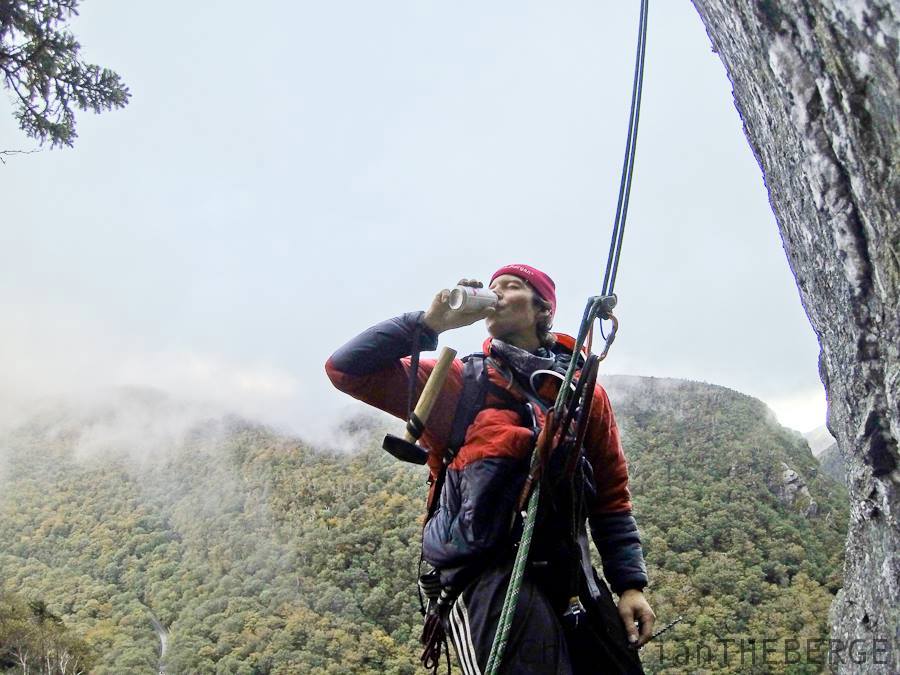 9/15
After a night spent licking our blistered hands, we returned on a glorious Sunday to climb what we'd just poured some sweat into. Here's Greg on the FA of the second pitch! If only I had a picture of him shaking like a tuna trying to complete the mantle crux near the bottom.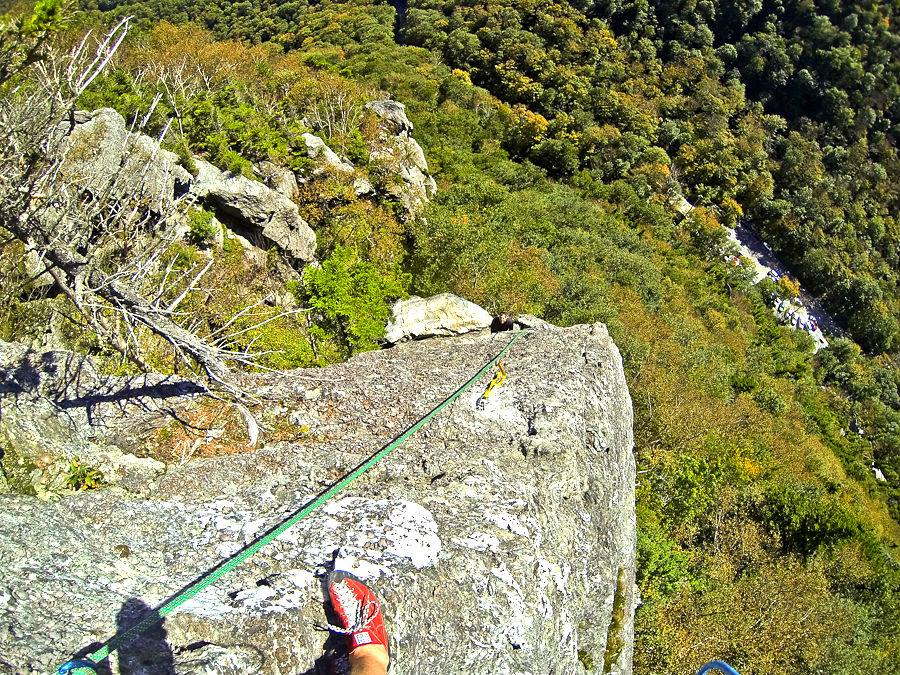 I guess he's showing the mountain he can climb it and look awesome doing it. Or not.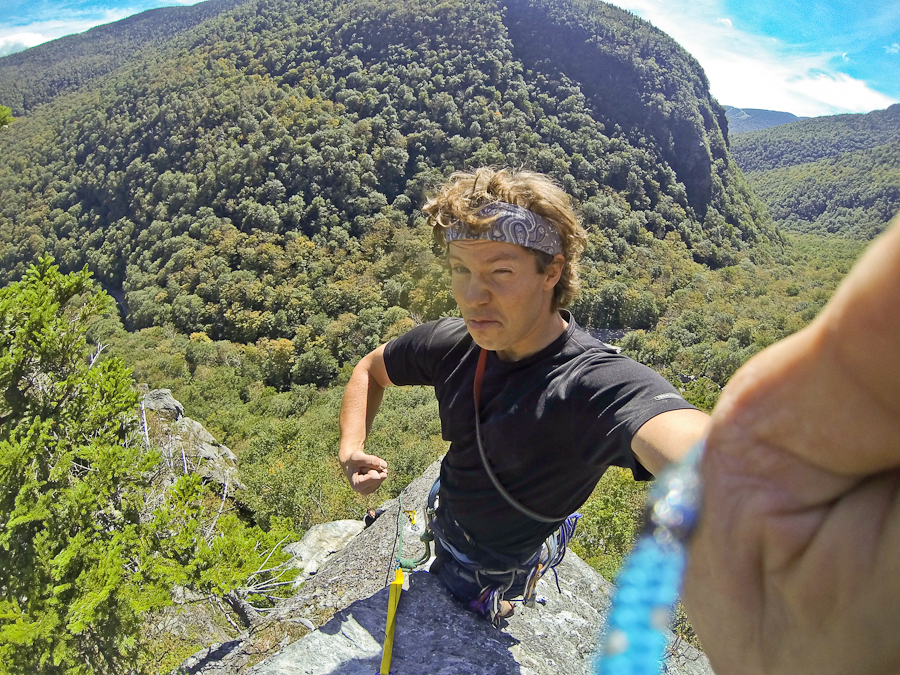 After slapping the top of that bad boy, Greg rapped down, pulled his gear, and handed it to me with no beta so I could get a try as well. Here I am getting off the ground on the second ascent… and thoroughly wishing I had payed more attention when Greg sent it.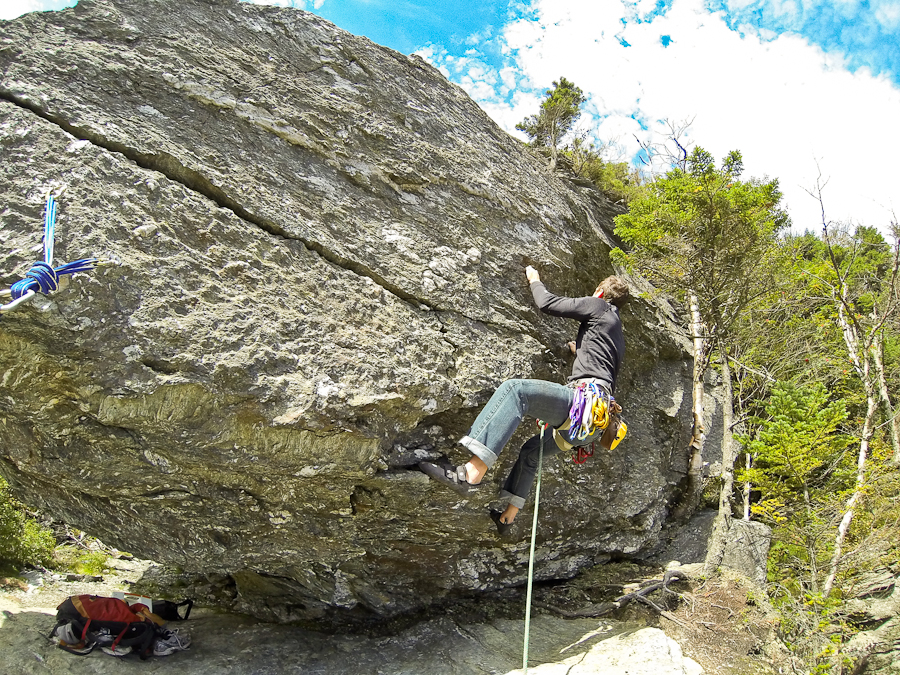 Oh hai! I upgraded your notch.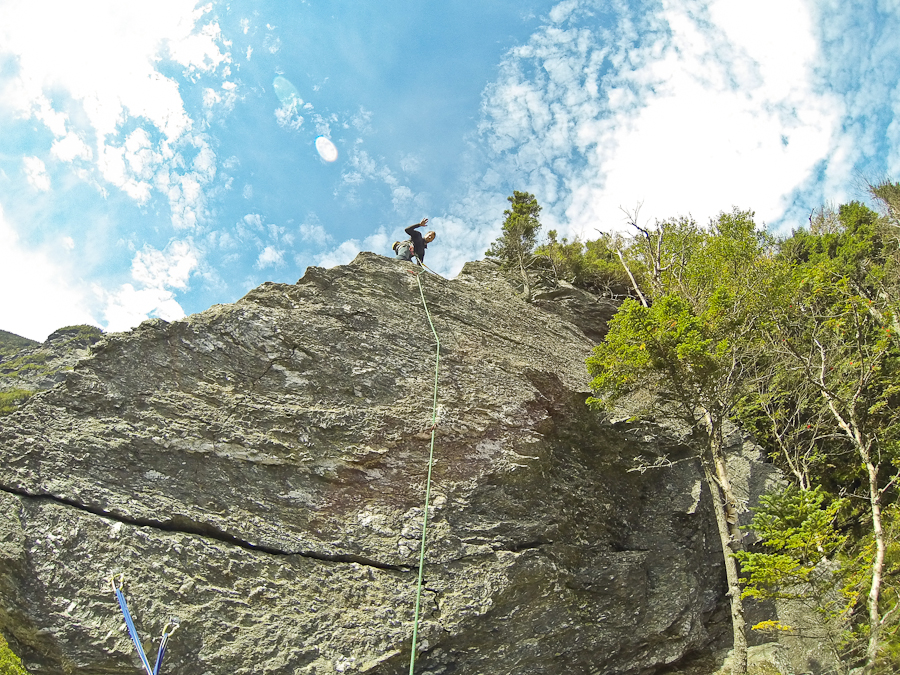 I'm not sure why I do this to myself, but here I am happily standing (and by that I mean shaking) on the wild arête that brings you to the top of P.2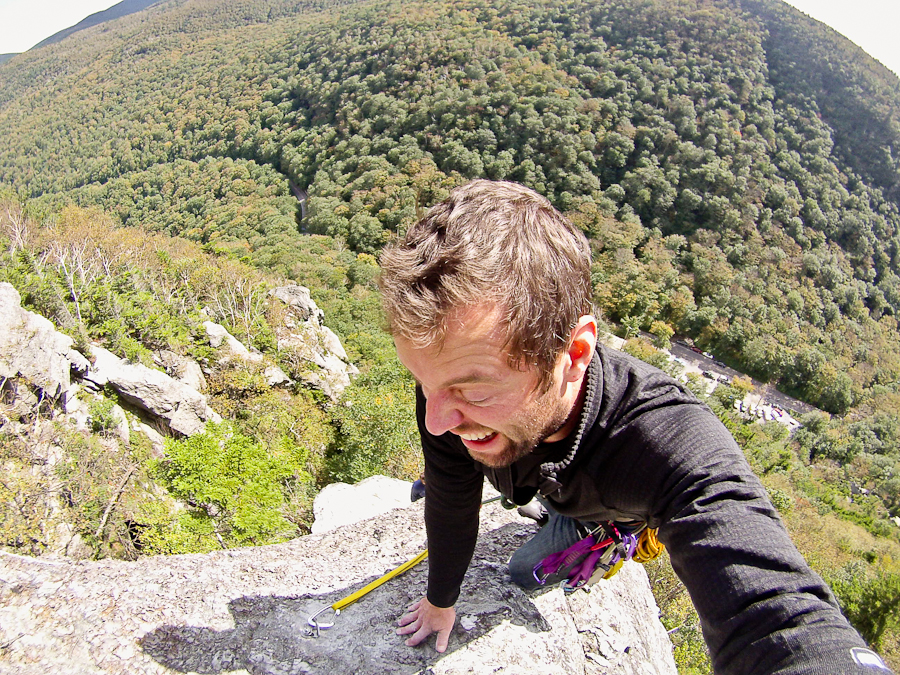 This is Greg on his second ascent of pitch 2. Notice his elegant technique, stopping to refuel on his way up!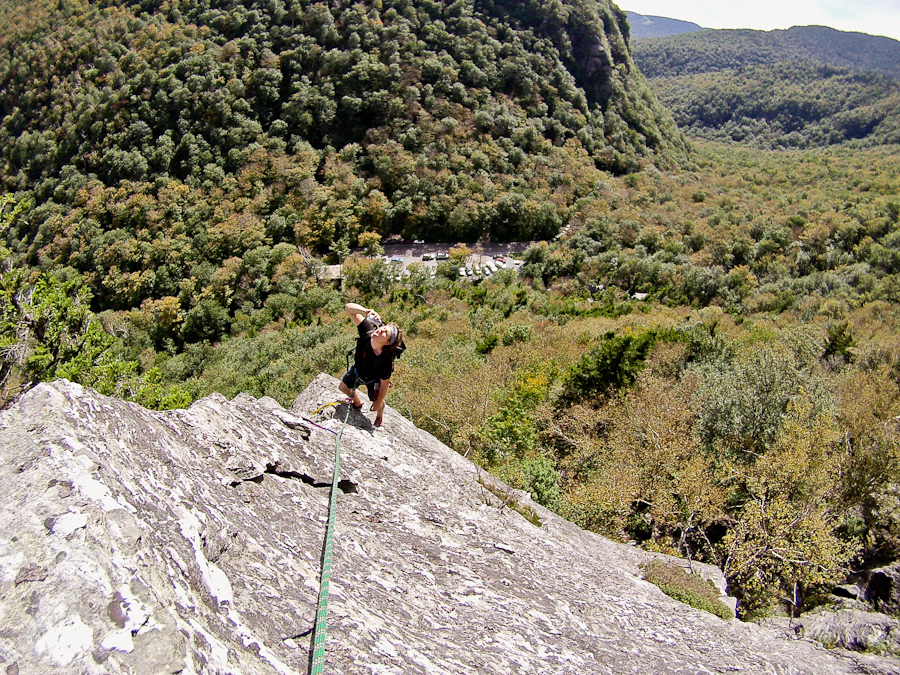 Here he is taking on the last tricky move before the top.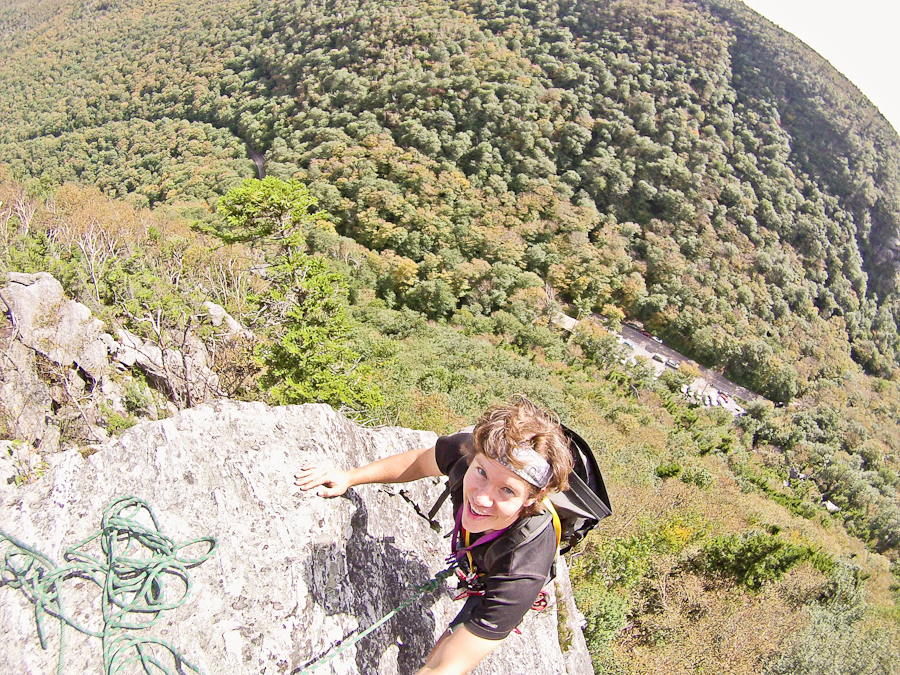 Finally, both of us standing on top of what we had poured a lot of energy into. Greg's face says it all. Wait… maybe not.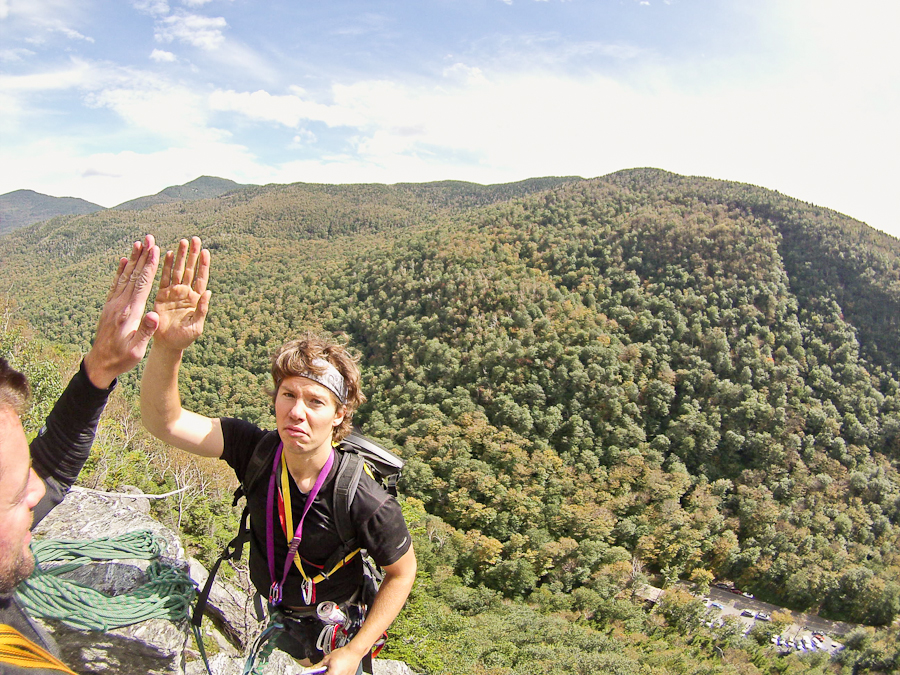 There we go. That's better. Hanging and enjoying on what is the best party ledge in vermont. Hands DOWN! Or is that Hands Up? IDK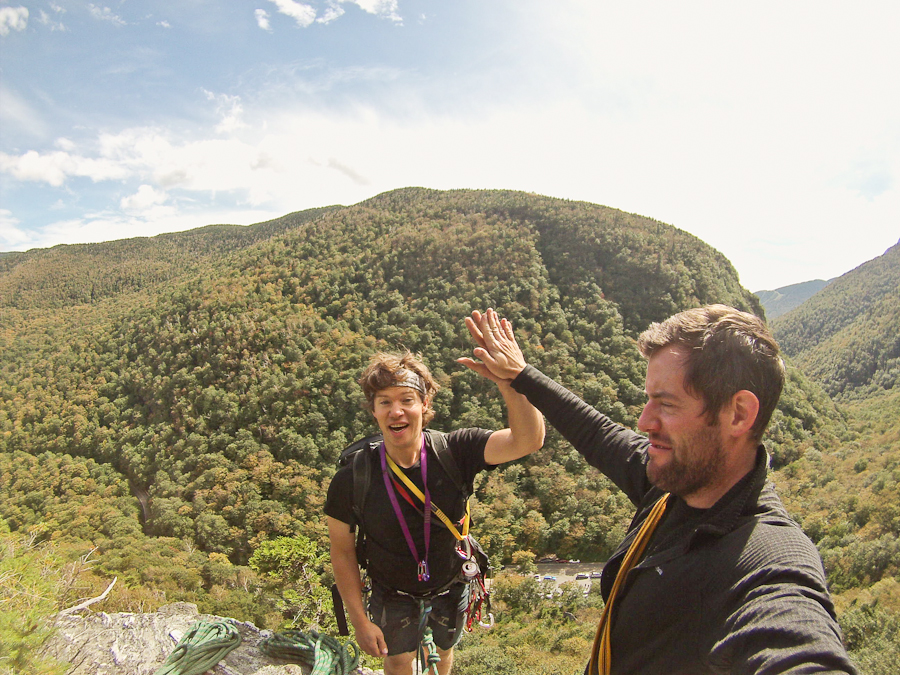 And on our way down, Greg also nabbed the FBHSDR (First Barefoot Hippy Spirit Dance Rappel). How do you spell your last name dude? I'll write it down and send that info to Travis…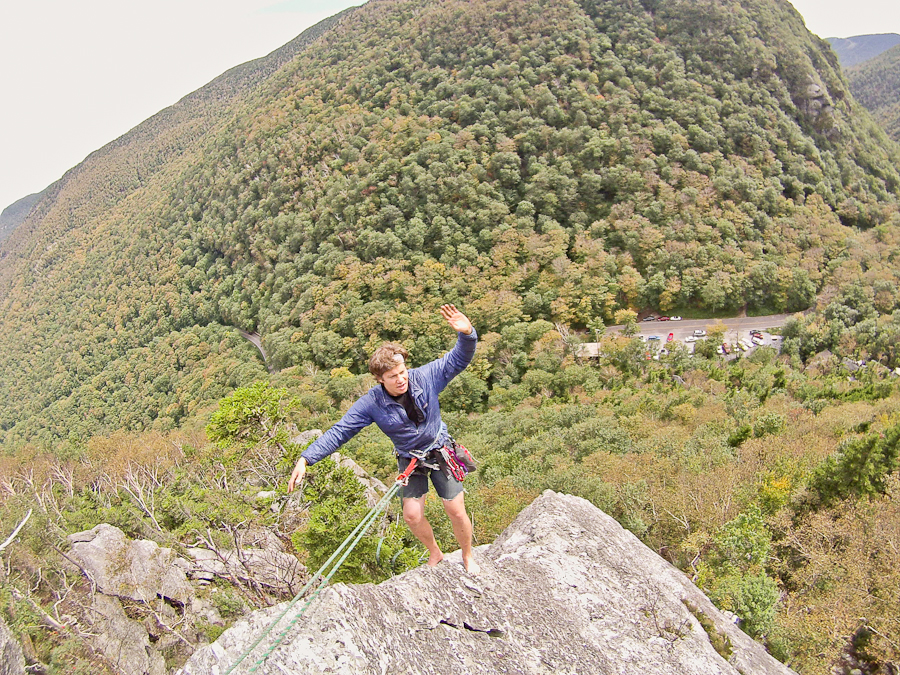 Thanks to everyone who has ever helped out, gave us pointers, lended us gear, gave us gear, stoked us by showing us what is possible, and who supported us with some high fives and/or beer! It's been very fun, and we really appreciate it. Here's a list of you guys in no particular order: Nick, Jeremy, Bill, Mike B., Dwayne Hayne, Porter Hayne, Ben Peters, KC, Chrisil, Travis Peckham, AJL, Rog K., Gerard, Dave Powers and more. Thanks!
Now, hopefully this route will be as enjoyable for everyone else as it is for us! We'll get a topo put up on here in a day or so, but for now check out the route description on Vermont Rock.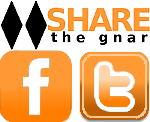 Tags:
East Coast
,
Rock Climbing
,
smuggler's notch
,
Vermont
13 Comments
Please consider visiting our sponsors.
Leave a Reply