December 26, 2010 4:04 pm | Category:
Weather
To facilitate discussion of this potential I-95 mauler I have started a new thread.  The old forecast discussion/trend following thread can be found here.  I would strongly consider reading it to understand the context of this storm.
With that said it appears VERY clear that the I-95 corridor is looking a substantial snowfall beginning late Sunday night and extending into late Monday in the Boston area. (In fact actually blizzard conditions may prevail during times sunday night into early monday morning.)  As I previously said, this appeared to be a fish storm from the beginning. However, it appears that the short face energy spawning this system will amplify the trough earlier enough to pull the storm closer to the coast.  Yay.  However- how close it comes really will have a substantial impact on not only I-95 but more importantly on ski areas in the Catskills, Berkshires, Southern VT and NH.
Monday 12/27 I can't believe I came to work Update:
Looks like this storm did perform up to expectations.  I'll admit I was feeling "BUST" there for a while. I didn't think the deformation bands to the NW of the storm would punch through the cold dry air on the NW side enough to bring substantial snowfall to Central VT and the Catskills.  Glad to see it did however.
A quick review of totals shows roughly a foot for the Catskills, 14-20 inches in the Berkshires, 12-16 inches in Southern VT (Magic) with 6-9 inches further north by Kmart.  East in NH totals ranged from 8-16 inches with Southern/Central NH seeing the most snows.  Not sure how anybody could measure MTW as the winds there were ripping in the 85-115 mph range last night.  Wind transported snow prob. equaled FEETS in select gullies.  I however have no clue which gullies these are and will leave up to G to find.
Forecast for the rest of today is WINDY and cold conditions.  Temps will be in the low 20s with windchills in the single digits.  This will last into tomorrow. Weds to Saturady will feature a warm up with temps reaching low 30s on wednesday, mid 30s thurs, upper 30s friday and then making a run at 40 by saturday. However this might be great as I don't see any moisture until at least sunday.  When a storm system amplifies in the great lakes and punches a rainy front through. 
4 PM Sunday 12/26 Update
Got a powerful nor'easter under development for sure.  Right now central pressure is down into the low 990mb pressure range. Deepening should continue creating a powerful storm.  Track still has some issues however heavier snow bands have made it west to to PHL.  As the storm deepens it will throw a fair amount of moisture inland and a deformation zone + orographic enhancement and maybe even a gravity wave will pop precip totals in the Catskills.  I'd say if we get the right combo we'll get into the 14-20 inch range there.
Also- the RUC model shows a pretty serious band of heavy snow move through VT and NH late tonight into early tomorrow am.  THis band would have snowfall rates of 1-inch an hour.  It would help push totals into the 8-14 inch range with highest amounts along the mountains of So. VT (where models put WAY too much precip down) and the mountains of NH.
Though I'll admit that I'm concerned about the extent of the dry air along the NW edge of the system.  Really going to suck up a great deal of moisture and hurt the storms ability to throw snow into the Southern Greens.  Models aren't concerned but I am.  Sticking with the 6-12 call from earlier seems the best course right now.
Older Post
First lets start with the Euro forecast model which has come around on the track and is back to where it started. Anybody wonder why we tear our hair out? Sheesh. So pretty clearly we can see the center of surface low pressure passing right through and over the eastern tip of Long Island.  Were this track to verify- and I think it has a major chance to, significant snows would fall from PHL through NJ into NYC and then on up 95 into Mass.  Boston and the RI region would get hammered though totals would be cut down to some extent by mixed precip.
But none of you really care about the I-95 corridor.  Well that's unfair. You might care but there isn't really anything worth skiing so the real question is how much is it going to snow where you can see.
Good question.
Lets take a look some Storm total snowfall maps to begin that discussion:
GFS:
High Res NMM: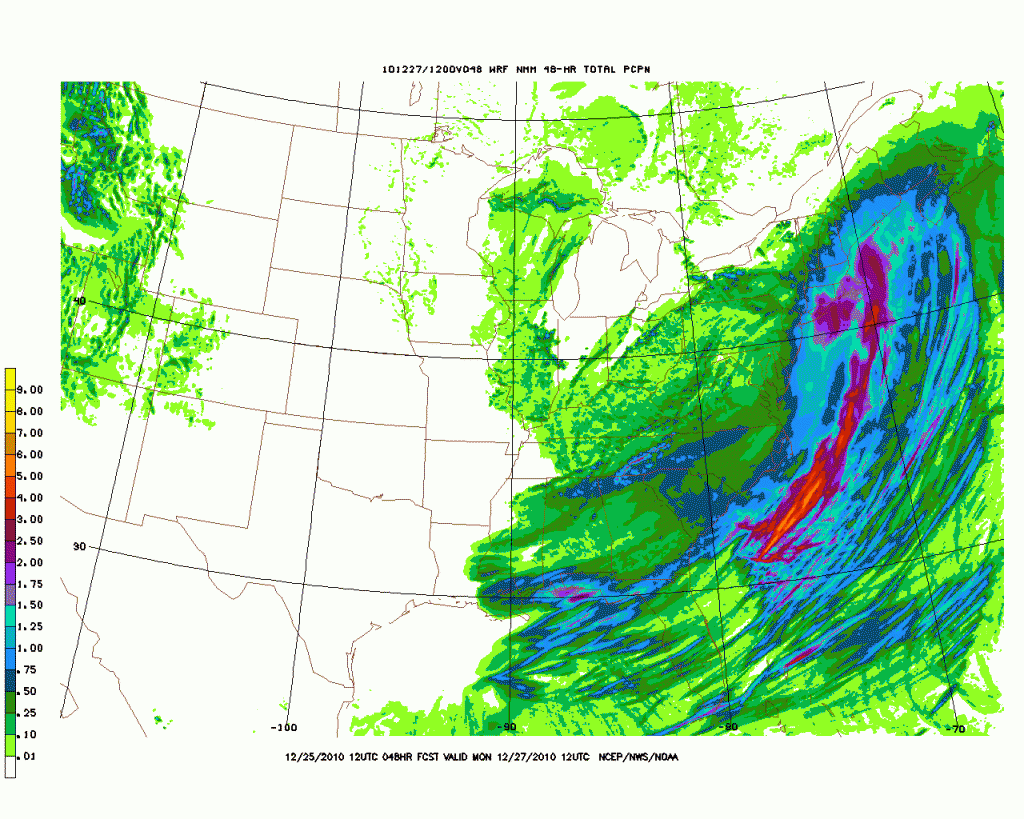 High Res ARW: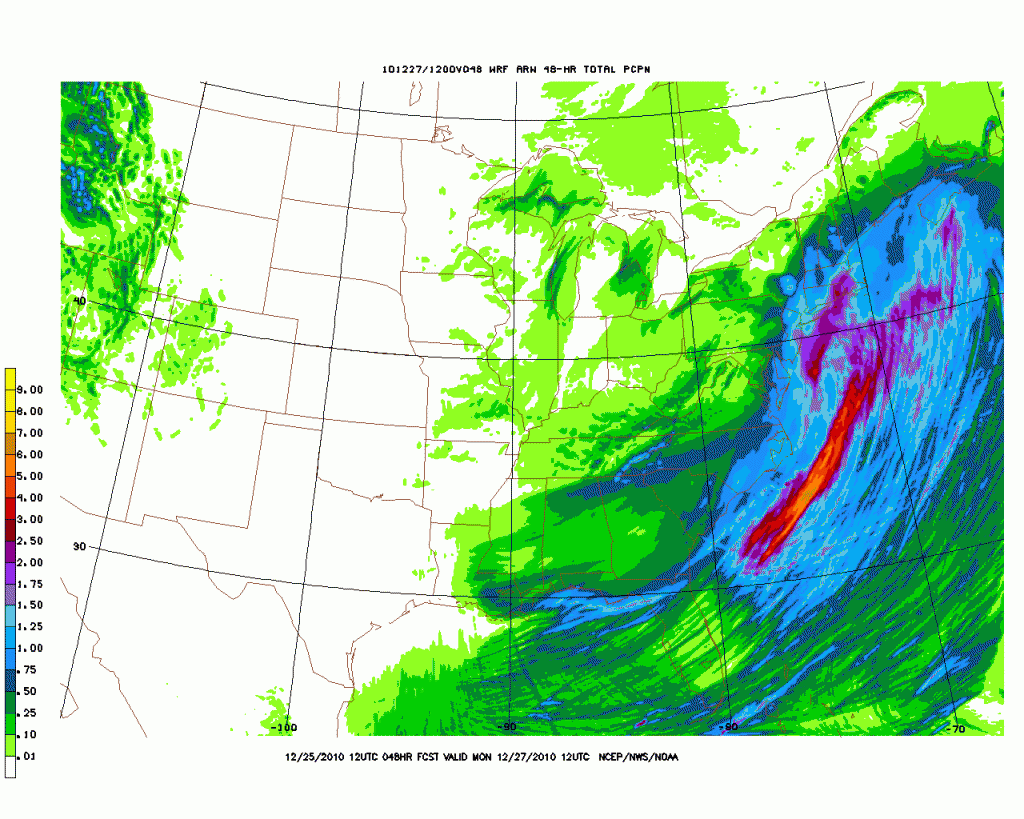 WRF run on 12km resolution from BTV: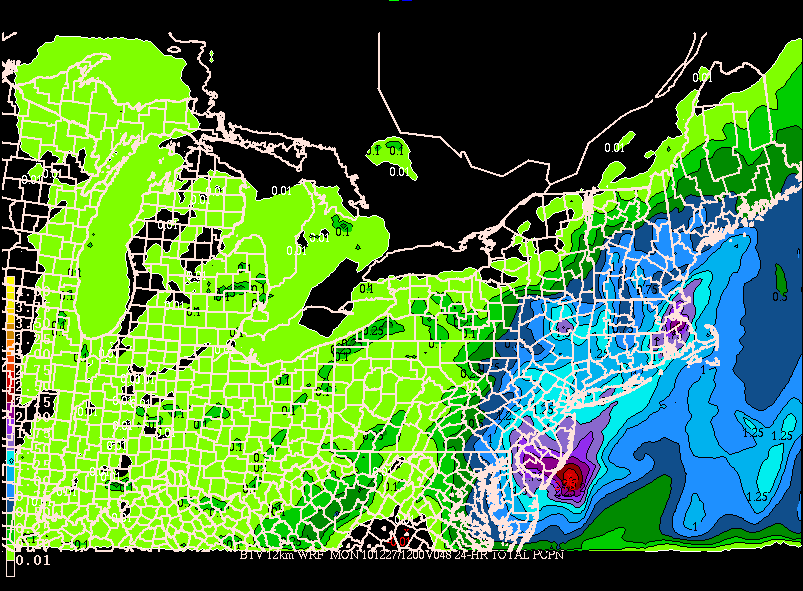 As we can see three of the models bring substantial snows into the Catskills, Berkshires and even Southern VT.  The outlier is the NMM which presents an eastern solution.  Overall the model consensus is for roughly .75 to 1.25 inches of liquid to fall in the Catskills on through Southern VT.  I think this is overdone.  Coastal storms as modeled often overstate the levels of precipitation on the outer/western edge of storms.  To be reasonable I'd adjust the totals downward by at least a quarter inch of liquid.  This gives us a safe range of .5 to 1 inch of water for the Catskills into southern vt.  Translated this is 6 to 12 inches of snow.  A reasonable amount for sure.  Of course I'll update these totals once the shortwave starts to amplify tomorrow morning and snow begins to break out.
Further east, the storm will deliver heavy snows to Southern NH.  Now I'm not great with where NH ski areas are but it certainly seems possible for 6-12 inches to work as far north as central NH.  Does this mean Mt. Washington?  That's the real question. Personally I think this band of 6-12 inches WILL work far enough north and west to affect MTW.  Yay.  I know G and KC will be happy about that!
Let me close with one point – Gulf origin lows are nuts. They do crazy stuff.  Until we see the cyclogenesis occurring off the coast of the Carolinas I will leave this forecast in pencil (ok..digital pencil).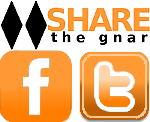 Tags:
christmas noreaster
,
holiday ski weather
,
lionelhutz
,
lionelhutz ski weather
,
nor'easter
,
Ski Weather
,
Vermont Ski Weather
10 Comments
Please consider visiting our sponsors.
Leave a Reply