III. Chinook Powder
November 6, 2009
The next morning we got a late start and drove up to Chinook pass to go find some corn. We had a fun time exploring the area and skiing around in the sun, until the afternoon, when a large unseasonably cold storm blew in, and started dumping heavy, wet, snow at a pace of about and inch an hour. The already saturated corn began to get overloaded, and a short tour off of Natches peak got a little interesting when James took a slow speed ride in a slough for about 50 feet.
It was getting a little late and the snow was getting sketchy, so we called it a day, and went down to a small forest service camp by the entrance to Crystal Mt. and car camped for the night. The rangers were optimistic about keeping the road open the next morning, so we set the alarm for 430 AM in the hopes of getting some freshies.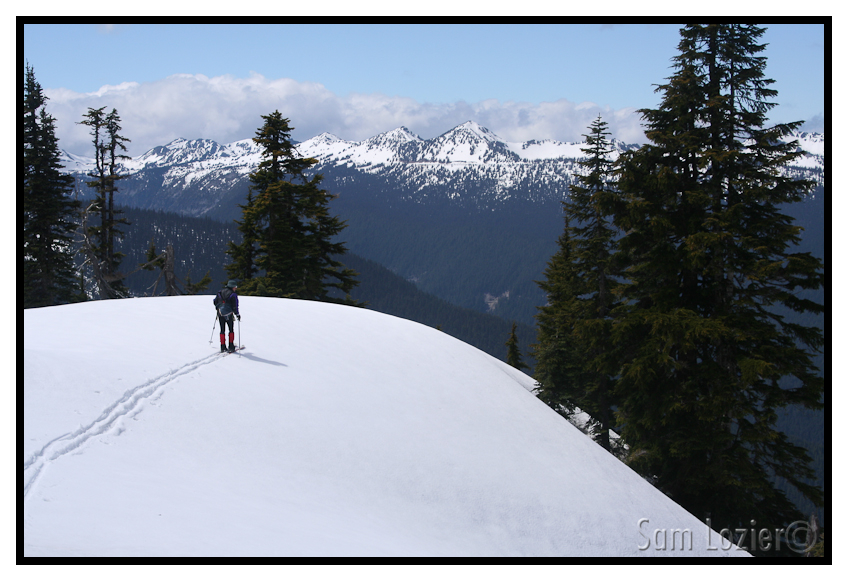 – 3 pinner James, taking in the view of Sunrise before dropping in.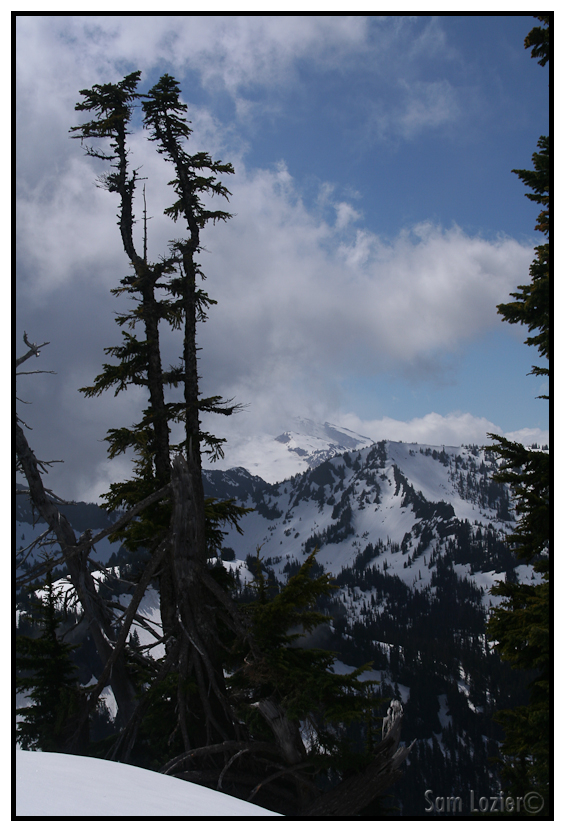 – Rainier tried to poke through the clouds.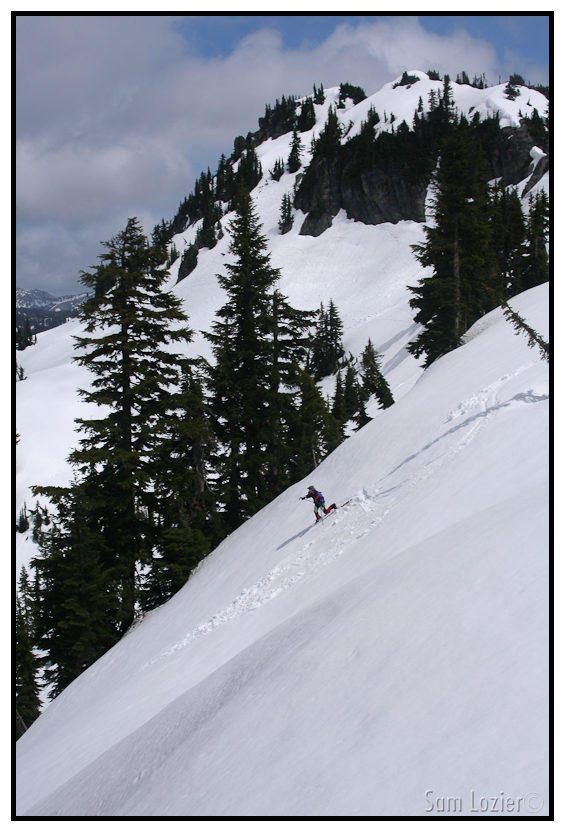 – James dropping in.
430 rolled around, and we awoke to a dusting of new snow at 2400 feet. I don't care where you're from (except the Southern Hemisphere); if it snows at 2400 ft in June, it's going to be a good day. We packed up the van, and drove back to the pass. We found more and more snow as we gained elevation. At the height of the pass, the new snow totaled around 8 inches in the parking lot and, after getting James's van stuck in the middle of an un-plowed parking lot, we met up with Scotsman and Snow Bell who wisely decided to leave their car on the road. They helped us get un-stuck and we all drove to a lower, plowed lot, to gear up. We then put a short skin track up a roadside slope in the low dawn light. The first lap was over too quickly and everyone was excited to ski, so we went all the way to the top of Naches peak for the second lap back to the road. At the bottom, Scotsman informed us that he had to leave for "work", or something, but before he could leave, a lone skier emerged from growing haze, a man with immense "local knowledge", Joedabaker from TAY. Joe proceeded to lead us confidently through the fog, breaking most of the trail himself for the rest of the day, and showing us some of the best shots in the area. As the temperature rose, the fog rolled in even thicker, but Joe continued to lead us around without missing a beat and never made a wrong turn. We did several car shuttles in the afternoon, and probably scared a few tourists who discovered snow bell and I making oatmeal in a forest service bathroom at one point. The snow got thick and heavy, but we refused to give up on this June-uary snow, and continued to ski it until 4PM when it started to get dark and Joedabaker had to leave. The three remaining skiers, James, Joe, and myself, piled into James's van and headed back to Tacoma with happy smiles on our faces.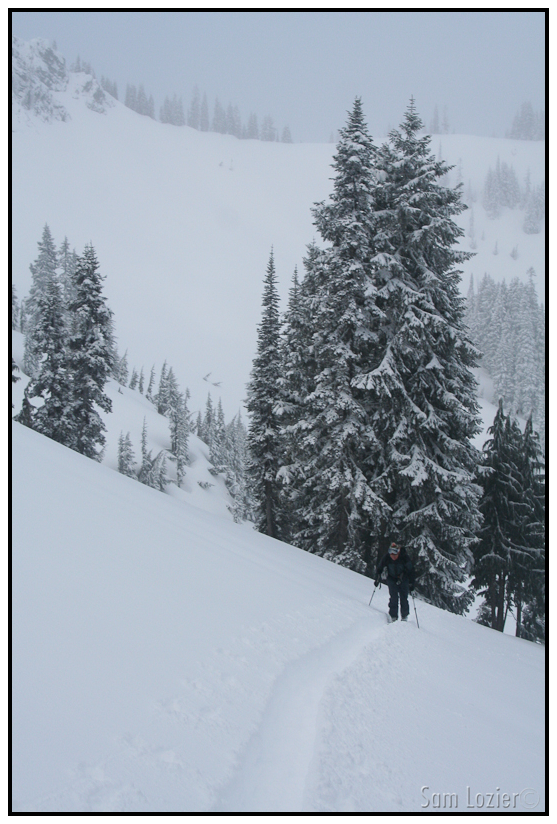 – Scotsman making his way up before work.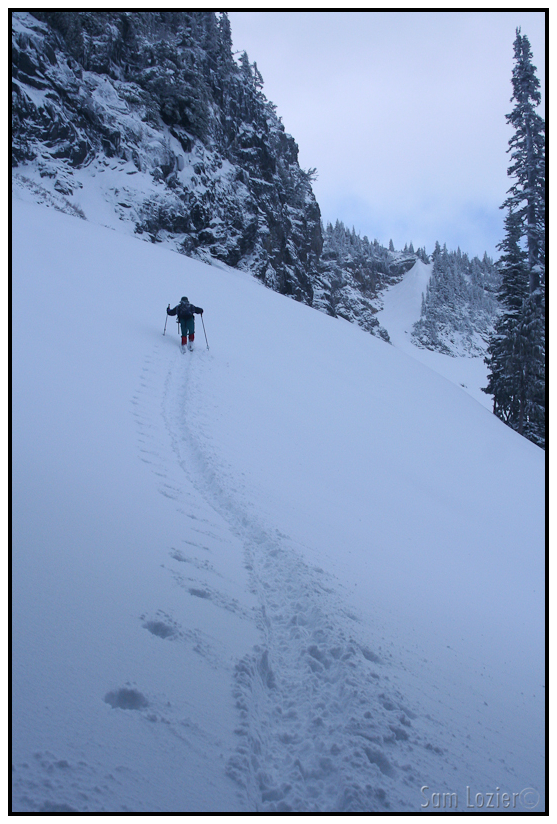 – James breaking trail.

– Joe and James breaking trail to the top of Natches peak.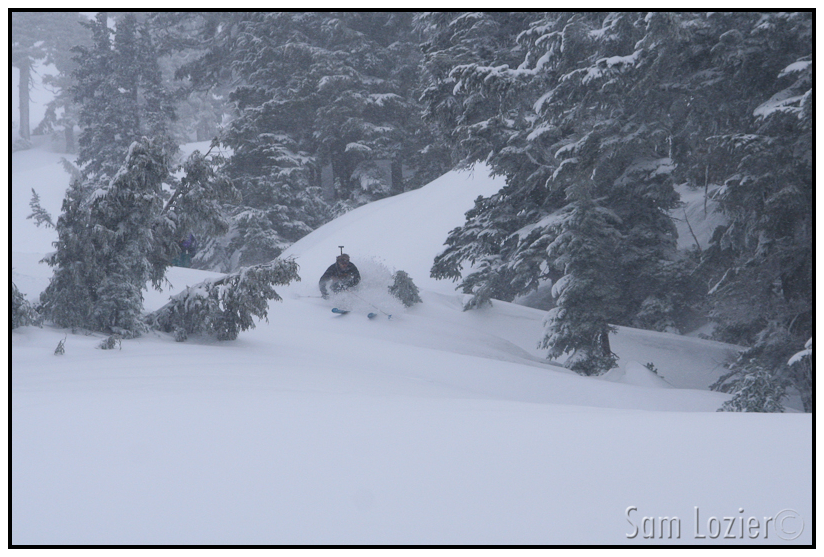 – Joe, slaying the fresh June-uary pow.

– Joe was faster than my camera and came out blurry.

– 3-Pinner James getting damn low.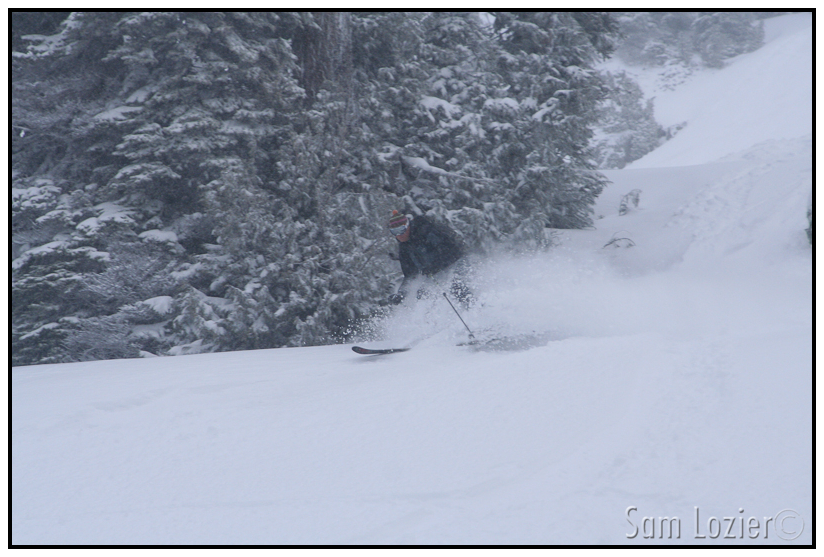 – Scotsman trying out his new stealth ski gear.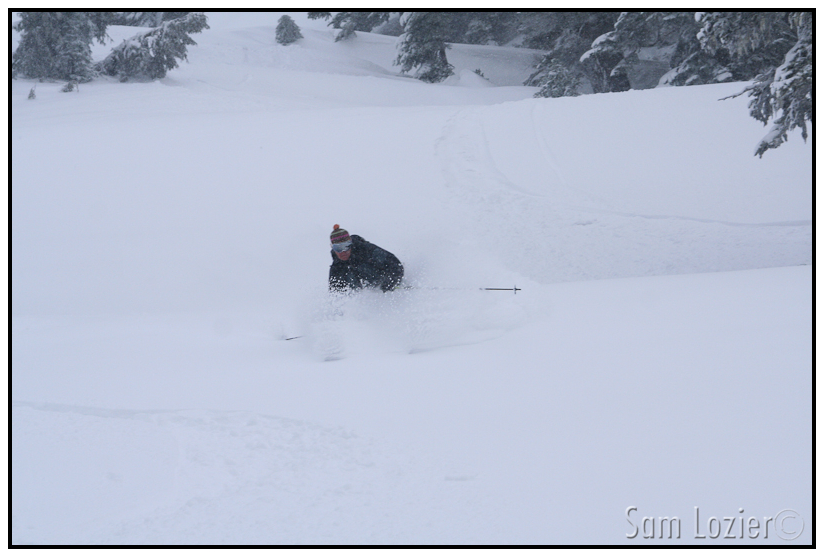 – Scotsman getting a face shot before work on a tuesday in June. Not bad sir. Not bad at all.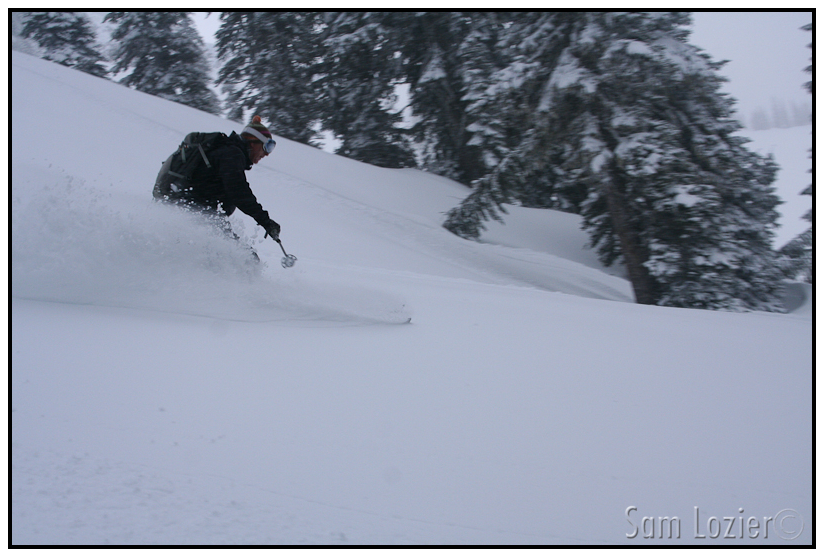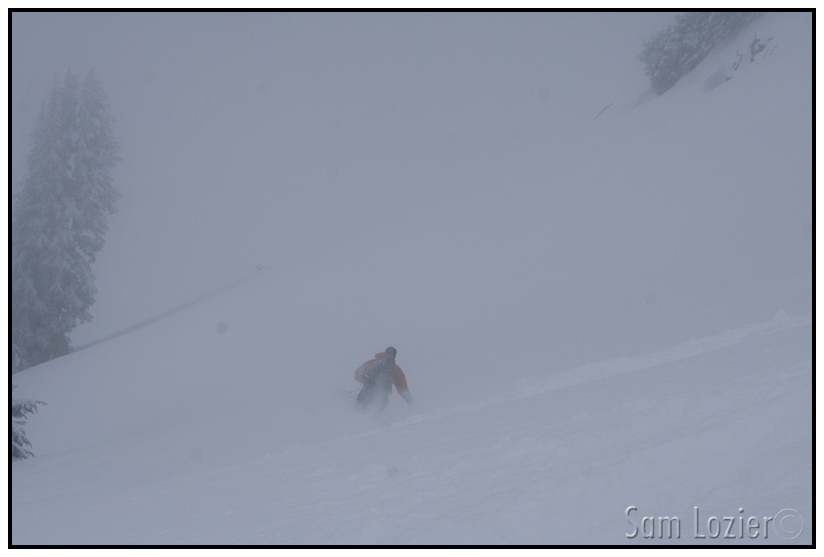 – Joedabaker dropping off into the mist.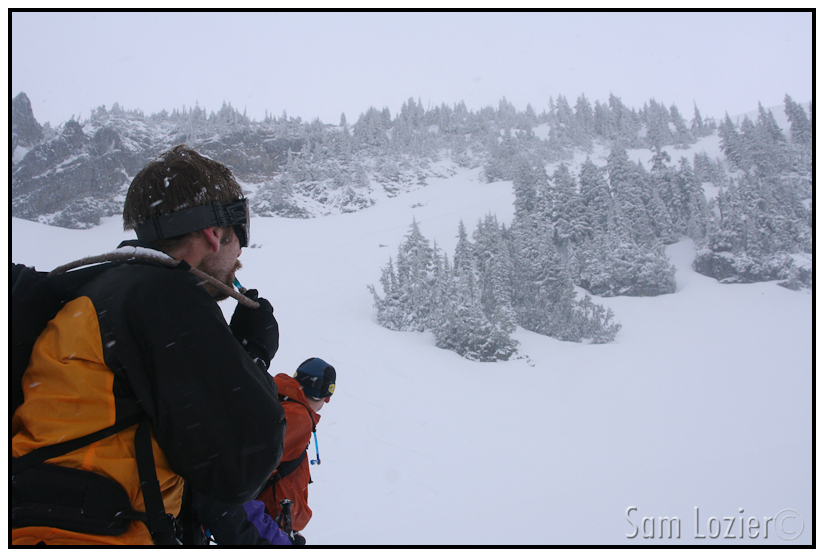 – Looking back.
Keep reading below:
IV. Down Day in Bremmerton
---
Read about the author:
Sam
---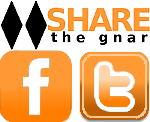 Please consider visiting our sponsors.
Leave a Reply