Crisp Air and Warm Water – Raquette Release Weekend
August 23, 2010
The was another release this past Saturday, so once again we made plans to go. Then, a day before the release, I crashed on my bike, bruising my shoulder and getting stitches in my forehead. I optimistically decided to try to go anyway, but I was not feeling very good as we drove across the Greens heading toward the Dacks Friday evening.
Saturday morning we woke up and I still wasn't feeling good. My shoulder was even more sore than it had been the day before, but I put on anyway. I felt terrible in the entrance rapid though, and realized that it was not a good idea to kayak more until my shoulder was feeling better. Nick and Chris kept going with some friends from Vermont though, and I set-up to take some pictures at Colton Falls and run shuttle.
At the bottom of the first run, Chris showed up to the take-out with bloody knuckles and forearms – apparently he had flipped in Particle Accelerator and taken a fast-moving grind from the rocks there. He decided to call it after that too. The rest of the crew went for another lap. This time at the bottom, Simone showed up with a broken paddle, having flipped in the same spot. Nick and Alan decided to run one more with a couple Middlebury paddlers, but the rest of the crew decided that there had been enough carnage for one day. Everyone was fine, but it was a good reminder that scrapes and bruises are part of the game if you mess up in the wrong spot in Class V water.
Epilogue – a few days later, my shoulder is much less swollen and feeling better. I got out paddling this morning on the easier Wells River and felt good, so hopefully nothing is badly damaged! Thanks for stopping by, and remember to check out the weather page where you can see our new on-the-ground weather report feed from readers like you. I'll be posting any river levels I can there, so check it out if you're interested in river level beta too!
---
Read about the author:
Ben
---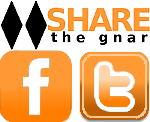 8 Comments
Please consider visiting our sponsors.
Leave a Reply