Little Superior SE Face, UT
February 16, 2010
The slope was simply amazing. One of the most breathtaking descents I've ever been on. This was what skis were made for.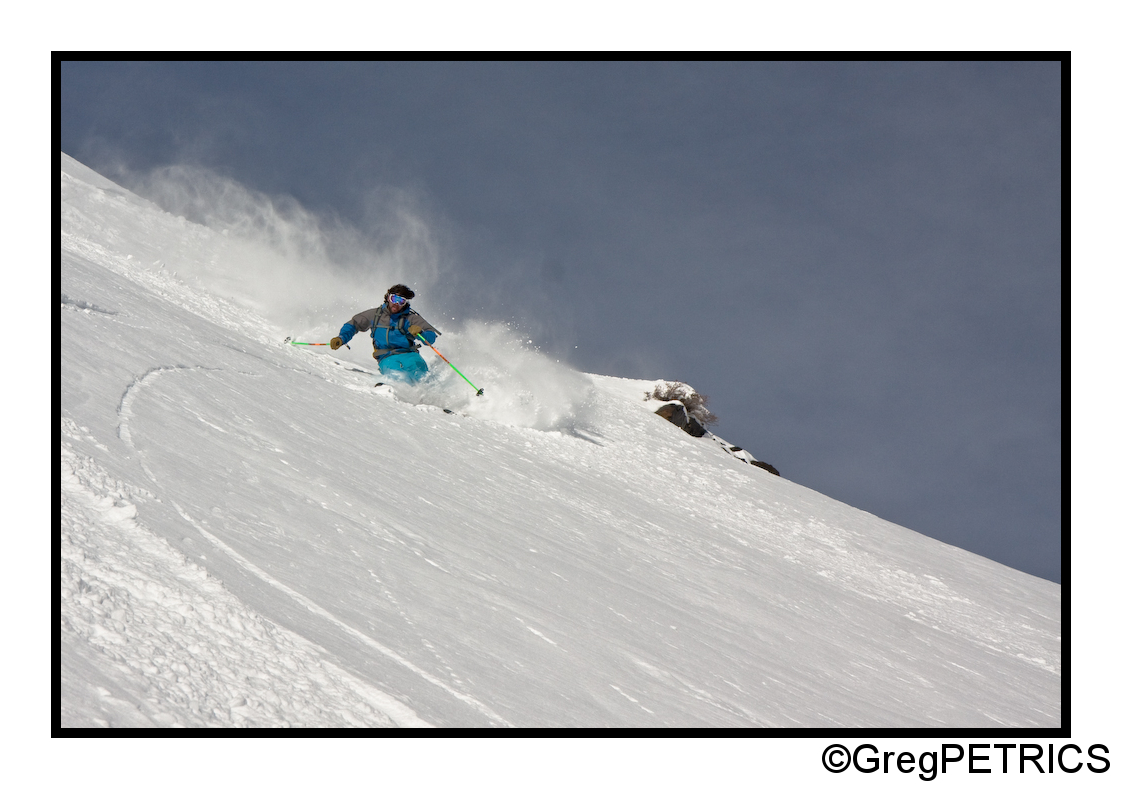 Near the bottom you get into a 100-yard wide slope lined by pine trees. There is a little bit of an "NES car racing effect" going on in that the valley doesn't appear to be getting closer despite the fact that you've been skiing for 2000 vertical feet. Porter descends between the "goal posts" and couldn't be happier.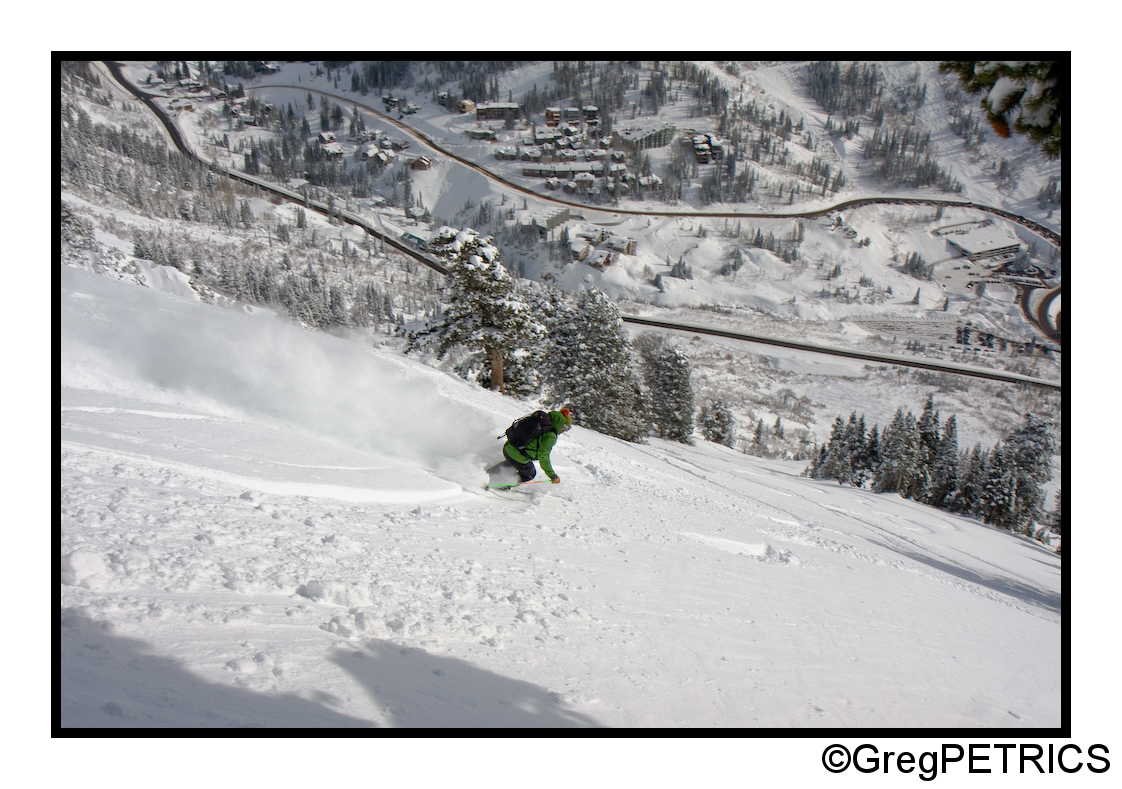 Dwyer "Thanks-for-hauling-my-dukes-up-while-you-let-me-skin-on-your-Dynafit-rig-Greg-cause-I-needed-to-move-faster" Haney enjoying his duke rig for the descent.

Suddenly we left the "pine highway," and cut back up under the aforementioned terrain trap. We stoped to admire our descent, when suddenly the most amazing thing happened. One of the heli-ops returning to base in the Snowbird valley spotted us preparing to schuss the lower snowfields (which had been aggressively farmed already) and swung back around, presumably to give clients a look at the three happiest skiers in the Wasatch… or maybe just to scope out the run for their next trip. Either way the effect was amazing. Schussing down a mellow 500 vertical foot "victory" powder field with the heli screaming down overhead was surreal. Here's Dwyer showing off for the mechanical bird.

Whether lucky, smart, or stupid–or some combination of all three–this was one of my best days of skiing ever. Also included, but not pictured was a descent of Toledo Bowl. Most importantly however, to top it all off, the day was shared with some very very good friends. I'll toast to that.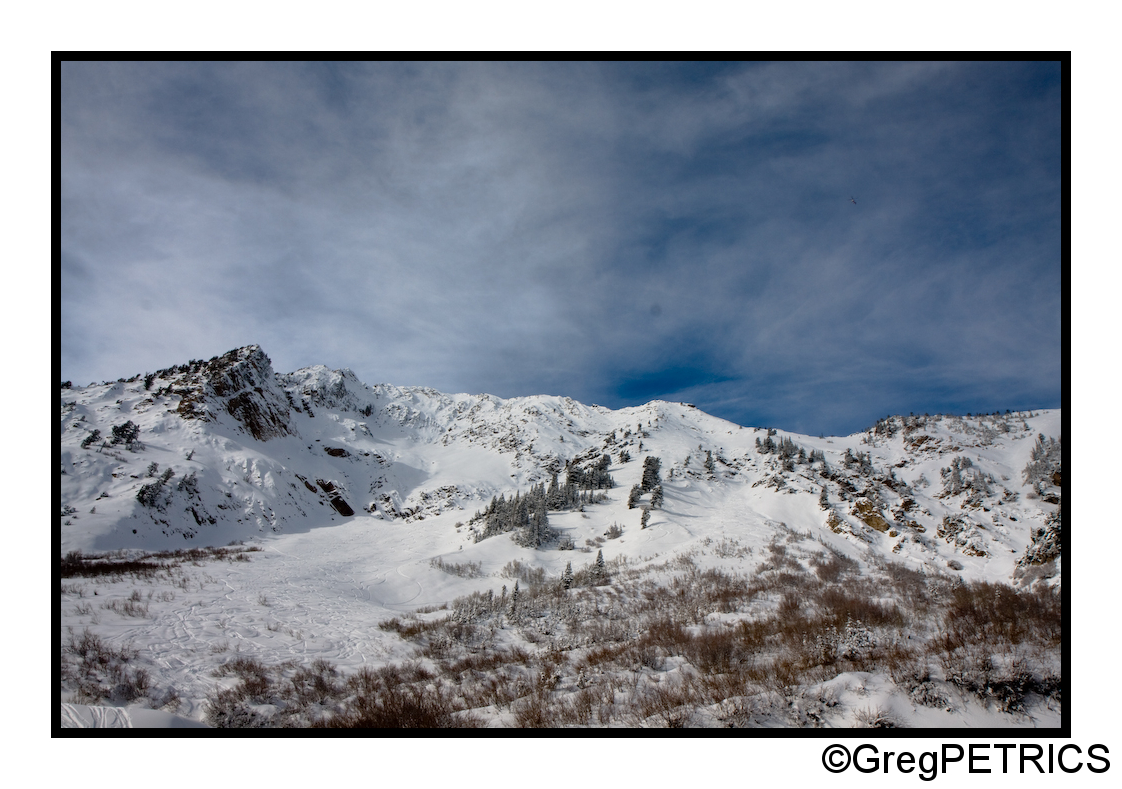 Porter is now officially on board with Famous Internet Skiers, and will be providing a more reliable stream of on-the-ground reports and STOKE from points west. He definitely proved he was worthy by playing tour guide for this amazing trip! Please welcome him, and look forward to content from him in the very near future.

---
Read about the author:
Greg
---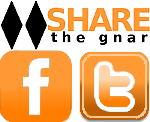 9 Comments
Please consider visiting our sponsors.
Leave a Reply