Mud, Bugs, and Humidity – 3 Days on the Long Trail
June 28, 2010
In order to make it to Johnson, we had a 20.5 mile day planned for the next day. We got up nice and early to make it possible, but the sun was already making things unpleasant for us. The humidity was worse than the day before, our legs were more tired, and the trail was every bit as muddy. The first part of the day went slowly, although we did see some interesting looking rock walls in Hazen's Notch that led us to wonder whether they've ever been climbed? Vermont is full of little backwoods crags that haven't seen much development…

Kate is really, really excited about the hike out of Hazen's Notch as the Green Tunnel stretches onward
After Hazen's Notch we plodded up the long slog to the ridgeline on Haystack Mountain. This climb was one of the classic "switchbacks!? We don't need no switchbacks!" climbs that seem to be a hallmark of the northern Long Trail. Fortunately, we reached the top before heat exhaustion claimed us, and we were rewarded by expansive views of the ridgeline ahead of us.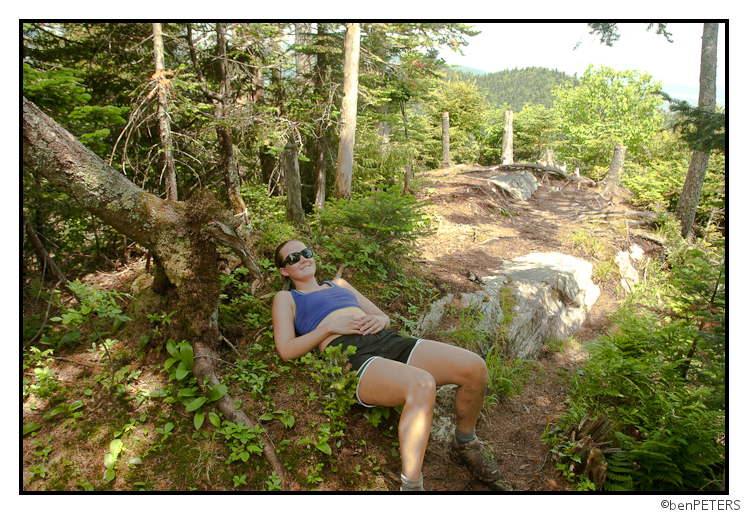 Finally! The top of Haystack
At Tillotson Camp, we ate a late lunch and faced a dilemma. The next camp, Spruce Ledge, was 8 and half long miles away, and it was already mid afternoon. Our legs and backs were tired, but in order to make it all the way to our spotted car, we needed to get in a full day. We decided to go for it, thankful that it was the third longest day of the year.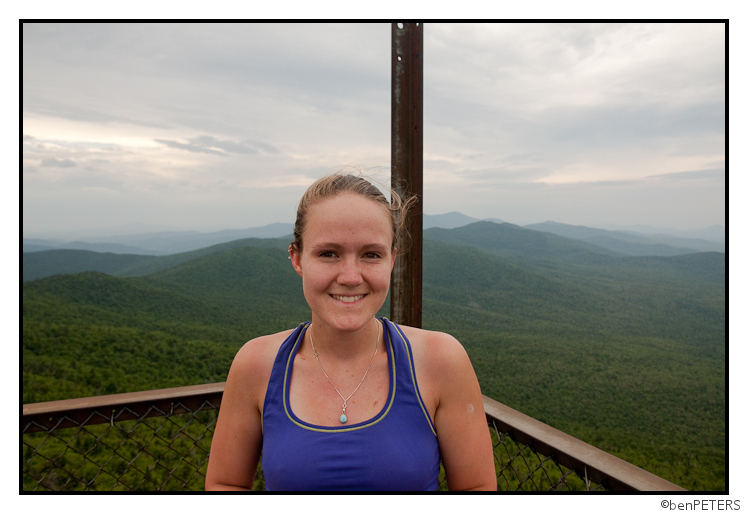 Kate at the top of Belvidere
The next few miles went by in typical zoned-out-covering-mileage fashion. We had great views from the top of the Belvidere fire tower, then descended toward Devil's Gulch. A lake appeared tantalizing close in the heat, but our legs didn't have the energy to go off trail to swim. Finally we saw the welcome trail sign announcing Spruce Ledge, a nice cabin near a beautiful overlook. For just walking all day, hiking is hard!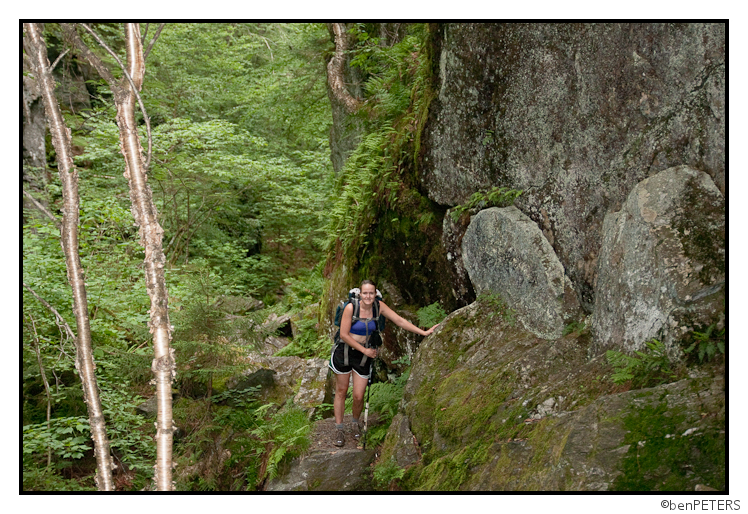 This is the official "why-are-you-make-me-stop-while-taking-pictures-20-miles-into-a-20.5-mile-day" face
We got another early start on Sunday, the last day of our trek. The mountains were shorter than the previous day, and the grades mellower, but around mid morning the drowning humidity changed to raindrops as a few scattered thunderstorms moved over the area.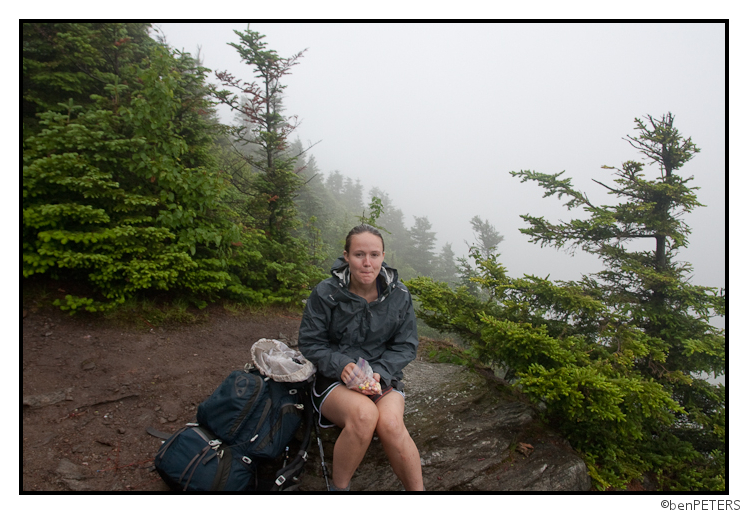 Kate eating lunch near a foggy overlook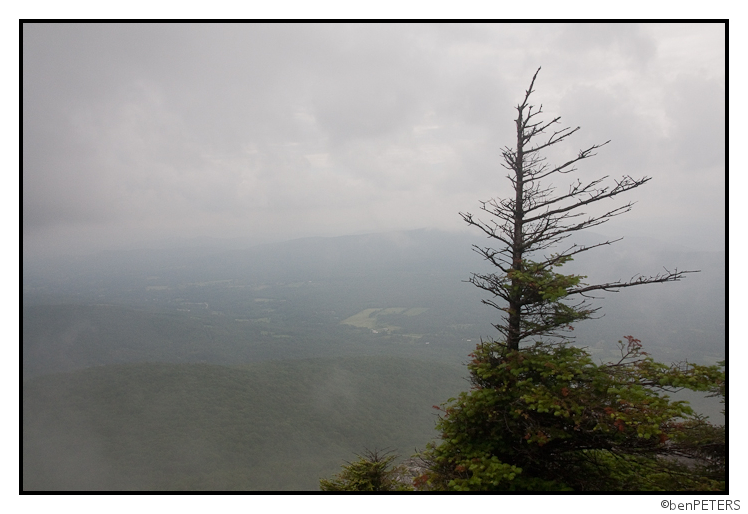 You can see forever from up here!
We pressed on though, and even got a lucky break when the skies decided to open up for 10 minutes while we sat snug and dry snacking in Roundtop Shelter.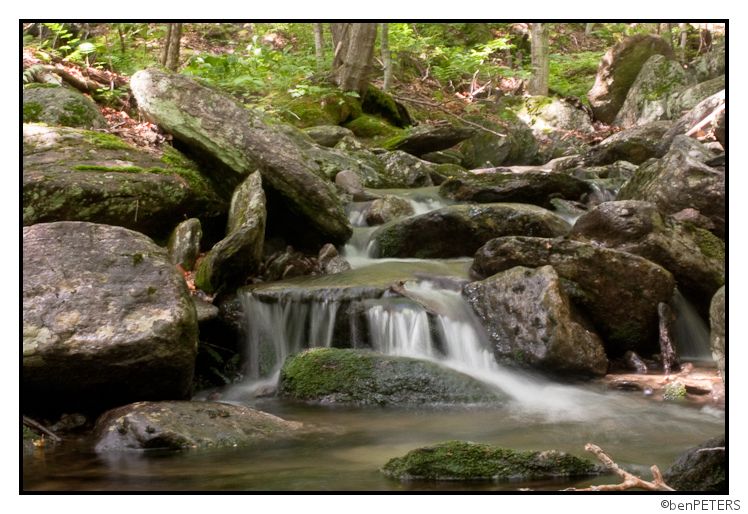 A nice afternoon river crossing
As the afternoon pressed on, the sun came out and we started our long descent into the lowlands surrounding Johnson. By the time we got to the car, over 18 miles into the day, both our feet were aching and we were glad we would soon be sitting behind air conditioned vents. Rarely have I enjoyed a beer as much as I enjoyed the waiting Long Trail Double Bag in the car!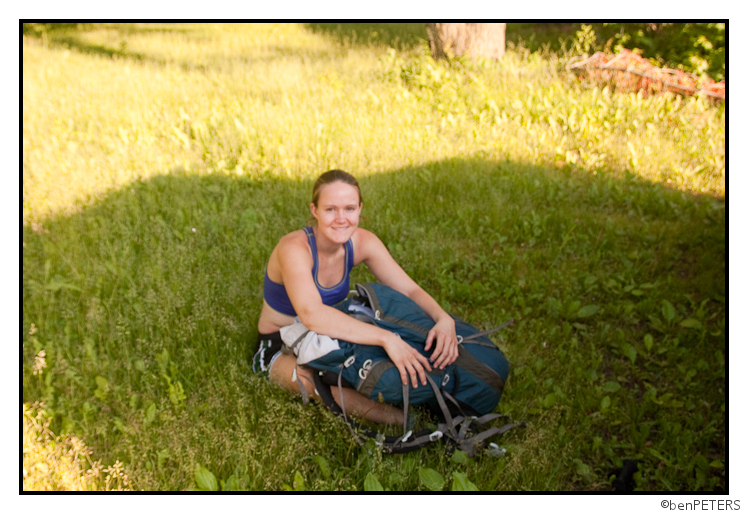 Kate is ready for the next 50 miles!

---
Read about the author:
Ben
---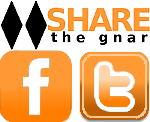 7 Comments
Please consider visiting our sponsors.
Leave a Reply