VTah Part III — The Most Unreliable Great Snow on Earth!
December 14, 2009
Last week, the weather guys observed a sneaky band of lake effect snow sliding off Lake Ontario and into New England. Although it was not clear beforehand, this storm had the potential to deliver VTah Part III (remember Part I & Part II?). With raging cold winds out of the southwest, and a Great Lake warmer than a ski bum's hot tub (trick question: real ski bum's don't have hot tubs), the band was being referred to in forecast discussions and weather prognostication as if it were "a great beast," a "once in a decade event," and some even referred to it as a "magic carpet capable of temporarily transporting an entire mountain thousands of miles west to every skier's holy land: Utah." (Or maybe we just made that last part up, but bear with us.) Mad River Glen was the final destination of this band of unpredictable, unreliable, really freaking good snow.
Some may say this was just luck. Some may say this was just chance. But then there are others who know about "the connection." For those who are uninitiated, the ridge at the head of the Mad River, VT and the peaks at the top of Little Cottonwood Canyon, UT share a bond. On the surface one might think that the only thing they have in common is an extra line in the skier's responsibility code: "Thou shalt not snowboard here." Ask any one of your friends who eat-sleeps-breaths skiing though, and they will tell you that the connection is much deeper than just a clause. They may not be able to put their finger on it, but eventually every skier who has been to both Mad River Glen Cooperative and Alta Ski Lifts Company figures it out. After this monster band of lake effect snow pummeled General Stark Mountain for hours upon hours and moved Mad River Glen to Utah for a morning, we finally understood.
Looking back on it, we got really really lucky. Although our weather team had been forecasting a significant lake effect snow event somewhere between Jay Peak Resort and the Middlebury College Snow Bowl, it was impossible to know exactly where it would hit. The slightest shift in the winds can move a lake effect band, which has traveled hundreds of miles east across the entire length of New York State, tens of miles off course north or south. We took a shot in the dark and agreed to meet at the base of Mad River Glen as early as possible. Greg and K_C were on a traditional work/ski schedule, and got a true dawn patrol start with the intention of getting to work by 8:30. Meanwhile Sam had to be in by 10, and so decided to meet up with them for a run before going to punch the clock. Finally, Allen was coming off a night shift making snow at Cochran's Ski Area, and so he was completely unencumbered, and ready for as much skiing as his legs would provide.
Hiking up in the pre-dawn grey.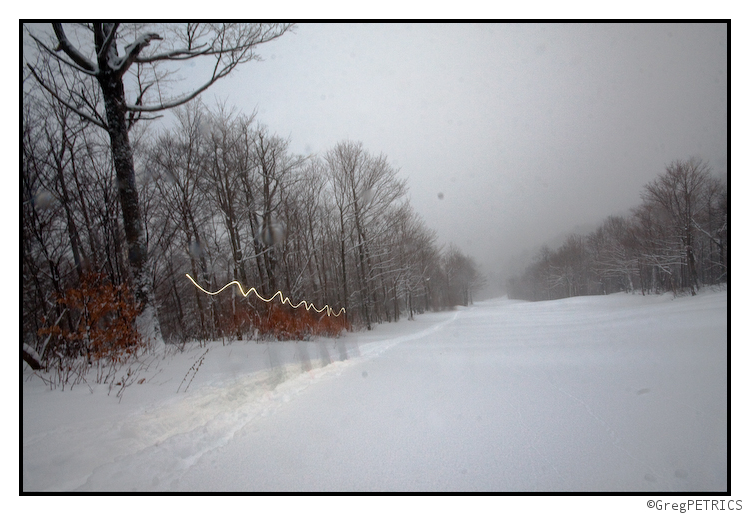 Only a few had come before.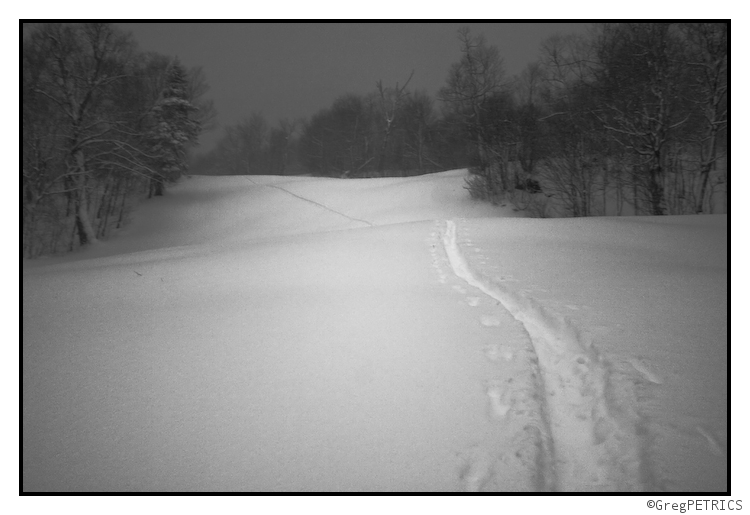 Greg and Kristin got to the top first, and got the rare privilege of un-hurried first tracks down Chute.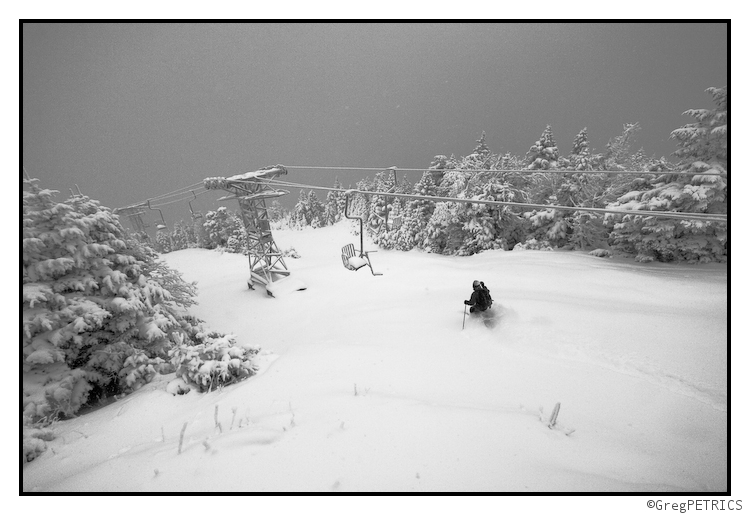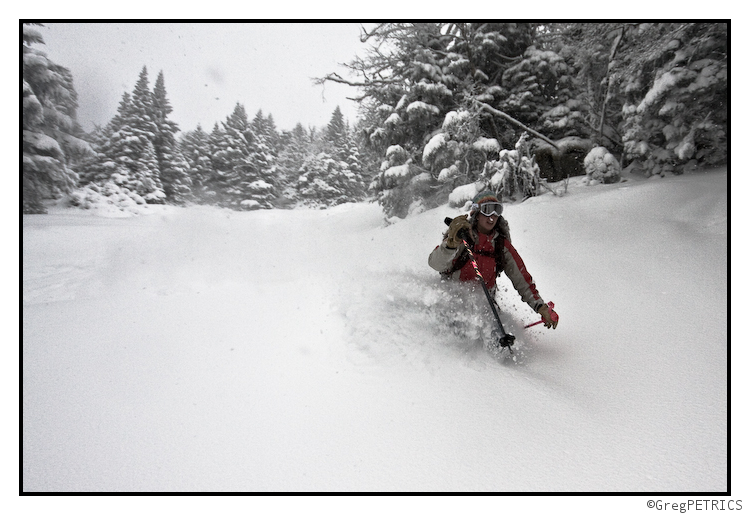 Truly, a great way to start a work day.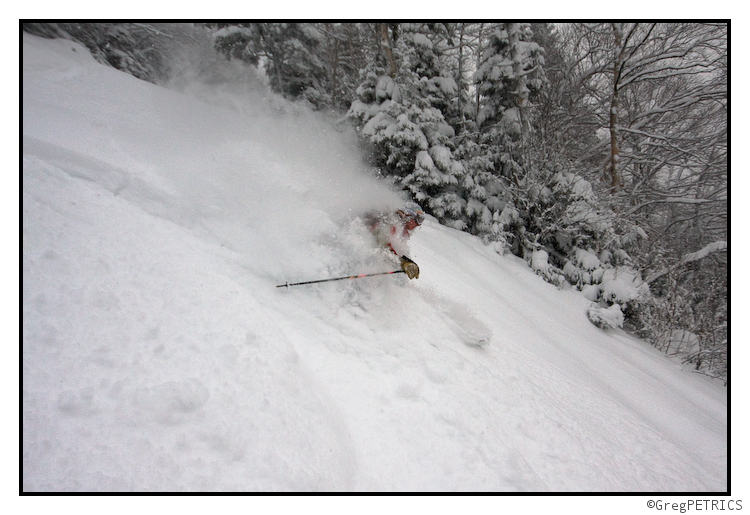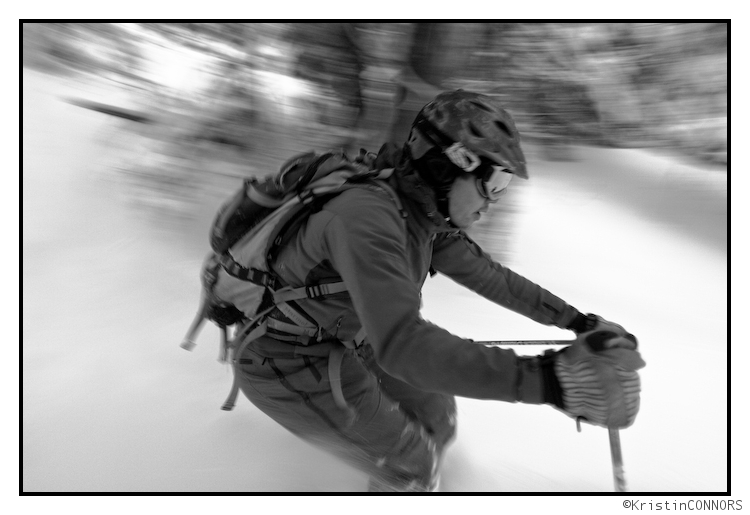 ---
Read about the author:
The F.I.S.
---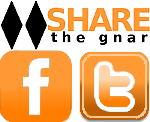 46 Comments
Please consider visiting our sponsors.
Leave a Reply to milton